This Instant Pot Applesauce recipe laced with cinnamon and brown sugar, and makes for a fantastic kid-friendly recipe. Just 6 ingredients needed, so you can make this homemade treat over and over again. 
This Instant Pot Applesauce recipe has rapidly become a true family favorite!  Great for an afternoon snack, and so much more.  We love fun snack recipes like my Bold Chex Mix, and Candied Almonds.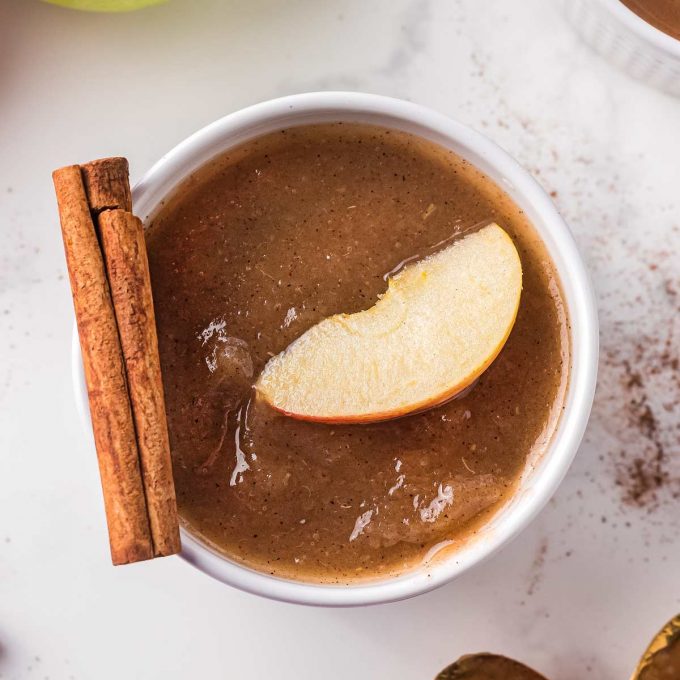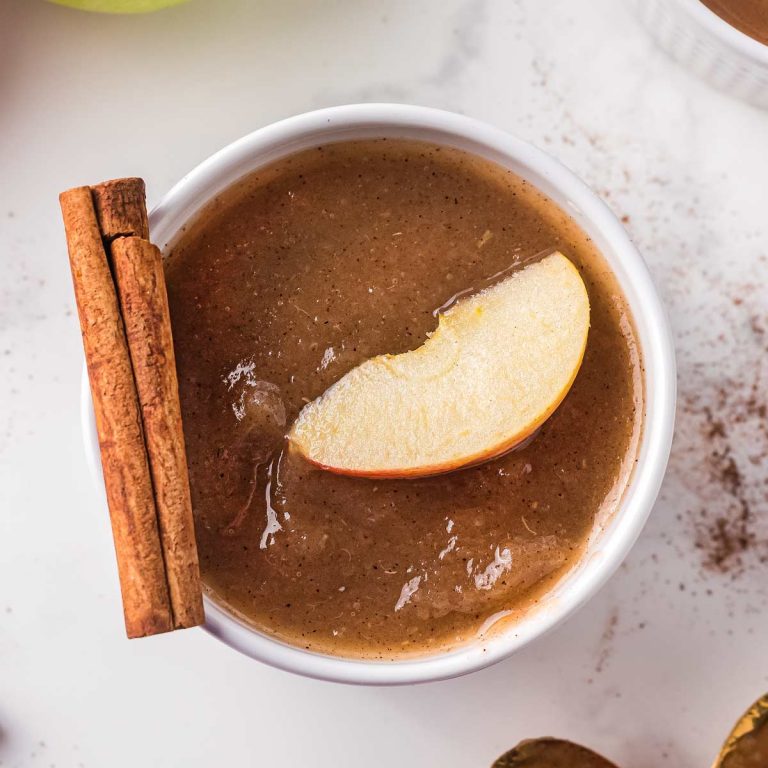 APPLESAUCE RECIPE
Have you been to any Fall festivals or farms yet?  We go to at least one every September/October and I love to pick up plenty of apples.  So many varieties!
But what to do with all those extra apples?  After you've snacked on a few on their own, made apple pie bars or apple crisp, you may be wondering why on earth you ended up getting so many!
Or maybe your kids are like mine, and they'll get on a serious apple kick, so I buy a bunch of them.
Then immediately, they're "so over" apples and I'm stuck with more apples hanging around than I can shake a stick at.  Ugh.
Cue the applesauce recipe!  Perfectly balanced between sweet and tart, with warm cinnamon flecked throughout.  Good enough to just sit down with a jar and a spoon and go to town!
HOW TO MAKE INSTANT POT APPLESAUCE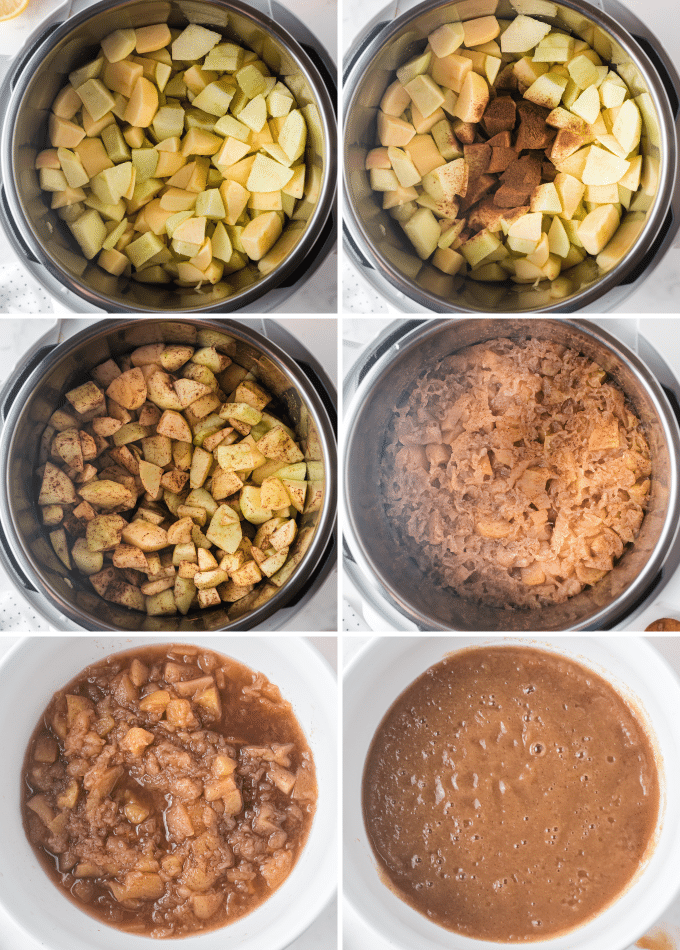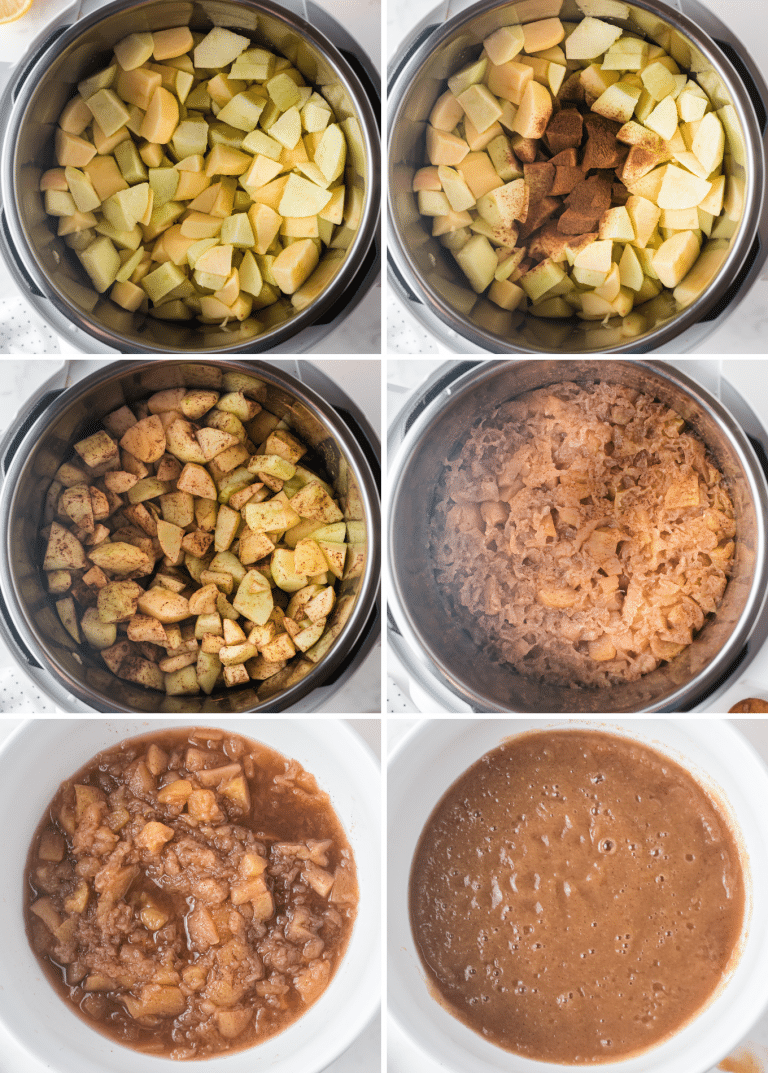 Prep apples and add to Instant Pot. Peel and slice apples in large chunks.  Add all ingredients to pot and stir.
Seal lid and pressure cook. Make sure the valve is set to "sealing" and pressure cook on high for 5 minutes.
Pressure release. Let the pressure release naturally for 15-20 minutes, then set the valve to "venting" to release any remaining pressure.
Blend. Use an immersion blender (or food processor, potato masher, regular blender, etc) to blend to desired consistency.
Taste. Taste the applesauce and add any additional sugar if needed.
Cool. Cool completely and refrigerate in airtight containers for up to 2 weeks.
ADDITIONAL COOKING TIPS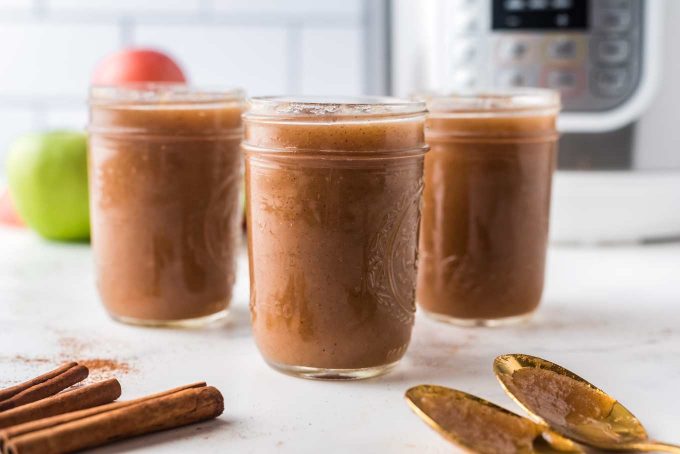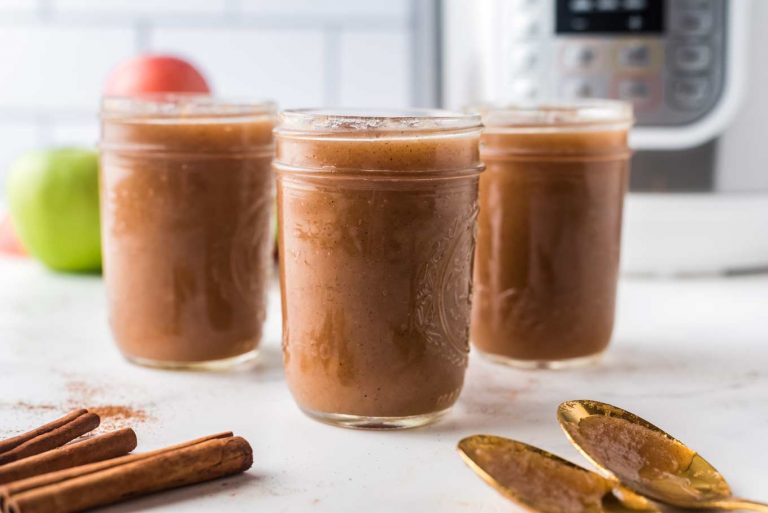 TO PEEL OR NOT TO PEEL – that is the question… and honestly, it's completely up to you.  I prefer to peel my apples, but I've made this applesauce with the peels on, and they blended up just fine.
TASTE YOUR APPLES FIRST – different types of apples, and even different apples of the same type, can vary in sweetness.  So take a little bite first and see how sweet they are.  If they're super sweet, you might want to hold off on adding the sugar right away.
WHEN TO ADD SUGAR – so if your apples are plenty sweet, or you're concerned about accidentally making your applesauce TOO sweet, you can wait until the end to add the sugar. Once the apples have cooked and you've blended/mashed them, give the sauce a taste. If it could use a bit of extra sweetness, stir in the sugar while the applesauce is still warm.
WHAT TYPE OF PRESSURE RELEASE – apples can be a bit foamy when cooked, so to save yourself a potential mess, I prefer to use a natural pressure release and let the pot sit for 15-20 minutes, and THEN release any remaining pressure.
VARIATIONS OF THIS RECIPE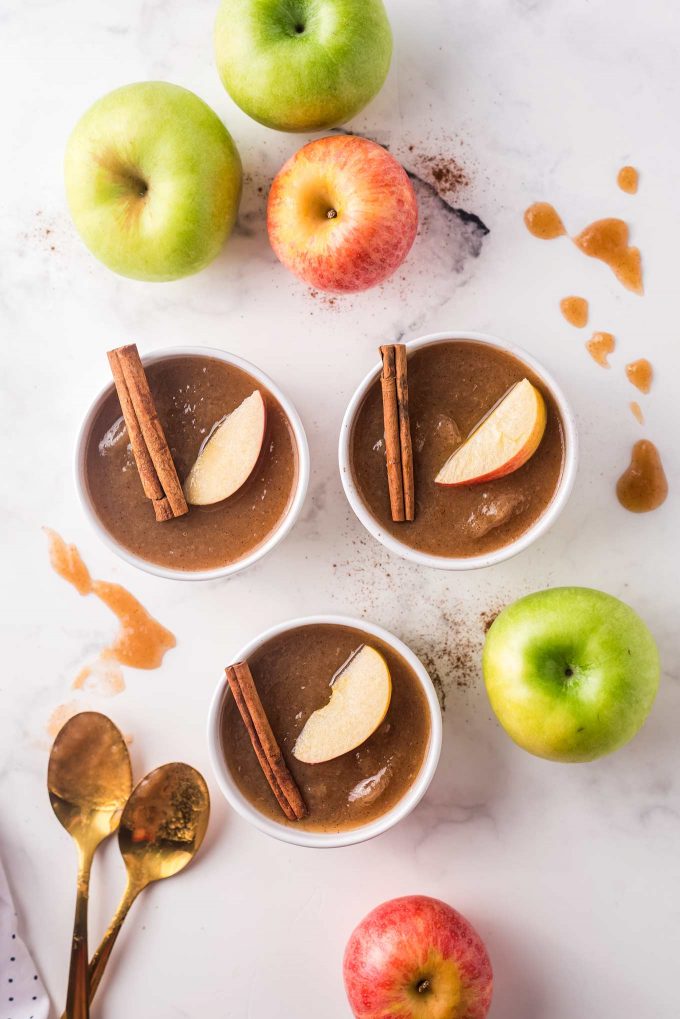 TYPES OF APPLES – feel free to use any type of apple you want for this applesauce.  I found that using a blend of at least 2 different types of apples yielded the most flavorful version.  If you prefer it sweeter, maybe use 2 lbs of sweet apples and 1 lb of tart apples, or vice versa if you prefer a tarter applesauce.
NO LEMON – if you don't have lemon, you can omit it completely… I just like the little brightness it adds, like it does in my apple crisp.
CHUNKY – if you prefer a more textured applesauce, you could use a potato masher instead of blender to get the texture you want.
APPLE JUICE/CIDER – if you want to use apple juice or cider for this recipe, you might want to reserve the brown sugar until after it's been cooked.  Taste the applesauce first and see if it needs any more sweetness. Apple juice and cider are plenty sweet, so you don't want to overwhelm your recipe with too much sugar. Just stir the sugar in after it's blended and still warm.
OTHER SPICES – other than cinnamon, nutmeg, allspice, cloves, and even a touch of cardamom are great in applesauce.
OTHER SWEETENERS – if you prefer a different type of sweetener, you could use honey, maple syrup, granulated sugar, or a sugar-free sweetener of your choice.  You'll have to do this to your tastes however, since we all prefer different levels of sweetness.
SLOW COOKER – not everyone has an instant pot, so there are slow cooker directions in the recipe notes section of the recipe card.
STOVETOP – stovetop instructions are in the recipe notes section as well!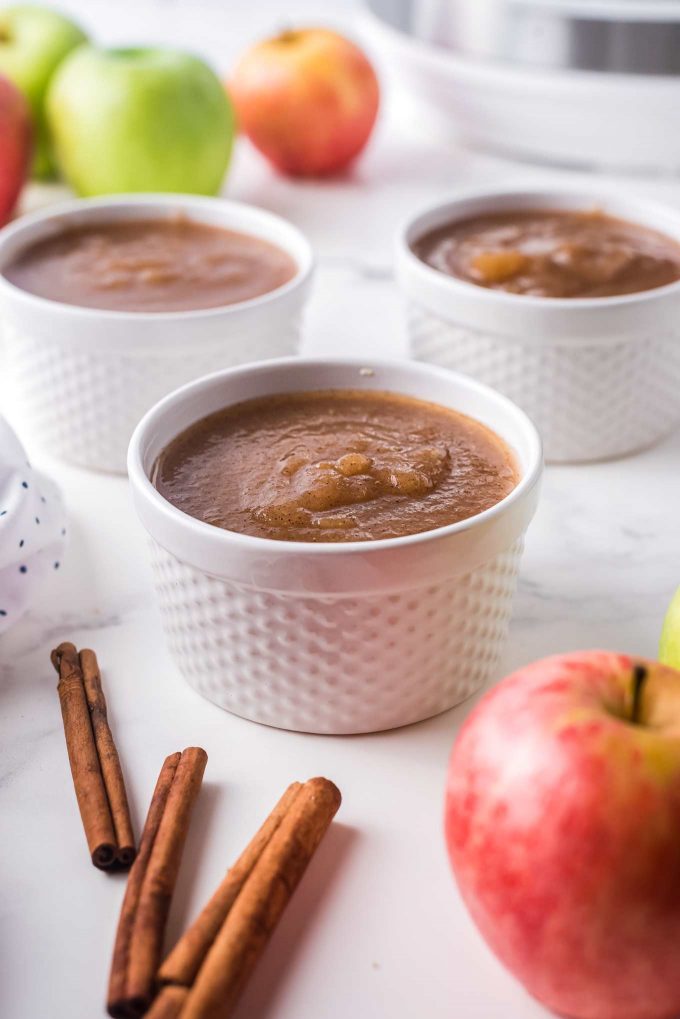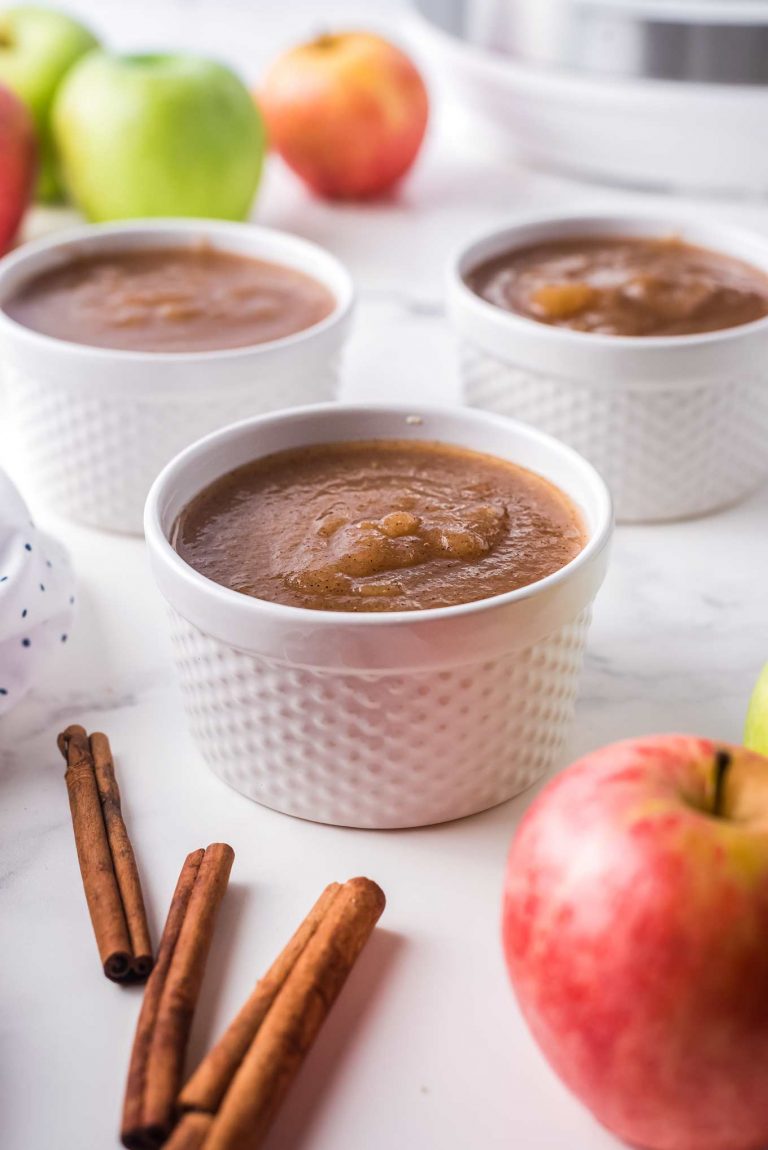 MAKING APPLESAUCE AHEAD OF TIME
While this applesauce recipe is great warm and fresh, it tastes just as good, if not better, when made a day or two in advance. All those flavors really meld together!  Plus I like my applesauce cold.
STORAGE
Leftover applesauce should be refrigerated in an airtight container and consumed within 10 days.
FREEZER
Applesauce can easily be frozen for up to 5-6 months.  To thaw, place in the refrigerator overnight.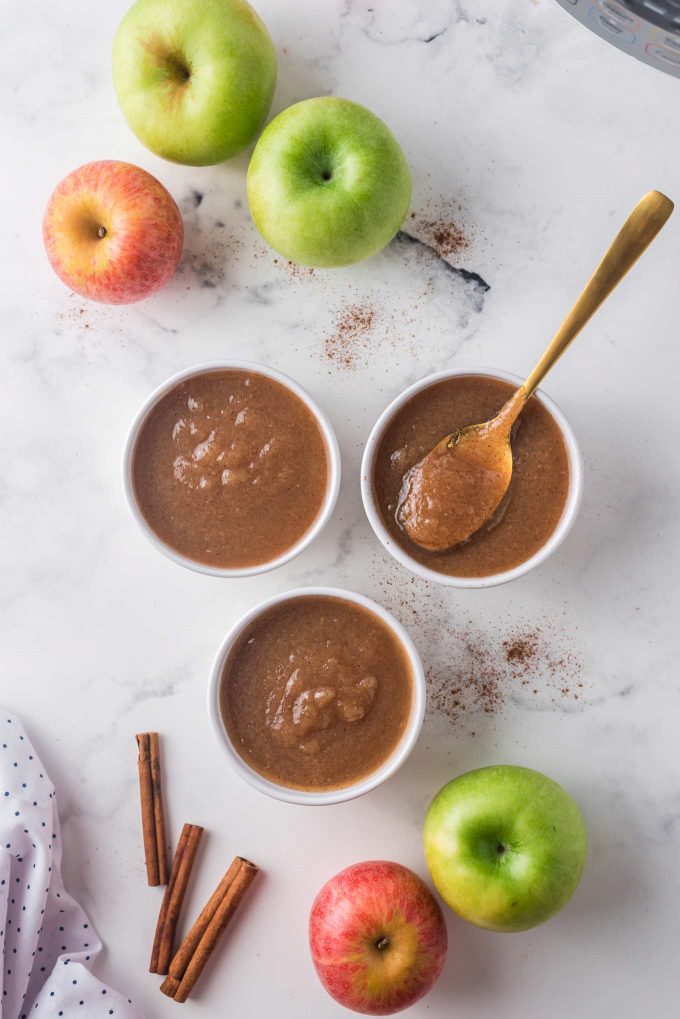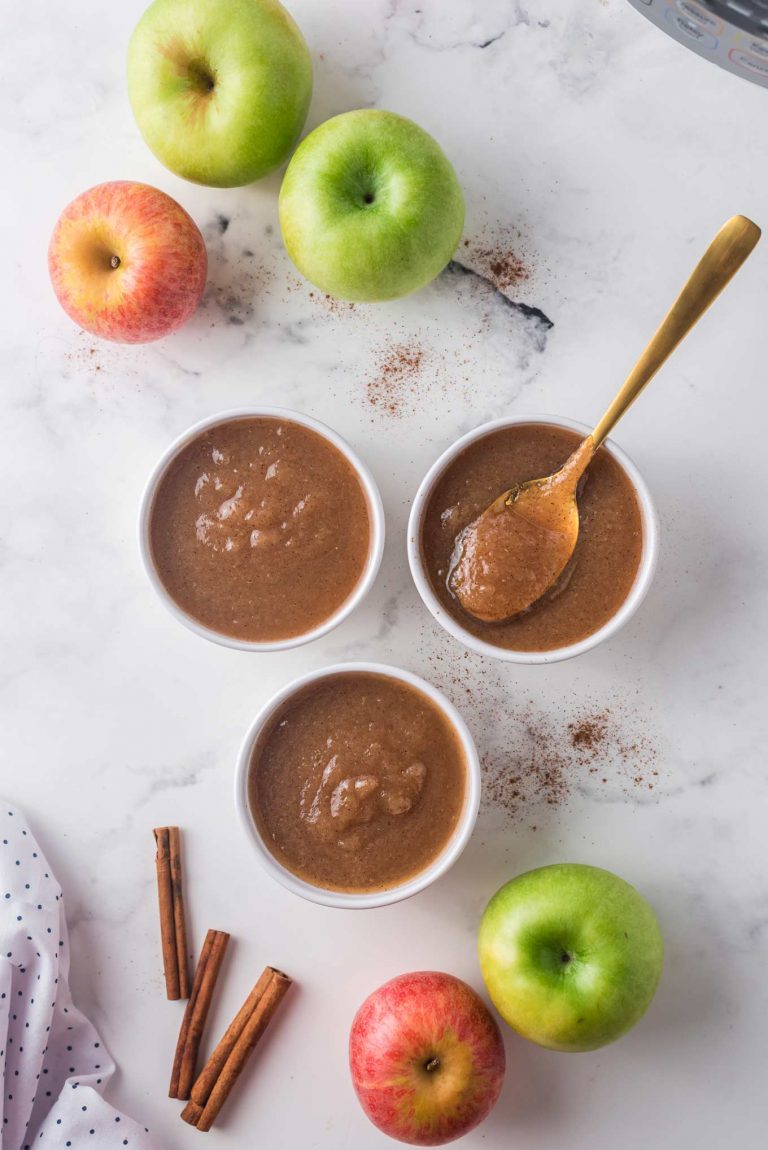 SPECIAL EQUIPMENT FOR THIS RECIPE
The following links are affiliate links.
The Chunky Chef, LLC is a participant in the Amazon Services LLC Associates Program, an affiliate advertising program designed to provide a means for sites to earn advertising fees by advertising and linking to amazon.com.  For more information regarding this program and what it means for you, please see my Privacy page.
Instant Pot – I recently upgraded to this model and I love it!
Immersion Blender – No need to transfer anything to another appliance, blend the applesauce right in the pot!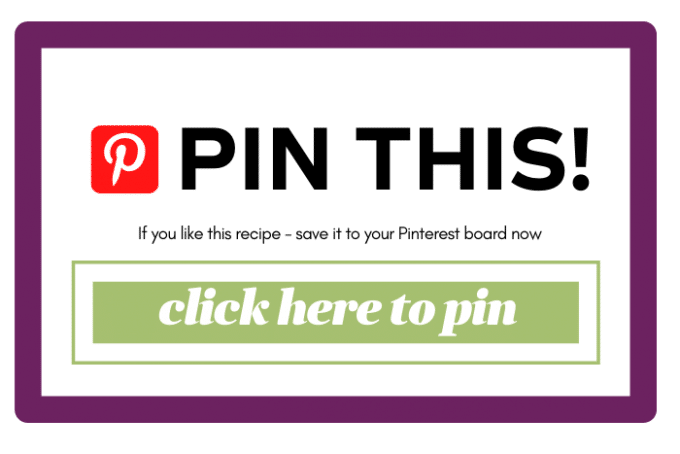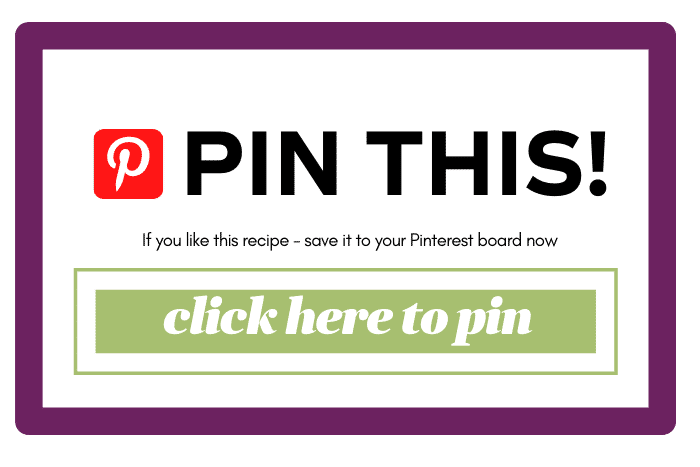 BE SURE TO SCROLL DOWN TO CHECK OUT OTHER READERS' COMMENTS FOR TIPS AND REVIEWS.
AND DON'T FORGET, IF YOU'VE MADE THIS RECIPE, LEAVE A COMMENT AND PLEASE GIVE IT A STAR RATING LETTING ME KNOW HOW YOU ENJOYED IT!
Did you make this? Be sure to leave a review below and tag me @the_chunky_chef on Facebook and Instagram!
This Instant Pot Applesauce recipe laced with cinnamon and brown sugar, and makes for a fantastic kid-friendly recipe.
Ingredients
1 1/2 lbs sweet apples (such as Gala, Fuji, Golden delicious, honeycrisp, etc)
1 1/2 lbs tart apples (such as granny smith, pink lady or braeburn)
1/2 cup water
2-3 Tbsp lemon juice (juice from approximately 1 lemon)
1 tsp ground cinnamon
1/4 cup light brown sugar
Instructions
PREP APPLES
Peel and core apples, then slice into large chunks.
ADD TO INSTANT POT
Add apple pieces to inner pot of an Instant Pot. Add water, lemon juice and cinnamon and stir.
PRESSURE COOK
Secure lid and set the valve to "sealing". Set to pressure cook on high for 5 minutes.

When pressure cooking is finished, let pressure release on it's own for 15-20 minutes, releasing any remaining pressure after that amount of time.
BLEND
Remove lid. Use an immersion blender (or transfer to a regular blender/food processor) to puree until smooth.
TASTE AND COOL
Taste applesauce, and if not sweet enough, stir in additional brown sugar.

Let cool, then place in airtight containers, seal, and refrigerate for up to 2 weeks.
Want to save this recipe for later? Click the heart in the bottom right corner to save to your own recipe box!
Chef Tips
** 1 1/2 lbs of apples is about 4 medium to large apples**
SLOW COOKER APPLESAUCE
Add all ingredients to a slow cooker, stir, cover and cook on LOW for 6 hours.
Blend to desired texture.
STOVETOP APPLESAUCE
Add all ingredients to a pot, stir, and heat over MED/MED HIGH heat.  Cover and cook for 20-25 minutes, or until soft.
Blend to desired texture.
Nutrition Disclaimer
The Chunky Chef is not a dietician or nutritionist, and any nutritional information shared is an estimate. If calorie count and other nutritional values are important to you, we recommend running the ingredients through whichever online nutritional calculator you prefer. Calories can vary quite a bit depending on which brands were used.