This Pumpkin Creme Brulee recipe is the perfect make-ahead fall dessert!  I promise it's easier to make than you think; just 5 simple ingredients give you a creamy custard topped with a crackly caramelized sugar topping!
This Caramel Apple Cake is such a fun dessert, and SO delicious!  We love Fall desserts, like my Apple Crisp, and Candied Almonds.   This is one of my Dessert recipes you'll definitely want in your collection!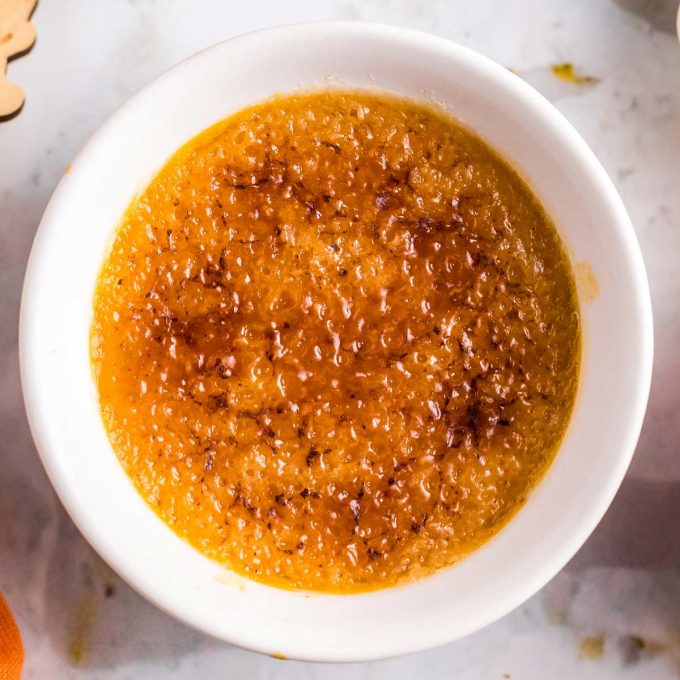 PUMPKIN CREME BRULEE RECIPE
Creme brulee is one of those desserts I always associate with a restaurant.  A FANCY restaurant no less.  Like a pricey steakhouse.  It just has the air of a fancy-schmancy dessert, and even the name is French, indicating it's elegance.
But did you know it's actually easy to make at home?  The most complicated part is tempering the egg yolks, and it's actually really simple to do. I've broken it down step by step, and explained in detail not only how to do it, but why it's important.
It's really just whisking and pouring 🙂
This dessert is also perfect to make ahead for company or a party, since it has to chill for at least 4 hours!  And torching the sugar to get that perfectly crackly caramelized top is always a crowd-pleaser.
HOW TO MAKE PUMPKIN CREME BRULEE
Combine yolks and sugar. Do this in a mixing bowl.
Simmer cream.  In a saucepan, add cream, pumpkin, vanilla and remaining sugar. Bring to a simmer, whisking often, then remove from heat. Continue whisking.
Temper egg yolks.  Remove about 1/3 cup of the hot liquid and add it slowly to the egg yolks/sugar, whisking constantly as you add it.
Add rest of the pumpkin mixture.  Continue to whisk as you add it.
Add to ramekins and add to dish with water.  Ladle the custard to the ramekins, filling most of the way up. Add ramekins to a baking dish and add water to the baking dish until there's about 1/2 inch of water in the dish. Don't get any water in the ramekins with the custard, just around them.
Bake.  Bake at 325°F for 40-45 minutes, until edges are set and centers are jiggly, like Jello.
Cool.  Place ramekins on a wire cooling rack to cool for at least 1 hour.
Chill.  Cover ramekins loosely and refrigerate for at least 4 hours.
Caramelize the sugar.  Using granulated sugar, sprinkle a thin layer all over the surface of the chilled custards. Caramelize the sugar with a kitchen torch and serve immediately.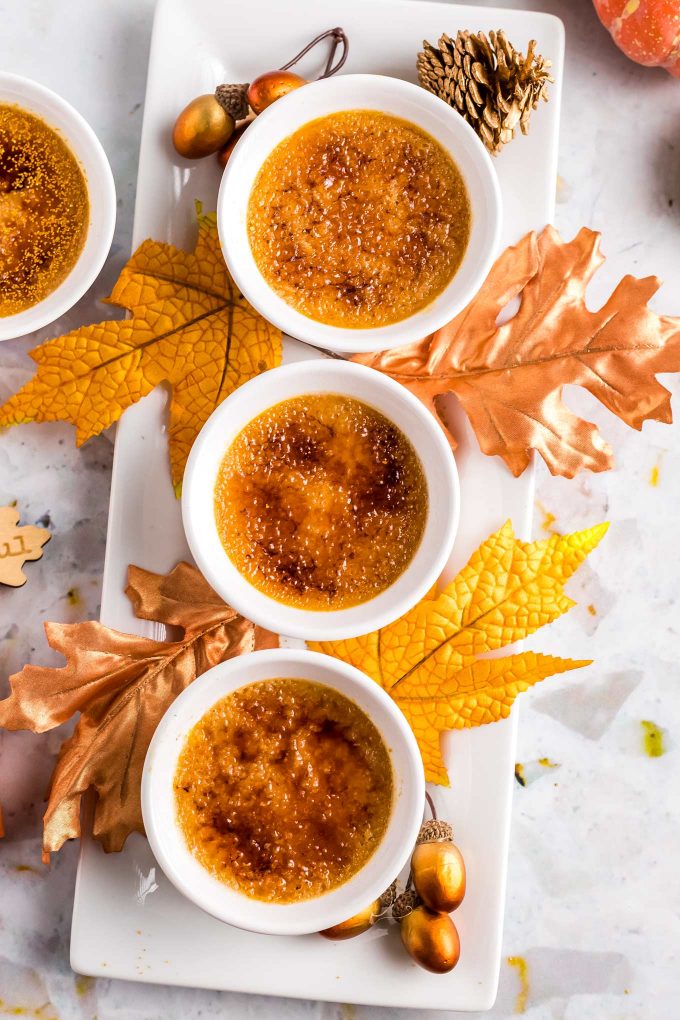 ADDITIONAL COOKING TIPS
HEAVY CREAM – This is one of those times where you don't want to substitute an ingredient.  Heavy cream is what you need to get the richest creme brulee.  Heavy cream may be labeled as heavy whipping cream in some grocery stores.
EGG YOLKS – using only the yolks will give you an ultra creamy and velvety custard.  Save the whites to make an omelet or you can freeze them! Add egg whites to an ice cube tray and freeze until solid. Then add to a freezer container.
TEMPERING THE EGG YOLKS – Don't stress about this, it's not hard, I promise.  The reason you do this is if you added the hot pumpkin/cream mixture to the egg yolks and sugar, the heat would increase too quickly and scramble the eggs. Not exactly the texture you're looking for in a custard!  By whisking in, slowly, some of the hot pumpkin mixture first, you are raising the temperature slowly, and your custard will be velvety smooth.
DON'T SKIP THE WATER – If you bake creme brulee in an oven without adding water to the baking dish with the ramekins, the custard will be rubbery. You want a humid and moist heat.
HOW TO TELL WHEN A CUSTARD IS DONE BAKING – The key to a perfectly cooked custard is that the center won't be fully set when you take them out of the oven. The edges will likely be set, but the center should jiggle when you give the baking dish a gentle shake… very similar to the jiggle of Jello.  It may take more than one time to get the timing just right.  Every oven is different… so keep trying if you overbake the first or second batch. You can also use an instant read thermometer, it should read 170°F in the center when the custard is finished cooking.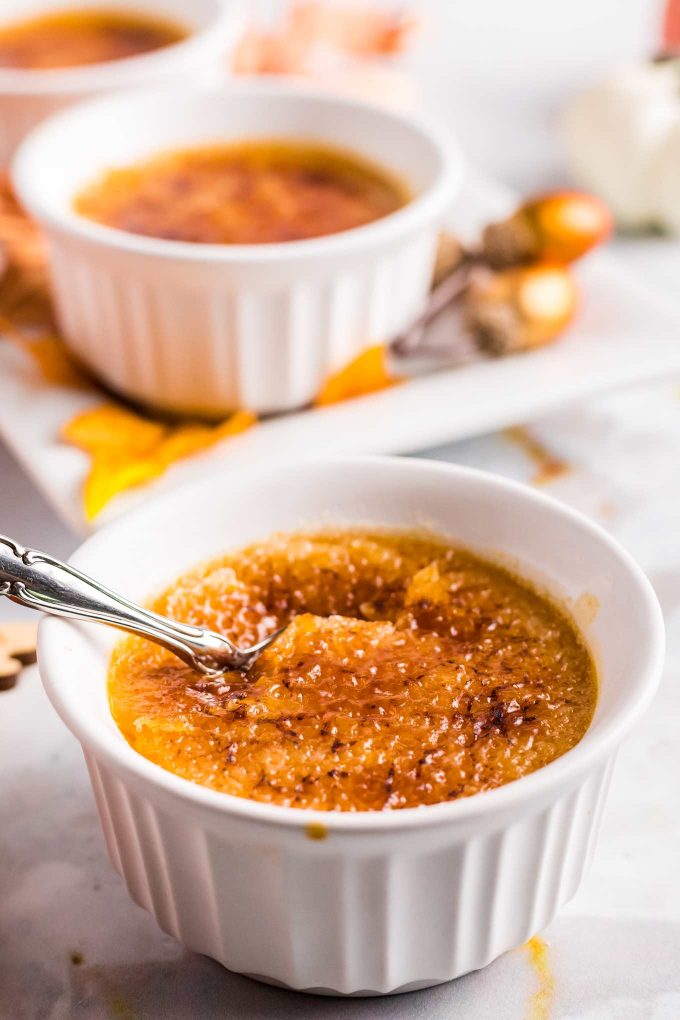 VARIATIONS OF THIS RECIPE
BROWN SUGAR – if you prefer, you can use light brown sugar instead of granulated on the tops of the custards.
SPICED – I purposefully left traditional pumpkin-y spices out of this, so the flavor of the pumpkin and vanilla really shone through, but if you'd like to add some, try adding 1 tsp of pumpkin pie spice to the custard mixture.
CINNAMON SUGAR – for another fun flavor element, try adding some ground cinnamon to the granulated sugar you sprinkle on the tops of the chilled custard.
NO TORCH – not everyone has a kitchen torch, but the good news is, you can make this recipe without it! Add the ramekins of chilled custard on a baking sheet and broil on high for several minutes. Just be sure to watch it carefully, so the sugar doesn't scorch and burn.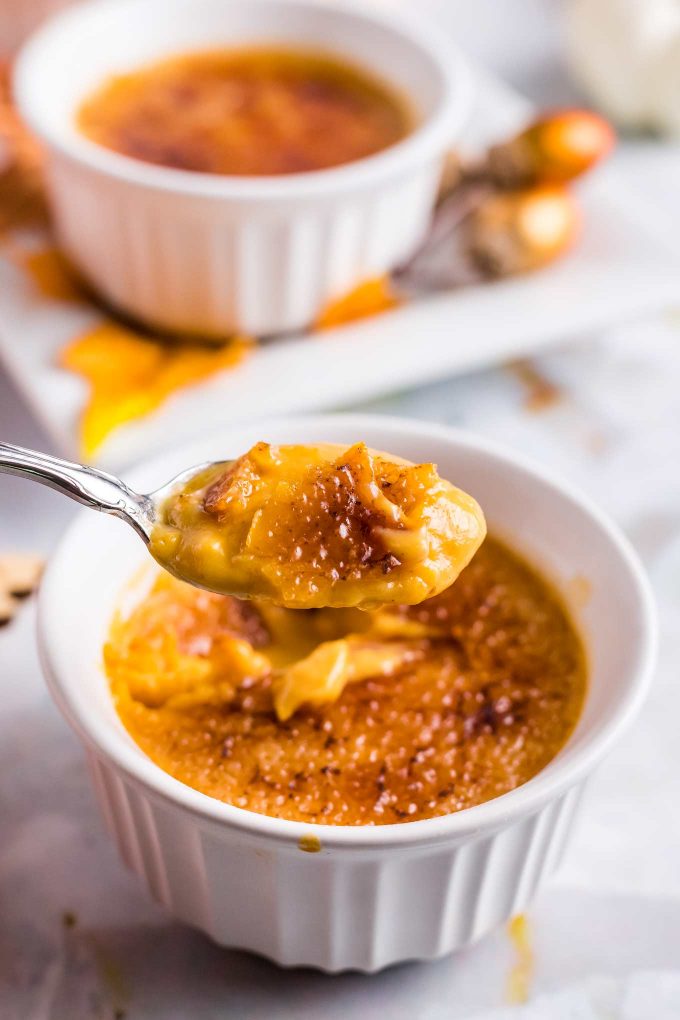 MAKING CREME BRULEE AHEAD OF TIME
Other than the amazing crackly tops and creamy insides, the best thing about creme brulee is that it's the ultimate make-ahead dessert. The custard needs time to chill – at least 4 hours.
I like to make mine so they can chill overnight.  Then when it's time for dessert, everyone loves watching the torch in action!
STORAGE
Unfortunately leftover creme brulee that's been torched doesn't store all that well. The crackly caramelized sugar topping will start to lose it's crunch, and condensation will make that happen even quicker.
However, un-torched creme brulee can be stored in the refrigerator for up to 3 days.
SPECIAL EQUIPMENT FOR THIS RECIPE
The following links are affiliate links.
The Chunky Chef, LLC is a participant in the Amazon Services LLC Associates Program, an affiliate advertising program designed to provide a means for sites to earn advertising fees by advertising and linking to amazon.com.  For more information regarding this program and what it means for you, please see my Privacy page.
Ramekins – these basic ramekins are perfect for making creme brulee!
Kitchen Torch – I love this little torch, it's great for brulee, but also for adding caramelization to baked hams!
Butane – when you buy a torch, the gas isn't included, so you'll need something like this.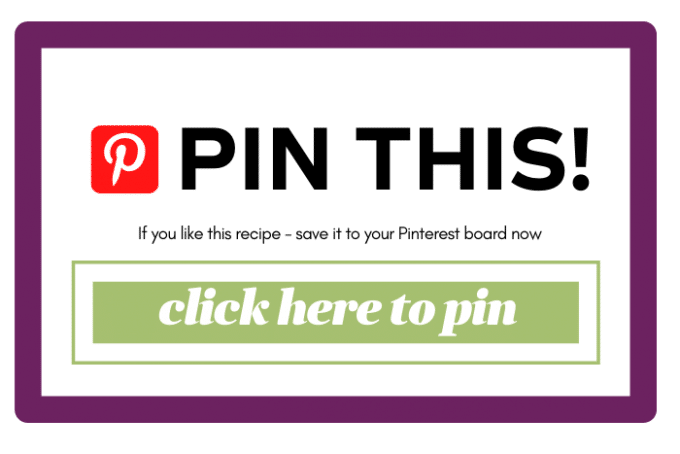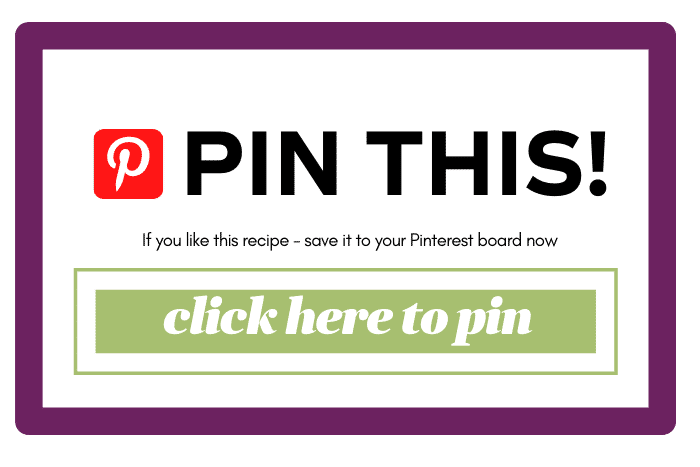 BE SURE TO SCROLL DOWN TO CHECK OUT OTHER READERS' COMMENTS FOR TIPS AND REVIEWS.
AND DON'T FORGET, IF YOU'VE MADE THIS RECIPE, LEAVE A COMMENT AND PLEASE GIVE IT A STAR RATING LETTING ME KNOW HOW YOU ENJOYED IT!
Did you make this? Be sure to leave a review below and tag me @the_chunky_chef on Facebook and Instagram!
Servings:
4
individual servings
(hover over # to adjust)
This Pumpkin Creme Brulee recipe is the perfect make-ahead fall dessert!
Ingredients
12 oz heavy whipping cream
1/2 cup pumpkin puree
3/4 cup granulated sugar divided
1 tsp vanilla extract
3 large egg yolks
additional granulated sugar for topping
Instructions
COMBINE EGGS AND SUGAR
In a mixing bowl, add egg yolks and 1/2 cup of the sugar. Whisk to combine.
SIMMER CREAM MIXTURE
Add heavy whipping cream, pumpkin puree, vanilla and remaining 1/4 cup sugar to a saucepan. Heat over MED heat, stirring to combine well and stirring often.

Once the mixture starts to simmer, remove from the heat and continue stirring.
TEMPER THE EGG YOLKS
Remove about 1/3 cup of the pumpkin mixture and add it slowly to the egg yolk mixture, whisking continuously as you add it. Keeping the whisk moving quickly keeps the eggs from scrambling from the heat.
ADD THE REST OF THE PUMPKIN MIXTURE
Continuing to whisk, add the remainder of the pumpkin mixture to the bowl.
PREPARE DISH AND RAMEKINS
Add ramekins to a baking dish.
TRANSFER CUSTARD/ADD WATER
Carefully ladle the custard into the ramekins, filling them most of the way up.

Carefully add hot (but not boiling) water to the baking dish, making sure it doesn't get into the ramekins, until there's about 1/2 inch of water in the baking dish.
BAKE
Bake at 325°F for approximately 40-45 minutes, until edges are set and centers are jiggly, like jello.
COOL
Remove ramekins from baking dish and add to a wire rack. Let stand for at least 1 hour to cool.
CHILL
Loosely cover and place ramekins in refrigerator to chill for at least 4 hours, up to 2 days.
CARAMELIZE THE SUGAR
Using granulated sugar, sprinkle a thin layer all over the surface of the chilled custards. Caramelize the sugar with a kitchen torch and serve immediately.
Want to save this recipe for later? Click the heart in the bottom right corner to save to your own recipe box!
Chef Tips
Recipe adapted from NY Times (Mark Bittman)
CARAMELIZING SUGAR WITHOUT A KITCHEN TORCH
Place ramekins with chilled custard on a baking sheet and broil on HIGH for several minutes.
Watch it carefully, so they don't burn.
Nutrition Disclaimer
The Chunky Chef is not a dietician or nutritionist, and any nutritional information shared is an estimate. If calorie count and other nutritional values are important to you, we recommend running the ingredients through whichever online nutritional calculator you prefer. Calories can vary quite a bit depending on which brands were used.