This must-make side dish is made with irresistibly creamy mashed potatoes, and loaded up with sour cream, cheddar cheese, crispy bacon, and fresh green onions! It's everything you love about a loaded baked potato, made into a make-ahead friendly casserole to feed a crowd!
This is one of my Side Dish recipes I know you'll want to keep on hand!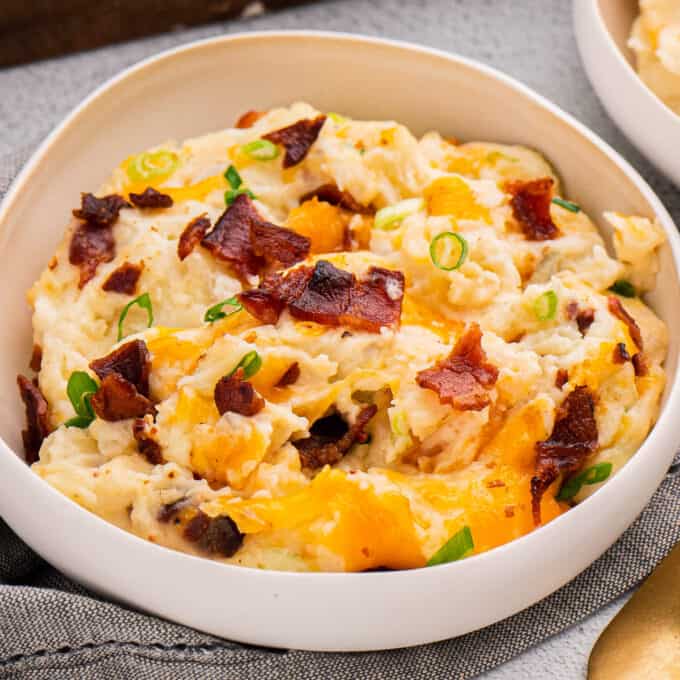 Buttery and creamy mashed potatoes… what's not to love right? There's almost nothing more comforting!
How how about if you take those mashed potatoes, stir them up with plenty of cheese, bacon, and green onions, then top them with more cheese and bacon and bake them until gooey and decadent?
Yes please!!! This side dish recipe is such a fantastic one for holidays or a big family dinner, since it serves 8-10 people. It can also be halved or doubled easily, so you can make it exactly as you need it!
Plus, this mashed potato bake is perfect for making ahead of time, so you have less going on during dinner.
How to make loaded mashed potato casserole?
This is just an overview; the full ingredients and directions are in the recipe card toward the bottom of this post.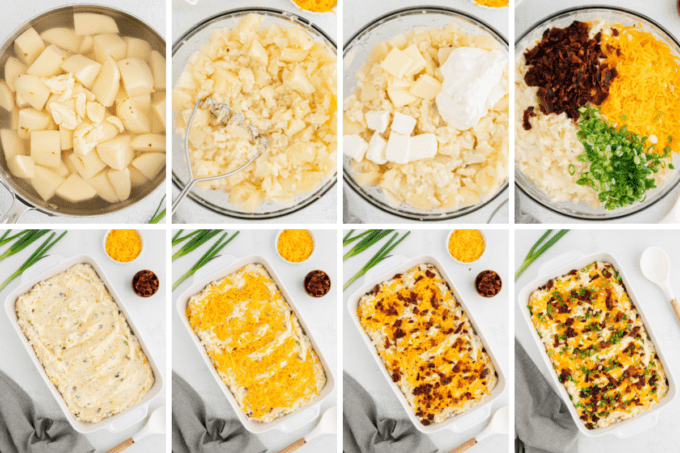 Boil potatoes. There's no specific amount of water needed, just enough to cover the pot full of potatoes by about 1 inch.
Drain and mash. You only need to get the mashing started, then it'll get mashed more in the next step.
Add dairy and mash. The dairy will incorporate much easier if they're at room temperature, or warmed.
Stir in and season. You'll be stirring in most of the cheese, bacon and green onions.
Add to baking dish. You can grease the pan with butter or nonstick spray.
Top with remaining cheese and bacon.
Bake. After baking, top with the remaining green onions.
Helpful Tip!
When making mashed potatoes, you want to do 3 main things for success.
Cut the potatoes in similar size pieces, so they cook evenly.
Boil until fork tender, but not so tender that they fall apart.
After draining the potatoes, add them back to the same pot you boiled them in. Let them sit for a minute; the hot pot will evaporate any extra water, so you won't have wet and watery mashed potatoes!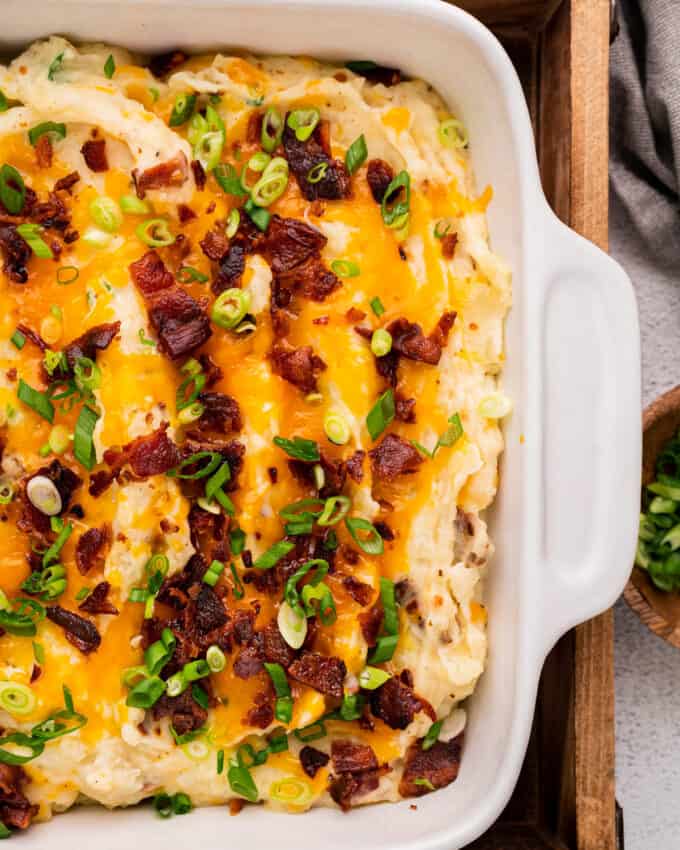 Variations of this recipe
Pre-made mashed potatoes – in a pinch, you can use some pre-made mashed potatoes, or leftover mashed potatoes. Just stir in the amount of cheese, bacon, and green onions that are listed, top with the cheese and bacon amounts listed, bake as directed, and top with the green onion amount listed.
Garlic – if you want more garlic flavor, feel free to add more cloves of garlic or add a sprinkle of garlic powder when mashing. Conversely, if you don't want any garlic flavor, you can omit the garlic cloves.
Dairy amounts – this recipe uses sour cream, heavy cream, and cream cheese, which is what makes the potatoes so incredibly creamy! But please feel free to play around with the amounts of those ingredients (more sour cream and less cream cheese, etc.). Just don't add more of something without using less of another dairy, otherwise you'll have overly wet mashed potatoes.
Smaller batch – this makes a full 9×13″ baking dish full of potatoes, so unless you're feeding a crowd or want to have plenty of leftovers, you may want to make less. You can halve all the ingredients, then bake in an 8×8″ baking dish instead.
Add-ins – you can jazz up this mashed potato bake by adding some jalapeños, caramelized onions, roasted garlic, or fried onions (such as French's brand).
Other cheeses – feel free to use your favorite cheese for this recipe! We love a great mild or sharp cheddar, but Colby, Colby jack, Gruyere, Pepper jack, etc are all great options. Mix and match for even more flavor!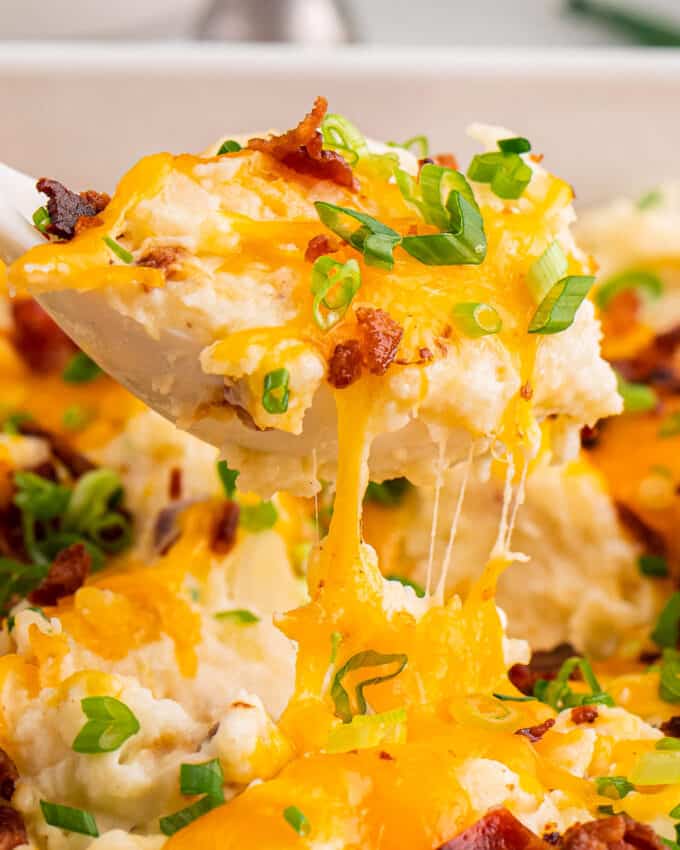 FAQ's
What are the best potatoes to use for a mashed potato casserole?
Really it all comes down to personal preference, but my favorites are russets or Yukon golds.  In general, they're starchier, which make for very fluffy and smooth mashed potatoes.  Waxier varieties, like red or white potatoes usually need more mashing to get as creamy, which can sometimes make the mashed potatoes gluey or pasty.
How much mashed potatoes should I plan for each of my guests?
A good rule of thumb is around 1/2 lb of potatoes per person.  So this recipe uses 4 lbs of potatoes and serves approximately 8 people. Of course, only you know how hungry your guests are and how much they love potatoes, so that amount may change a little.
I've heard about adding baking powder to mashed potatoes, what does that do?
It may sound odd, but it's really a thing! Add a chemical leavening agent (in this case baking powder) will cause a chemical reaction in which tiny gas bubbles expand in the potatoes, leaving you with fluffier mashed potatoes! Definitely not necessary, but it's something you could try.
Making mashed potato casserole ahead of time
Since this can be a time consuming side dish to make all at one time, I recommend making it, or parts of it at least, ahead of time!
Make the mashed potatoes, then stir in the cheese, bacon, and green onions (paying attention to the listed amounts in the recipe that are stirred in, as opposed to being sprinkled on top).
Add to a baking dish, let cool, then cover tightly and refrigerate for 1-2 days.
When ready to serve, let the baking dish sit out at room temperature for about 30 minutes or so to take some of the chill off, then bake as directed, adding some additional time (if necessary) since the baking dish may still be cold.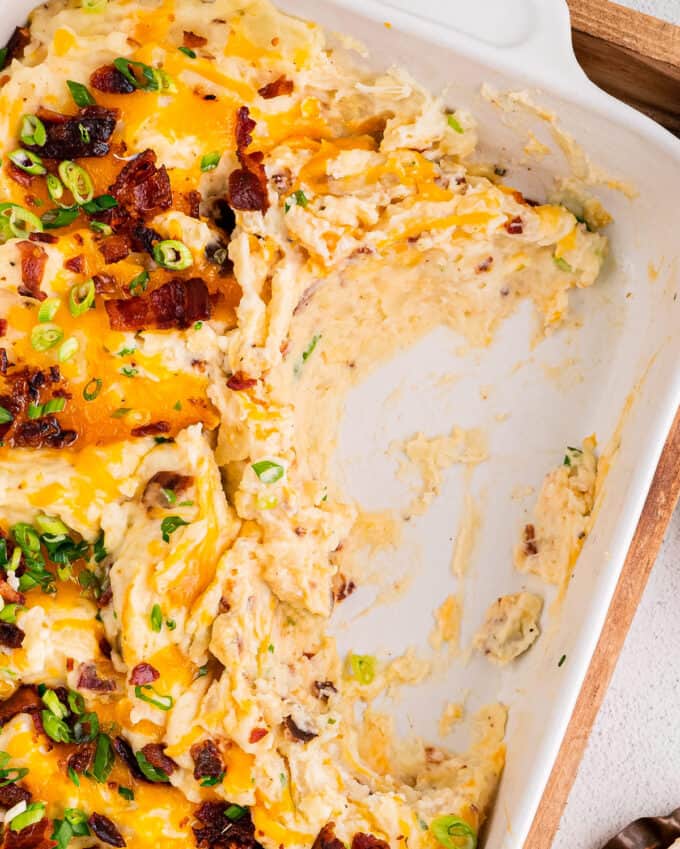 Storage
Leftover potatoes should be refrigerated in an airtight container and enjoyed within 4-5 days.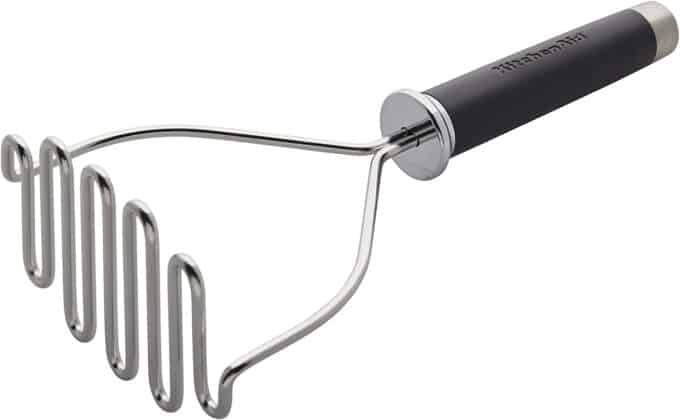 Nothing earth-shattering here; but it does what it's supposed to, and well. This potato masher is sturdy and heavy duty, as well as being easy to clean!
This recipe has been on the website since March of 2015, and has been updated in 2022 with new photos, and a few changes to make the recipe even better!
Did you make this? Be sure to leave a review below and tag me @the_chunky_chef on Facebook and Instagram!
This must-make side dish is made with irresistibly creamy mashed potatoes, and loaded up with sour cream, cheddar cheese, crispy bacon, and fresh green onions!
Ingredients
4 lbs russet potatoes peeled
4 cloves garlic smashed
1/4 cup unsalted butter softened to room temperature
1 cup sour cream
2/3 cup heavy cream warmed
2 oz cream cheese softened to room temperature
3/4 tsp kosher salt
1/2 tsp black pepper
3 cups shredded sharp cheddar cheese (divided)
6 green onions chopped (divided)
12 oz pkg bacon cooked and crumbled (divided)
Instructions
Prepare
Preheat oven to 375°F and set out a 9×13" (or 3 quart) baking dish. Butter the dish, and set aside.
Boil potatoes and garlic
Slice potatoes into 1.5" pieces, then add to a large pot with the smashed garlic cloves.

Cover with water by about 1 inch, then bring to a boil.  Boil for about 15-20 minutes, or until the potatoes can be easily pierced with a fork.
Drain
Drain potatoes well, then add back to the same hot pot you cooked them in. Let them sit about a minute (this allows any excess water to evaporate).
Mix
Add potatoes to a large mixing bowl.  Mash about halfway with a potato masher (or you can use a potato ricer).

Add butter, sour cream, warmed cream, and cream cheese.  Stir and mash until potatoes are smooth and fluffy.  Season with salt and pepper, and stir to combine.

Stir 2 cups of cheddar cheese, half the bacon, and half the green onions into the mashed potatoes. 
Assemble
Transfer mixture to prepared baking dish.  Top with remaining 1 cup of cheese, and remaining bacon.
Bake
Transfer to the oven and bake, uncovered, for 25-30 minutes, until cheese is melted and potatoes are hot.
Serve
Sprinkle with remaining 3 chopped green onions and serve hot.
Want to save this recipe for later? Click the heart in the bottom right corner to save to your own recipe box!
Chef Tips
I've estimated this recipe serves approximately 8-10 people, but the exact serving size is up to you.
Nutrition Disclaimer
The Chunky Chef is not a dietician or nutritionist, and any nutritional information shared is an estimate. If calorie count and other nutritional values are important to you, we recommend running the ingredients through whichever online nutritional calculator you prefer. Calories can vary quite a bit depending on which brands were used.