Buttery and flaky crescent roll dough, spread with a cinnamon brown sugar butter, then rolled up and baked until perfectly golden brown and drizzled with a sweet glaze. They're the perfect easy breakfast or brunch idea that comes together in no time, and are loved by everyone!
This is one of my Breakfast recipes I know you'll want to keep on hand!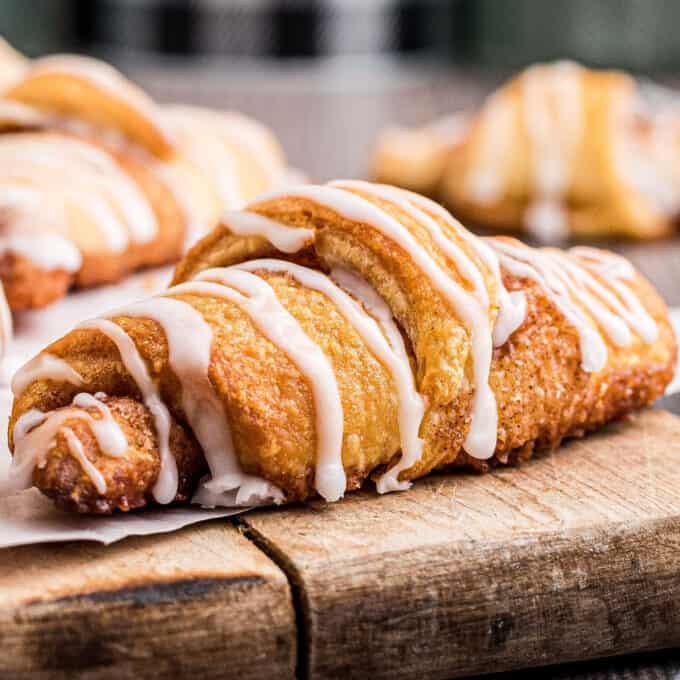 Is there anything better than sinking your teeth into a warm, gooey cinnamon roll? I mean, just writing that sentence made my mouth water a bit.
Cinnamon rolls are the quintessential comfort food breakfast; the ultimate indulgence. Not something you're going to eat ever morning, but every now and then… man, you just gotta do it!
The problem is, making cinnamon rolls from scratch takes hours, and can be intimidating if you're not used to working with yeast.
This recipe mimics all those amazing buttery cinnamon roll flavors, but is made with store-bought crescent roll dough. No working with yeast, no rising time, no stress!
Plus, you can make parts of this recipe ahead of time, and even freeze them… what's not to love?
How to make cinnamon crescent rolls?
This is just an overview; the full ingredients and directions are in the recipe card toward the bottom of this post.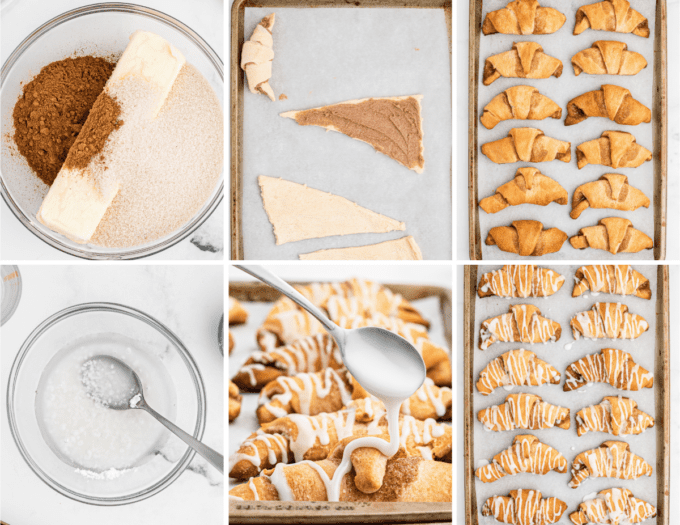 Make the cinnamon sugar butter. You definitely want softened butter for this, otherwise you won't be able to get a smooth consistency.
Roll the dough. Evenly spread the butter onto each crescent roll dough triangle and roll up like a traditional crescent roll.
Bake. These don't take very long to bake, just about 10 minutes.
Glaze. Combine the sugar and heavy cream (or milk or water), until smooth, and drizzle over baked crescent rolls.
Helpful Tip!
This recipe makes 16 crescent rolls, but can easily be halved if you'd like a smaller batch. Or you can bake half of the batch and freeze the other unbaked but assembled crescent rolls! Please see the freezing instructions down below in the post under the heading "Freezing" for more details.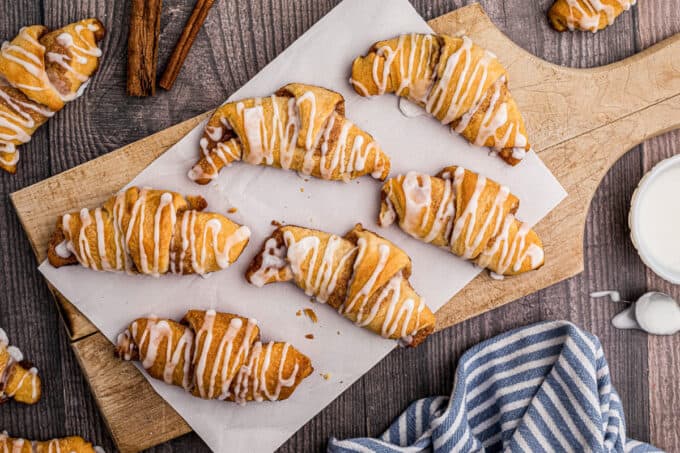 Variations of this recipe
Sugar – for a less molasses-y flavor, feel free to use granulated sugar instead of brown sugar. Or you could use a combination of both!
Add-ins – there are so many options here… try some chopped nuts (pecans or walnuts are our favorites), chocolate chips (we like using the mini ones), citrus zest (orange works really well), hazelnut spread (such as Nutella), etc.
Toppings – I kept this glaze super simple, but you can add additional flavors to the glaze if you'd like! Vanilla extract or vanilla bean paste, maple syrup, eggnog instead of milk, caramel or melted chocolate, etc.
Icing – to further mimic the flavors of a cinnamon roll, we like to use mix up 2 Tbsp softened unsalted butter, 1.5 oz softened cream cheese, 1 tsp milk, 1/2 tsp vanilla extract, and 2/3 cup powdered sugar. Use a hand mixer to beat the butter and cream cheese together well, then add the milk, vanilla, and powdered sugar and beat until smooth and creamy. Slather this on top of the warm crescent rolls.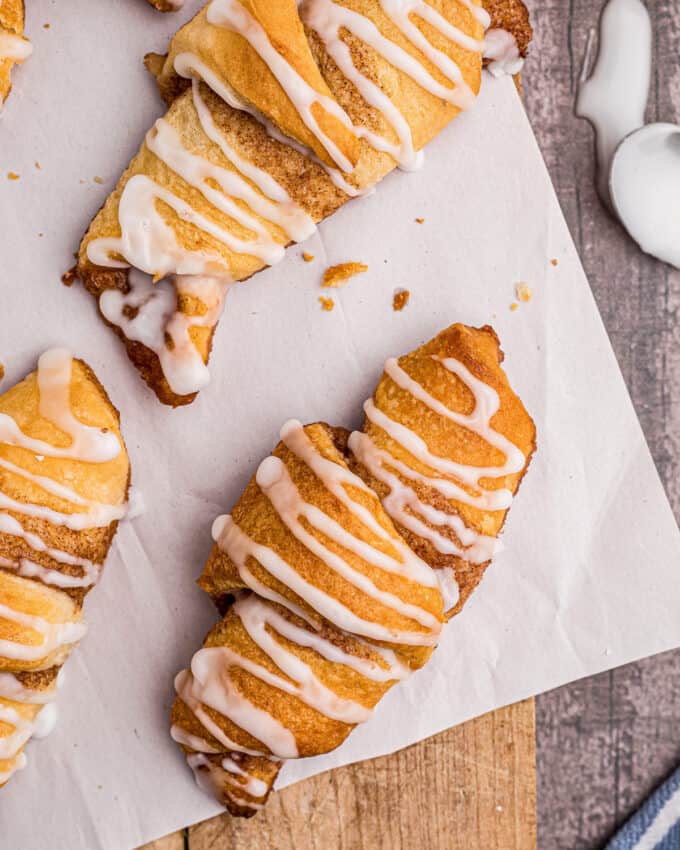 FAQ's
Can these crescent rolls be made using homemade dough?
This recipe was created to be as easy as possible, which is why it calls for canned crescent roll dough. But if you're feeling ambitious, or have some ready, you can certainly use homemade crescent roll dough!
Can this recipe be made in the air fryer?
While I haven't specifically tested this recipe in the air fryer, I'm sure it could be done. As a guess, I would say to air fry at 350°F in a greased or parchment lined air fryer basket, for about 5-8 minutes, or until golden brown.
Making cinnamon-swirled crescent rolls ahead of time
For the best texture and flavor, I don't recommend making these entirely ahead of time.
However you can do a few things ahead of time.
Ways to prep ahead for this recipe:
Butter mixture – the butter, brown sugar, and cinnamon can be mixed together and refrigerated for a day or so. Make sure to bring it to room temperature before using.
Glaze – the sugar and cream can be whisked then refrigerated for a day or so. Make sure to bring it to room temperature before using.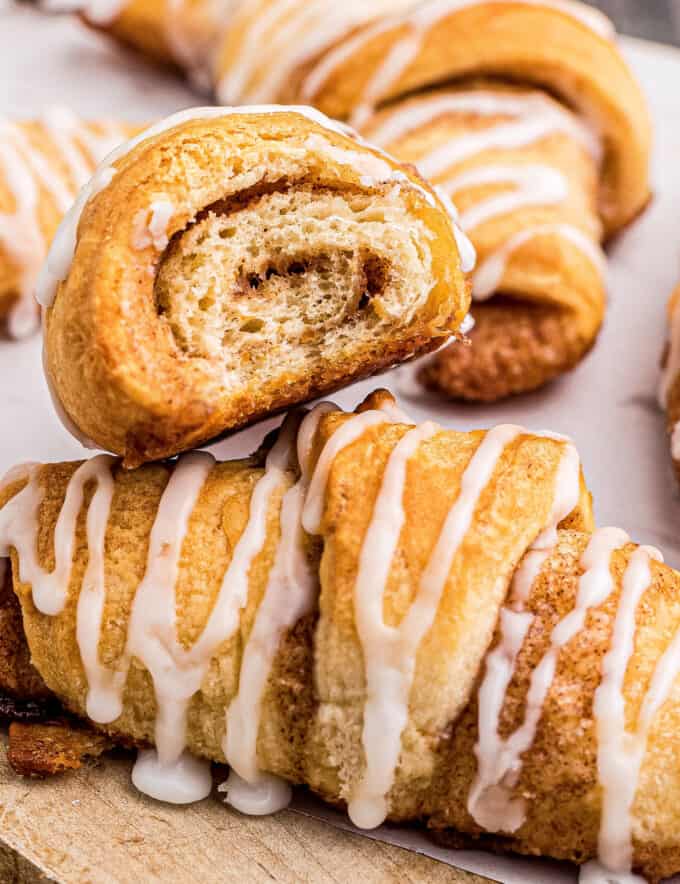 Freezing
Unbaked crescent rolls can be frozen! Place the assembled crescent rolls on a wax or parchment paper lined baking sheet. Add to the freezer and freeze for about an hour, or until frozen through.
Transfer to a freezer-safe container, and freeze for up to 3 months.
Thaw in the refrigerator, then bake as directed and glaze.
Storage
Leftover crescent rolls should be refrigerated in an airtight container and enjoyed within about 3 days.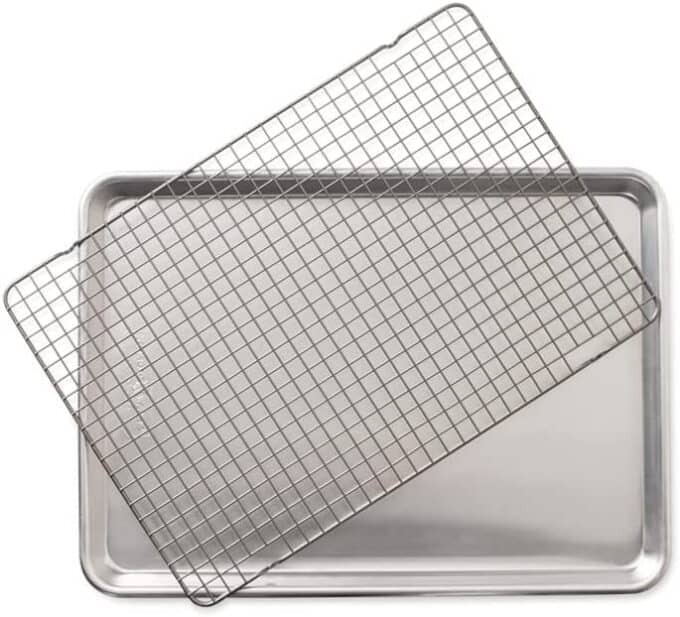 I've had many of these baking sheets for years and they hold up so well! Plus, as a bonus, this one includes an oven-safe cooling/baking rack.
Did you make this? Be sure to leave a review below and tag me @the_chunky_chef on Facebook and Instagram!
Buttery and flaky crescent roll dough, spread with a cinnamon brown sugar butter, then rolled up and baked until perfectly golden brown and drizzled with a sweet glaze!
Ingredients
Crescent rolls
2 (8oz each) packages refrigerated crescent roll dough we use Pillsbury original variety
1/2 cup unsalted butter softened to room temperature
1/2 cup packed light brown sugar
1 Tbsp ground cinnamon
Sweet glaze
1/3 cup powdered sugar
1 1/2 Tbsp heavy cream or whole milk water can also be used if you'd like
Instructions
Prepare
Line a large rimmed baking sheet with parchment paper and set aside. If you don't have a large baking sheet, line 2 smaller ones with parchment. Preheat oven to 375°F.
Unroll the dough
Open each package of crescent roll dough, then unroll onto a cutting board or other flat surface and separate them into triangles. If using Pillsbury, there are perforated lines you can use as a guide.
Mix the butter
In a small mixing bowl, add the softened butter, brown sugar, and ground cinnamon. Stir and mix to combine them well.
Roll the crescents
Spread the filling evenly on top of all of the triangles of dough. Roll the dough, starting with the wide end of the triangle, into traditional crescent roll shapes.
Bake
Add crescent rolls, seam/pointy side down, onto the prepared baking sheet.

Bake in preheated oven for 9-11 minutes, or until golden brown and puffed up. Remove from oven and leave crescent rolls on baking sheet.
Glaze
In another small bowl, add powdered sugar, then whisk well to remove any lumps. Add heavy cream (or milk or water), and whisk until smooth and glossy.

The exact consistency of the glaze is up to you: for a thinner glaze, add more liquid, and for a thicker glaze, add more sugar.

Drizzle glaze over the top of baked crescent rolls, then serve warm. You can also wait and drizzle the glaze after the crescent rolls have mostly cooled if you'd like.
Want to save this recipe for later? Click the heart in the bottom right corner to save to your own recipe box!
Chef Tips
Recipe makes 16 crescent rolls, which you can divide up into as many, or as little, servings as you'd like.
Nutrition Disclaimer
The Chunky Chef is not a dietician or nutritionist, and any nutritional information shared is an estimate. If calorie count and other nutritional values are important to you, we recommend running the ingredients through whichever online nutritional calculator you prefer. Calories can vary quite a bit depending on which brands were used.