Soaked overnight in a fabulous maple herb brine, pan seared and roasted to perfection, all while being glazed with a mouthwatering maple mustard sauce… hands down, the best pork I've ever made! Great for the holidays or a weekend dinner, this roasted pork loin is MUCH simpler to make than it sounds, and you'll love the results!
This no-fail roasted pork loin is a winner when it comes to holiday dinners, and/or a family weekend dinner! We love hearty main courses, like my Pan Seared Porcini Steak, and French Onion Pork Chops. This is one of my Dinner recipes you'll definitely want in your dinner rotation!
ROASTED PORK LOIN RECIPE
Well, I finally did it. I made the perfect roasted pork loin. I've tried many before, and could never get the perfect texture, and with the most flavor. The trick is to brine the pork, and make a luxurious sauce!
In fact, even those in my family who aren't huge pork fans LOVED this recipe. My 6 year old son had fourths. Yes, you read that correctly… fourths!
He's even been asking about it again, even though we just had it not that long ago, so I think we have a winner!
HOW TO MAKE A ROASTED PORK LOIN
Don't let the steps and long recipe down below scare you, a lot of it is hands-off time.
Tie the pork with twine
Brine the pork
Pat pork dry and discard marinade
Sear pork in skillet
Glaze with sauce, then roast pork
Glaze again and roast another 10 minutes
Let rest for 5-10 minutes, then slice and serve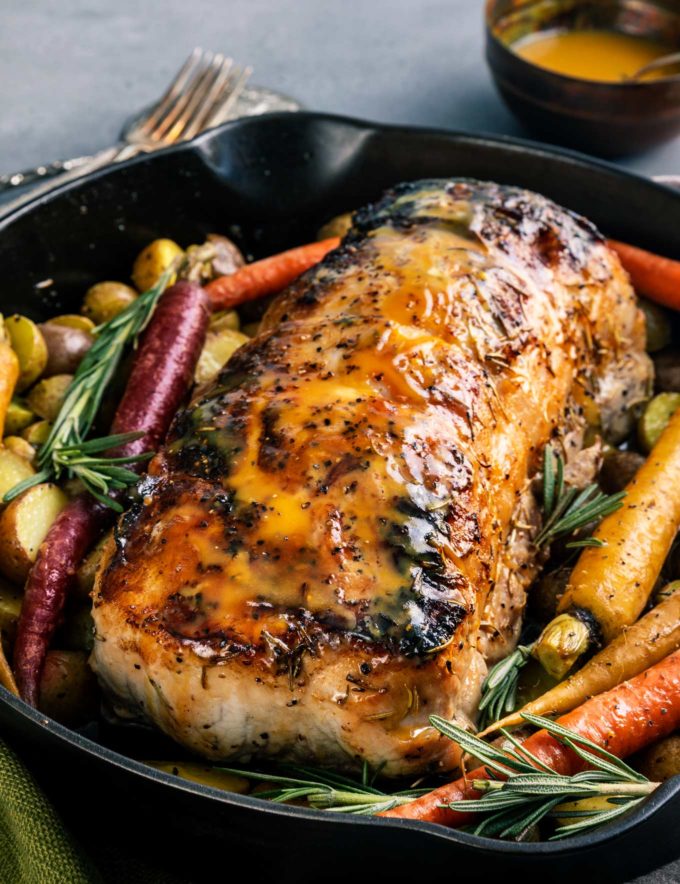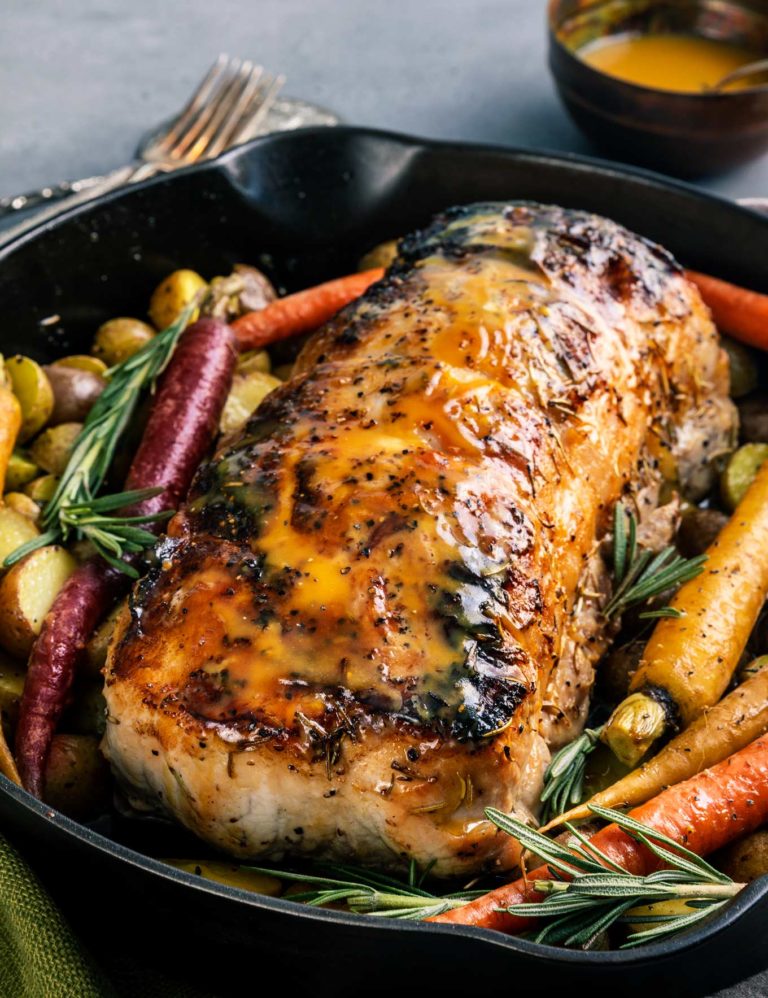 COOKING TIPS FOR PORK LOIN
Don't skimp the brine or sear – I know, I know, they're extra steps and it's so tempting to just skip them. But for the BEST roasted pork loin, you'll need those to bring moisture and great flavor.
Use an oven-safe skillet – if you have one, use it here, since you'll have less dishes to wash.
Check the temperature – the secret to an amazing pork loin is all in the temperature. Pork should be cooked to at least 145 F degrees, and the only way to be sure, is to check 🙂
Make sure you have the right cut of meat – there are two cuts of meat that have similar names, pork loin, and pork tenderloin.
WHAT IS THE DIFFERENCE BETWEEN PORK LOIN AND PORK TENDERLOIN
While the names may sound similar, they're in fact, very different cuts of meat. They're not cut from the same part of the animal, and are cooked differently.
Pork tenderloins are long and thin, with minimal fat. They are sometimes packaged in 2 packs at grocery stores. Tenderloins should be cooked at higher temperatures, and for shorter amounts of time.
Pork loins are wide and covered with a thicker fat cap. Loin should be seared, then cooked a lower temperature for longer periods of time.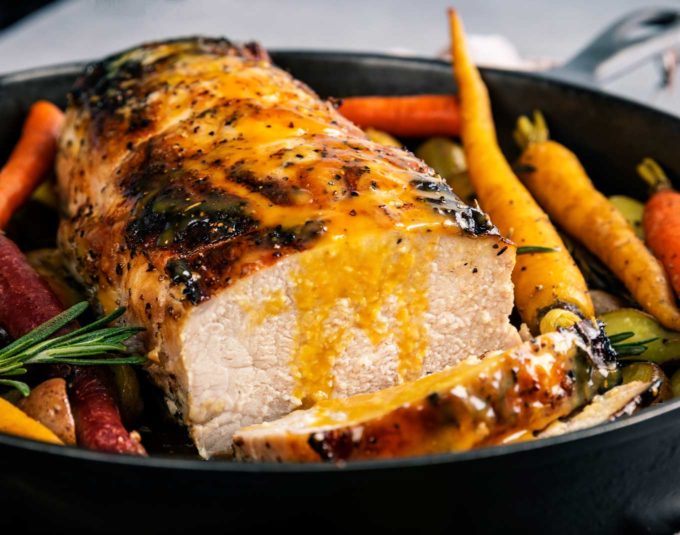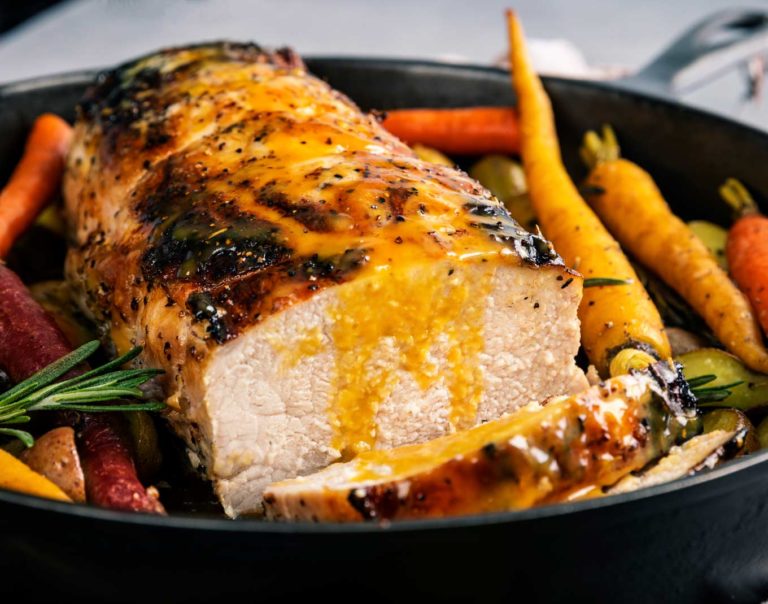 VARIATIONS OF THIS RECIPE
Make it a one-pan meal – the last 30-40 minutes of roasting time, toss some sliced baby potatoes, baby carrots, halved brussels sprouts, diced butternut squash, etc, with a little olive oil and salt and pepper. Add them around the pork loin and let them roast the rest of the way with the pork!
Use a pork tenderloin instead – if you're in a hurry, you can swap out the larger pork loin, for a smaller pork tenderloin. In fact, I like to use two of them. They're generally about 1/2-1 lb each. Roast at 400 F degrees for 35-45 minutes, or until pork is cooked to an internal temperature of 145 F degrees.
MAKING THIS PORK LOIN IN A SLOW COOKER
This recipe also works really well in the slow cooker, which is perfect for when you want an amazing dinner, but need it ready when you get home.
For the best texture and flavor, I still recommend brining the pork, and searing it. The sear gives it a great caramelization which equals great flavor. I know it's an extra step, but worth it!
Prepare the pork the same way you would for an oven roast, but add it to a slow cooker. Top with about half the maple mustard sauce, and a small splash of chicken broth or water.
Cover and cook on LOW for 6-8 hours. Pork is done when the internal temperature reads at least 145 F degrees.
This method will produce a pork that may not slice, but may end up shredding, much like when you make a pulled pork.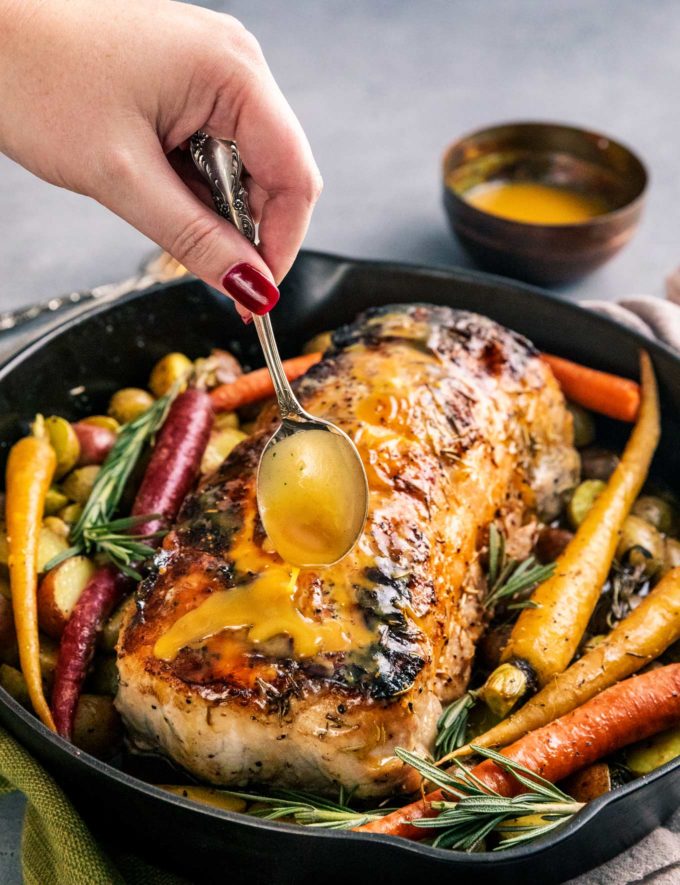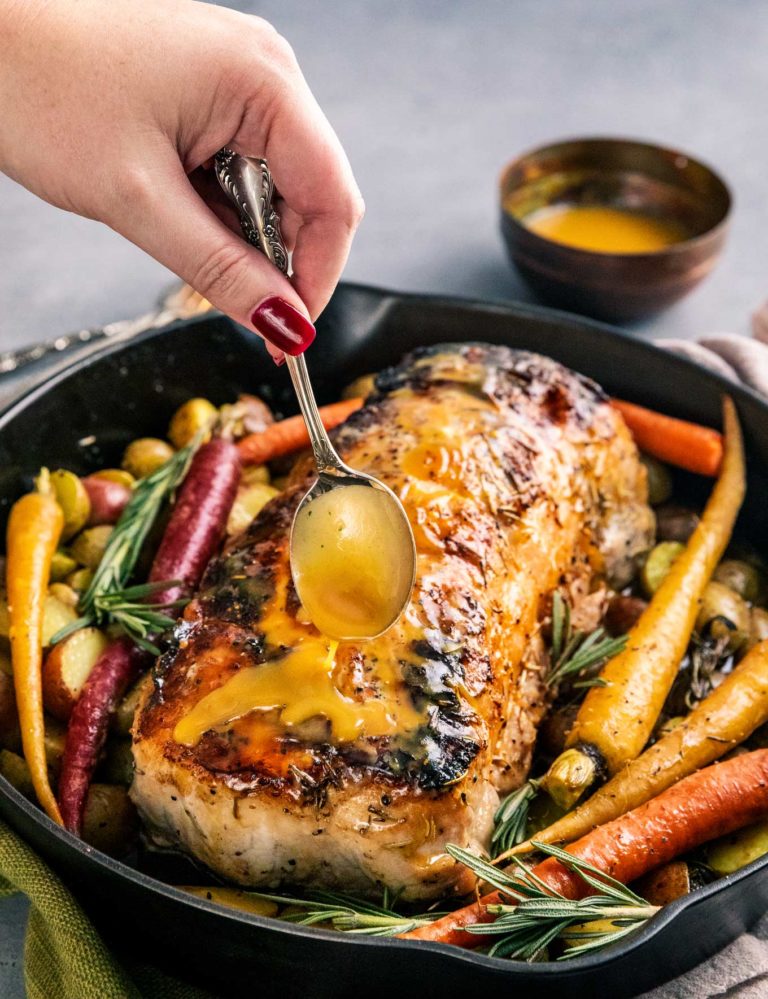 MAKING A PORK LOIN AHEAD OF TIME
I don't recommend roasting pork loin ahead of time, as it will inevitably be less moist and tender, compared to when you make it fresh. However, you can make the brine a day ahead of time, as well as the maple mustard sauce, which cuts down quite a bit on your prep and hands-on time.
STORAGE
Pork loin should be kept refrigerated in an airtight container, and leftover should be consumed within 3-4 days.
SPECIAL EQUIPMENT FOR THIS RECIPE
Internal Meat Thermometer – the key to a great roast is to use a meat thermometer! This one is inexpensive, accurate, and so quick! If you prefer a thermometer that stays in the meat and can alert you when the meat has reached a set temperature, try this ThermoPro!


BE SURE TO SCROLL DOWN TO CHECK OUT OTHER READERS' COMMENTS FOR TIPS AND REVIEWS.
AND DON'T FORGET, IF YOU'VE MADE THIS RECIPE, LEAVE A COMMENT AND PLEASE GIVE IT A STAR RATING LETTING ME KNOW HOW YOU ENJOYED IT!
Did you make this? Be sure to leave a review below and tag me @the_chunky_chef on Facebook and Instagram!
Incredibly moist and flavorful pork loin recipe!
Ingredients
BRINE
6 cups cold water
1/2 cup maple syrup
1/3 cup kosher salt
3 - 4 Tbsp grated fresh ginger
3 tsp black pepper
1 Tbsp dried rosemary
1/2 tsp red pepper flakes
5 cloves garlic crushed
PORK LOIN
kitchen twine
4 lb pork loin trimmed of excess fat
1/2 tsp kosher salt
1/2 tsp black pepper
2 Tbsp vegetable oil
SAUCE
1/3 cup dijon mustard
1/3 cup maple syrup
Instructions
PREP WORK
Trim pork loin of excess fat, and pat dry. Slide a length of kitchen twine underneath the pork, about 2 inches from the end. Bring the twine up over the sides of the pork and tie it with a double knot on top. Repeat with additional pieces of twine, tying in 2 inch intervals along the length of the pork loin.
MAKE THE BRINE
Combine all brine ingredients in a very large resealable plastic bag (I used a 2 gallon size), or large airtight container. Whisk until combined well.

Add prepared pork loin to brine, seal bag or container and refrigerate for 8-12 hours. When using a bag, I like to place the bag inside a baking dish, so in case the bag leaks, you won't have a giant mess in your refrigerator, it'll be contained in the dish.
ROAST THE PORK AND MAKE THE SAUCE
Preheat oven to 325 F degrees. If using a roasting pan, get it out and lightly spray the rack with cooking spray. If using an oven safe skillet, get it out.

Combine mustard and maple syrup in a small bowl, then put 2/3 of the that mixture in a small bowl, set aside for serving at the table later. The remainder of the sauce will be used for glazing.

Remove pork from brine and pat very dry. Season pork with 1/2 tsp each salt and pepper. Discard brine.

Heat oil in a large, heavy bottomed skillet over MED HIGH heat. Once oil is very hot, add pork and sear about 2-3 minutes per side, until browned.

I like to use a cast iron skillet, so I can take the pan directly from the stovetop to the oven. If you prefer a roasting pan, that will work too.

Lightly glaze pork with some of the maple mustard sauce. Roast pork for 1 hour 15 minutes.

Glaze pork again with maple mustard sauce, then continue to roast another 10 minutes or so. Pork loin is done, and safe, when cooked to an internal temperature of 145 F degrees.

Let pork rest 5-10 minutes, then slice and serve with the bowl of maple mustard sauce you set aside earlier.
Want to save this recipe for later? Click the heart in the bottom right corner to save to your own recipe box!
Nutrition Disclaimer
The Chunky Chef is not a dietician or nutritionist, and any nutritional information shared is an estimate. If calorie count and other nutritional values are important to you, we recommend running the ingredients through whichever online nutritional calculator you prefer. Calories can vary quite a bit depending on which brands were used.