New twist on Fajitas… and a copycat salsa
I absolutely LOVE Mexican food, and whenever we go out, I'm usually craving some chicken fajitas.  That enticingly smokey aroma that wafts through the whole restaurant as the waiter carries out your sizzling platter of delisciousness…. *drools*.  When I found this recipe, I'll admit I was skeptical… fajitas cooked in the oven?  Hmmm, it didn't seem like it'd have that great of flavors.  Whew, was I ever wrong!  These oven baked chicken fajitas were ahhhh-mazing and ridiculously simple!  You'll find the original recipe here:
http://www.budgetbytes.com/2013/02/oven-fajitas/
And for me, no Mexican meal is complete without a great condiment to go with it.  I'm sure you've all heard of, and drool over, Chipotle restaurants' salsas.  My personal favorite is definitely the corn salsa… sweet and spicy, flavors galore… it's perfect.  Except, sometimes… it's not.  Sometimes they make it sooooo spicy that I can barely eat my food.  Those are sad, sad times.  Well, no more will I, or you, have to deal with such a travesty… make your own!  This recipe takes it one better by adding some diced avocado to the mix.  Oh man, it's GOOD!  Now, if you don't care for avocado, then just omit that part and you'll still have a great salsa!!  The original recipe is here:
http://damndelicious.net/2013/03/04/avocado-corn-salsa/
I'll start you off with the fajitas first… slice up your veggies, and slice your chicken into similar sized strips.
Toss your veggies and chicken into a 9×13″ pan, sprinkle with your spice mixture, drizzle with vegetable oil and toss to combine everything really well.  Don't use a kitchen utensil for this one, use your best 2 tools you have… your hands 🙂  Go on, get messy, it's fun and does the job quickly 😉
Now just put them in a 400 degree oven for 35-40 minutes, stirring once halfway through.  While that's cooking, you can get started on your salsa!
Get to choppin'!  Just be careful… if you're a klutz like me and you get a little too zealous with your chopping, you may chop your thumb :/
Stir to combine and you've got a great salsa!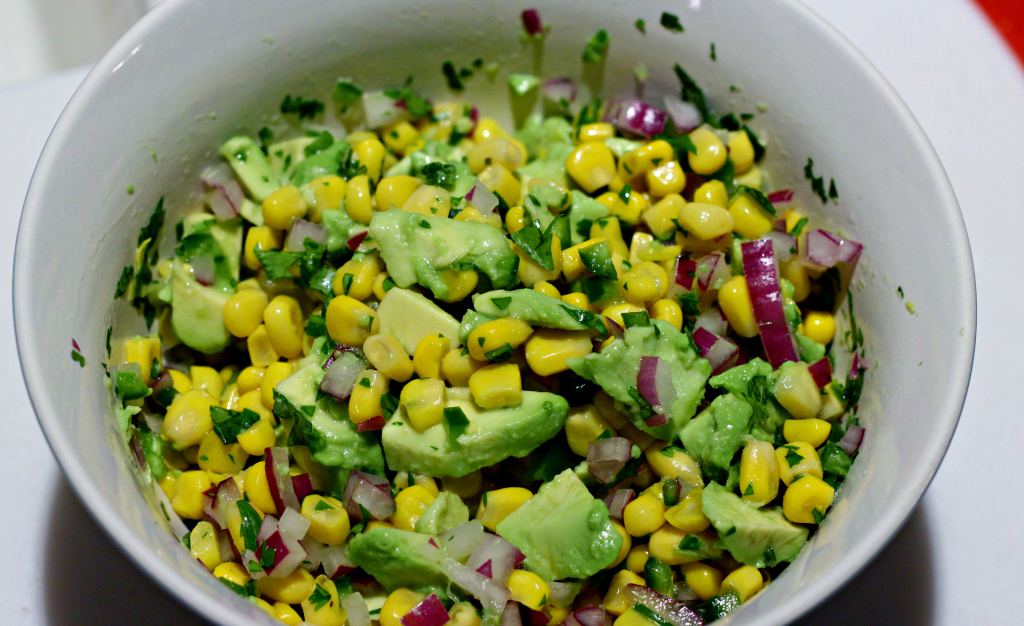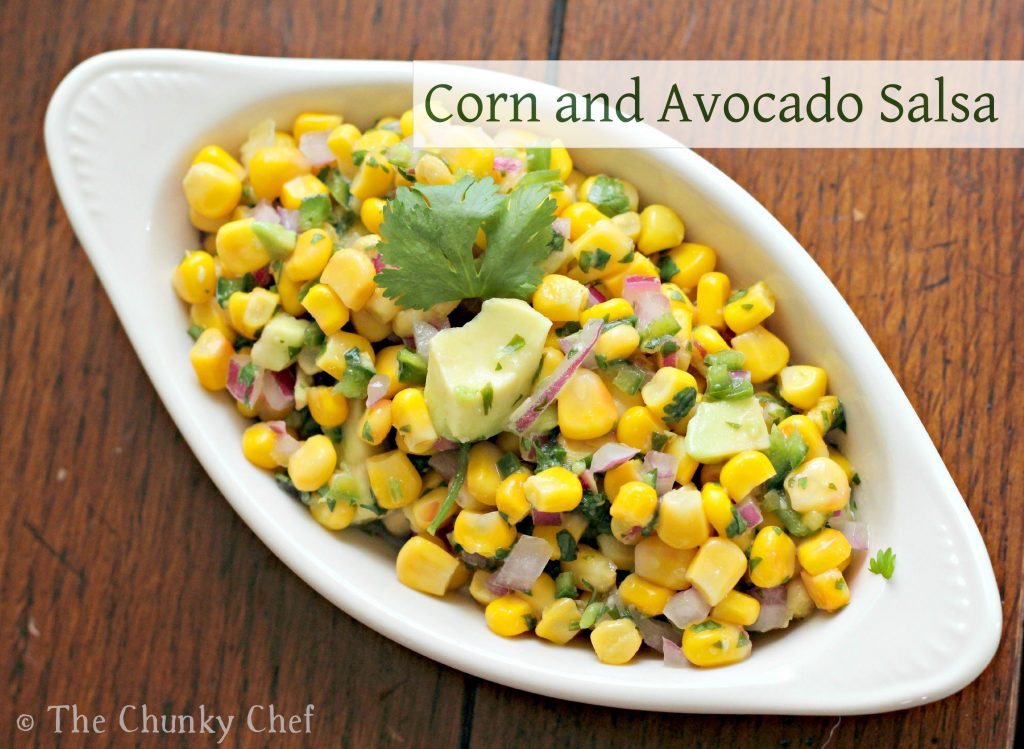 Ding!!  Your fajitas are finished!
Top with your favorite condiments and your salsa 🙂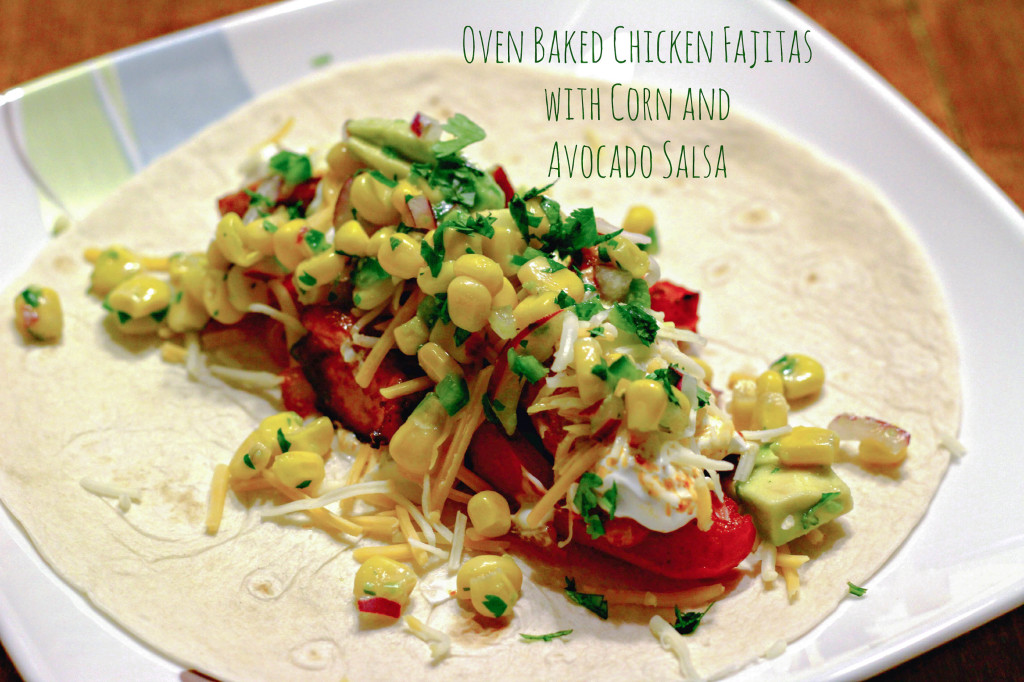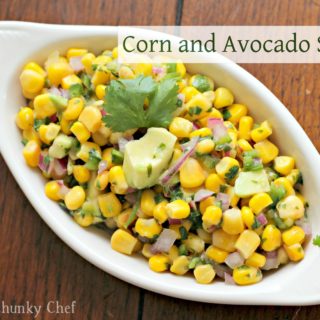 Fresh Salsa made with Corn and Avocado
Sweet and spicy flavors come together and are heightened by buttery avocado in this salsa!
Print
Pin
comment
Servings: 4 -6 servings
Ingredients
1 15 oz can canned sweet corn kernels
1 jalapeno seeded and finely diced
1/4 cup red onion diced
2 Tbsp fresh cilantro chopped
2 Tbsp lime juice freshly squeezed
1 tsp sugar
1/4 tsp salt
1 avocado diced
Instructions
In a large bowl, combine all ingredients. Stir. Serve and enjoy!
Are We Friends on Pinterest?
Follow me for more great recipes! The Chunky Chef!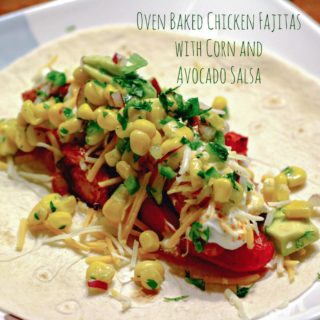 Chicken Fajitas (Oven Baked)
Full of AMAZING flavor, yet so simple to make!
Print
Pin
comment
Servings: 4 servings
Ingredients
2 small yellow onion sliced
1 medium green bell peppers sliced
2 medium red bell peppers sliced
1 lb chicken breasts sliced into strips
2 Tbsp vegetable oil
1 medium lime juiced
8 6- inch flour tortillas
sour cream optional
fresh cilantro chopped optional
SEASONING
1 Tbsp chili powder
1/2 Tbsp paprika
1/2 tsp onion powder
1/4 tsp garlic powder
1/4 tsp cumin
1/8 tsp cayenne pepper
1 tsp sugar
1/2 tsp salt
1/2 Tbsp corn starch
Instructions
Preheat the oven to 400 degrees. Mix all of the ingredients for the fajita seasoning in a bowl

and set aside.

Cut the onion and bell peppers into strips. Place them in a large 13x9 baking dish. Slice the

chicken breast into thin strips and add it to the baking dish with the vegetables.

Sprinkle the seasoning over the meat and vegetables. Drizzle the vegetable oil over

everything and then use your hands to toss the ingredients until they are well coated. Bake

for 35-40 minutes, stirring once half way through.

Squeeze the juice from half of the lime over top of the baking dish once it's baked.

Place some meat and vegetables in the middle of a flour tortilla, top with your favorite fajita

toppings and enjoy!
Are We Friends on Pinterest?
Follow me for more great recipes! The Chunky Chef!