This bruschetta recipe takes advantage of summer produce and is very easy to throw together at the last minute! Complete with plenty of ways to customize this recipe, you'll be serving restaurant-quality appetizers in no time.
This is one of my Appetizer recipes I know you'll want to keep on hand!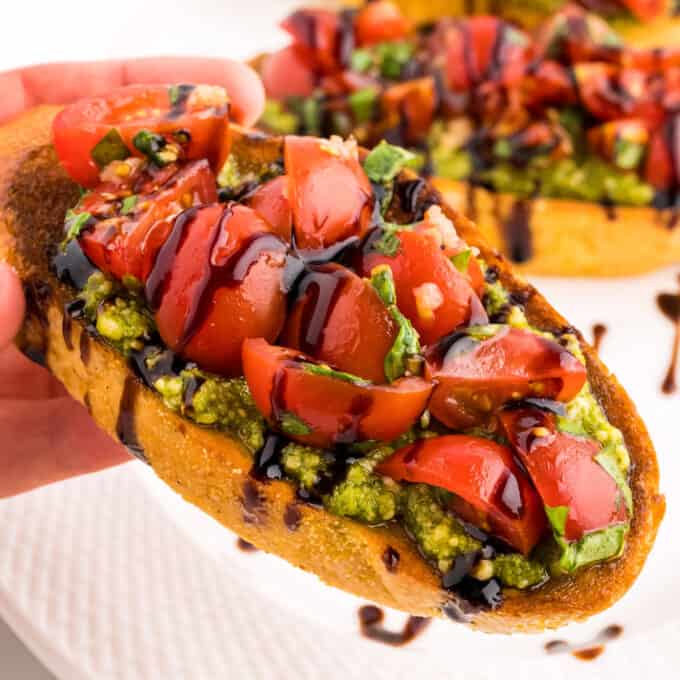 This is one of those recipes that's more of a method, which I love to share. I'm all about you being able to customize recipes to your tastes and based on what you have on hand!
A simple tomato bruschetta recipe is elevated by adding a layer of basil pesto and an option to drizzle everything with a bit of balsamic glaze. And trust me, it's delicious with or without it, but you should try the glaze at least once!
Perfect for summer parties, or a fun appetizer lunch or dinner, you'll love how quickly and easily it comes together.
With options to make the pesto and balsamic glaze from scratch or take some help from the grocery store, you'll find a version that works for you!
How to make basil pesto bruschetta?
This is just an overview; the full ingredients and directions are in the recipe card toward the bottom of this post.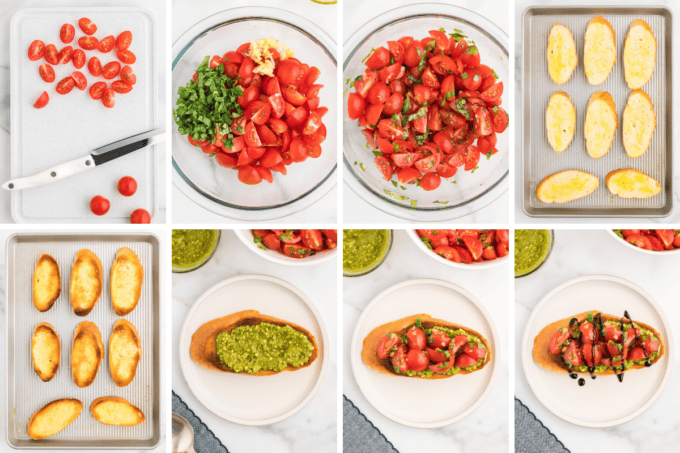 Mix tomato topping. Mixing the topping a little bit ahead helps those flavors really meld.
Toast bread. Any time you're broiling, especially with bread, keep a close eye on it. I've burnt plenty of bread by being distracted while it was under the broiler!
Assemble. Add pesto, tomato topping, and drizzle with balsamic glaze.
Helpful Tip!
If you've ever wondered why so many bruschetta and crostini recipes show the bread being sliced diagonally, you're not alone! The reason all comes down to the taste. Slicing the bread on the bias like that means that each slice has a larger surface area than if you just sliced across the baguette. More surface area means more room for those flavorful toppings!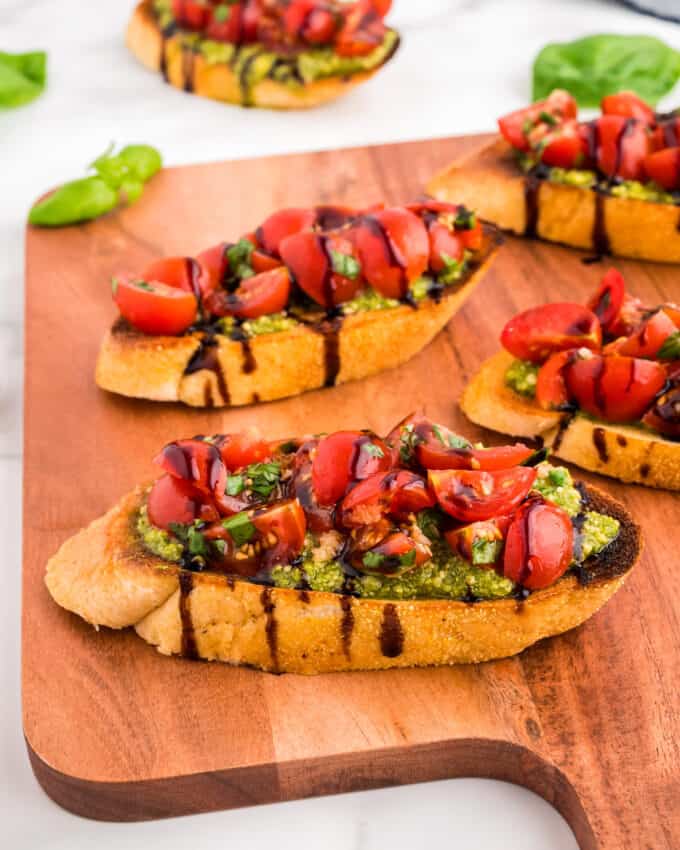 Variations of this recipe
Pesto – we love to make this bruschetta with some homemade pesto (seriously, the flavor is insane!), but if you'd like to save some time, you can use your favorite brand of store-bought pesto.
Tomatoes – if you're making this recipe in the summer when you can find incredibly sweet tomatoes practically all the time, feel free to use any tomatoes you'd like. But if it's off-season, we usually prefer cherry or grape tomatoes, since they'll more closely mimic the sweetness of summer tomatoes.
More garlic flavor – garlic lover? Me too! After you broil the baguette slices, and they're crispy and hot, slice off the tip of a clove of garlic. Then rub the garlic clove over the baguette slices. The heat and craggy surface area of the bread will sort of "melt" the garlic into all the nooks and crannies, and you'll have some amazing flavor!
Cheese – feel free to quarter some fresh mozzarella pearls or add some freshly grated Parmesan cheese to the tomato mixture.
Balsamic glaze – to save time, I typically buy a bottle of balsamic glaze from the grocery store, but you can certainly make your own if you'd like. In a skillet, add about a cup of balsamic vinegar and cook it over a medium-low heat. The exact time will vary, but you want the vinegar to reduce down and turn into a syrupy consistency.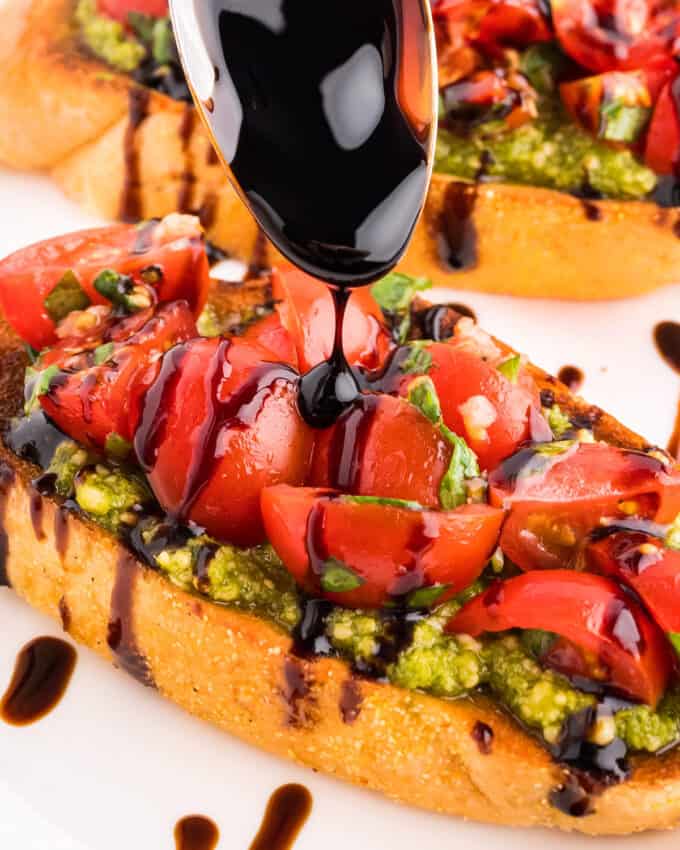 FAQ's
What is bruschetta?
You've probably seen bruschetta on the appetizer menus of many Italian-American restaurants, but it may surprise you to learn that bruschetta is actually just referring to the toasted bread! Here in America though, when we say bruschetta, we tend to be referring to the tomato topping, which is comprised of chopped tomatoes, garlic, sometimes onion, herbs and seasonings, and olive oil.
Making bruschetta ahead of time
This recipe is one that is definitely made fresh, right before serving. Otherwise, the bread gets too soggy.
However, you can definitely prep ahead for this recipe:
Bread – the baguette can be sliced, and kept stored in an airtight container at room temperature.
Pesto – if you're making homemade pesto, it can be made and kept refrigerated.
Balsamic glaze – if you're making your own glaze, it can be made and cooled, then refrigerated.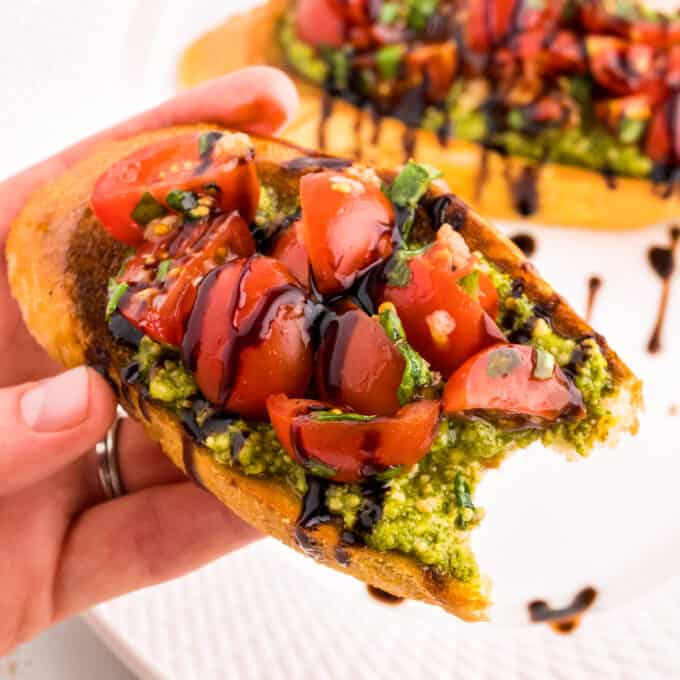 Storage
Storing the assembled bruschetta isn't recommended, since both the pesto and tomato topping would make the bread soggy and unappetizing.
However, the tomato topping can be refrigerated in an airtight container for several days. Keep in mind though, that the longer the tomatoes are refrigerated, the wetter the mixture will be, and the tomatoes can get a bit mealy in texture.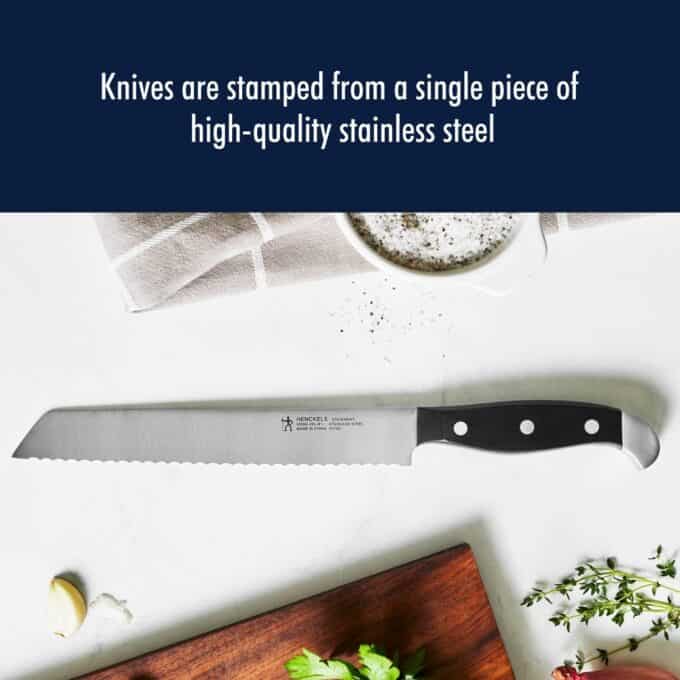 Making great bruschetta is super easy when you have a sharp serrated knife to slice the baguette on the bias. This knife is inexpensive and works really well! I do have this fancier knife from Wusthof, but it's definitely very pricey.
Did you make this? Be sure to leave a review below and tag me @the_chunky_chef on Facebook and Instagram!
Crisp golden brown baguette slices are topped with a flavorful basil pesto, then a simple tomato bruschetta topping and drizzled with a sweet and tangy balsamic glaze.
Ingredients
12 oz cherry tomatoes
1/4 cup minced fresh basil (about 10 large leaves)
3 Tbsp olive oil divided
2 cloves garlic minced
1/4 tsp kosher salt
1/4 tsp black pepper
1 baked french baguette sliced into thin slices on an angle
1/2 – 1 cup prepared basil pesto
2 – 4 Tbsp balsamic glaze optional but recommended
Instructions
Make tomato topping
Halve or quarter the cherry tomatoes (depending on their size), and add to a small mixing bowl.

Stack the basil leaves on top of each other, roll them up like a cigar, then cut across, cutting the basil into fine ribbons. Use as is, or chop those ribbons into smaller pieces. Add to mixing bowl.

Add garlic, salt, black pepper, and 1 Tbsp of olive oil to the mixing bowl and stir well to combine. Set aside for 5-10 minutes.
Slice and toast bread
Preheat broiler to high (my high is 550°F), but keep the oven rack in the center position (so the bread doesn't burn).

Slice the baguette, slicing at approximately a 45° angle. This creates more surface area and gives the bread an oval shape. Set aside.

Line a baking sheet with foil (for easier cleanup, if desired), and arrange the sliced bread pieces in a single layer.

Brush the bread slices with the remaining 2 Tbsp of olive oil, then broil for 2-3 minutes, or until bread is as golden brown as you'd like.

Set aside to cool a bit.
Assemble bruschetta
Once the bread has cooled a bit, spread about 1 Tbsp (more or less, to taste) of the basil pesto on top.

Top that with some of the tomato topping, and drizzle with balsamic glaze (if using).
Serve
Serve immediately, with additional balsamic glaze if desired.
Want to save this recipe for later? Click the heart in the bottom right corner to save to your own recipe box!
Chef Tips
The size of the baguette will determine how many slices you'll get out of it.
I've estimated that this recipe will serve about 8 people, with 2 slices per person as a suggested serving size.
Feel free to use my Homemade Basil Pesto recipe, or use your favorite brand from the store.
We like to use prepared balsamic glaze (Bertolli brand is what we use), but you can make your own if you prefer. In a skillet, add about a cup of balsamic vinegar and cook it over a medium-low heat. The exact time will vary, but you want the vinegar to reduce down and turn into a syrupy consistency.
For more garlic flavor, after you broil the baguette slices, and they're crispy and hot, slice off the tip of a clove of garlic. Then rub the garlic clove over the baguette slices. Proceed with the recipe as directed.
Nutrition Disclaimer
The Chunky Chef is not a dietician or nutritionist, and any nutritional information shared is an estimate. If calorie count and other nutritional values are important to you, we recommend running the ingredients through whichever online nutritional calculator you prefer. Calories can vary quite a bit depending on which brands were used.