Hush puppies are deceptively easy to make, and here you'll learn exactly how to make the batter, as well as all the tips and tricks for frying them so they're perfectly crisp and golden on the outside and light and fluffy inside!
This is one of my Side Dish recipes I know you'll want to keep on hand!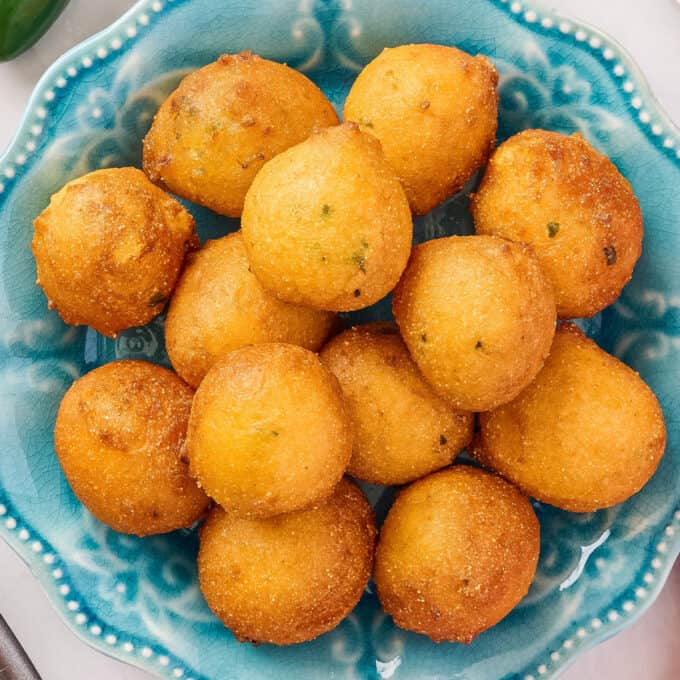 This may not be the case everywhere, but where we are in the Midwest, when you get a platter or basket of some delicious fried seafood (beer-battered fish anyone?), you get a couple of hush puppies alongside it.
And the one thing I look forward to the most about that dinner experience? That's right… it's the hush puppies!
Those delicious little balls of fried dough are always so flavorful, and have that perfect balance of savory and sweet. Not to mention the amazing juxtaposition of the crispy golden brown exterior and the light and airy interior!
You'll also love how simple these are to whip up!
How to make jalapeño hush puppies?
This is just an overview; the full ingredients and directions are in the recipe card toward the bottom of this post.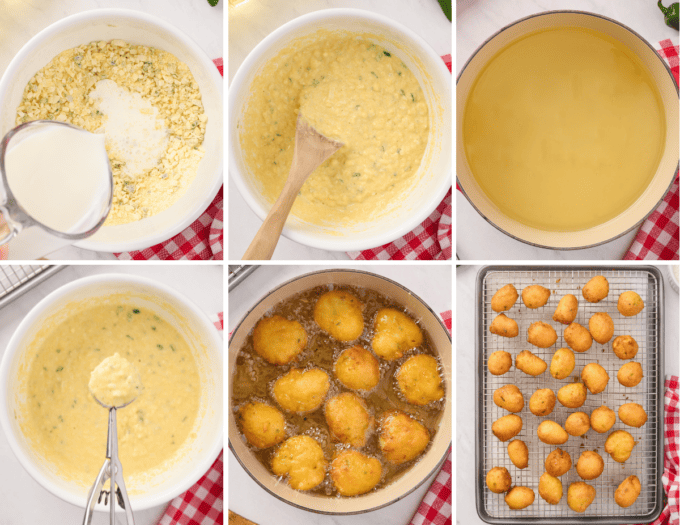 Make batter. The great part about this recipe is that the batter is made entirely in one bowl, so there's less to wash afterwards.
Let batter rest. This is an important step, so don't skip it! Letting the batter sit for 20-30 minutes allows the leavening agents to work their magic, and helps ensure the hush puppies are light and airy inside.
Heat up oil. I like to keep my burner on MED heat, and check the oil with a frying thermometer so I can be sure it's ready.
Scoop and fry. Using a cookie scoop is the easiest way to do this, but you can also use 2 spoons (using one spoon to scoop the batter, and the second spoon to scrape the batter off into the oil).
Fry in batches. This keeps the temperature of the oil steady.
Transfer to a cooling rack. This keeps the fried food off a large surface, which means the hush puppies shouldn't get soggy.
Helpful Tip!
Frying can be intimidating, but don't panic. You can do this, and you really don't need a bunch of expensive equipment. I've included a frying tips section right above the written recipe that will turn you into a frying master in no time.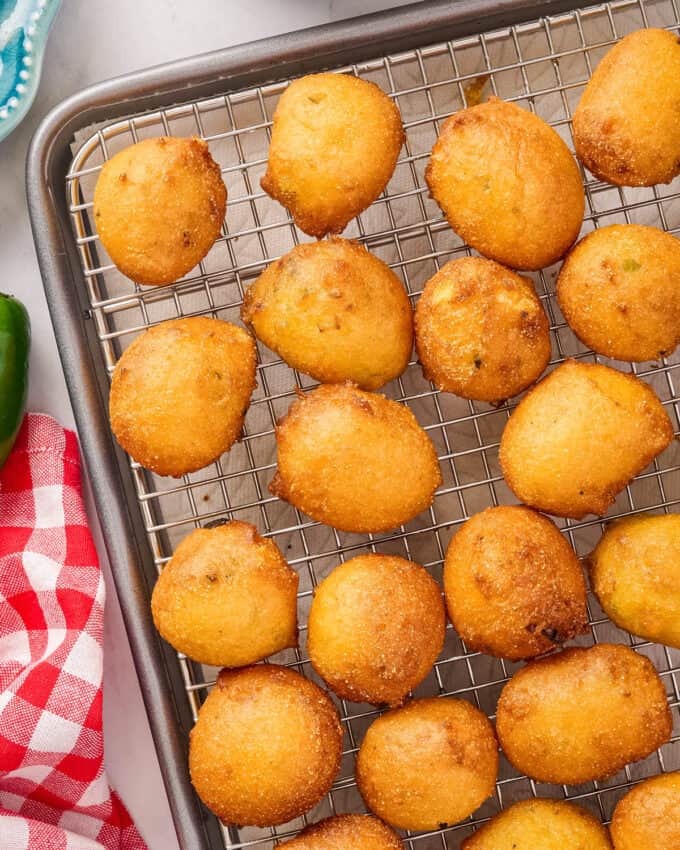 Variations of this recipe
All-purpose flour – if you'd prefer to use all purpose flour instead of self-rising, you'll need to add an additional 1 tsp baking powder, and 1/4 tsp kosher salt (remember, that's what needs to be added to the amounts already in the recipe). Stir it together until well mixed, and let it sit while you gather the other batter ingredients.
Cornmeal – we normally have yellow cornmeal on hand, so that's what this recipe was made with. But white cornmeal will also work just as well.
Buttermilk substitute – if you don't have buttermilk on hand, you can make your own! Mix 1 Tbsp lemon juice or white vinegar with whole milk and let it sit about 10 minutes. It will look a bit curdled. Stir and use.
Jalapeños – we love using fresh peppers for this recipe, but if you would prefer to use jarred/pickled/canned peppers, you certainly can.
Onion – instead of mincing the onion, you could try grating it instead (although you may not use the whole onion).
Other flavors – you can omit the jalapeños if you'd like, as well as play around with the amount of onion, try adding some corn kernels, play around with different seasonings, etc.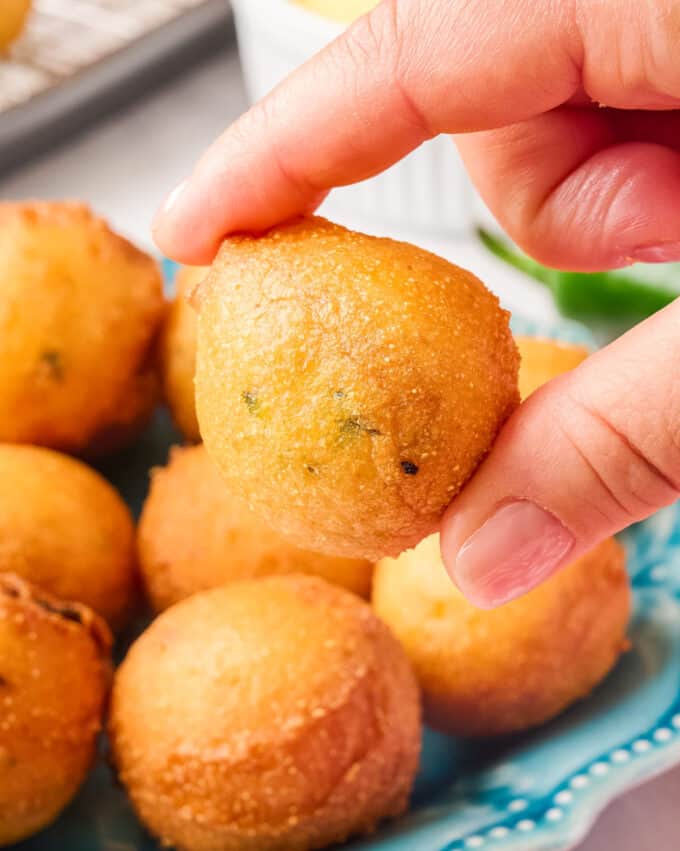 FAQ's
Are hush puppies called something else?
I've heard balls of fried cornmeal batter called various things; fritters, corn pone, corn dodgers, etc. I find that those are all their own foods, and while the recipes are similar, they're not exactly the same as hush puppies. But if you hear someone call these by another name, just know that isn't unusual.
What's the best oil to fry in?
Personally, I love to fry with peanut oil. It has a great flavor, and its high smoke point means the oil won't burn. Vegetable oil is another great choice, especially if anyone has peanut allergies.
Making hush puppies ahead of time
This recipe, like all fried foods, tastes best when made fresh.
However, the good news is that this recipe comes together really quickly!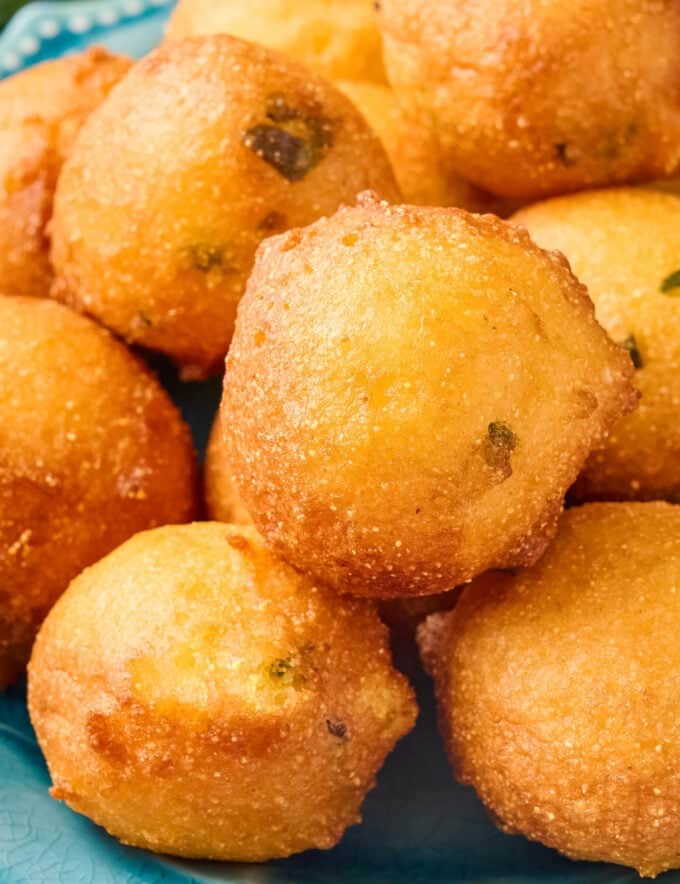 Storage
Leftover hush puppies should be refrigerated in an airtight container and enjoyed within 3-5 days.
Reheating leftover fried foods can be tricky, but I recommend reheating in a preheated 375°F oven for about 10-15 minutes.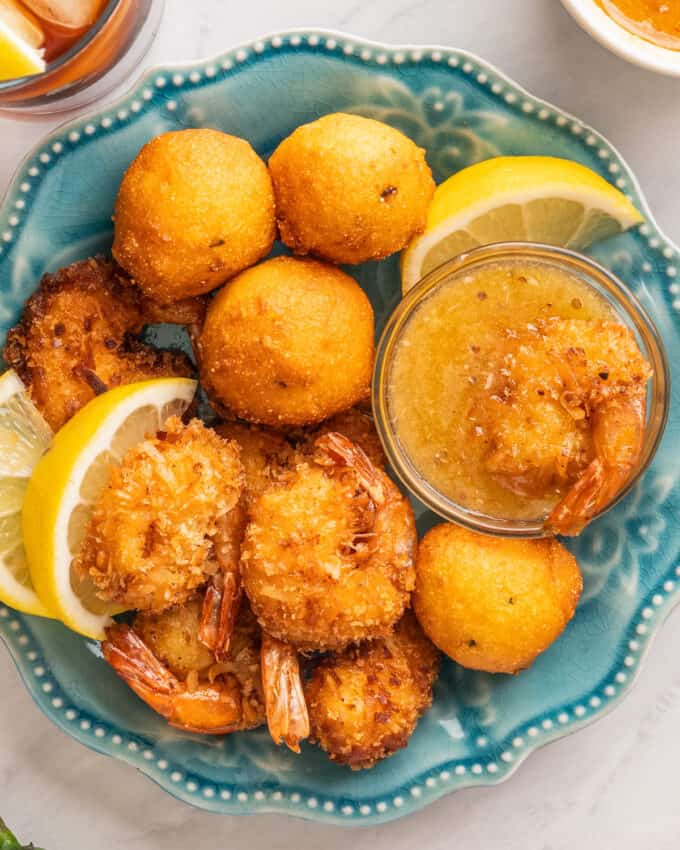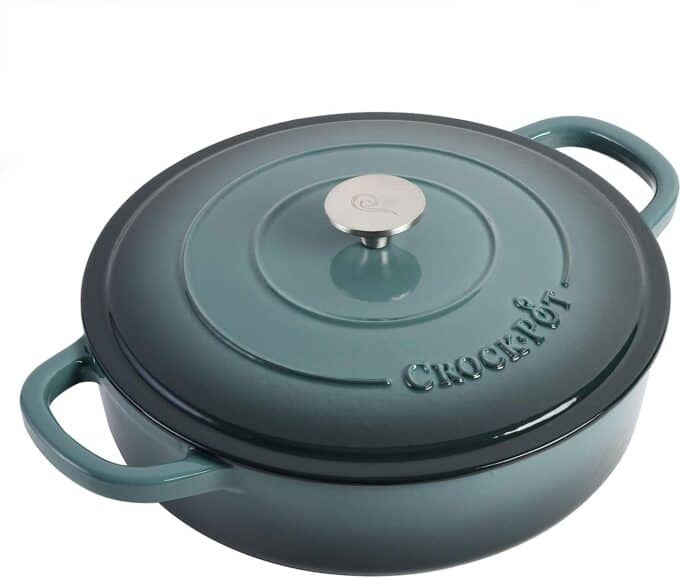 I love using this enameled cast iron pan to fry in. It's heavy bottomed, holds heat evenly, is shallow enough to be able to work in, yet deep enough so you don't get splatters of oil all over your stove! If you'd like to take the guesswork out of getting your oil to the right temperature, try using this inexpensive frying thermometer.
Handy Frying Tips!
Use a thermometer to ensure the oil is at the right temperature. Guessing just isn't the way to go here. If the oil is too hot, the food will burn before they're cooked through. If the oil is too low, the food will take on too much oil and be oily and soggy. Around 375°F is the sweet spot.
Drop the breaded food or batter away from you when you add it to the oil. Hot oil is not fun to get on your bare skin – trust me!
Don't overcrowd the pot/pan. Every time you add anything to hot oil, it lowers the temperature a bit. So adding all your food at once will drop the temperature too much, which leads to unevenly cooked, oily and soggy food. I like to add about 10-12 hush puppies at a time, when using a large pot.
Use a frying spider instead of tongs to handle fried food in the oil. Tongs have a tendency to rip off pieces of breading or tear the fried batter. Spiders are inexpensive and great for so many things.
Drain the fried food of excess oil after frying by adding it to a wire cooling rack. This elevates the food and keeps the coating crisp.
Did you make this? Be sure to leave a review below and tag me @the_chunky_chef on Facebook and Instagram!
Tender balls of slightly sweetened cornmeal batter studded with fresh jalapeño peppers are fried until perfectly golden brown and tender!
Ingredients
1 cup self-rising flour
1 cup cornmeal yellow or white
1 1/2 tsp baking powder
1/2 tsp kosher salt
1 small yellow onion very finely minced
2 fresh jalapeño peppers seeded and minced
1/4 cup granulated sugar
1 large egg
1 cup buttermilk
peanut or vegetable oil for frying
Instructions
Make batter
In a large mixing bowl, add flour, cornmeal, baking powder, salt, onion, jalapeños, and granulated sugar.

Add egg and buttermilk, and stir until just combined. Set aside on the counter for about 30 minutes, and don't stir any more.
Prepare to fry
Line a baking sheet with a paper towel, and top with a wire cooling rack. Set near the stove, as this will be where you put the cooked hush puppies.

In a heavy bottomed pot (I use a dutch oven), add enough oil to fill the pot by about 2-3 inches. Heat over MED heat, until about 375°F.
Scoop and fry batter
Scoop batter by rounded tablespoonfuls (I like to use a Tbsp sized cookie scoop for this), and fry about 1 1/2 minutes on each side, until golden brown and crispy.

Make sure not to overcrowd the pot, and fry in batches. Transfer the cooked hush puppies to prepared baking sheet.
Want to save this recipe for later? Click the heart in the bottom right corner to save to your own recipe box!
Chef Tips
This recipe makes about 30-40 hush puppies, which you can divide into as many servings as you'd like.
Calorie count is for 1 hush puppy, and doesn't include the oil, as that amount will vary from individual to individual.
Prep time includes the time for letting the batter rest (20 minutes).
Using a candy or frying thermometer (or even an instant read one) is highly recommended to ensure proper oil temperature.
Avoid overcrowding the pan when frying.  Overcrowding causes the oil's temperature to drop too low, which means the fried food will end up soggy, oily, and not cook evenly.
To remove hush puppies from the hot oil, I highly recommend a spider, but a slotted spoon will work well too.
Nutrition Disclaimer
The Chunky Chef is not a dietician or nutritionist, and any nutritional information shared is an estimate. If calorie count and other nutritional values are important to you, we recommend running the ingredients through whichever online nutritional calculator you prefer. Calories can vary quite a bit depending on which brands were used.