Chicken fried rice… such a classic Asian dish.  It's a lot simpler to make than you may think!  Plus you get to customize what vegetables, oils, flavors and protein go into your rice.  Don't reach for that takeout menu… make your own that tastes wayyyyy better!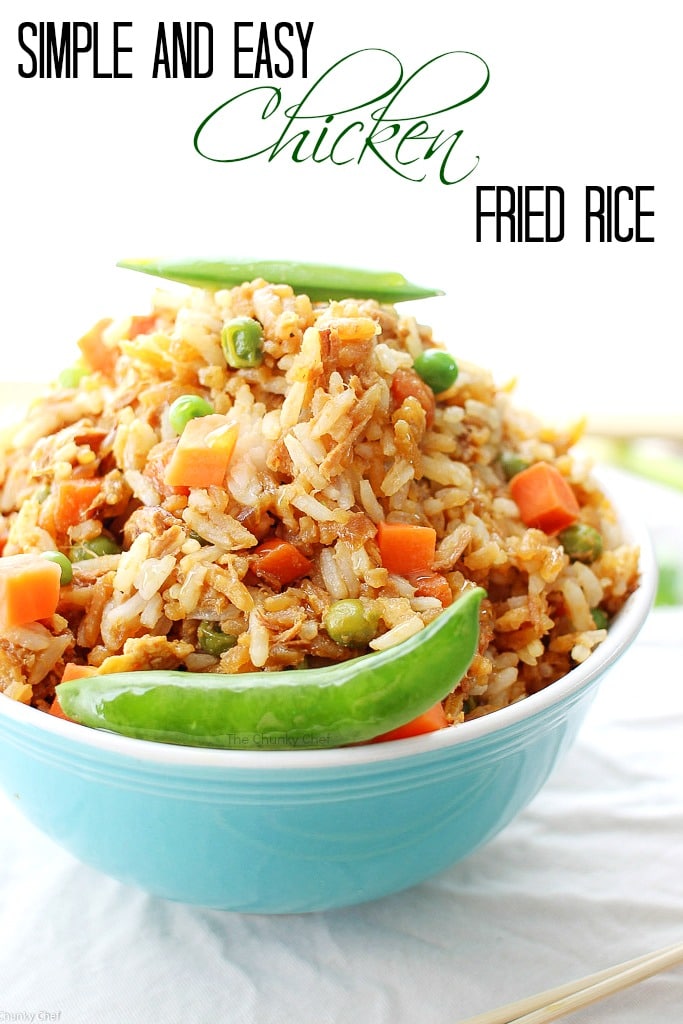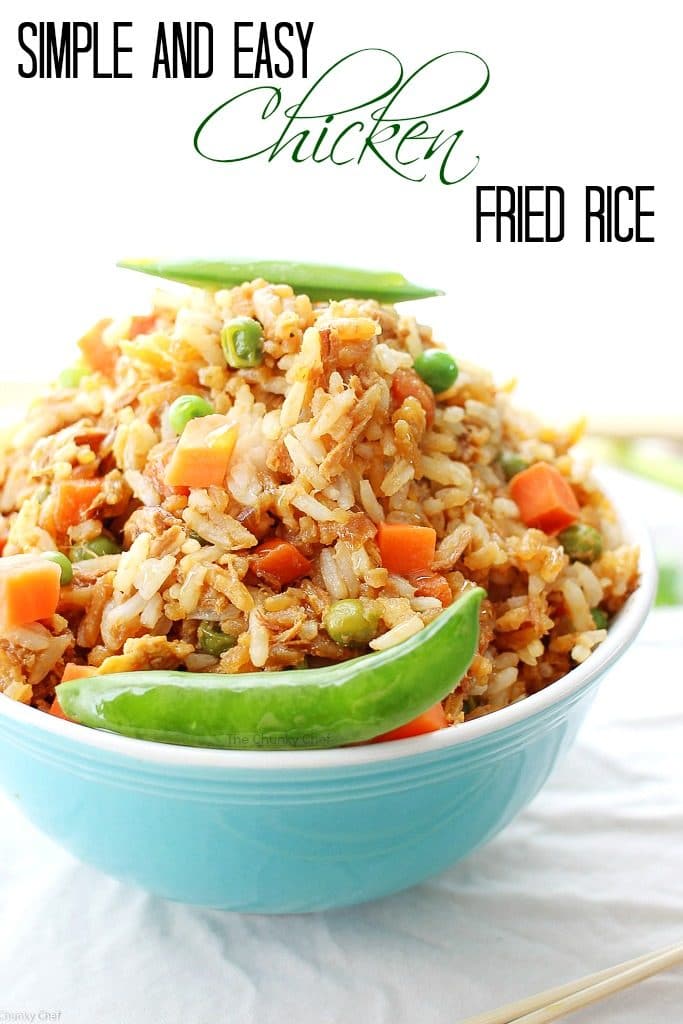 For some reason, I'd never made chicken fried rice before!  C'mon Amanda… you love chicken fried rice, why not make it at home?
You know how I love customizeable meals… and this one is totally ready for you to make it your own!  I chose slow cooker teriyaki chicken, eggs, onion, peas, carrots, with scallions and snap peas to garnish.  But feel free to add some veggies, subtract some, switch up the protein… whatever you'd like 🙂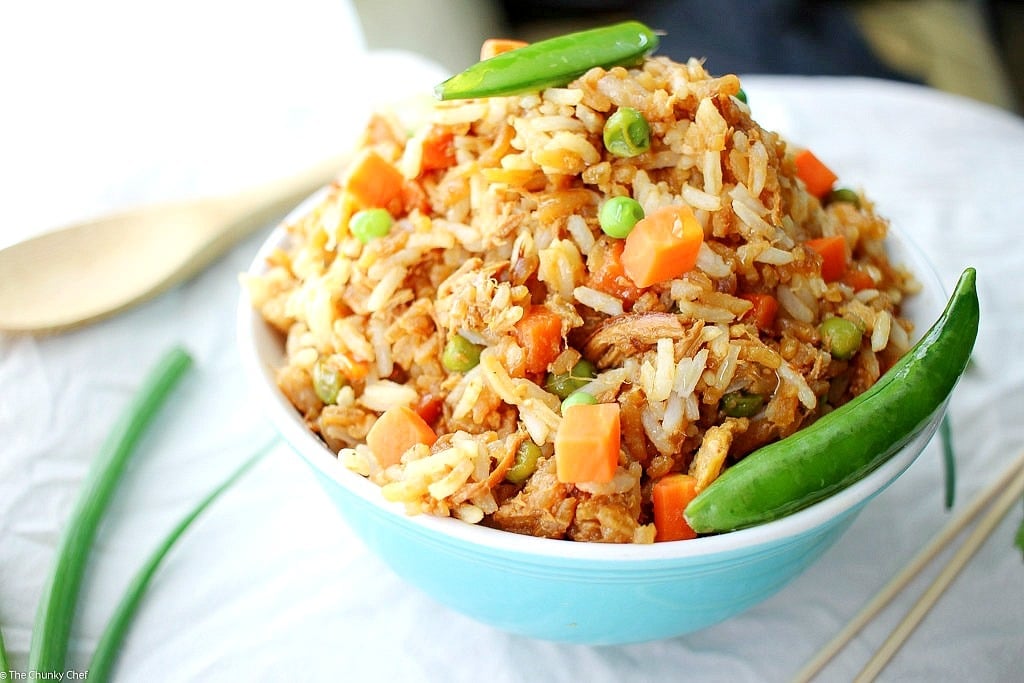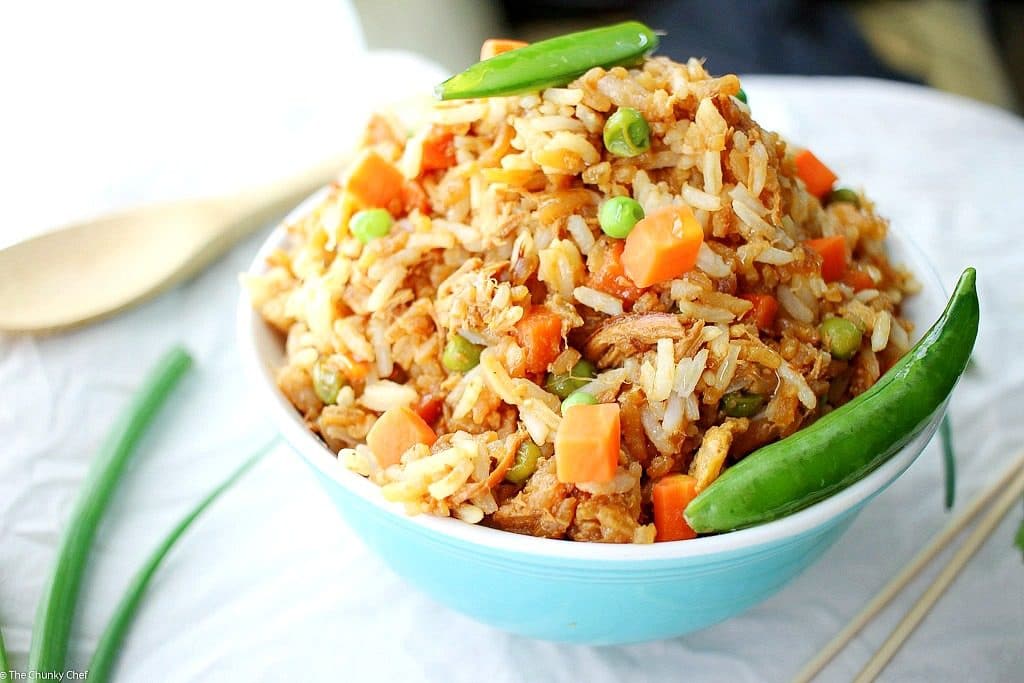 I chose to cook my chicken in the slow cooker, in a delicious homemade teriyaki sauce.  I love doing it this way because the chicken just literally falls apart and shreds beautifully.  It would also work well with poached or sauteed chicken, leftoves, or even a rotisserie chicken from the grocery store.  Orrrrrr you can decide that you don't want chicken at all and go with pork, beef, shrimp… whatever you want!
So you'll want to start your chicken earlier in the day, as it cooks for about 5 hours or so (for the slow cooker version).  Just add your chicken to the bottom of your slow cooker, whisk the sauce together and pour it over the top.  Pop the lid on and cook on low for 5 hours.
Once your chicken is tender and cooked through, take it out and place it into a bowl so you can shred it.  Just two forks will do the trick, it's that tender you guys!  Pour the sauce liquid from the slow cooker into a saucepan and heat it to a low boil.  Mix together your cornstarch and water to make a slurry (okay, isn't that just fun to say?!), and whisk it into your sauce.  It will thicken in a few minutes.
Sidebar:  A slurry is just a way of thickening a sauce, done with cold or room temperature liquids.
Now just drizzle the sauce over your chicken, toss to combine, and either serve with the rice right away, or refrigerate it until dinner time.  You can add as much sauce as you'd like.  I went with about half the sauce, and added a little more at a time until it was a saucy as I wanted it 🙂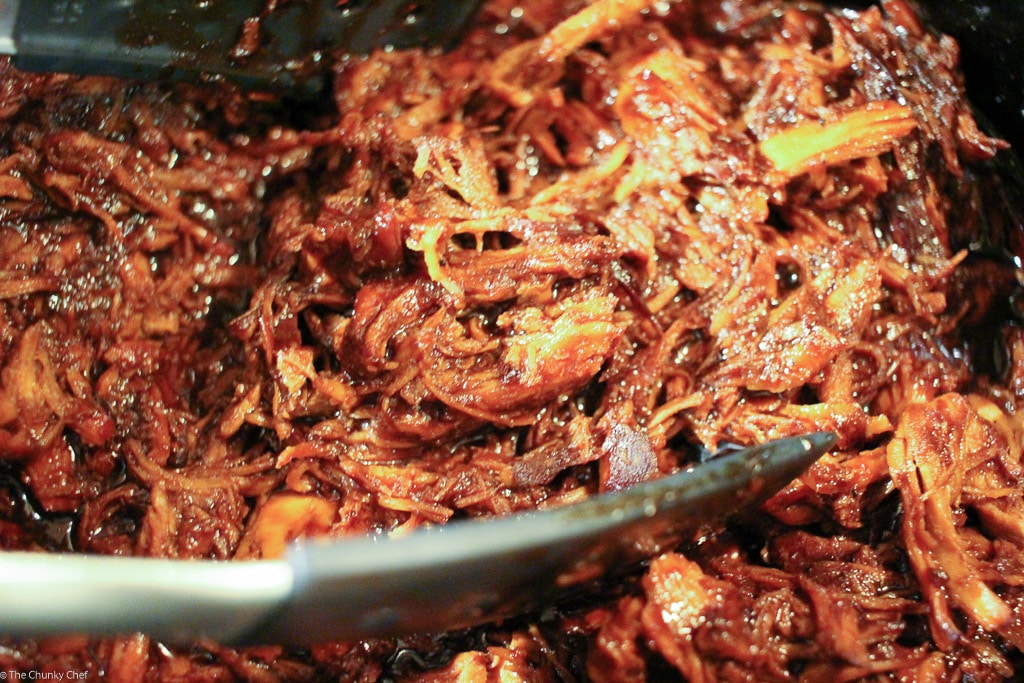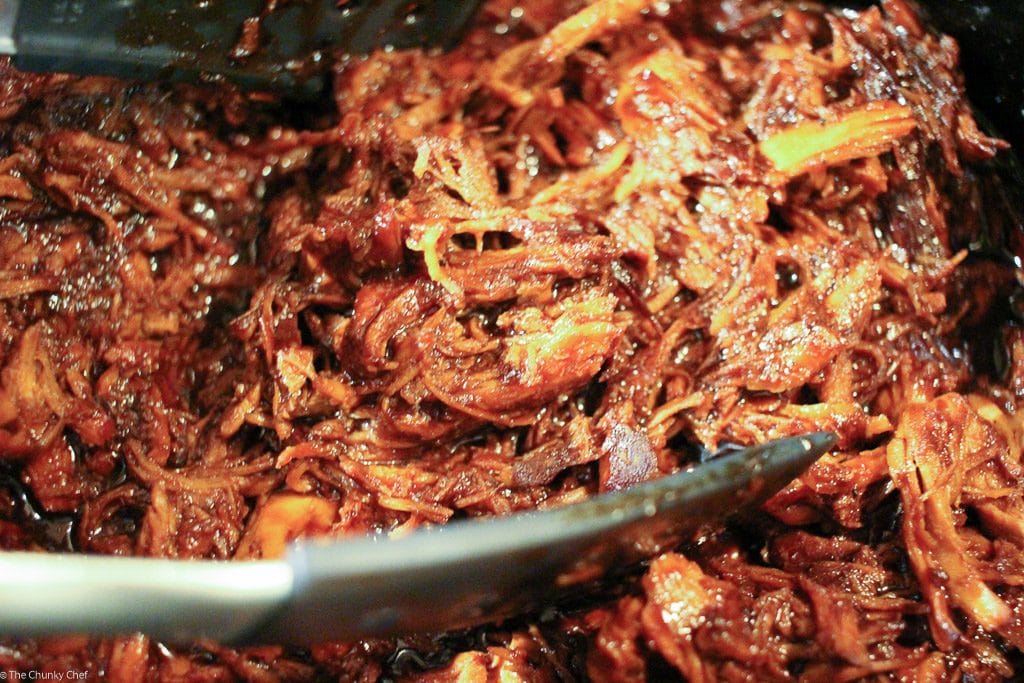 Alright, let's talk about rice for a minute here.  You can use whatever you have on hand for this.  I had some jasmine rice left over, so I used that.  To make my rice more flavorful, I cook it as directed, except instead of using water, I use that same amount of chicken stock or broth (I've done vegetable as well).  Usually for fried rice, it's suggested to use day old rice.  Mine isn't usually day old (planning ahead that far can be a challenge for me lol), but I typically make the rice in the morning, and then refrigerate it until dinner.  However, if you forget, and are making your rice right before dinner, it will still taste delicious, don't worry 🙂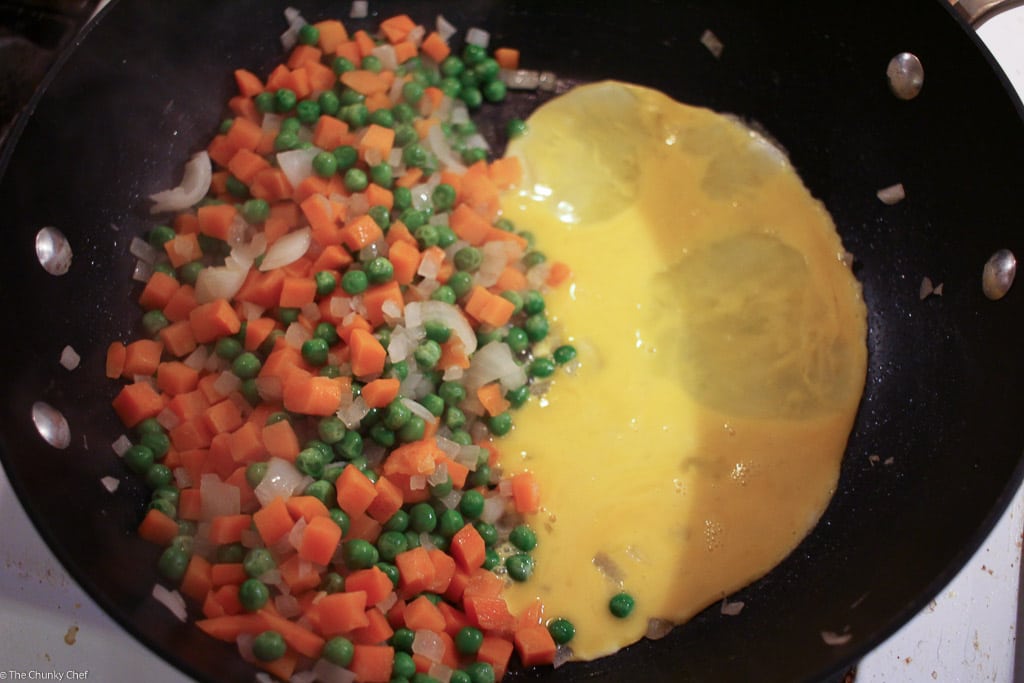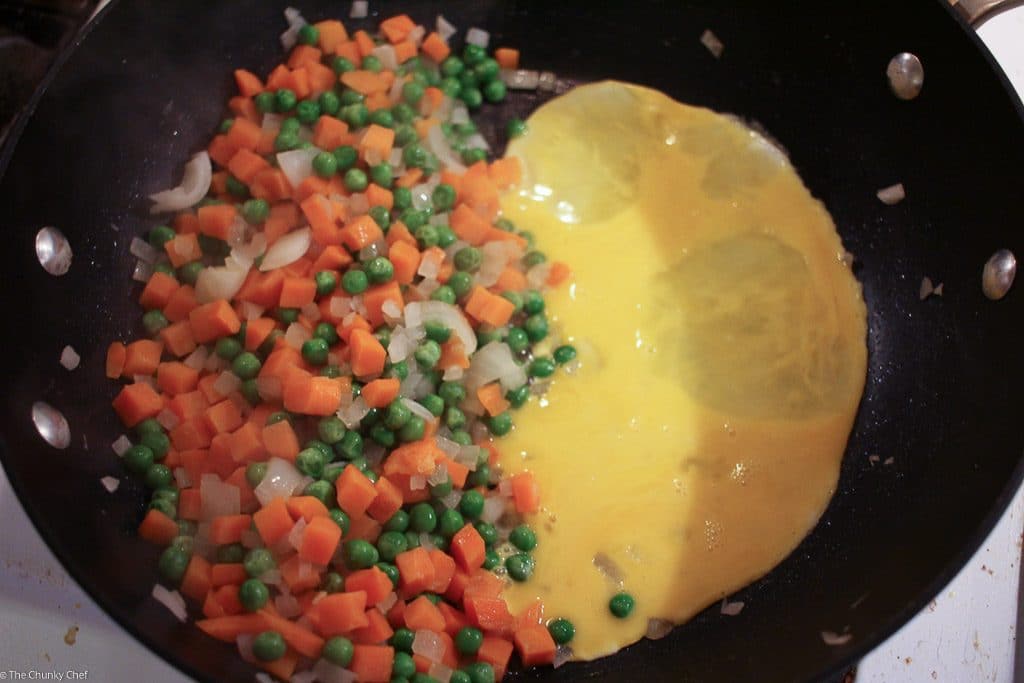 Weird looking skillet there right?  Lol.  The actual stir fry of the rice doesn't take very long at all.  Just add your sesame oil and saute your onion, peas, and carrots until tender.  Push your veggies over to one half of the skillet and add your eggs to the other side.  Scramble them until cooked, then stir it all together.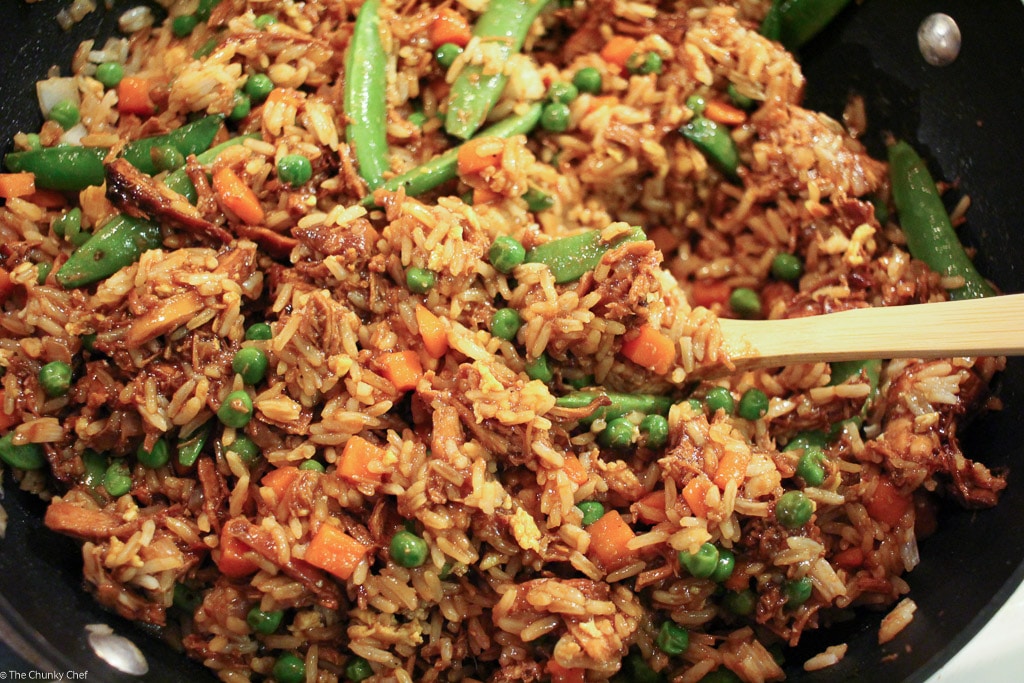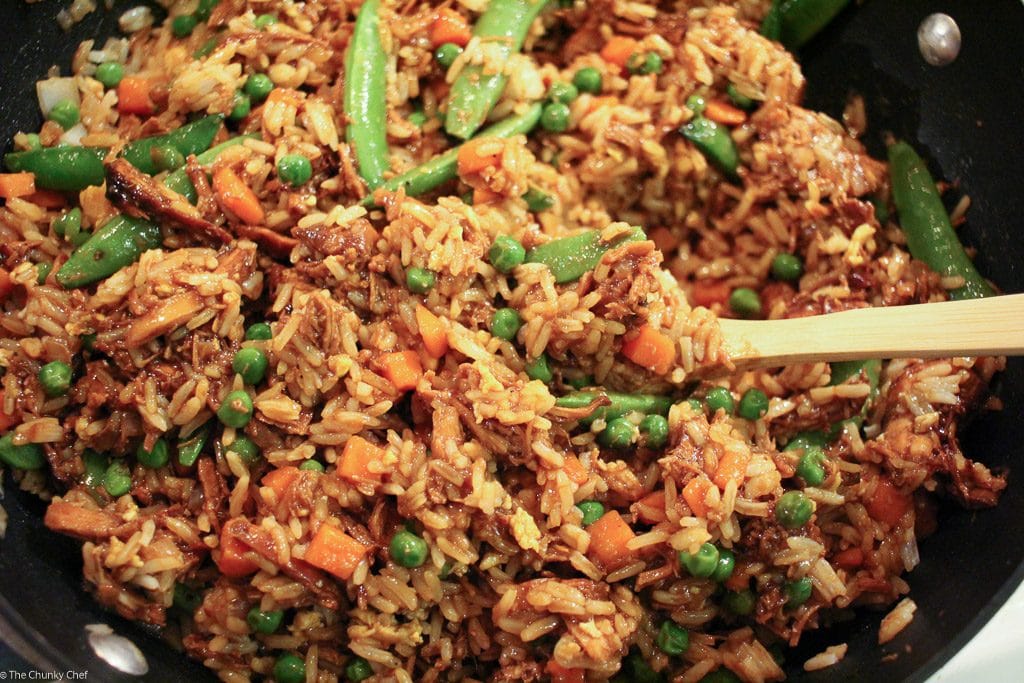 Add in your rice, shredded chicken and soy sauce.  "Fry" it, by just stirring it around until it's heated through 🙂  All done!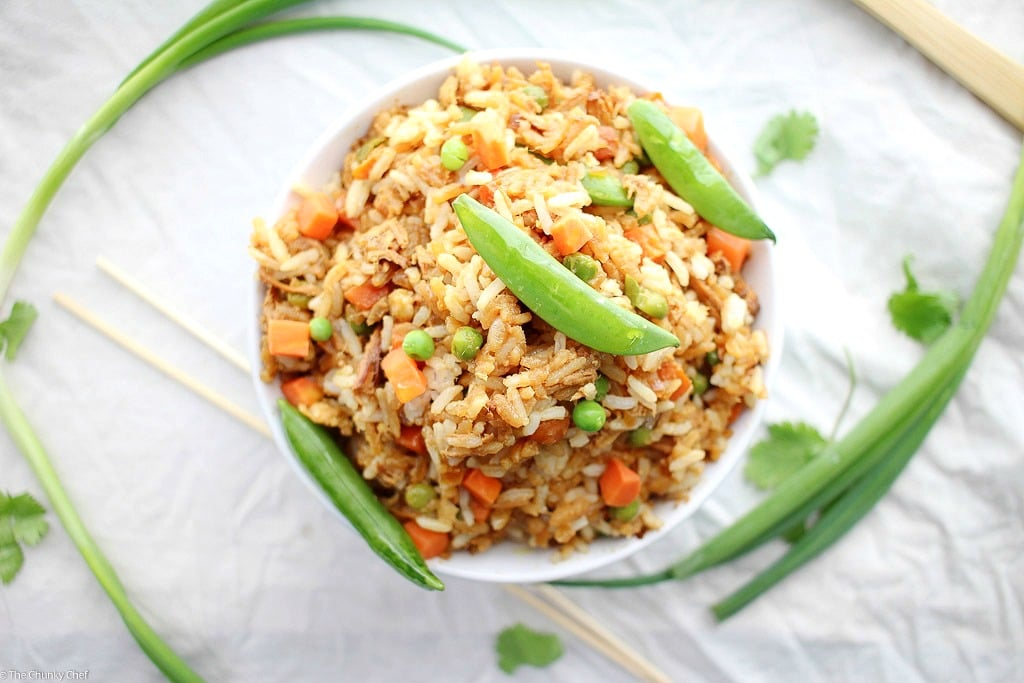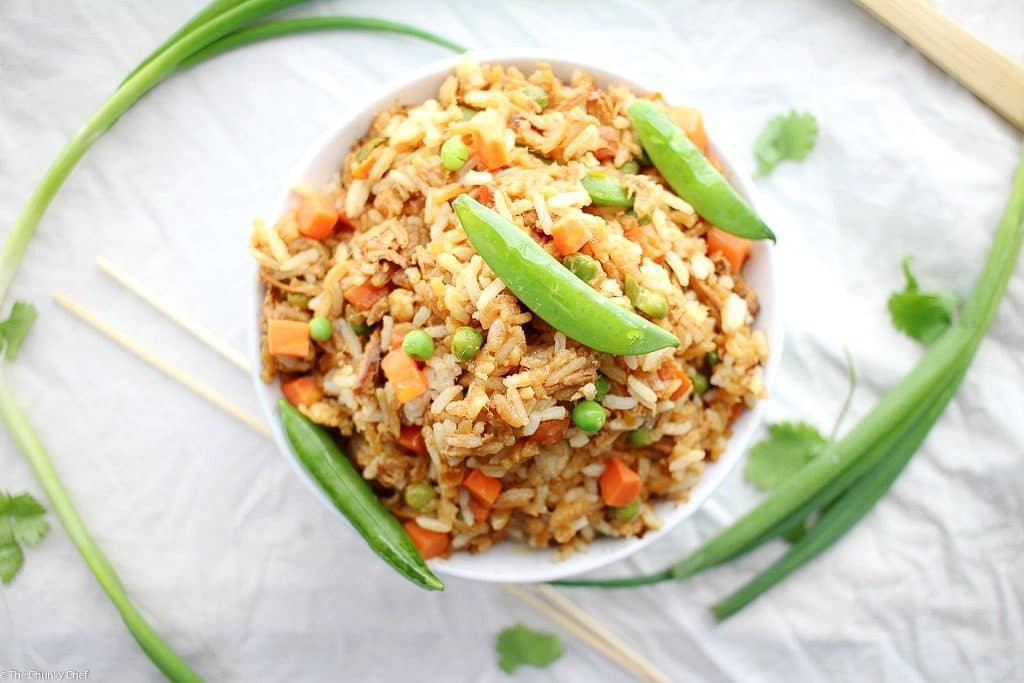 This is delicious the night you make it, and just as delicious the next day!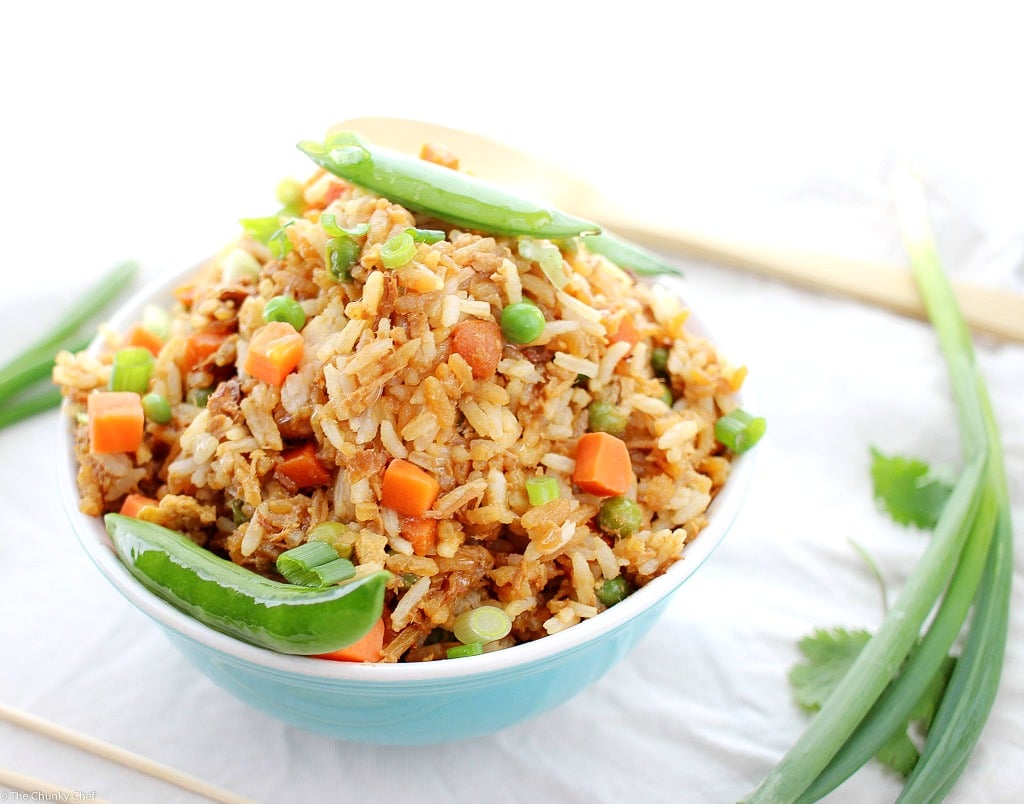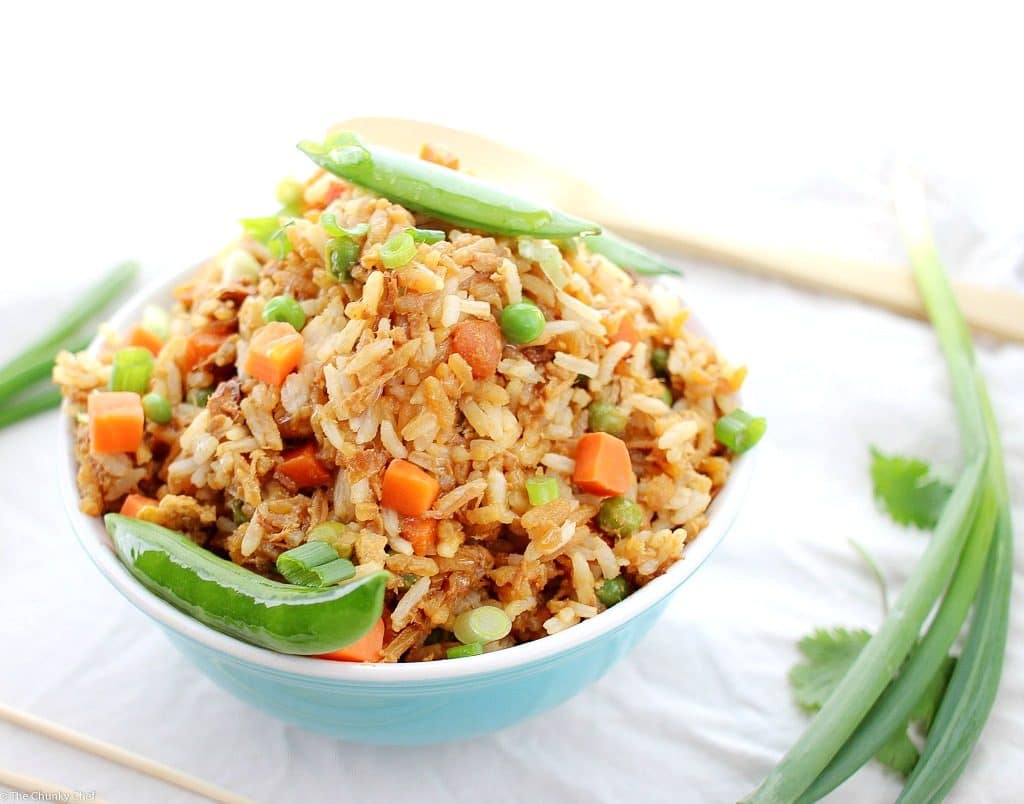 While this rice is pretty filling… why not make some Crab Rangoons to go alongside?  Psssst, you can make them ahead of time and freeze them!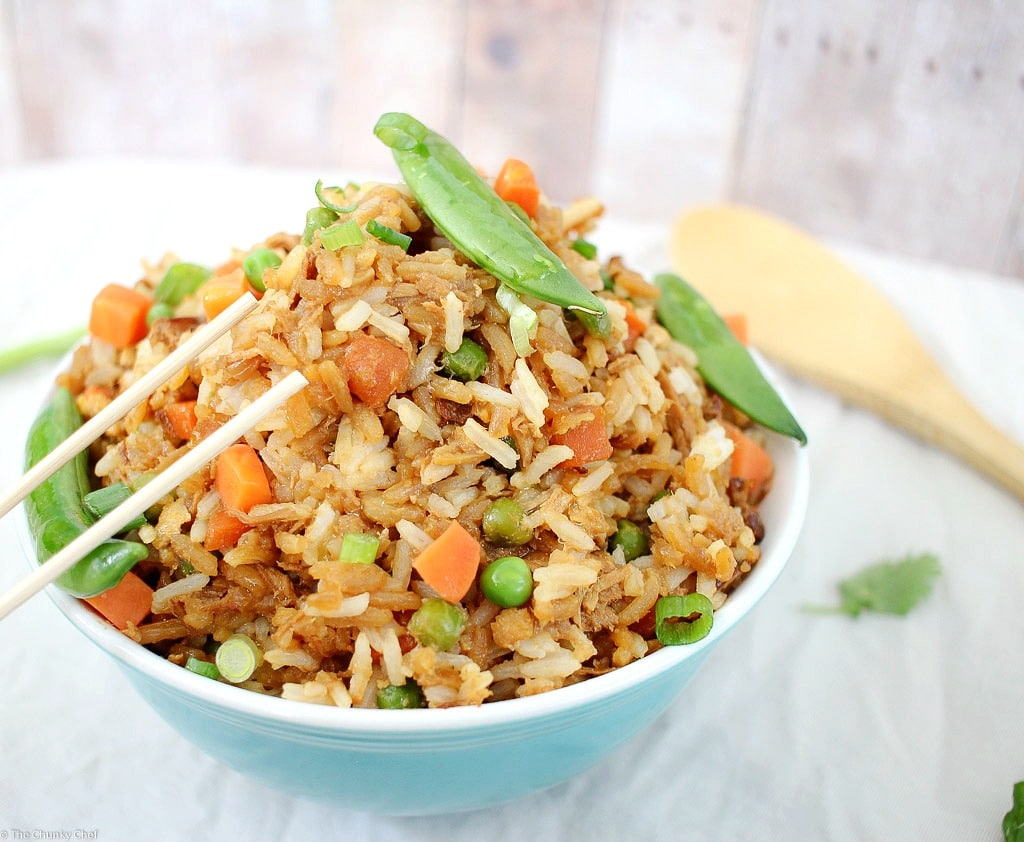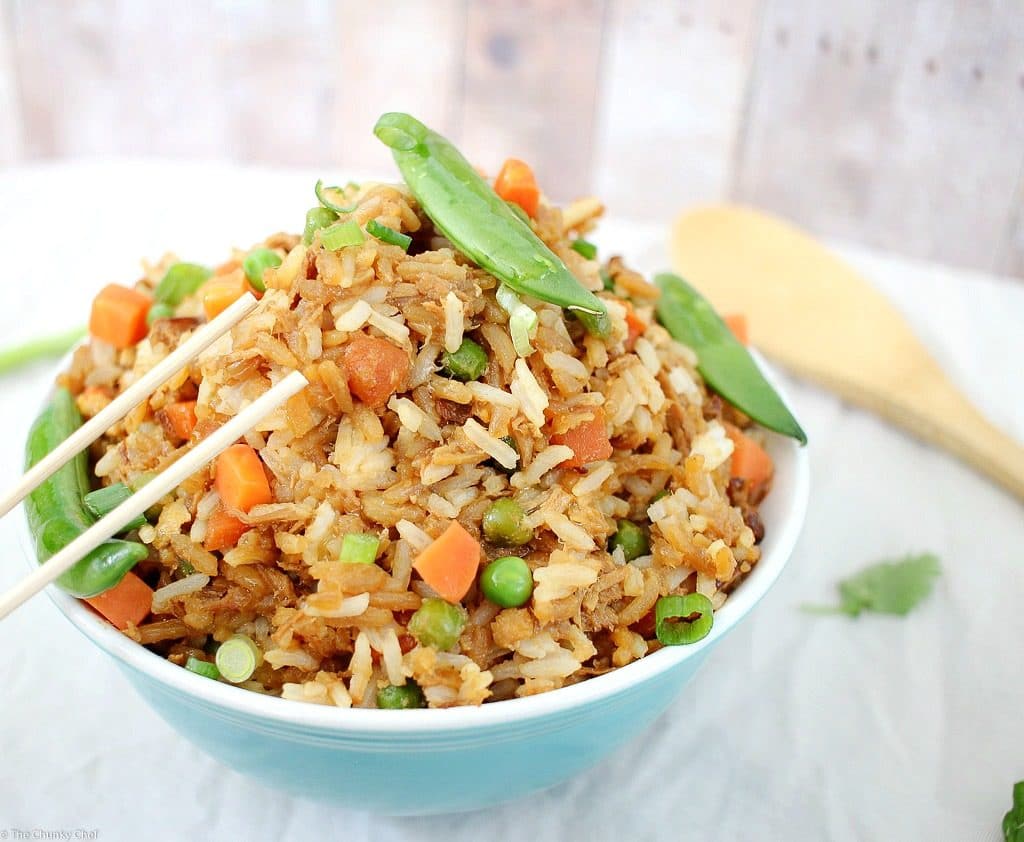 Or, skip the chicken, and just make the fried rice part of this and serve it alongside some Baked Asian Chicken Wings or Asian Chicken Nuggets!
However you serve it, I just know you'll love it!
Come party with us at Fiesta Friday with the wonderful Angie of course, and Juliana @ Foodie on Board, and Hilda @ Along the Grapevine !!  It's always such a fun time! 😀
Don't miss a new recipe, enter your email below to stay updated!
[mc4wp_form]
You can find me on Facebook, Twitter, Pinterest, and Google +, so follow me if you'd like… I love keeping in touch with all of you 🙂
Linked to Made By You Monday | Melt in Your Mouth Mondays | Munching Mondays | Tickle My Tastebuds Tuesdays | Try a New Recipe Tuesday | Take A Look Tuesday | Totally Talented Tuesdays | Lou Lou Girls Fabulous Party | Simple Suppers | What's Cooking Wednesdays | Whimsy Wednesdays | The Wednesday Roundup | Wordless Wednesday | Showcase Your Talent Thursdays | Full Plate Thursdays | Favorite Things Blog Hop | Foodie Fridays | Fiesta Fridays | Pure Blog Love | Pin Junkie Pin Party | Foodie Friends Friday | Foodie Friday and Everything Else | Fresh Ideas for Your Home | Friday Favorites | Show Stopper | Best of the Weekend | Show and Tell Saturday | Link Party Palooza
Recipe adapted from The Recipe Critic
Did you make this? Be sure to leave a review below and tag me @the_chunky_chef on Facebook and Instagram!
No need to order takeout... make your own chicken fried rice that tastes about 1000x better!
Ingredients
1 pound chicken about 2-3 chicken breasts, cooked and shredded (I recommend the slow cooker recipe below this one)
3 cups cooked rice (if possible use day old rice)
2 Tbsp sesame oil
1 small white onion diced
1 cup frozen peas and carrots thawed
1 cup snap peas
2-3 Tbsp soy sauce to taste
2 eggs lightly beaten
2 Tbsp chopped green onions optional but recommended
Instructions
Cook chicken using desired method, and shred.

Preheat a large skillet (or wok if you have one) over medium heat. Add sesame oil to the pan. Add onion and peas and carrots and saute until tender.

Scoot the onion, peas and carrots to one side of the skillet, and pour the beaten eggs onto the other side. Using a wooden spoon, scramble the eggs. Once they're cooked, stir it all together.

Add the rice, soy sauce and chicken to the skillet. Stir the rice and veggie mixture until heated through. Before serving, sprinkle with green onions if desired.
Want to save this recipe for later? Click the heart in the bottom right corner to save to your own recipe box!
Chef Tips
** Customize this to your tastes!
Did you make this? Be sure to leave a review below and tag me @the_chunky_chef on Facebook and Instagram!
Servings: 6 -8 servings
(hover over # to adjust)
Chicken slow cooked in this delicious homemade teriyaki sauce... it's amazing!
Ingredients
4 boneless skinless chicken breasts
3/4 cup sugar
3/4 cup soy sauce
6 Tbsp apple cider vinegar
1 Tbsp fresh ginger grated or minced
3 cloves garlic minced
1/4 tsp pepper
6 tsp cornstarch
4 1/2 tsp cold water
Instructions
Place chicken in the bottom of a slow cooker.

Combine the sugar, soy sauce, cider vinegar, ginger, garlic and pepper, and pour over chicken.

Cover and cook on LOW for 4 to 5 hours.

Remove chicken to a large bowl and shred using two forks.

Skim fat from cooking liquid if necessary. Pour liquid in a saucepan and bring to a low boil. Whisk cornstarch and water until smooth. Slowly whisk the cornstarch mixture into the sauce and whisk until sauce is thickened (about 3 minutes).
Want to save this recipe for later? Click the heart in the bottom right corner to save to your own recipe box!