This Mississippi Pot Roast is made with no packets (from scratch), and is deliciously savory, buttery, and has the most beautiful tangy kick from the pepperoncini peppers! Made in the slow cooker or Instant Pot, it's a perfect family meal everyone will love. Great with mashed potatoes, in sandwiches, and more!
This is one of my Slow Cooker recipes I know you'll want to keep on hand!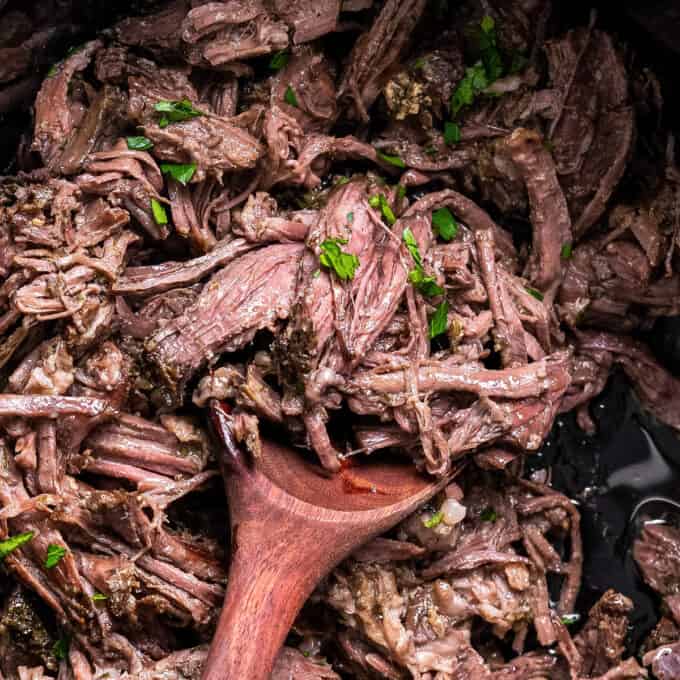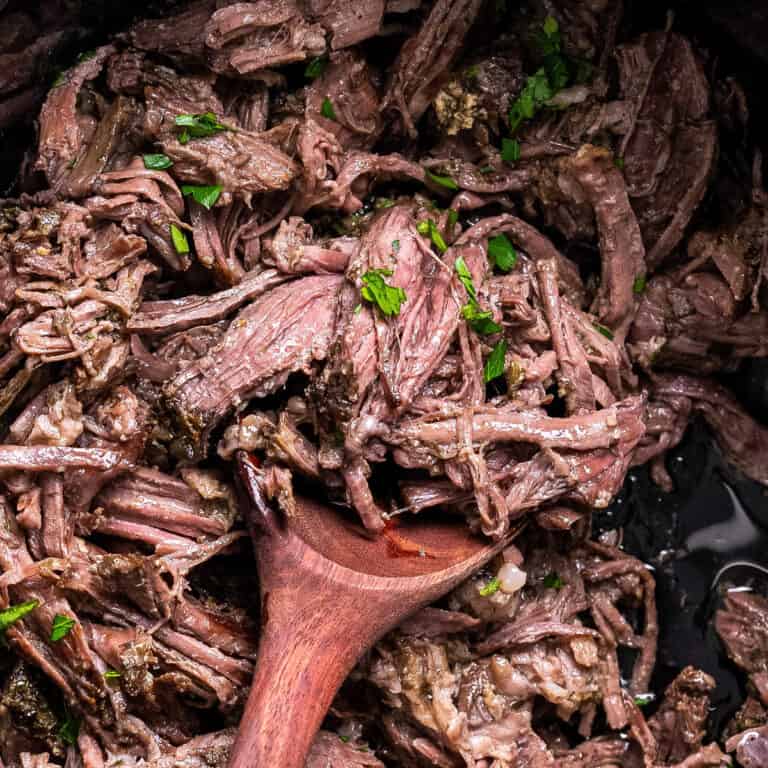 Comfort food recipes like this Mississippi Pot Roast are essential in the colder months.
Have you ever had a Mississippi pot roast? The original recipe is pure genius… it makes the roast so buttery and savory, with a great tangy kick.
It's also made with seasoning packets (ranch and au jus, or sometimes onion soup mix), which while delicious, are also incredibly salty and filled with things I can't even pronounce.
I've been making this "from scratch" version of the classic Mississippi roast for years, and I figured it was high time I share it with all of you!
This version hits all those amazing savory, buttery, and tangy flavor notes, but made with regular pantry ingredients, and you get to control the amount of salt and quality of the ingredients.
I tend to think of a pot roast dinner as weekend meal, so that's typically when we enjoy this. Usually on a Sunday night, so we can enjoy the leftovers for dinner on Monday night.
But with this being a slow cooker meal, it's easy to pop in the slow cooker in the morning, and come home to a delicious meal on a busy weeknight!
How to make Mississippi roast in the slow cooker?
This is just an overview; the full ingredients and directions are in the recipe card toward the bottom of this post.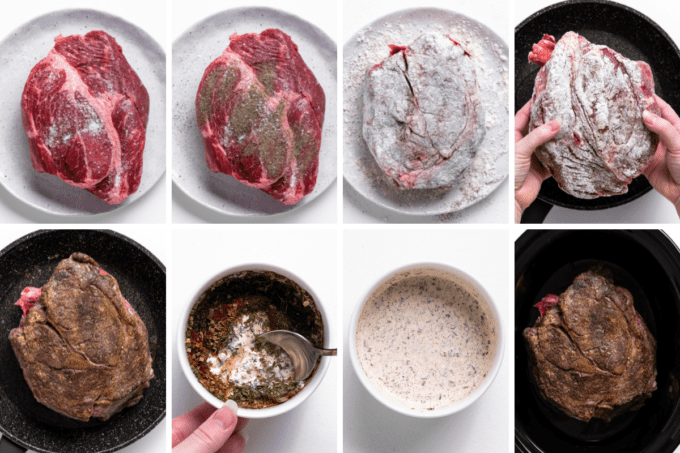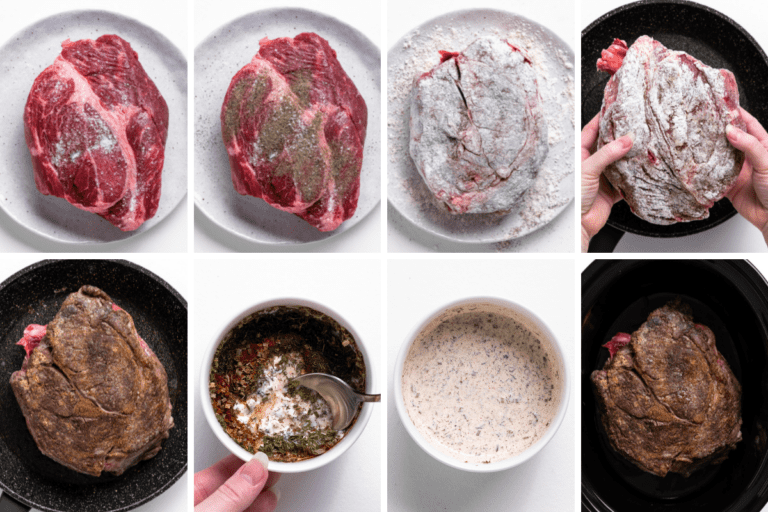 Season roast well. Be pretty liberal here, but feel free to adjust to your tastes.
Coat with flour. This helps create a great crust.
Sear. You won't be cooking the beef through, just searing over a high heat level until deeply golden brown.
Make ranch. This homemade version is super easy to whip up.
Add seared roast to slow cooker.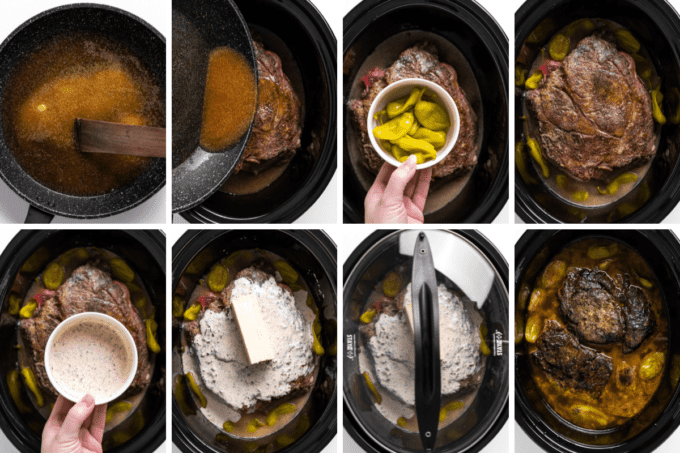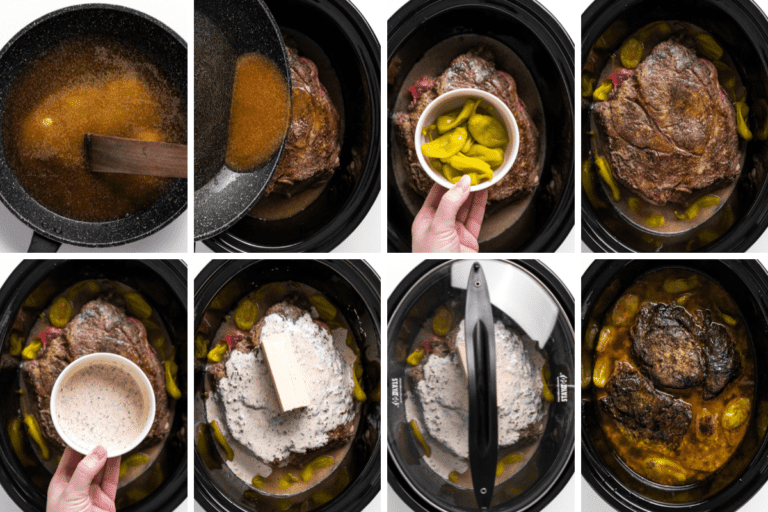 Deglaze. By pouring in the beef broth and scraping the bottom of the pan, you don't have to sacrifice any of that amazing flavor since it gets poured into the slow cooker.
Add peppers and juice. Just scatter them around inside the slow cooker.
Top with ranch. Pour it over the top of the roast.
Top with butter. You can leave it in a stick form, or slice it into pats, it's up to you.
Cook. Cover and cook on low for 8 hours.


Remove peppers and add roast to bowl. Shred using two forks.
Moisten the beef. Stir in a ladle or two of the cooking liquid.
Strain solids and transfer liquid. A mesh strainer works well for this.
Make slurry. Combine milk and cornstarch until smooth.
Thicken. Stir the slurry into the cooking liquid and simmer until thickened to a gravy consistency.
Helpful Tip!
Since this pot roast is cooked in a slow cooker, you want a cut of meat that's rich in connective tissue and marbled fat. When cooked for long periods of time, those tissues and fat transform even the toughest beef into the most melt-in-your-mouth tender morsels. My personal favorite, in terms of flavor, texture, and cost effectiveness, is a boneless chuck roast. I buy them when they're on sale and keep them in the freezer.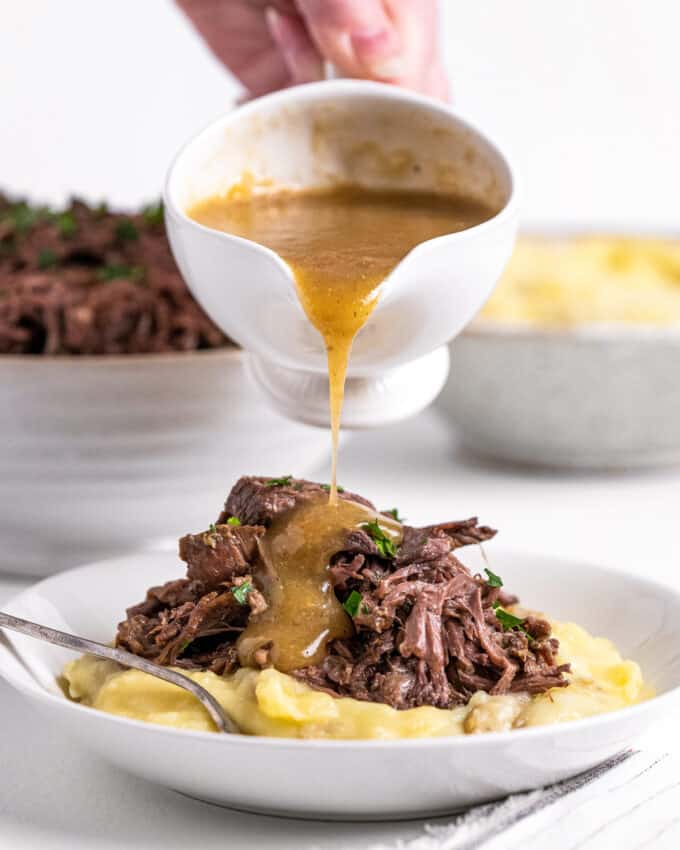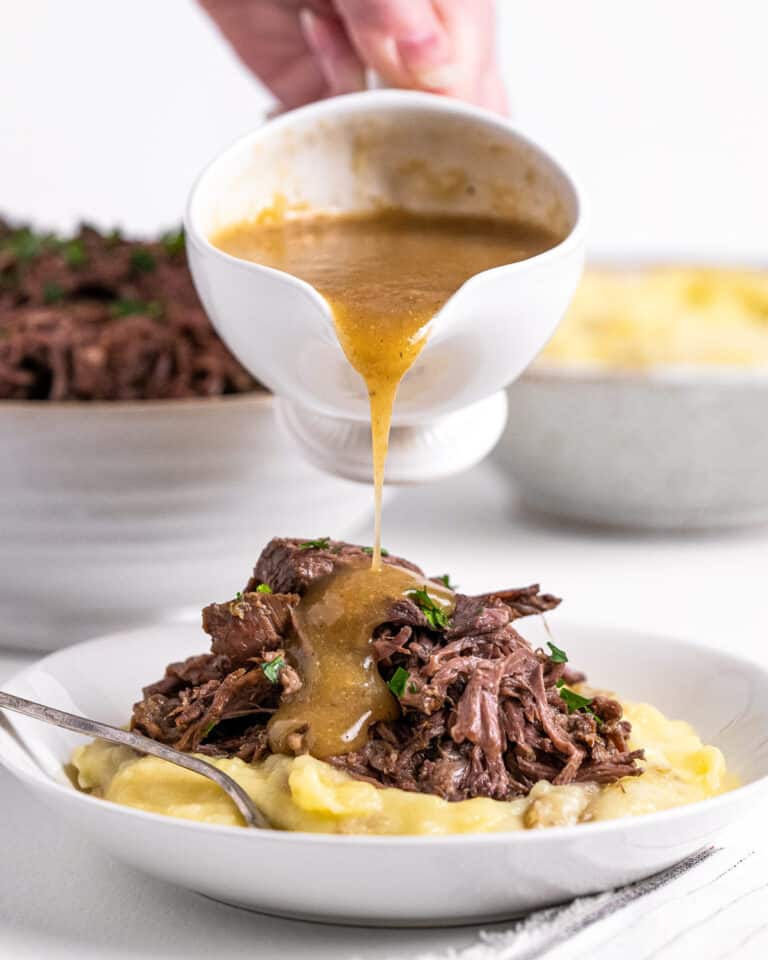 Variations of this recipe
Browning – Taking the time to sear and brown the beef adds a ton of flavor, but isn't absolutely essential. I love to brown my beef, since I love that extra deep flavor it adds… but I've made this several times without taking that extra step, and it still tastes delicious.
Peppers – whole pepperoncini are the traditional peppers used in a Mississippi roast, but you can used sliced peppers if that's what you have available.
With packets – if making this from scratch isn't something you're into, you can absolutely use the traditional seasoning packet method. You'll need the chuck roast, peppers, butter, a packet of ranch dressing seasoning mix, and a packet of au jus mix. Brown the beef (or not), add it to the slow cooker, top with both of the seasoning mixes and butter, then add peppers around inside the slow cooker. Cook for the same amount of time.
Instant Pot – if you'd rather use your Instant Pot, check out the "chef tips" section right below the recipe for all the details.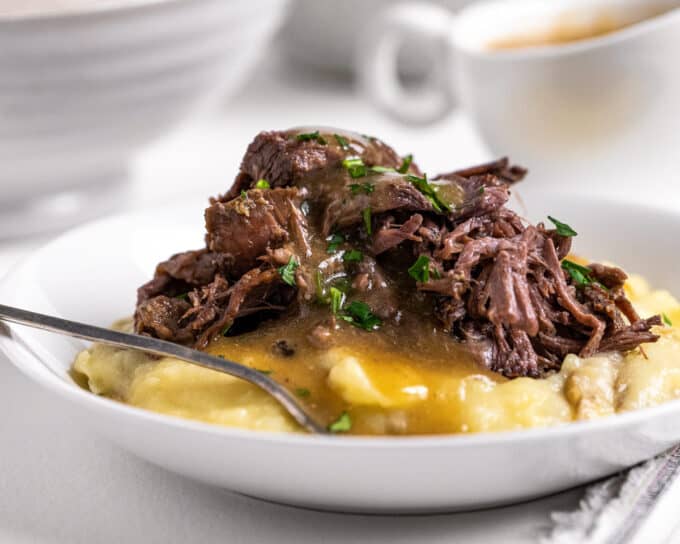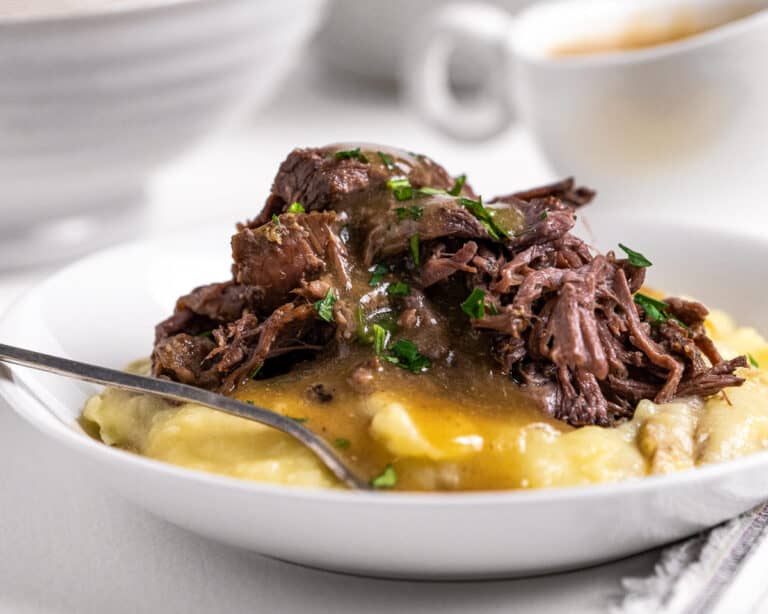 FAQ's
Why is it called Mississippi roast?
The home cook who created the original recipe was from Mississippi. The recipe was shared among friends and family, and eventually showed up on the internet, where everyone went crazy for it!
Can this pot roast be cooked on high instead of low?
I don't recommend it. Recipes using a tough cut of meat (like chuck roast) need to be cooked low and slow in order for the connective tissue and fat to break down and become ultra tender. For the best results, cook on low as indicated.
Why is my pot roast tough after cooking?
When your beef doesn't want to shred, and is tough and chewy, it's because it needs to cook a bit longer. All slow cookers cook a bit differently, so yours may just need a little extra time. It could also come down to the type of beef you used. Using a lean cut won't yield the tender results that a chuck roast will. For the best results, use the cut of meat called for in the recipe, cook as directed, then test to see if the beef with shred with a fork. If it will, it's done. If it doesn't, it needs to cook more.
Making slow cooker pot roast ahead of time
The great thing about pot roast recipes is that the leftovers tend to taste even better the next day! When making this recipe ahead of time, my advice would be to store the beef and cooking liquid together, to keep the meat from drying out.
Then when you are reheating it to serve, strain the juices and make the gravy (if you want), or just serve as is.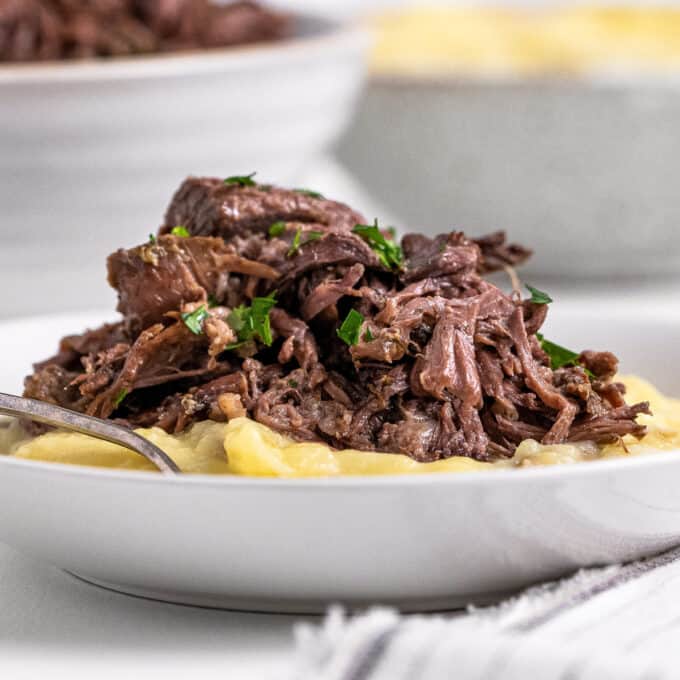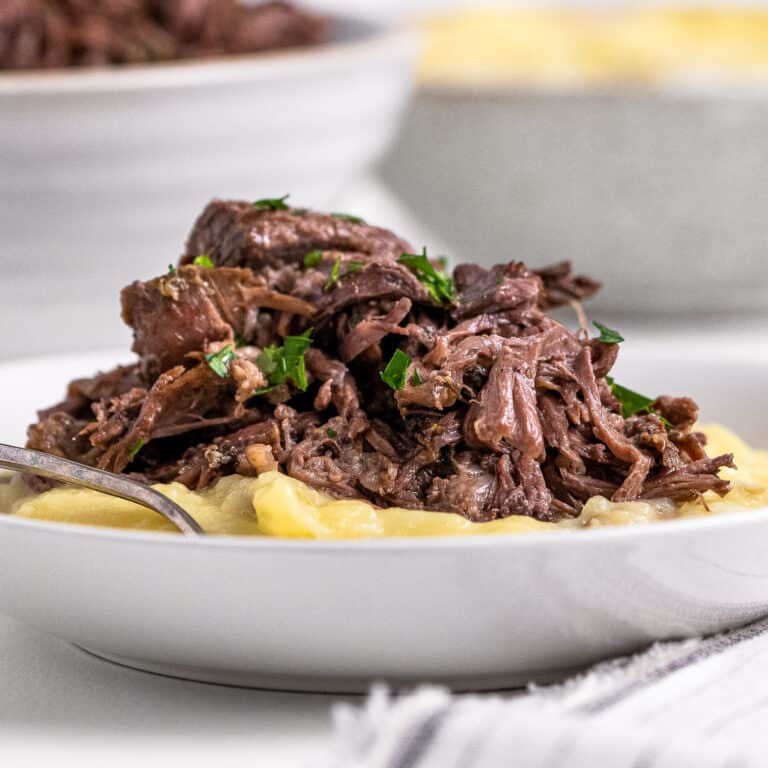 Storage
Leftover pot roast should be refrigerated in an airtight container for up to 4-5 days.
Freezing
Leftovers can also be frozen for up to 3 months. Make sure the roast is at room temperature, then transfer to a freezer-safe container, label it, and freeze.
Thaw in the refrigerator, and reheat in the slow cooker, stovetop, or microwave.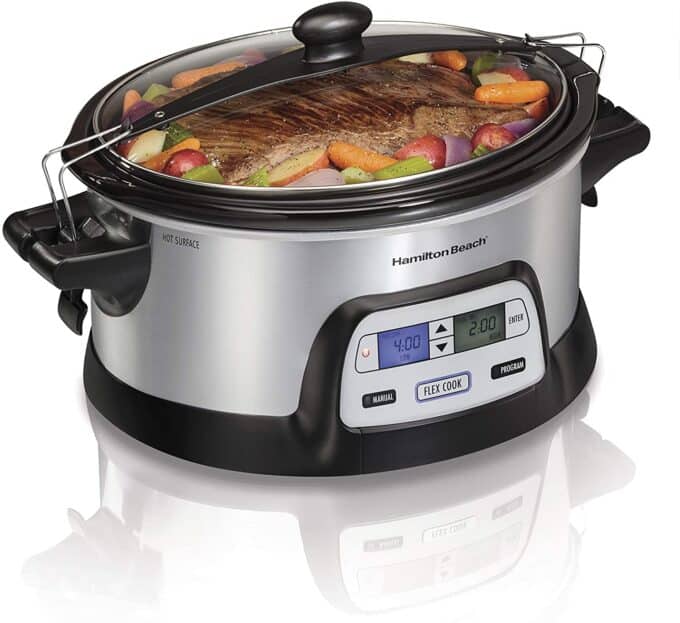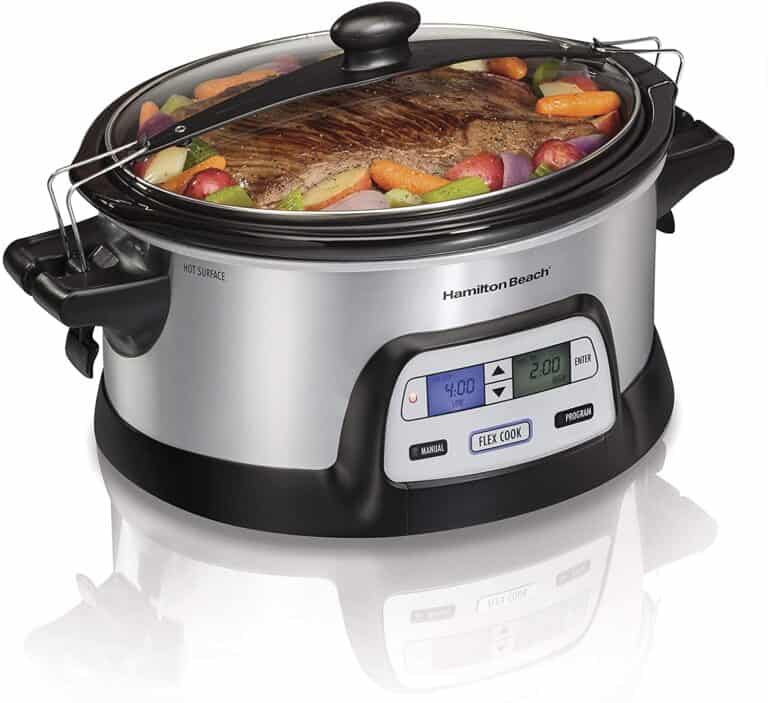 I had this crockpot for a while now, and I really love how it cooks. The locking lid feature is amazing for taking foods to potlucks or other gatherings!
Did you make this? Be sure to leave a review below and tag me @the_chunky_chef on Facebook and Instagram!
This Mississippi Pot Roast is made with no packets (from scratch), and is deliciously savory, buttery, and has the most beautiful tangy kick from the pepperoncini peppers!
Ingredients
Roast and broth
3 lb. boneless beef chuck roast
1 tsp kosher salt
1 tsp black pepper
1/4 cup all purpose flour
2 Tbsp vegetable oil
3/4 cup reduced sodium beef broth
1 1/2 tsp onion powder
1 tsp garlic powder
8-12 whole pepperoncini peppers (mild variety)
2 Tbsp liquid from pepperoncini pepper jar
Ranch
3 Tbsp mayonnaise
2 1/2 Tbsp white vinegar
1 tsp milk
1 tsp dried parsley
1 tsp dried dill
1 tsp dried chives
1/4 tsp paprika
Slurry to thicken gravy
2 Tbsp milk
1 1/2 Tbsp cornstarch
Instructions
Brown beef
Season roast with salt and pepper on all sides.  Sprinkle roast with flour and rub in to coat.

Heat oil in a large skillet over MED HIGH heat.  Once oil is hot and shimmering, add the roast and cook for about 3 minutes per side, or until deeply golden brown.  Remove to slow cooker insert.
Deglaze
Pour beef broth in the skillet, using a wooden spoon to scrape the browned bits from the bottom.  Stir in garlic powder and onion powder.

Transfer broth to the slow cooker insert.  Add the pepperoncini liquid, and scatter peppers around the roast.
Make ranch
In a small mixing bowl, add the mayonnaise, vinegar, milk, parsley, dill, chives, and paprika.  Stir together until smooth and combined.
Slow cook
Pour the ranch over the top of the roast in the slow cooker, then top with the butter.

Cover and cook on LOW for 8 hours.
Shred
Remove peppers and add roast to a mixing bowl.  Using two forks, shred meat.  Add a ladle or two of cooking liquid to the shredded meat and toss to combine.
Make gravy
Transfer remaining liquid from the slow cooker to a saucepan, removing any solids that remain.  Heat over MED heat.

In a small bowl, combine milk and cornstarch, stirring until smooth.  Stir into the saucepan and simmer the sauce for several minutes, or until thick enough to coat the back of a spoon.
Serve
Serve roast with mashed potatoes or egg noodles, drizzled liberally with sauce and garnished with a sprinkle of minced parsley.
Want to save this recipe for later? Click the heart in the bottom right corner to save to your own recipe box!
Chef Tips
Instant Pot Directions
Omit flour, mayonnaise, and milk (in the ranch).
Cut roast into 2″ pieces. Season roast with salt and pepper all over.
Select "saute" and add vegetable oil.  Heat until oil is shimmering. Add chuck roast pieces and brown for a few minutes on each side.  Remove to a plate.
Add beef stock and use a wooden spoon to scrape the bottom of the pot to loosen the browned bits.
Stir in garlic powder, onion powder, dill, parsley, chives and paprika.  Return the chuck roast to the pot, along with any juices that are on the plate.
Add pepperoncinis, pepperoncini liquid, and butter.
Secure lid, making sure the valve is set to "sealing".  Select manual or pressure cook and use the +/- buttons to set it for 45 minutes.
When finished pressure cooking, allow the pot to perform a natural pressure release (this takes about 20 minutes).
Open lid and remove roast and peppers to a plate.
In a small mixing bowl, combine the milk, and cornstarch and whisk until smooth.
Select "saute"and add in the cornstarch mixture.  Cook and stir until sauce is thickened to your liking.
While sauce is thickening, shred meat and discard peppers.
Nutrition Disclaimer
The Chunky Chef is not a dietician or nutritionist, and any nutritional information shared is an estimate. If calorie count and other nutritional values are important to you, we recommend running the ingredients through whichever online nutritional calculator you prefer. Calories can vary quite a bit depending on which brands were used.