Deliciously savory and smoky, this mac and cheese recipe uses two kinds of cheese, bacon, chipotle peppers and a buttery panko topping. Epic comfort food!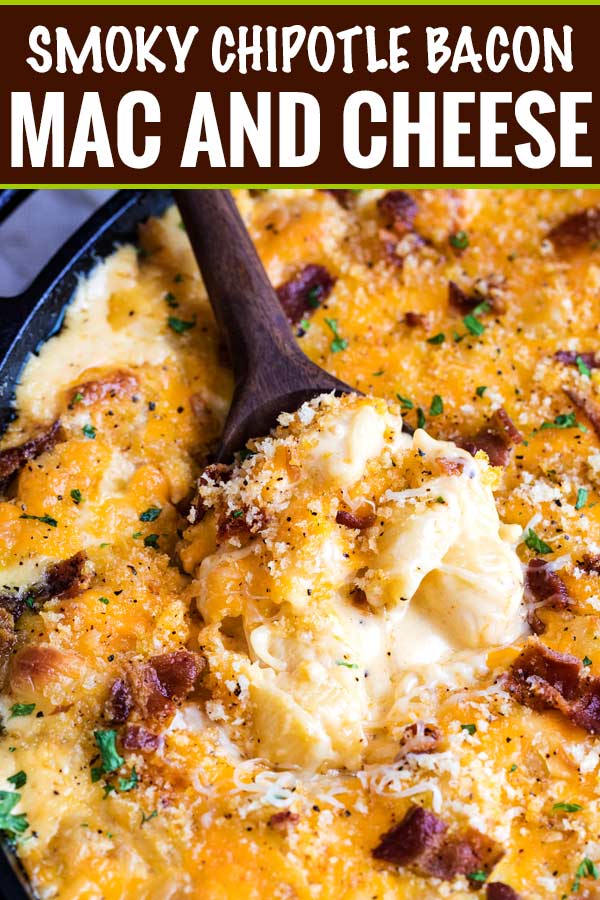 This is a recipe that's been on the books for a while now!  You guys went, and are still going, so crazy over this Creamy Homemade Baked Mac and Cheese, that I knew I had to give you another great mac and cheese to try!  I still have some more planned for the future, but for now, I give you this smoky awesomeness!
Perfectly cheesy while still using 100% real cheese, this mac and cheese recipe is made with a basic cheese sauce that's infused with chipotle peppers, and topped off with a buttery panko/bacon combo.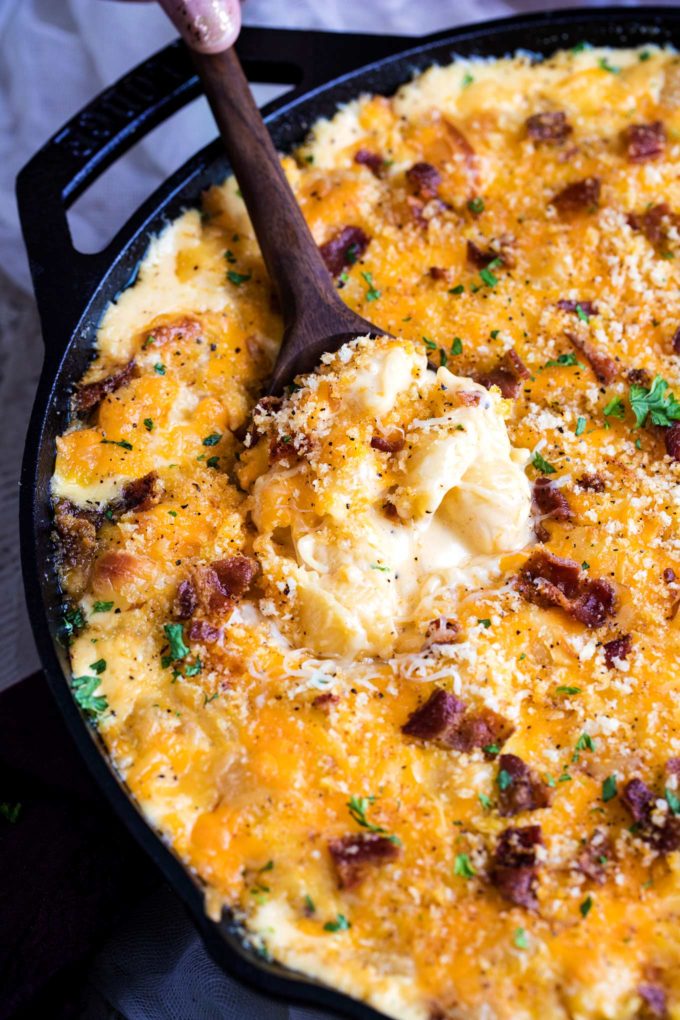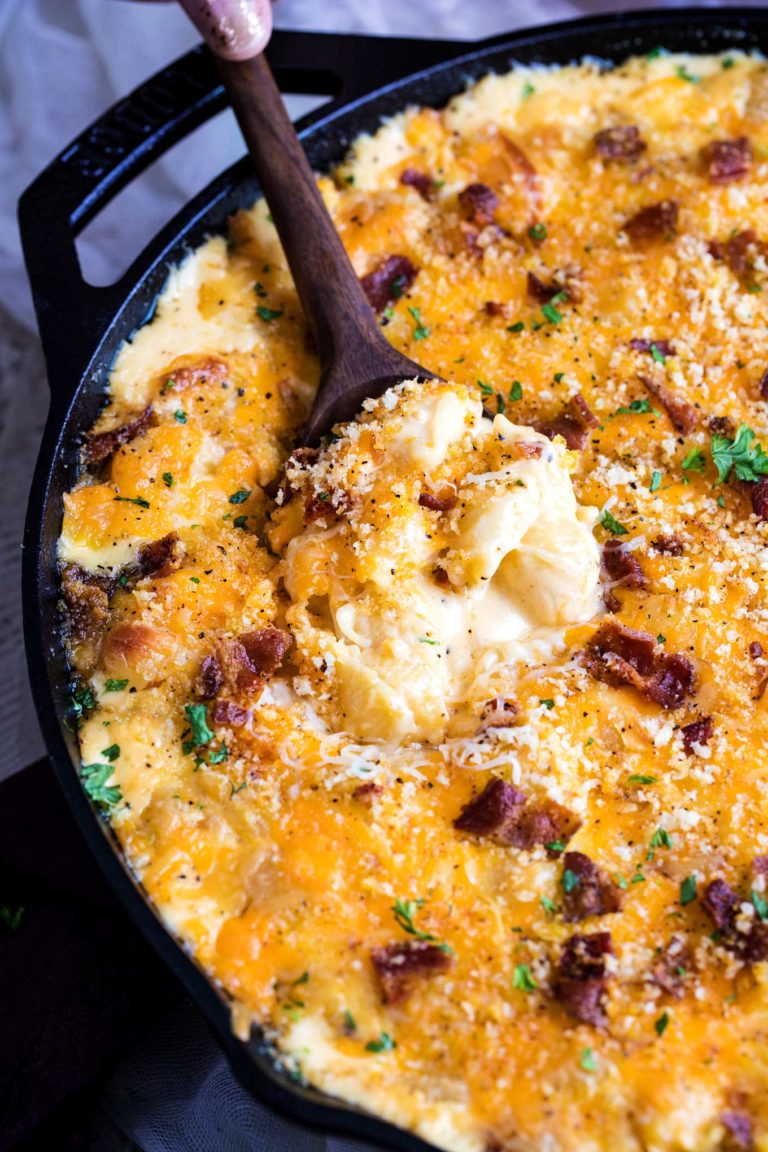 HOW DO YOU MAKE HOMEMADE BAKED MAC AND CHEESE?
There are basically two types of baked mac and cheese recipes.  One uses eggs as a binder, and usually liquid and cheeses are added together to the noodles, mixed with eggs and seasonings, and then baked.  This type is delicious for sure, but usually bakes a bit longer, as everything has to melt together in the oven.  I have a recipe like that in the works (it's a one pot meal!), but it may not be until early 2019 as I have so many other awesome recipes to share in 2018.  The second type of baked mac and cheese uses a roux and cheese sauce in which everything is melted together and cooked with pasta.
WHAT IS A ROUX?
Don't let the fancy French word scare you… it's a really simple mixture of fat (usually butter), and flour, which is used to thicken sauces.  You start off by melting your butter in a saucepan, then once it's melted, you add in some flour.  Normally the ratio of fat to flour is 1:1.  Whisk the flour into the melted butter until it looks like wet sand, then let it cook about a minute or so, stirring every so often.  Your roux is complete!  Next you'll just whisk in your liquids and let the roux-magic thicken it up in about 5-10 minutes.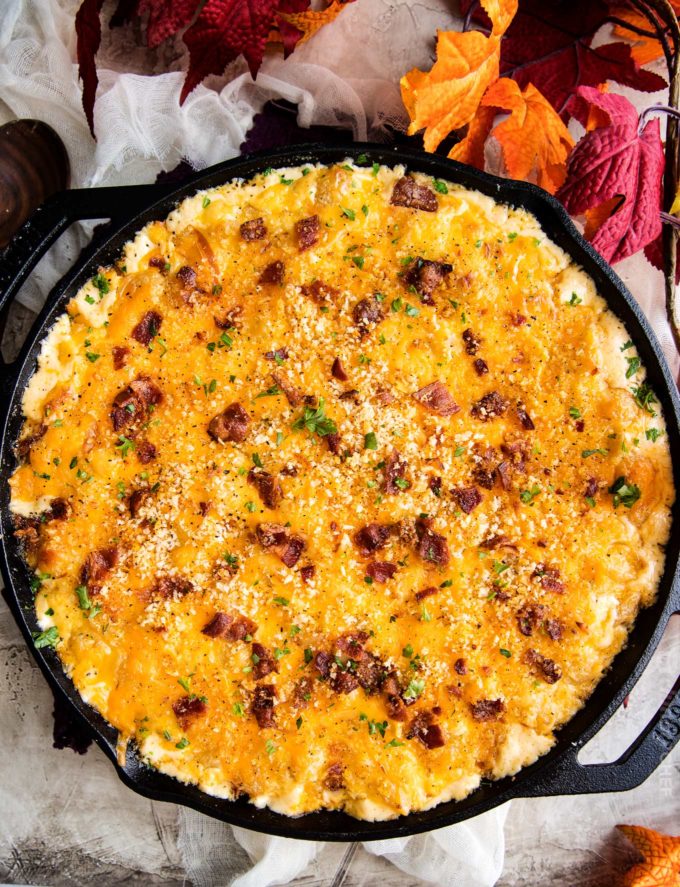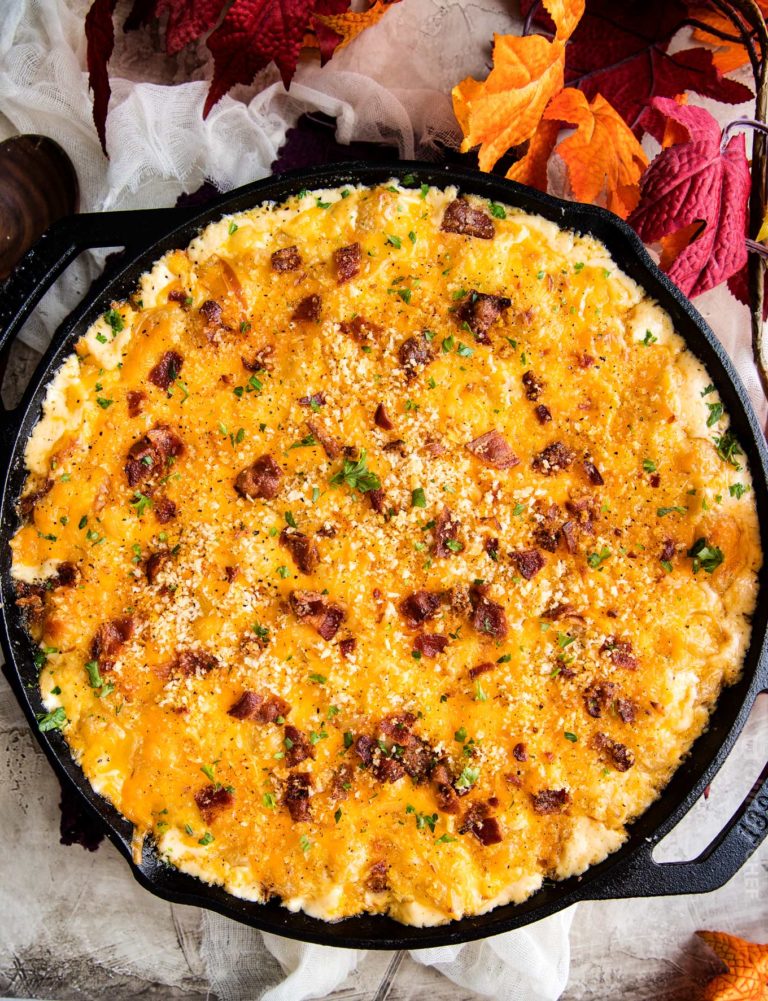 WHAT IS THE BEST CHEESE TO ADD TO MAC AND CHEESE?
Honestly the best mac and cheese recipes I've ever made or tried, have all used a combination of cheeses.  Check out the 5 cheese version of my baked mac and cheese (below the recipe)!!  Here are some of my personal favorites:
Gruyere
Smoked Gouda
Cheddar
Parmesan
Mozzarella
Fontina
Colby
Muenster
CAN YOU USE PRE-SHREDDED CHEESE FOR MAC AND CHEESE?
You can… but I don't recommend it 100%.  Here's why… most commercial pre-shredded cheeses are coated in cellulose, which essentially keeps the cheese from all clumping together in the bag.  Ever noticed how bags of pre-shredded cheese that are coming up on their expiration date usually have clumps of cheese stuck together inside?  It's because the cellulose is just about gone from the cheese.  That coating prevents the cheese from truly melting down into a gloriously gooey cheese sauce, and can leave your sauce a bit on the gritty side.  Plus I find the blocks of cheese are a bit more economical!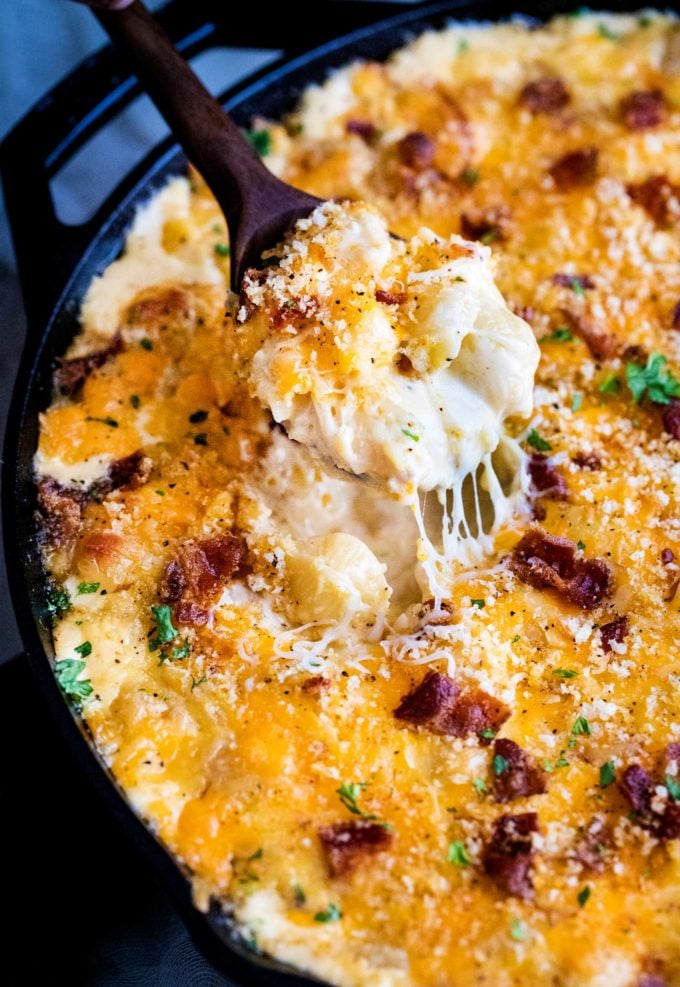 WHAT TYPE OF PASTA CAN YOU USE TO MAKE MAC AND CHEESE?
Truthfully, any kind!  I would tend to stay away from longer cuts, like spaghetti or fettuccini, just for aesthetic reasons, but any short cut pasta works wonderfully!  Elbows, shells, penne, rigatoni, cavatappi (like I used in my Jalapeno Popper Mac and Cheese – a reader just commented that she won a contest with that recipe!), they all turn out great.
CAN THIS MAC AND CHEESE RECIPE BE MADE AHEAD OF TIME?
Absolutely.  It's a great make-ahead dinner or side, which is perfect for a busy weeknight or holiday dinner!  I've posted the make-ahead directions below the recipe.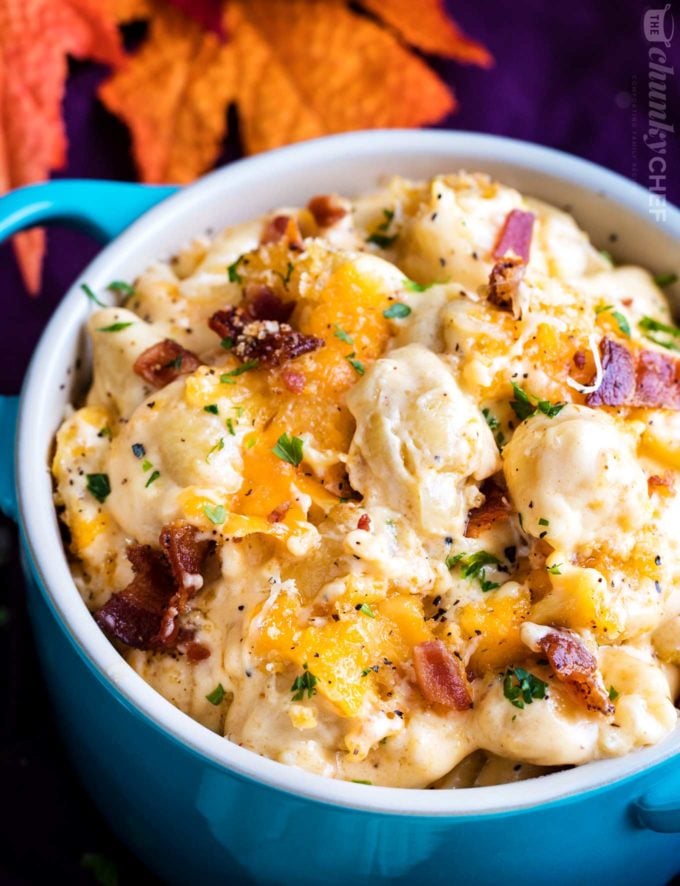 CAN THE SPICE LEVEL BE TONED DOWN?
Definitely.  I LOVE chipotle flavor, but if you're not as much of a fan, you can reduce the amount of the peppers, omit the peppers completely and just use a little bit of the adobo sauce in the can, or omit it all together.  I've also given a range for the black pepper spice amount, because that can crank up some heat as well.  Feel free to play around with it and really make it your own 🙂
CAN I PREP THIS MAC AND CHEESE RECIPE AHEAD?
I get it… half the battle when it comes to cooking is getting all the ingredients ready!  There are several steps you can take to cut down on prep/cook time in this recipe:
Pre-boil your pasta.  Boil it, drain it, drizzle it with a little olive oil and keep it in an airtight container in the refrigerator until you're ready to cook.  Just set it out on the counter while you start cooking and it'll be warmed up enough to use.
Pre-cook your bacon.  Just keep it in an airtight container in the refrigerator until you're ready for it.
Pre-shred your cheeses.  Again, just keep it in an airtight container in the refrigerator until you're ready for it.
Pre-dice your onion.  You guessed it… just keep it in an airtight container in the refrigerator until you're ready for it.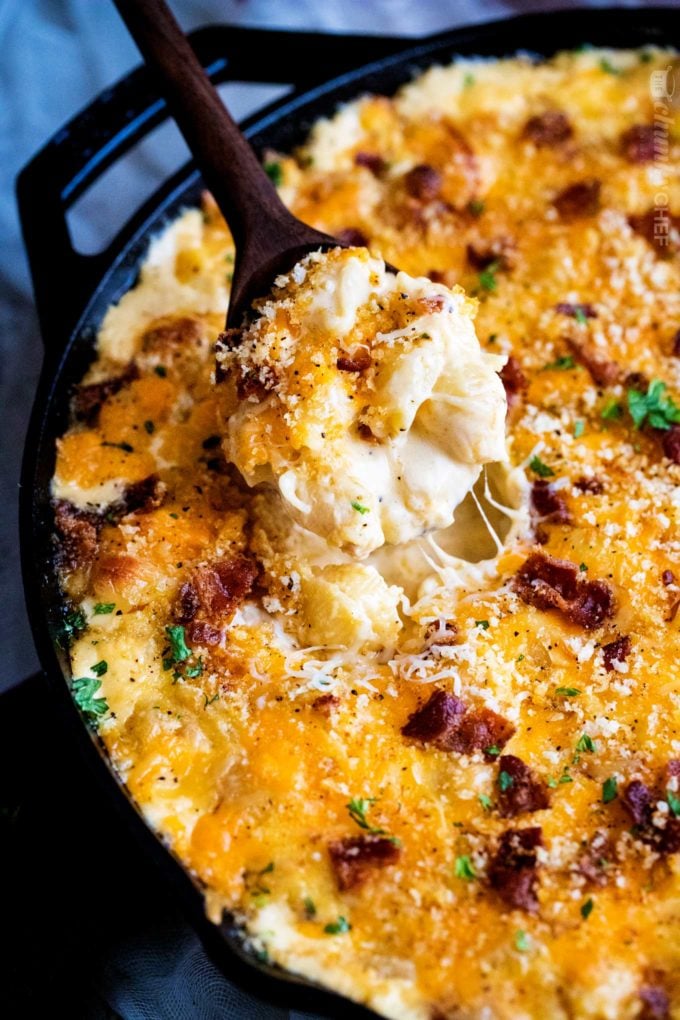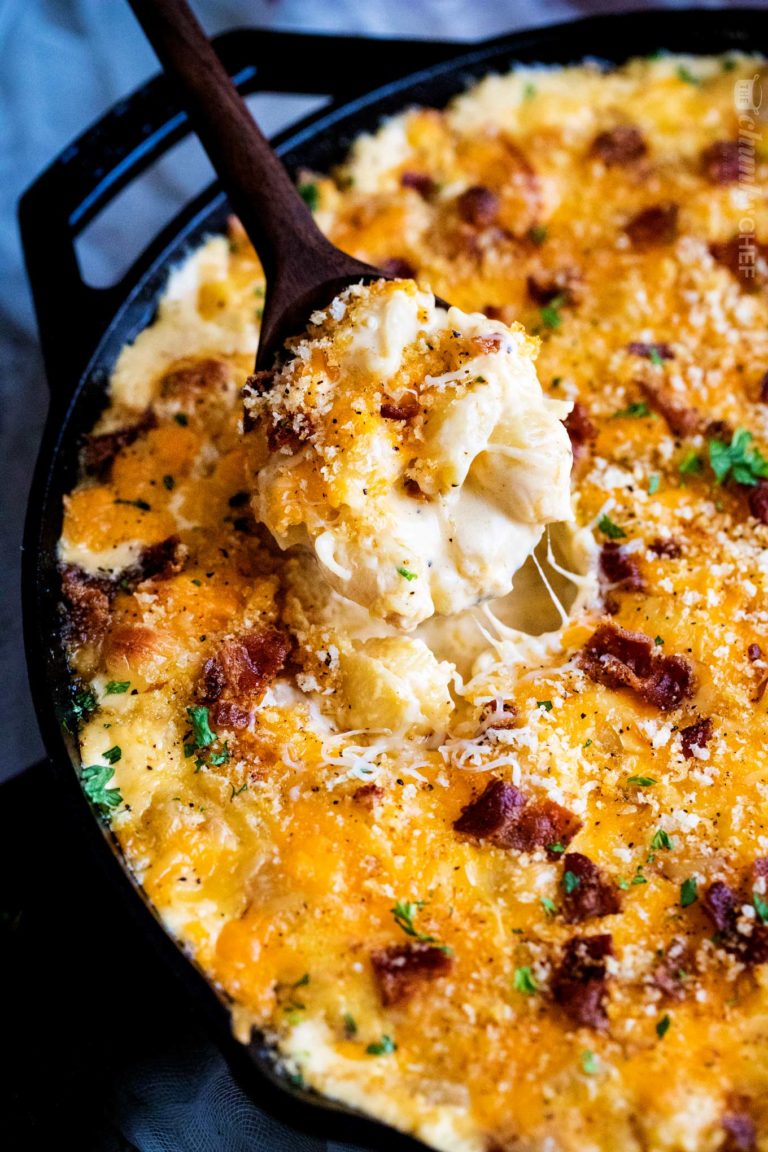 SHOP THE RECIPE:
Cast Iron Skillet – I love the rustic feel of baking mac and cheese in a trusty cast iron skillet… and they're SO versatile!
Box grater – a must if you're grating a bunch of cheese!


Did you make this? Be sure to leave a review below and tag me @the_chunky_chef on Facebook and Instagram!
Deliciously savory and smoky, this mac and cheese recipe uses two kinds of cheese, bacon, chipotle peppers and a buttery panko topping!
Ingredients
16 oz dried pasta shells or elbows
1/2 cup butter
1/2 yellow onion , minced
1/4 cup all purpose flour
3 cups half and half
2 cups heavy cream
1 1/2 tsp kosher salt
1/2 - 1 tsp black pepper
1/2 tsp smoked paprika
1-2 chipotle peppers in adobo sauce , minced
3 cups medium cheddar cheese , shredded
2 cups smoked Gouda cheese , shredded
2/3 cup panko breadcrumbs
1/2 tsp ancho chile pepper
2 - 3 tsp olive oil
8 slices bacon , cooked and crumbled
Instructions
Boil pasta in a large pot of water. Drain and set aside in a large mixing bowl. Butter or grease a large oven safe skillet (like cast iron), or 9x13" baking dish. Preheat oven to 375 F degrees.

To a large saucepan, add butter and melt over MED heat. Add onion and cook 3-4 minutes, until soft. Add flour and stir to combine. Cook about a minute.

Whisk in the half and half and heavy cream, removing all lumps from the flour. Stir in salt, pepper, smoked paprika and minced chipotle peppers. Whisk often, over MED heat, for 5-7 minutes, or until thickened.

Remove pan from heat and stir in most of the cheeses a handful at a time. Reserve about 1/2 cup of the combined cheeses to sprinkle on top of the mac and cheese later. Stir until cheeses are completely melted.

Pour cheese sauce over cooked pasta in mixing bowl. Stir to combine well, then transfer to prepared skillet or baking dish. Sprinkle with remaining shredded cheese.

Combine panko, ancho chile pepper and olive oil. Sprinkle over the top of the mac and cheese, then top with cooked bacon pieces.

Bake 15-20 minutes, until hot and bubbly and panko is golden brown. For a crispier topping, broil for a minute or two after baking.
Want to save this recipe for later? Click the heart in the bottom right corner to save to your own recipe box!
Chef Tips
To reduce calories a little: milk and half and half may be used in place of the half and half and heavy cream.  I wouldn't go below 2% milkfat though, or it may not thicken and be as creamy.
MAKE AHEAD INSTRUCTIONS
Make as directed (but do not bake), transfer to baking dish and cool completely.  Cover tightly with foil and refrigerate 1-2 days ahead.  
Before baking, let dish sit on counter for 30 minutes.
Bake at recipe temperature for 25-35 minutes, until hot and bubbly.
Nutrition Disclaimer
The Chunky Chef is not a dietician or nutritionist, and any nutritional information shared is an estimate. If calorie count and other nutritional values are important to you, we recommend running the ingredients through whichever online nutritional calculator you prefer. Calories can vary quite a bit depending on which brands were used.