All the amazing flavor of your favorite classic pumpkin pie, but without the finicky pie crust! These pumpkin bars are so easy to make, and taste great!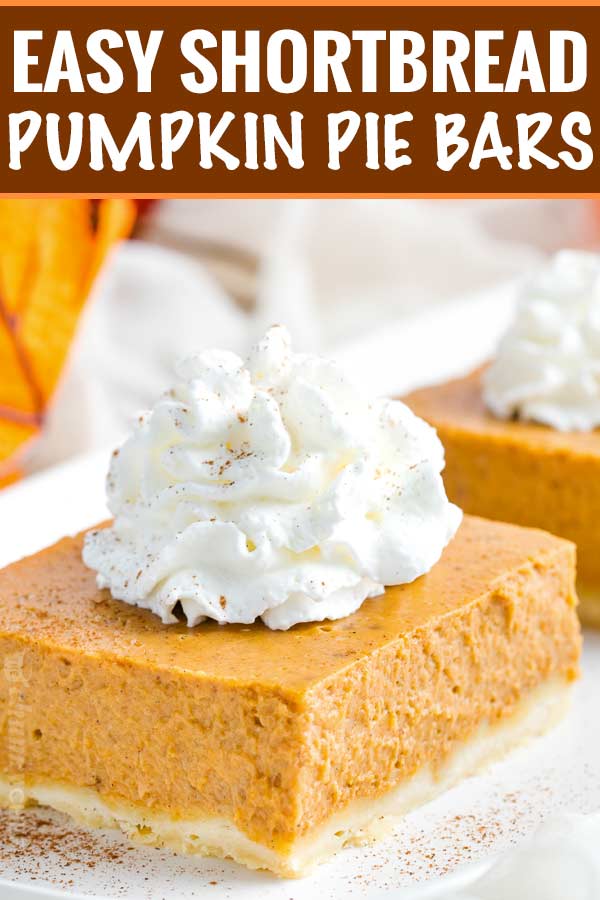 Hopefully the weather is starting to cool down where you are.  We're still plugging away in the mid to upper 80's, BUT it's supposed to cool down a lot for the weekend, and I can't wait!  I've been in such a Fall frame of mind, and it's hard to stay that way when I have to keep the AC running all the time lol.  One of the reasons I love Fall so much (other than the comfort and game day foods), is all the Thanksgiving recipes… specifically, the pumpkin pie!
I've gone on about my love/hate affair with pie crust (read about my epic crust fail HERE!), and you can actually listen to me talk about my epic cooking fail on this Dishing with Delishes Podcast episode.  So when I was testing pumpkin pie recipes, I really wanted one that didn't need an actual pie crust.  So many of you have written me to say that you also have issues with making the perfect crust, and I love that.  We all have our strengths, and our areas we need improvement!  So I came up with this INCREDIBLY easy pumpkin pie bar recipe that uses a no pre-bake shortbread crust!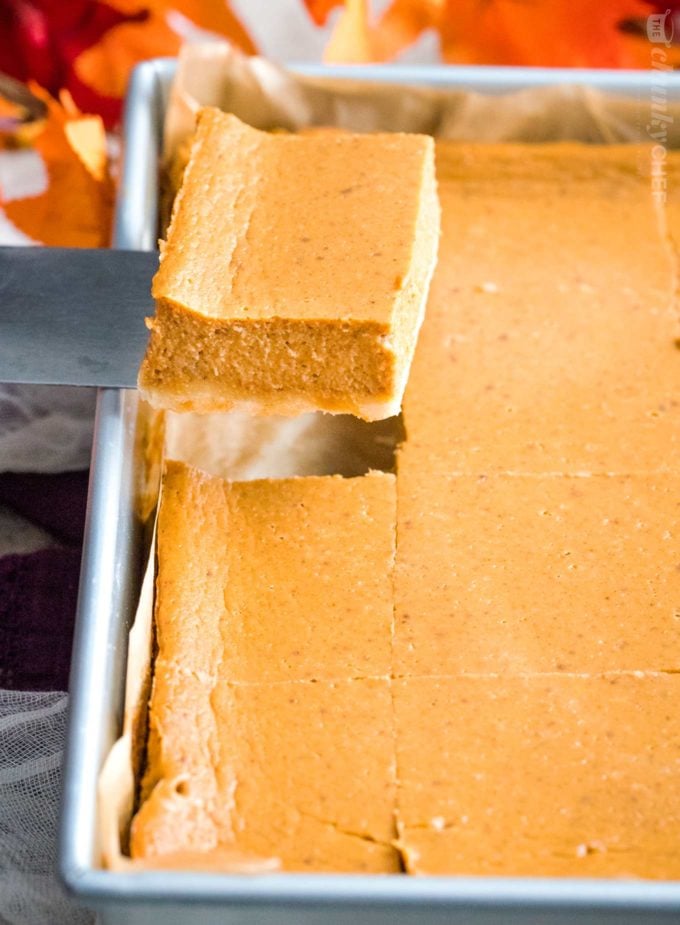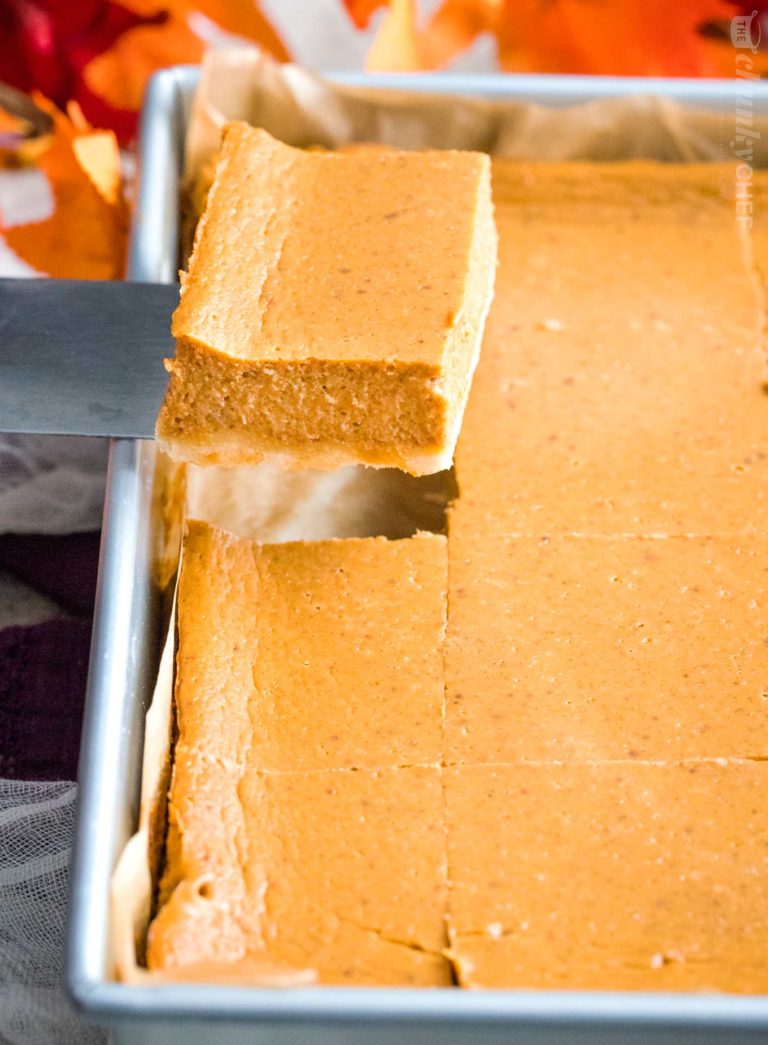 HOW TO MAKE PUMPKIN PIE BARS
You'll love how simple this recipe truly is.  First you need to make your crust, which is just combining flour and sugar and cutting some cold butter into it.  I usually use a pastry cutter for that, but if you'd rather use a food processor, just pulse it until you see coarse crumbs.  No need to roll the crust, it'll still be powdery… just press it into the baking dish with your hands.  No need to pre-bake it either!
Next, you're going to make the pumpkin pie filling.  Pumpkin pie is a custard-like mixture, so it comes together really quickly.  Combine your ingredients, and stir in the evaporated milk.  Just pour the filling over the crust, bake, and cool!
HOW DO I KNOW WHEN MY PUMPKIN PIE BARS ARE DONE BAKING?
This can be a little tricky, but I'm here to help!  Start checking around 65 minutes of baking time, and using an oven mitt, gently give the pan a little wiggle.  The bars should jiggle a little in the center, but not be wet and super jiggly all over.  Remember not to cut the bars right away… pumpkin pie needs time to set, which happens during the cooling and refrigerating process.  It's so tempting to try a bite, but be patient… they'll be worth the wait!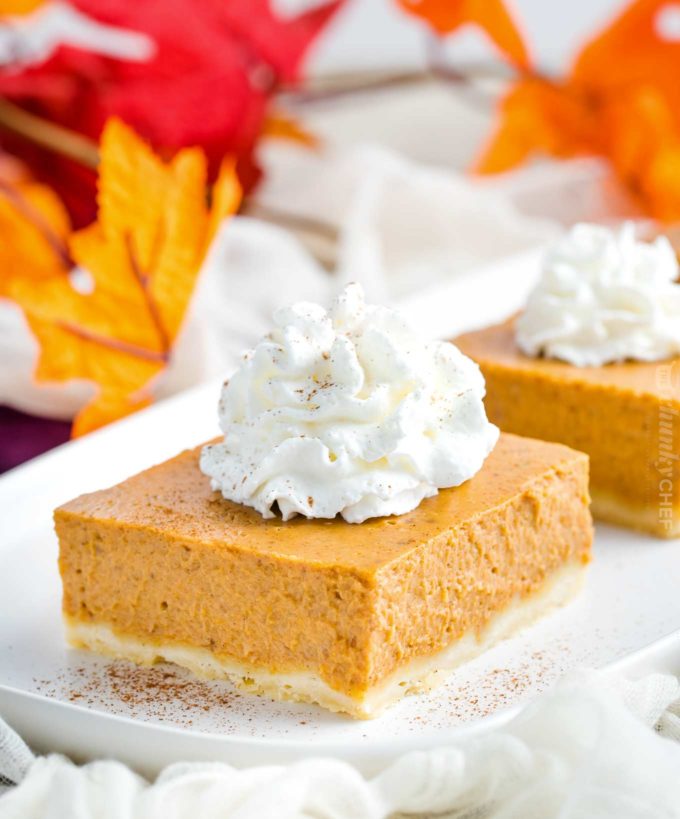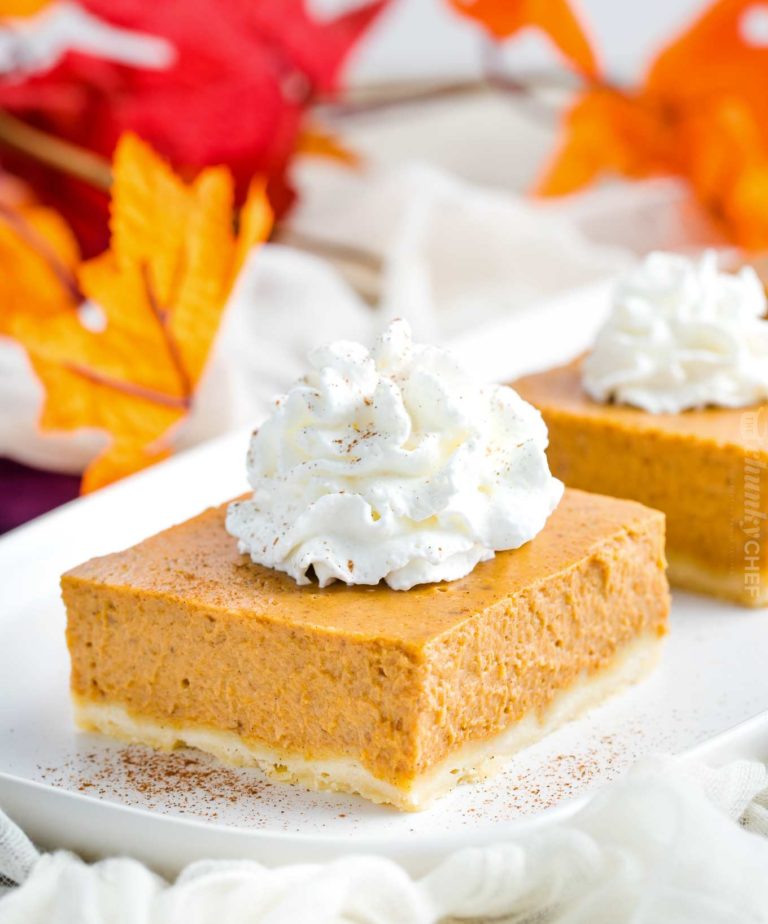 HOW DO YOU STORE PUMPKIN PIE BARS?
Since this is homemade, and therefore preservative free, plus made with dairy and eggs… it needs to be refrigerated.  Just cover the pan tightly with foil and they'll keep for 3-5 days.  You may notice when you take the bars out of the refrigerator they're a little wet on top.  That's totally normal and due to temperature changes.  Lightly dab it with a clean paper towel and it'll be good as new!
WHAT ABOUT FREEZING… CAN THESE PUMPKIN BARS BE FROZEN?
Yes!  Just remember to cool them completely first, then cover the pan tightly with a layer of plastic wrap, then a layer of foil.  Pumpkin pie bars can be frozen for 1-2 months, and to defrost them, just place in the refrigerator for a full 24 hours.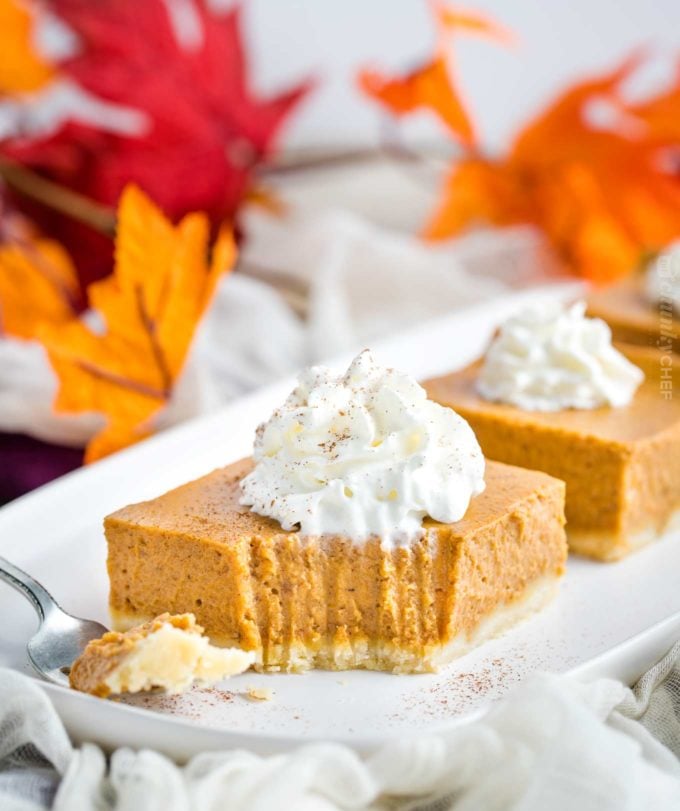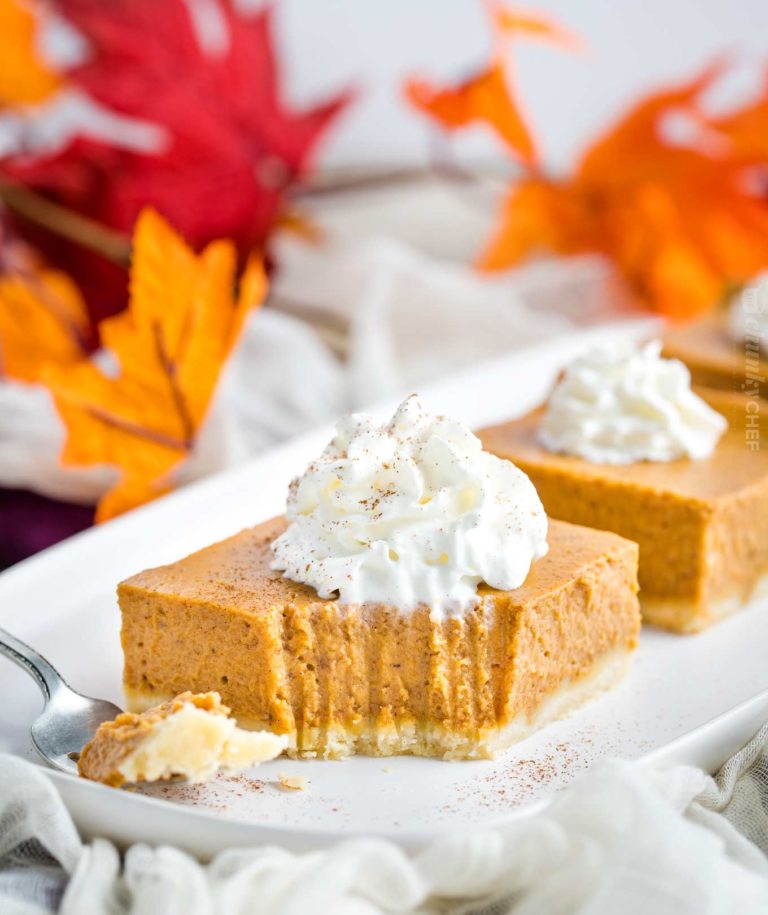 WHY USE EVAPORATED MILK?
I love to use evaporated milk in this recipe because it's thicker than normal milk, and has the flavor of cream, without adding all the fat and calories that heavy cream would add.  By no means is this a "healthy" pumpkin pie bar recipe… but every little bit counts, especially during the holidays right?  Some recipes call for using sweetened condensed milk… which would be delicious, but you'd need to omit some of the sugar in the filling.
PRO TIPS FOR MAKING PUMPKIN PIE BARS:
Plan ahead.  These bars have to cool and refrigerate for several hours for the custard to fully set, so make them plenty early enough.
Use quality canned pumpkin.  I've had the best results with this recipe, and others, by using Libby's brand.  Store brand, for me, didn't taste as good.
When making the crust, it may look like it's not mixed enough.  It'll still be pretty flour-y and powdery.  That's okay, it all comes together in the oven… like magic!
When the pumpkin bars are finished baking, they'll be puffy in the pan.  Don't worry, as it cools, the filling will sink back down… just like a classic pumpkin pie would.
Pumpkin pie bars can be served cold, at room temperature, or slightly warmed.  Personally, I prefer cold or room temperature.
SHOP THE RECIPE:
OTHER GREAT PUMPKIN DESSERTS:


Did you make this? Be sure to leave a review below and tag me @the_chunky_chef on Facebook and Instagram!
Great classic pumpkin pie flavors without the hassle of dealing with pie crust!
Ingredients
SHORTBREAD CRUST:
1 1/2 cups all purpose flour
1/4 cup granulated sugar
1/2 cup cold butter , cubed
FILLING:
29 oz can pumpkin puree (NOT pumpkin pie filling)
4 large eggs
1 tsp salt
2 1/2 tsp pumpkin pie spice
2 cups granulated sugar
2 (12 oz each) cans evaporated milk
Instructions
Preheat oven to 425 F degrees. Line a 9x13" baking dish with parchment paper or aluminum foil and set aside.

In a small mixing bowl, combine flour and 1/4 cup sugar. Add cubes of butter and cut into the flour mixture using a pastry cutter or two forks. This can also be done in a food processor by pulsing until the mixture looks like coarse crumbs.

Press crust into the prepared baking dish in an even layer and set aside. To a large mixing bowl, add pumpkin, eggs, salt, pumpkin pie spice, and 2 cups of sugar. Whisk or beat together. Add evaporated milk and stir until well combined.

Pour mixture over crust in prepared pan and bake at 425 F degrees for 15 minutes. Leave the pan in the oven and reduce oven temperature to 350 and continue baking another 50-55 minutes, until filling is set.

Remove pan from oven and cool completely on a wire rack. Cover and refrigerate at least 2 hours before cutting into bars. I usually make my bars the night before, so they're refrigerated overnight.

Slice into squares and serve with whipped cream and a light dusting of cinnamon if desired.
Want to save this recipe for later? Click the heart in the bottom right corner to save to your own recipe box!
Chef Tips
1 serving = 1 bar Slice panful of pumpkin bars horizontally in thirds (by making 2 slices across), then make 4 evenly spaced vertical slices to make 15 bars per pan.
Nutrition Disclaimer
The Chunky Chef is not a dietician or nutritionist, and any nutritional information shared is an estimate. If calorie count and other nutritional values are important to you, we recommend running the ingredients through whichever online nutritional calculator you prefer. Calories can vary quite a bit depending on which brands were used.