Classic baked mac and cheese gets a comforting and family-friendly chicken bacon ranch flavor twist!
Struggling to get your kids to eat home-cooked dinners that DON'T involve chicken nuggets?  Make this kid-approved Chicken Bacon Ranch Mac and Cheese Casserole and watch them practically lick their plates!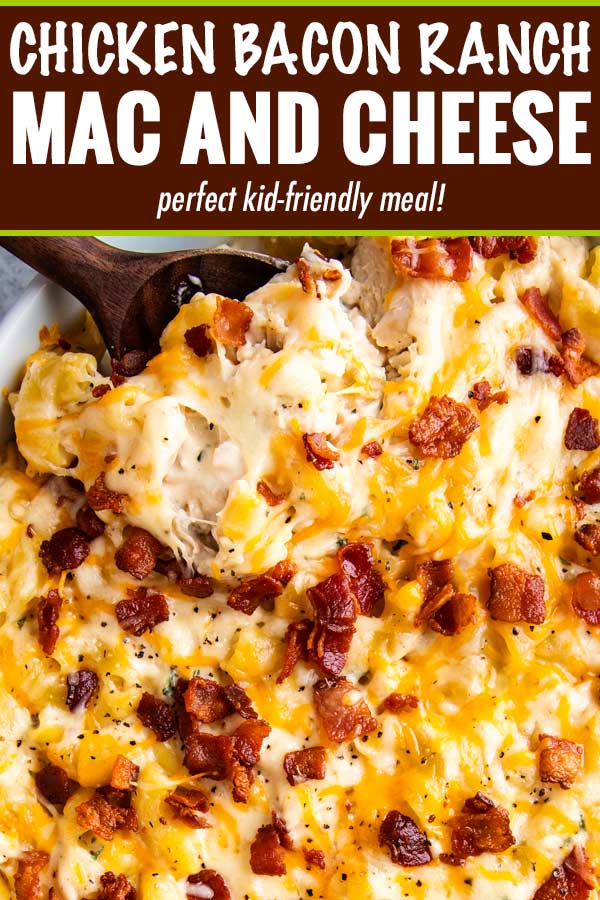 Show of hands, who here has a picky kid?  *frantically waves both hands to represent both picky children*  It never fails; I lovingly make a home-cooked meal that, on paper, they should love (ie. no onions, green things, etc)… and as soon as I put the meal on the table they exclaim that it looks/smells gross and that they're not eating it.  Without trying it.  Barely giving it a glance.  Makes a parent want a BIG glass of wine, amiright?!
That scenario happens to me a LOT, so when I was creating this recipe, I was determined to make it so kid-friendly that they couldn't refuse it.  And it worked!  I mean, it's hard to go wrong with pasta, a 3 cheese sauce, chicken, ranch, and plenty of bacon.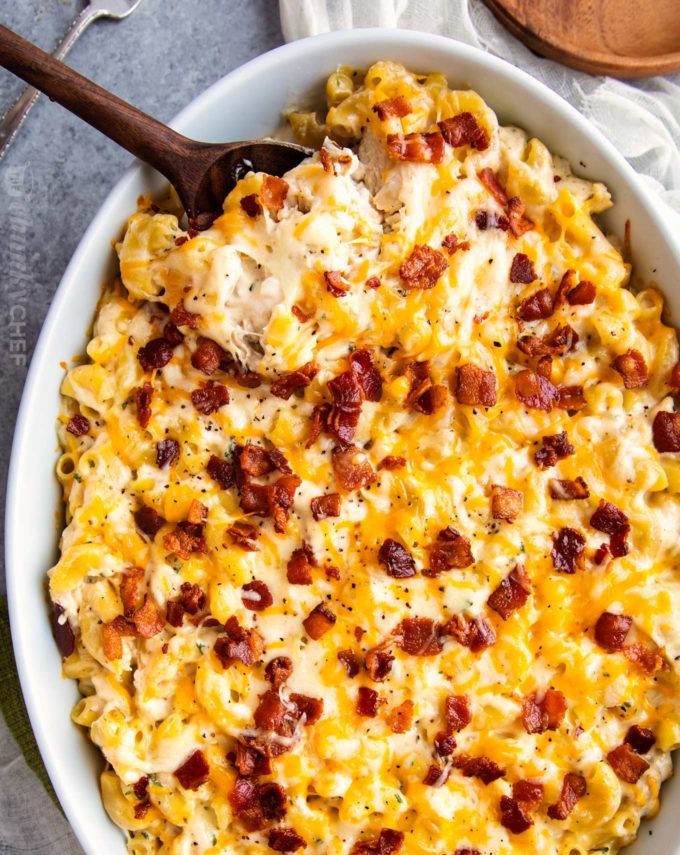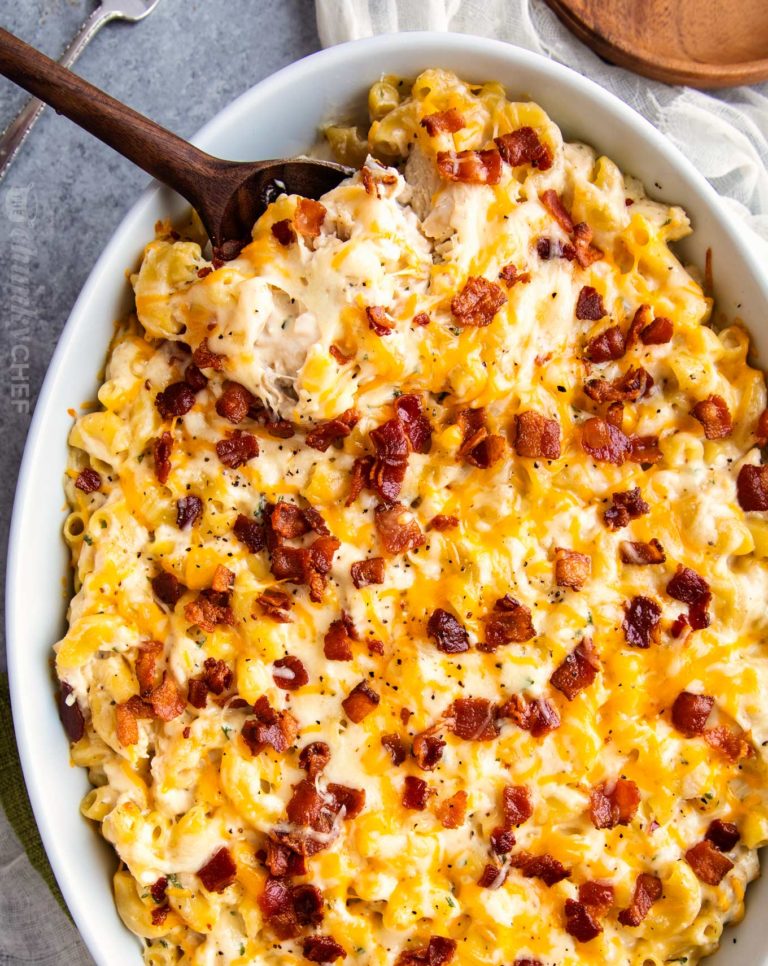 In some circles, this combination of chicken bacon ranch is called "crack chicken", and I can totally understand why it would be called that!  No judgements if that's what you call the CBR combo, it's just not for me.
WHAT KIND OF CHICKEN DO YOU USE IN CHICKEN BACON RANCH MAC AND CHEESE?
Personally I love to use shredded chicken (from my homemade rotisserie-style chicken!), but I know not everyone has that on hand, so here are a few options:
Leftover chicken – shred or dice it up
Chicken Breasts – use 2-3 chicken breasts and saute with ranch seasoning.  Shred or dice.
Chicken Thighs – use 4-5 chicken thighs and saute with ranch seasoning.  Shred or dice.
Store-bought Rotisserie Chicken – shred and satue with ranch seasoning.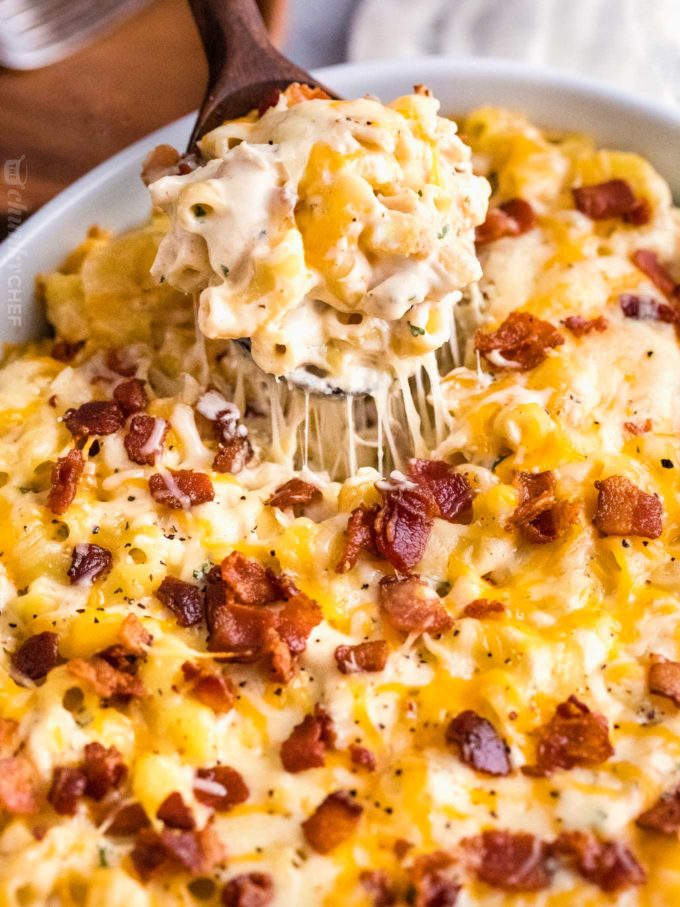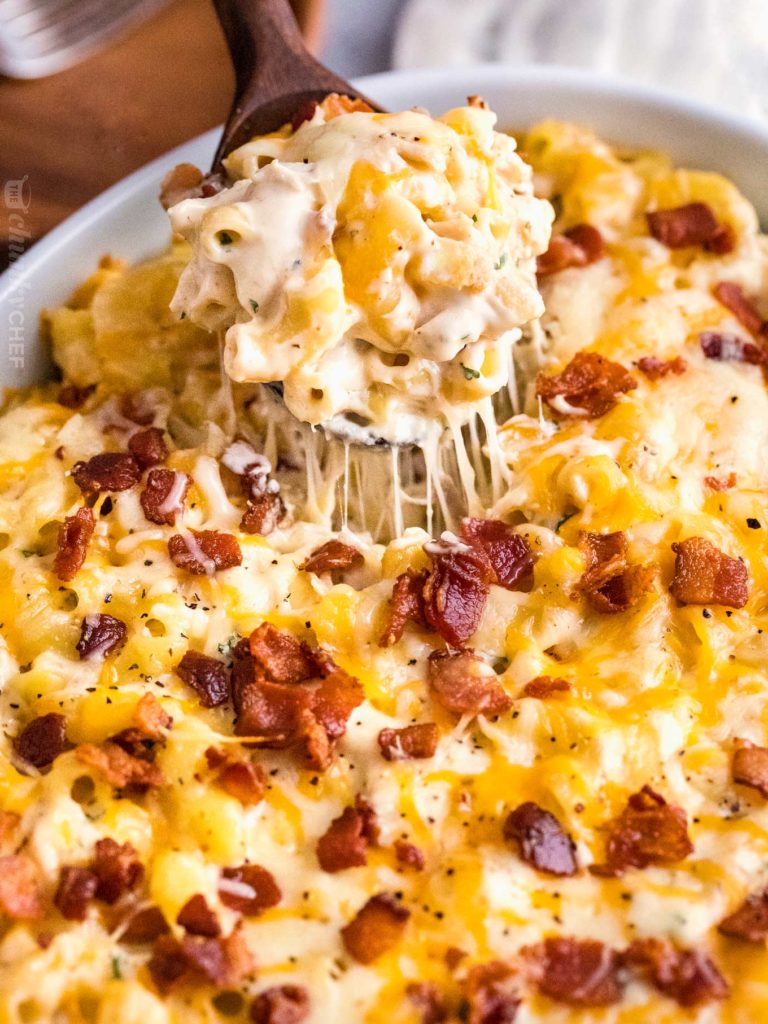 HOW CAN YOU PREP AHEAD CHICKEN BACON RANCH MAC AND CHEESE?
Homemade mac and cheese is so amazing, but it can take a little while to make when you have to do it all at once.  I normally prep ahead whenever I'm making my Creamy Baked Mac and Cheese (award-winning!), and here's how I do it.
Pasta – boil pasta a minute shy of al dente, drain, toss with a bit of olive oil and cool.  Refrigerate.
Cheese – shred all cheeses and refrigerate.
Bacon – cook bacon and cool.
Chicken – Cook and shred chicken, cool, and refrigerate.
This way, when it's time to cook dinner, all you have to do is make the cheese sauce, which you can just about do while the oven is preheating!
WHAT ABOUT MAKING THIS MAC AND CHEESE AHEAD OF TIME?
I haven't officially tested it, so I can't say for certain, but I think it would work well.  Just assemble the casserole, but instead of baking it, cool it completely, cover and refrigerate.  Let it stand at room temperature for 15 minutes or so, then bake as directed.
As a word of caution, sometimes making mac and cheese ahead of time can lead to the pasta soaking up some of the sauce, and it can also not be quite as creamy.  Your mileage may vary with that, it's just something a few readers reported after making my baked mac and cheese.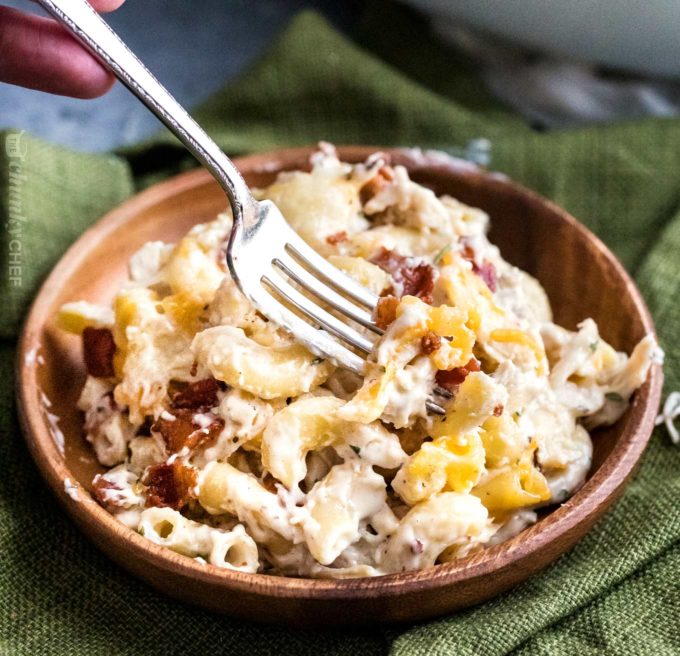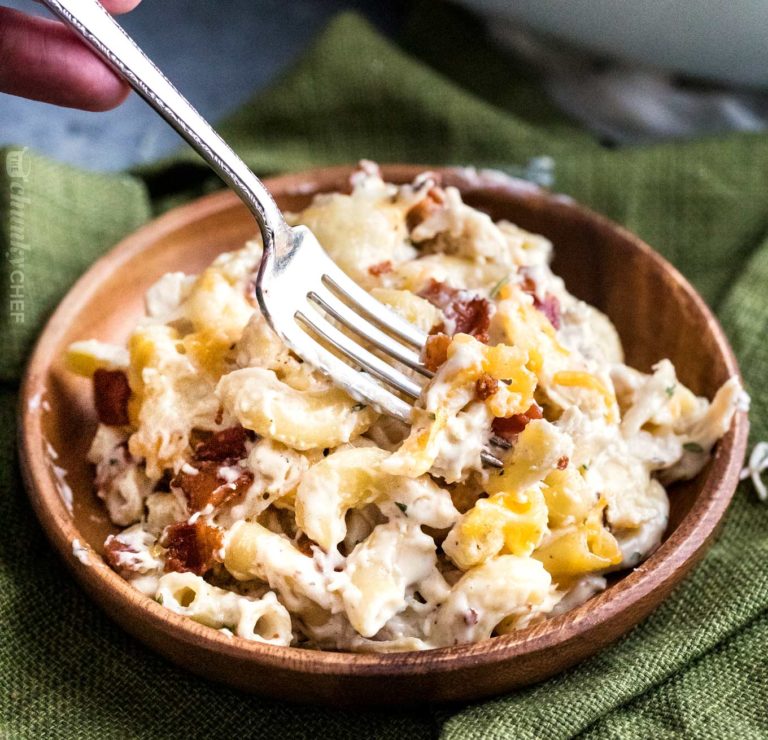 PRO TIPS FOR MAKING CHICKEN BACON RANCH MAC AND CHEESE CASSEROLE:
Make sure to cook the pasta a minute shy of al dente.  You'll be baking the pasta, and it will continue to cook.  I normally cook my pasta 4-5 minutes.
Speaking of pasta, feel free to switch up the type.  I think this casserole works best with shorter cuts of pasta, so bowtie, penne, ziti, rotini, shells, etc would be great substitutions!
Grate your own cheeses.  I know it's easier to grab a bag that's pre-shredded, but for the most creamy cheese sauce, you'll need freshly grated cheese.  Pre-shredded cheese is coated with starches and cellulose to prevent it from clumping in the package, and those starches prevent the cheese from fully melting into the sauce.
My personal preference for this casserole is to have the chicken shredded, but if you prefer bigger chunks of chicken, go for a bite-sized dice.
OTHER GREAT CASSEROLE RECIPES: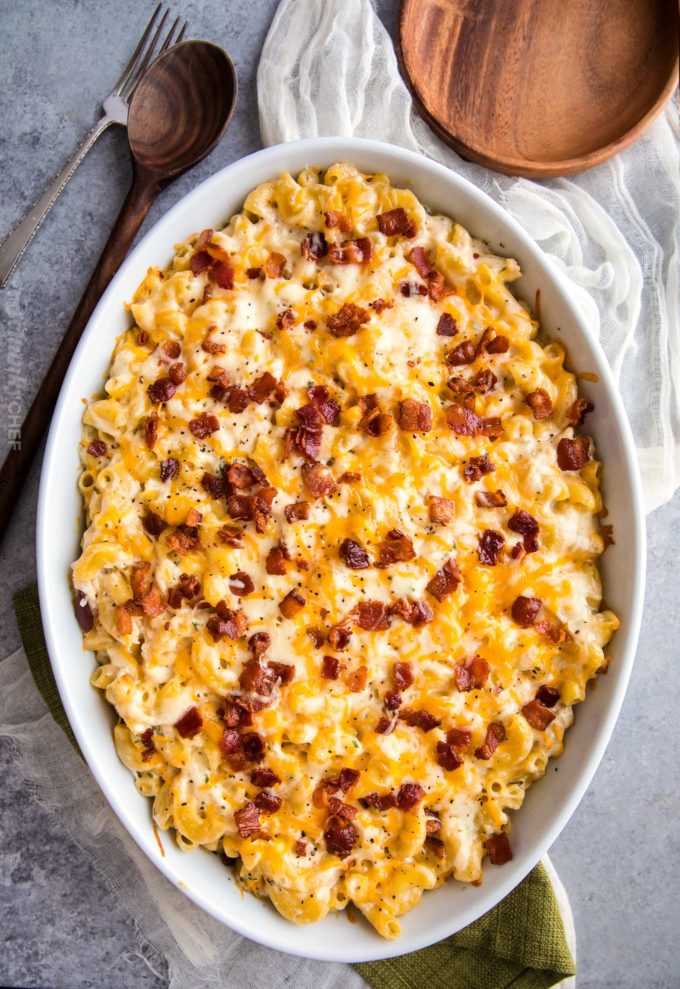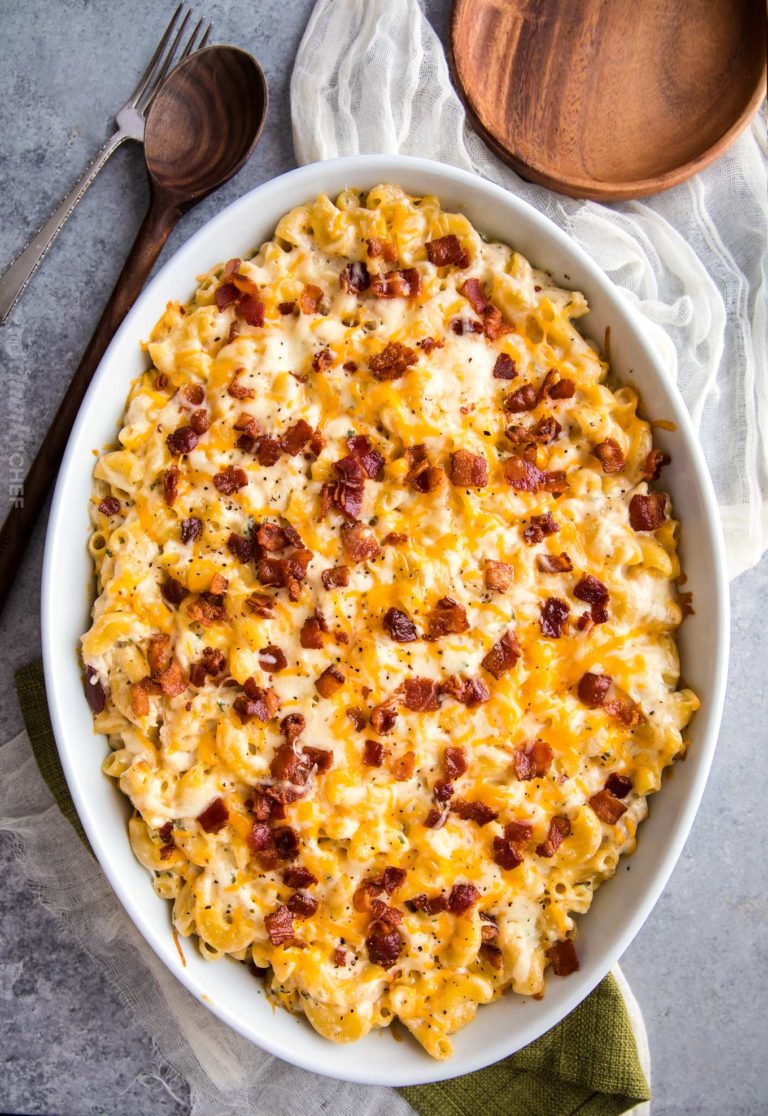 SHOP THE RECIPE:
Baking Dish – any 3 quart baking dish will do, I just love this brand!
Box Grater – remember, the best mac and cheese starts with freshly grated cheese!


Did you make this? Be sure to leave a review below and tag me @the_chunky_chef on Facebook and Instagram!
Classic baked mac and cheese gets a comforting and family-friendly chicken bacon ranch flavor twist
Ingredients
10 slices bacon, diced
3 cups shredded chicken (see recipe notes for substitutions)
1 oz package dried ranch dressing seasoning
3 Tbsp unsalted butter
4 cloves garlic, minced
3 Tbsp all purpose flour
2 cups heavy cream
2 cups half and half
1/2 cup grated Parmesan
1 1/2 cups shredded Mozzarella cheese, divided
1 cup shredded cheddar cheese, divided
salt and pepper, to taste
1 lb. dry large elbow pasta
Instructions
Boil pasta 1 minute shy of al dente (see package for approximate time), drain. Stir with a drizzle of olive oil to prevent sticking. Set aside.

Preheat oven to 375 F degrees and butter a 3 quart baking dish. Set aside.

To a large, deep skillet, or dutch oven, add bacon and cook over MED-LOW heat until crisp. Remove with a slotted spoon to a plate, then drain all but 1 Tbsp of the bacon fat.

Increase heat to MED, and add shredded chicken and ranch seasoning, and cook, stirring to coat. Cook 2-3 minutes. Remove to a plate.

Add butter and garlic, cooking about 30 seconds, until garlic is fragrant. Add flour and whisk together to form a paste. Slowly add in heavy cream and half and half, whisking vigorously as you add the liquids. Once all liquids are in the pot, cook, whisking often, for 3-5 minutes, until thickened.

Stir in all of the Parmesan cheese, half of the mozzarella and half of the cheddar. Melt cheese completely, then stir in cooked pasta, chicken, and half of the bacon pieces.

Transfer to prepared baking dish and top with remaining mozzarella, cheddar, and bacon. Bake 25-30 minutes, until bubbly and cheese is melted.
Want to save this recipe for later? Click the heart in the bottom right corner to save to your own recipe box!
Chef Tips
Shredded chicken can be substituted with 2-3 boneless skinless chicken breasts or 4-5 boneless skinless chicken thighs.  In step 4, add chicken and ranch, then cook until golden brown and cooked through to an internal temperature of 165 F degrees.
Nutrition Disclaimer
The Chunky Chef is not a dietician or nutritionist, and any nutritional information shared is an estimate. If calorie count and other nutritional values are important to you, we recommend running the ingredients through whichever online nutritional calculator you prefer. Calories can vary quite a bit depending on which brands were used.