This impressive, yet super easy, brownie bottom cookie dough cheesecake looks as fancy as any dessert you've had from a restaurant!
A fudgy bottom layer of brownie is topped with rich and silken cheesecake, then a layer of egg-less edible cookie dough is spread on the top and drizzled with melted chocolate.  This is the ULTIMATE cheesecake for the ULTIMATE dessert lover!  Brownie bottom cookie dough cheesecake deliciousness!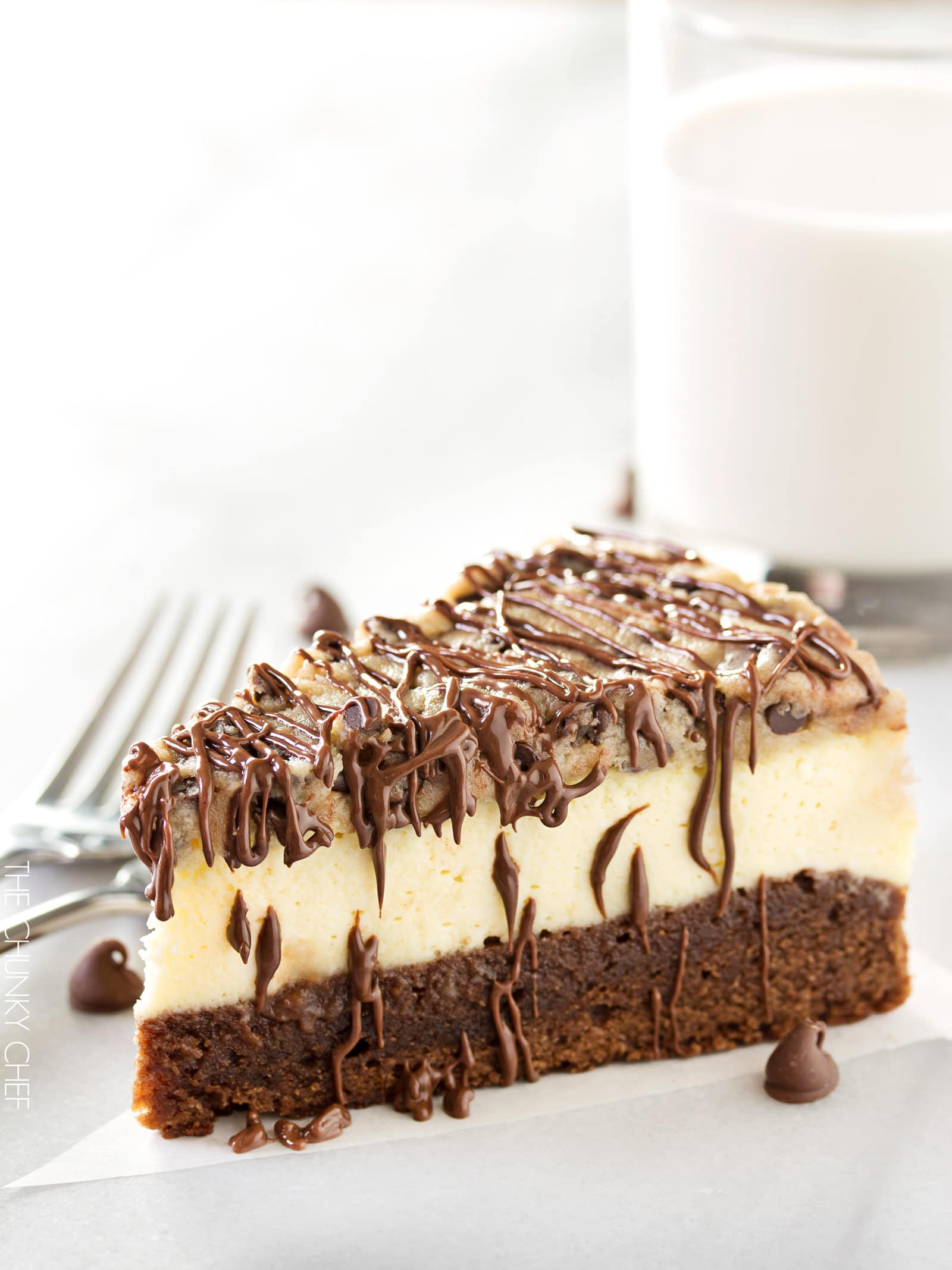 Remember a few weeks back when I shared these Vanilla Chai Cheesecake Bars and let you in on a little secret of mine?  About how I had a fear of baking a full on cheesecake…. well, I challenged myself and did it!  Well, not fully I guess, since this isn't a classic cheesecake… but I think it's even better.
I mean c'mon, it's like three desserts in one!  Rich and fudgy brownies, silky cheesecake and classicly sweet cookie dough.  And of course I had to be extra decadent and drizzle a bit of melted chocolate over the top because… well, chocolate 😉
You're already having a rich piece of cookie dough cheesecake, a little extra chocolate isn't going to be a problem right?  Go ahead, drizzle a little more on, it'll be our little secret 😉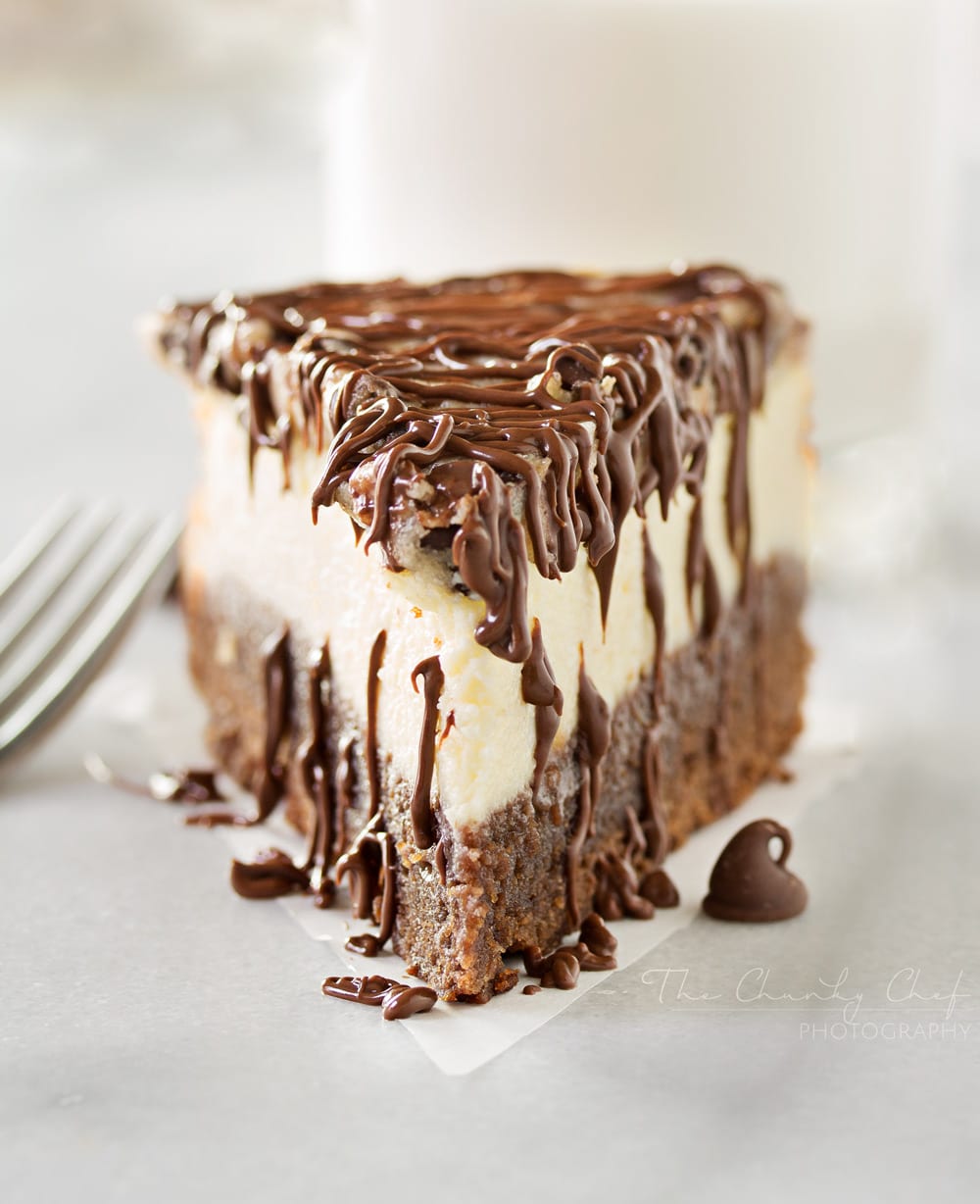 I made this brownie bottom cookie dough cheesecake for my husband's birthday and let's just say between us and the kids, we were fighting over who got the last piece!
This dessert may look fancy and complicated because of all the layers, but really it's super easy.

Just mix up the brownie batter and bake it.  While it's baking, mix up the cheesecake batter.  No need to cool the brownie first, just remove the pan from the oven, pour cheesecake batter over the top and return to the oven.  Once the cheesecake is finished, it's going to have to cool for a bit.  It needs to be firm before you add the cookie dough layer on top, otherwise it'll mush and not look so pretty.  You'll need to chill the cheesecake for 4 hours or overnight, so plan ahead 🙂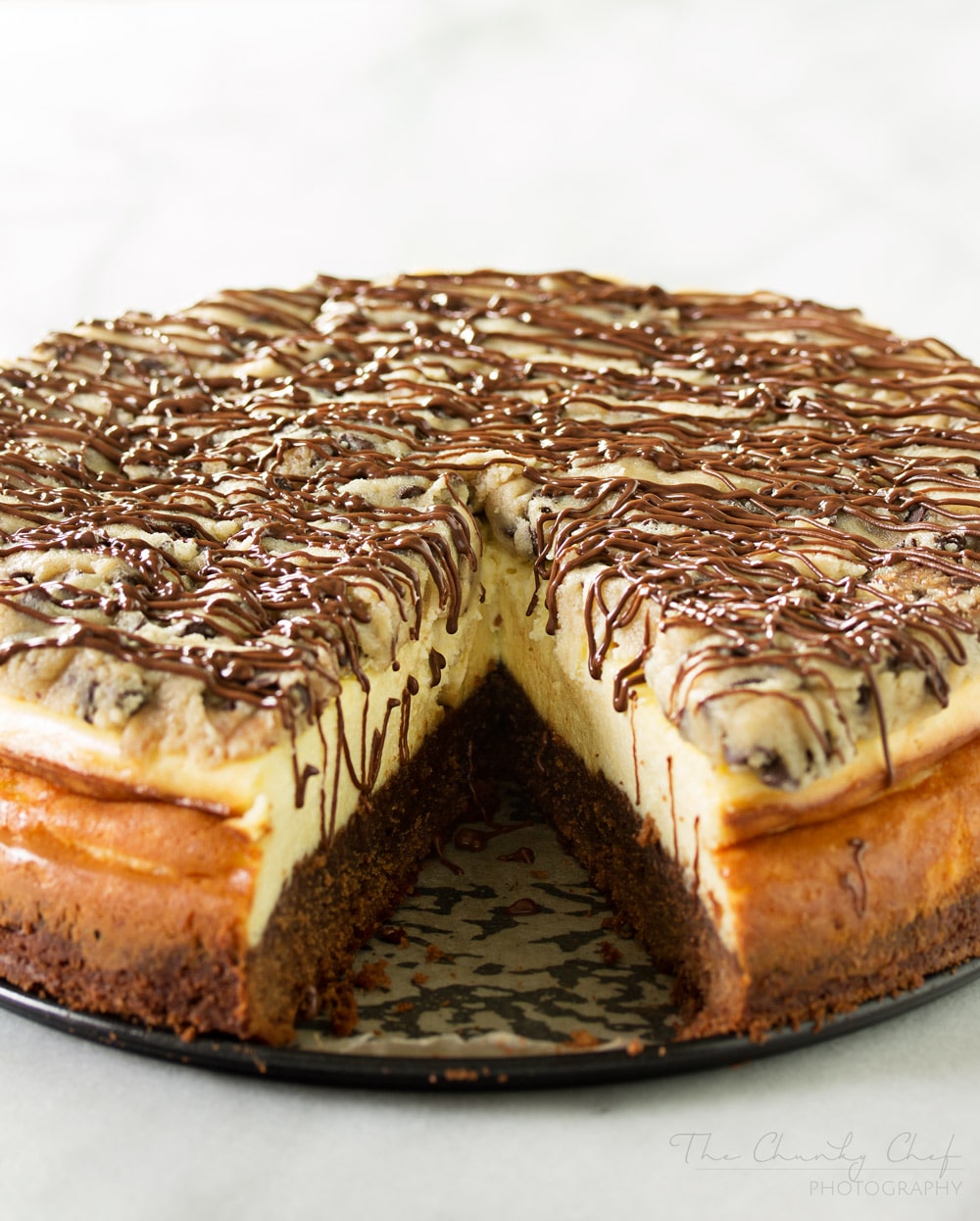 The cookie dough layer on top is completely egg-less, so no salmonella worries here!  Honestly, I think it tastes JUST like regular cookie dough, so it makes a great treat to whip up and eat by the spoonful as well.  Stay tuned for another recipe using the egg-less cookie dough!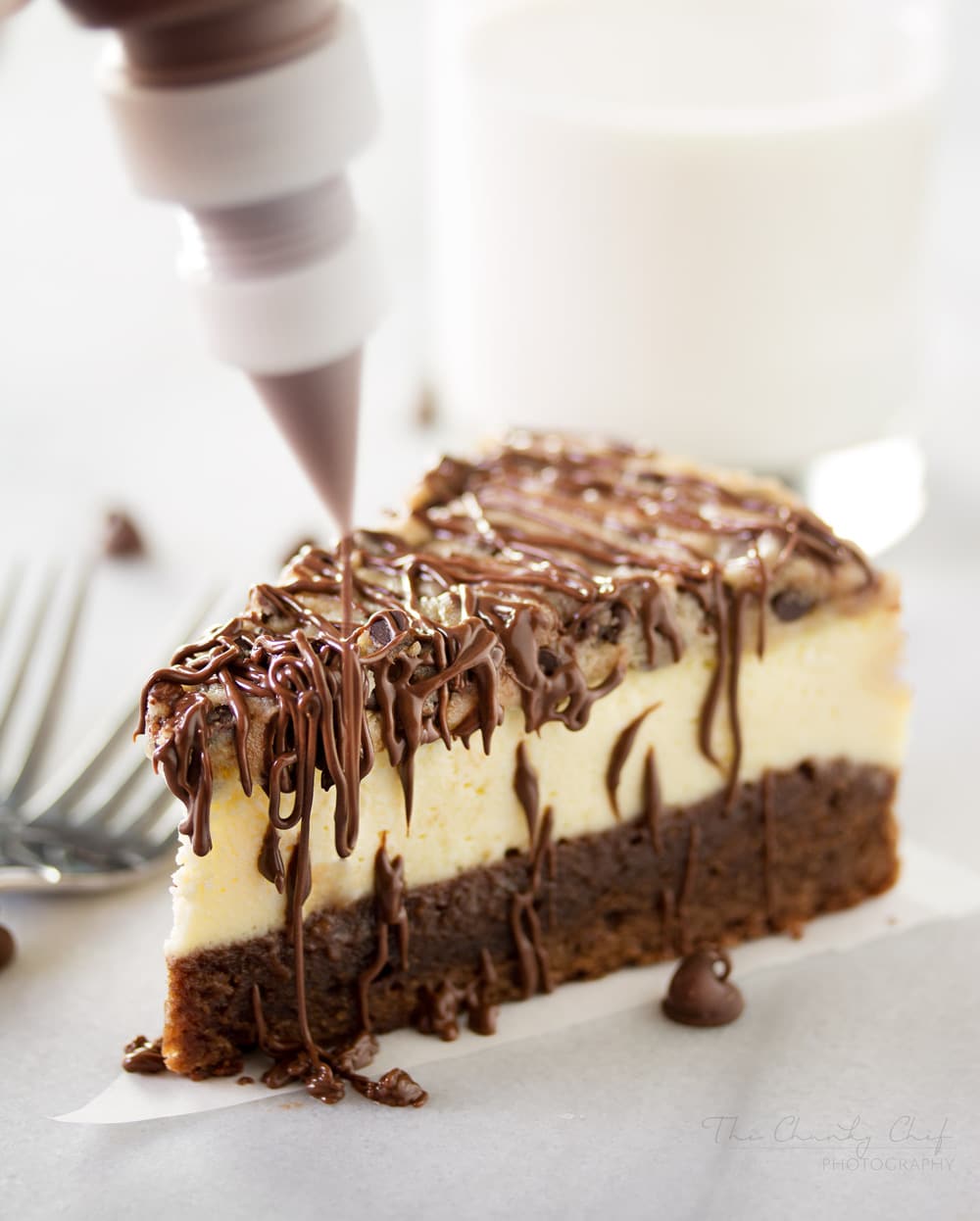 If you have a Cheesecake Factory near you, this is one slice that should be on their menu!  Looks fancy, and tastes even better than it looks 🙂
I hope you make this cheesecake and enjoy every single bite of it… I know we sure did!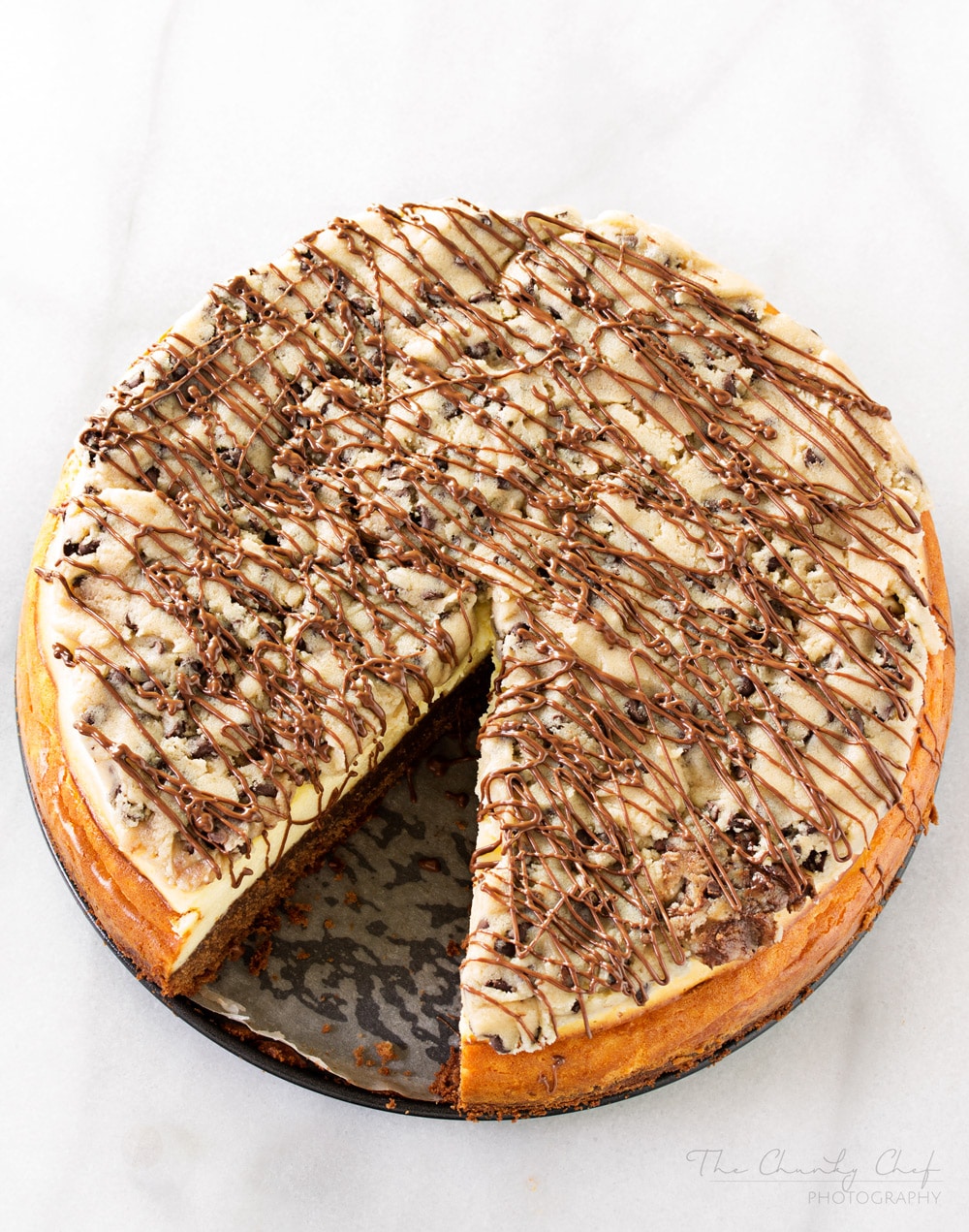 Did you make this? Be sure to leave a review below and tag me @the_chunky_chef on Facebook and Instagram!
This impressive, yet super easy, brownie bottom cookie dough cheesecake looks as fancy as any dessert you've had from a restaurant!
Ingredients
1/3 cup milk chocolate chips
1 tsp vegetable oil
Brownie Layer
1 stick unsalted butter at room temperature (1/2 cup)
3/4 cup semi-sweet chocolate chips
1 cup granulated sugar
2 eggs
1/4 cup milk
1 cup all-purpose flour
Cheesecake Layer
18 oz cream cheese (2 - 8oz bricks and 1/4 of another 8oz brick), softened to room temperature
3/4 cup granulated sugar
3 eggs room temperature
1 tsp vanilla extract
1/2 cup sour cream or greek yogurt
Cookie Dough Layer
1 stick unsalted butter at room temperature (1/2 cup)
1/2 cup granulated sugar
1/2 cup brown sugar
1/2 cup sweetened condensed milk
3/4 tsp vanilla extract
1 cup flour
1/2 tsp salt
1 cup mini chocolate chips
Instructions
Brownie Layer
Preheat oven to 350 degrees F. Line bottom of a 9" springform pan with parchment paper and spray paper and sides of pan with cooking spray (I use a baking spray, but you could use regular spray and lightly dust with flour instead).

In a small saucepan, melt butter and chocolate until smooth, over low heat, stirring often.

Turn off heat and whisk in sugar. Set aside to cool for 5-10 minutes, stirring often.

To a mixing bowl, add in melted chocolate mixture, milk and eggs, whisking quickly so the residual heat doesn't cook the eggs.

Use a wooden spoon to stir in flour until just combined. Pour batter into prepared pan in an even layer, and bake for 25 minutes.

Cheesecake Layer
Remove brownie pan from the oven and set aside.

Reduce oven temperature to 325 degrees F.

Using a stand mixer (or hand mixer), beat all cheesecake ingredients together until mixture is smooth. Take care not to mix too quickly, or air bubbles will form.

Pour cheesecake batter over brownie layer in pan.

Bake for 50 minutes, until center is slightly jiggly (or when an instant read thermometer inserted into the center reads 150.

Remove from oven and cool at room temperature, with the pan on a wire rack for 30 minutes to 1 hour.

Place pan in the refrigerator for 4 hours, or overnight to chill and firm up to that amazing cheesecake consistency.

Cookie Dough Layer
In a stand mixer (or hand mixer), cream together butter and both sugars on MED-HIGH speed until light and fluffy.

Beat in sweetened condensed milk and vanilla extract.

Beat in salt and flour. Stir in mini chocolate chips.

Use an offset spatula to gently spread cookie dough over the top of the cooled cheesecake.

This is done most easily when the spring has been undone and the cheesecake is free from the sides of the pan.

If you can't spread the cookie dough, gently press pieces together to "spackle" the cookie dough onto the cheesecake.

Finish the Cheesecake
Microwave milk chocolate chips and vegetable oil in 30 second bursts (stirring each time), until nearly melted. Stir to melt remaining lumps.

Drizzle melted chocolate over the top of the cheesecake.

To slice, use a long, thin knife. Dip knife blade into very hot water, shake off excess and slice carefully. Between each slice, use a paper towel to wipe off cake crumbs and reside, then dip knife into the hot water again before slicing.
Want to save this recipe for later? Click the heart in the bottom right corner to save to your own recipe box!
Nutrition Disclaimer
The Chunky Chef is not a dietician or nutritionist, and any nutritional information shared is an estimate. If calorie count and other nutritional values are important to you, we recommend running the ingredients through whichever online nutritional calculator you prefer. Calories can vary quite a bit depending on which brands were used.