Buttermilk Biscuits and Sausage Gravy
Soft and fluffy buttermilk biscuits, perfectly big yet light at the same time, smothered with a creamy homemade sausage gravy… classic down home cooking!
Your breakfast is ready!  I absolutely love breakfast food, although most mornings I'm not really hungry enough for a giant breakfast meal… so my solution?  Breakfast for dinner!  So how about a couple of hot, fluffy and light biscuits smothered in a rich and creamy homemade sausage gravy?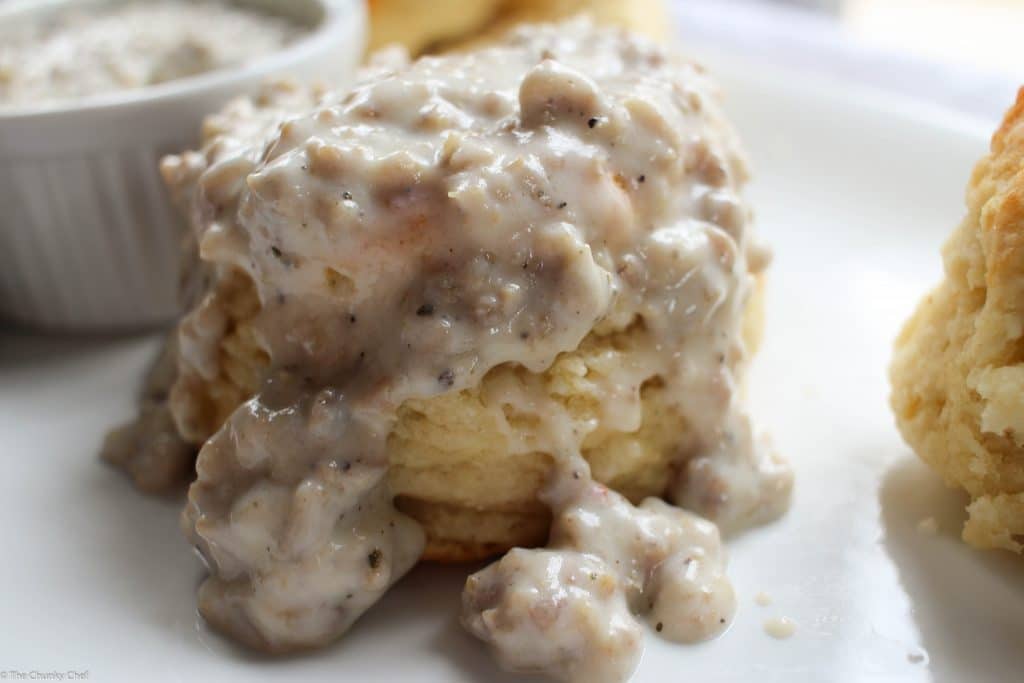 Now how great does that look?!  Biscuits and gravy is one of my all time favorite breakfast combinations 😀  Some people prefer to cut the biscuits up into bite size pieces, then pour the gravy over the top, but I've always either put it right on top of the biscuit, or cut the biscuit in half, then pour it all over.
For me, making biscuits usually involved opening a can… you know, the one that you peel the label and twist the can and it pops open (scaring you half to death)?  And they taste good, I'm not downing them whatsover.  But once you try homemade biscuits that are even fluffier and tastier, you won't want to go back!
I've been trying to find the perfect biscuit recipe for soooo long.  Every time I tried to make them they had good flavor, but the shape… well… they kind of resembled biscuit colored hockey pucks.  Grrrrrr.  Each and every recipe promised me tall, light, fluffy biscuits… but no matter what I did (butter vs. shortening, different thicknesses, etc), I couldn't seem to get the biscuits to look like the ones in the photos!
Well here it is folks… the PERFECT biscuit recipe.  I kid you not.  The first time I ever made this one, they turned out perfectly.  I literally squealed when I opened up the oven and saw this…
I've never had my biscuits look like that… NEVER!  I've made these several times since then, and they come out perfect each and every time 🙂  There's a secret, and maybe you already know this, but it was news to me… it's all in how you cut the biscuit dough.
I'll get to that trick in a moment, let's start with how to make the dough.  Cut up your butter into small pieces and place in the freezer for about 5 minutes or so.  You want it super cold!  Measure out your dry ingredients and either place in a large bowl or into your food processor.  Pull your butter out of the freezer and place it into the dry ingredients.  I like to cut the butter into the dry ingredients by pulsing it a few times with my food processor, but you could use a pastry cutter or even 2 forks.  You want it to look like coarse crumbs.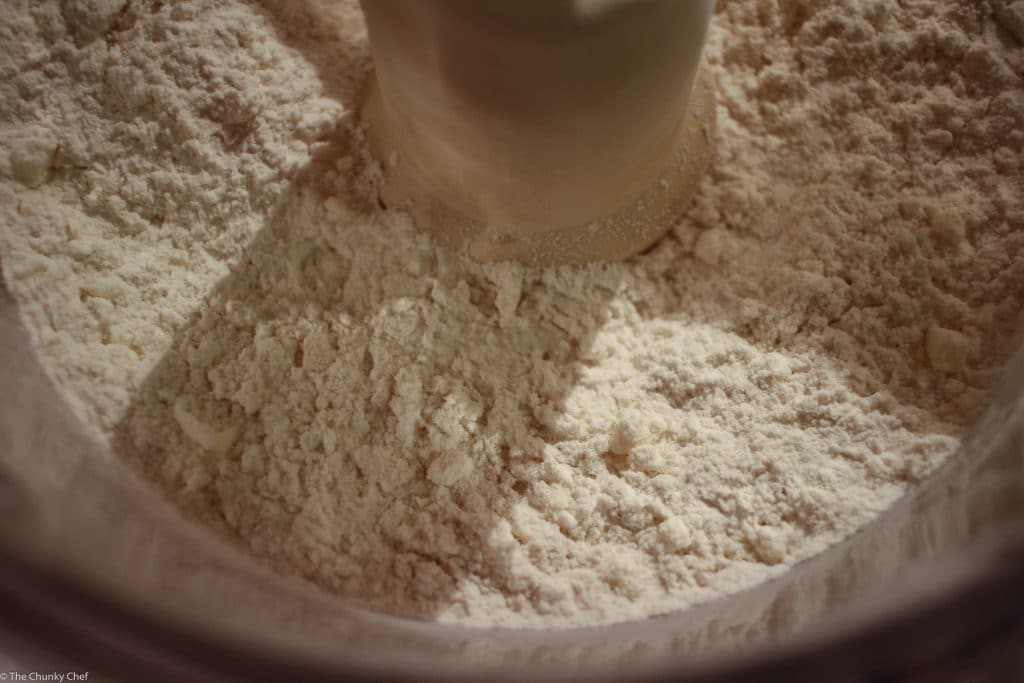 You want to work fairly quickly through these next steps, because you want the butter to stay semi cold and not warm up too much.  Part of what makes the biscuits rise and look so tall and fluffy is the cold butter hitting the heat of the hot oven and creating steam.  The steam causes the biscuits to rise upward 🙂  I've also heard it's awesome to grate your butter (like you would shred cheese), and put it in the freezer for 5 minutes… since the butter pieces are even smaller, they incorporate into the dry ingredients faster (although I've never tried this).
I don't have any step by step pics for these next few steps, as my hands were full of flour and dough… but I'll try to describe it well 🙂
Place your butter mixture in a large bowl and make a well in the middle.  Pour in your buttermilk (also cold!), and stir together until a dough forms.  It should come together rather quickly and will be slightly sticky/tacky.  Turn out the dough onto a floured work surface (I use my counter – sophisticated, I know 😛 ), and use your hands to shape it into a rough rectangle.
With floured hands, fold the rectangle onto itself, 6 times.  I start from the right and fold it over to the left, then up from the bottom, then the right, then down from the top, to the left again, and up from the bottom again.  What you're left with is a tall square shape (sort of like a biscuit dough skyscraper).  This may seem annoying, but it's what creates all those flaky layers in the biscuits.
Pat your dough down to about an inch thickness, then cut into biscuits.  Here's where that secret comes into play!  Like most people, I would use my biscuit cutter by pushing it down through the dough, then twisting and pulling up.  What I recently realized was that by twisting, I was sealing the edges of the dough, which doesn't allow the biscuits to rise all that well.  Eeeek!!  So when you cut your dough, just push the cutter firmly down, then pull straight up 🙂
I use a 2.5 inch biscuit cutter, but you could also use a small drinking glass.  Just dip the edges in flour, then use just as a cutter.  After you've cut a few biscuits, you can combine the leftover dough scraps and pat them down to cut them again, but I wouldn't do that more than 1 or 2 more times.  I'm able to get 8 biscuits from one dough recipe, although it's easily doubled 🙂
Place your biscuits on a parchment paper lined baking sheet, so they're almost touching, and bake for 12-15 minutes, or until they're browned to your liking.  Mine took about 12 minutes.
Once your biscuits come out of the oven, brush them with some melted butter for some extra deliciousness!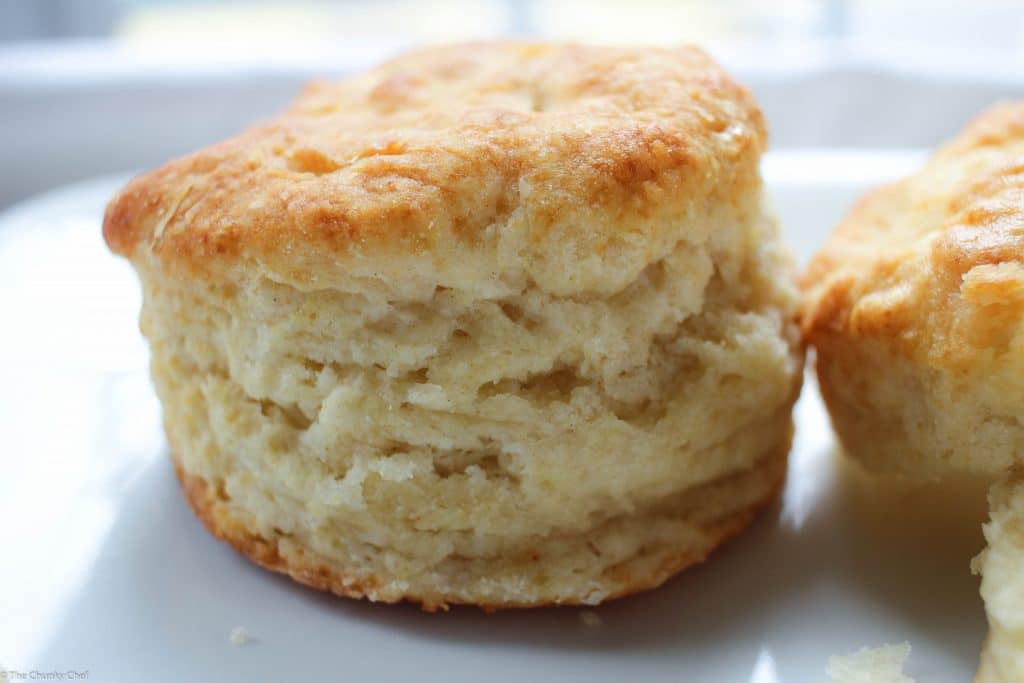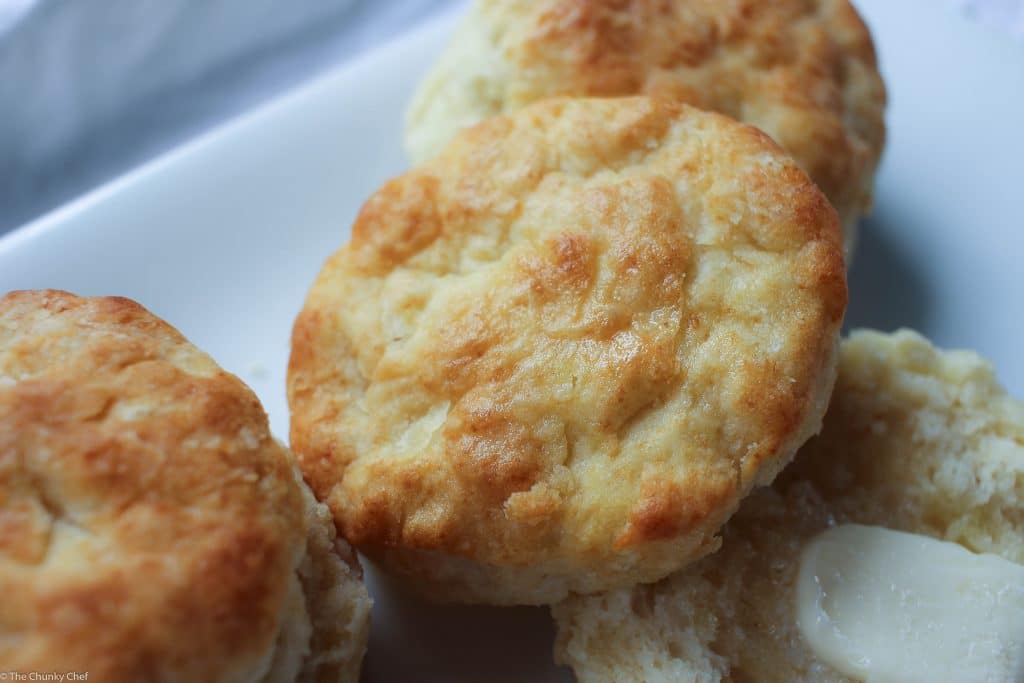 Ready to dive in?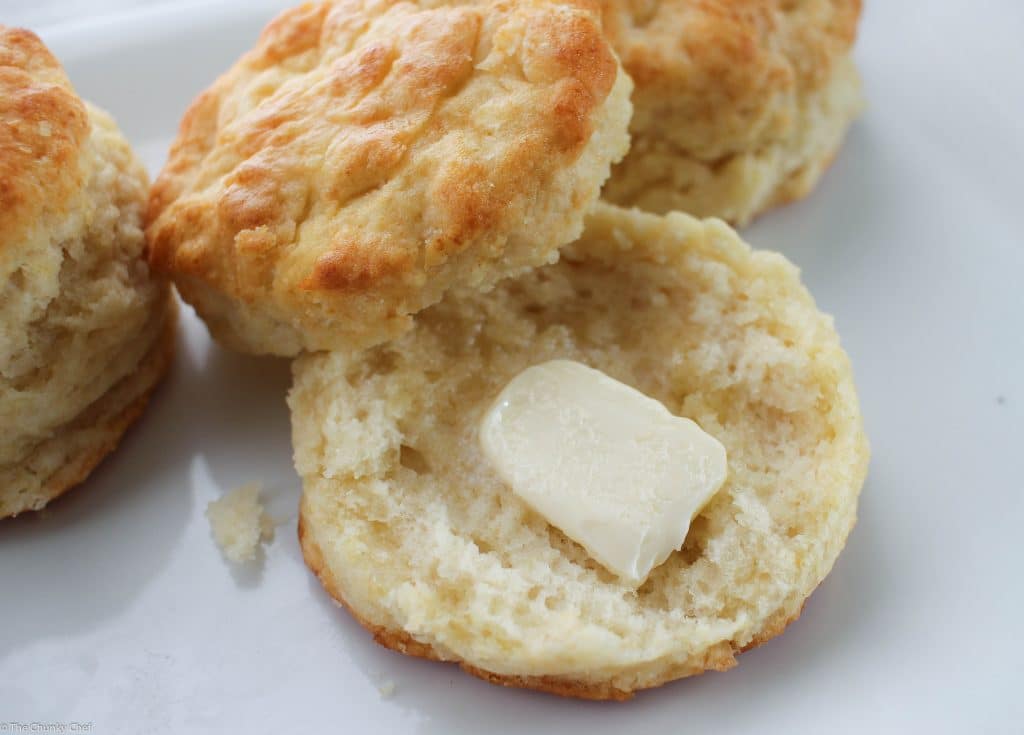 Now they're delicious as is, or maybe with some honey drizzled over the top, or strawberry jam slathered on them… but how would you like some creamy sausage gravy?  Mmhmm, I thought you'd all like that!
Sausage gravy is really easy to make, easier than I ever expected it to be 🙂  All you need to do is brown your sausage (I usually use a sage flavored sausage), crumbling it up small as it browns (remember your potato masher trick!), then sprinkle in your flour, stir to combine, then stir in your milk.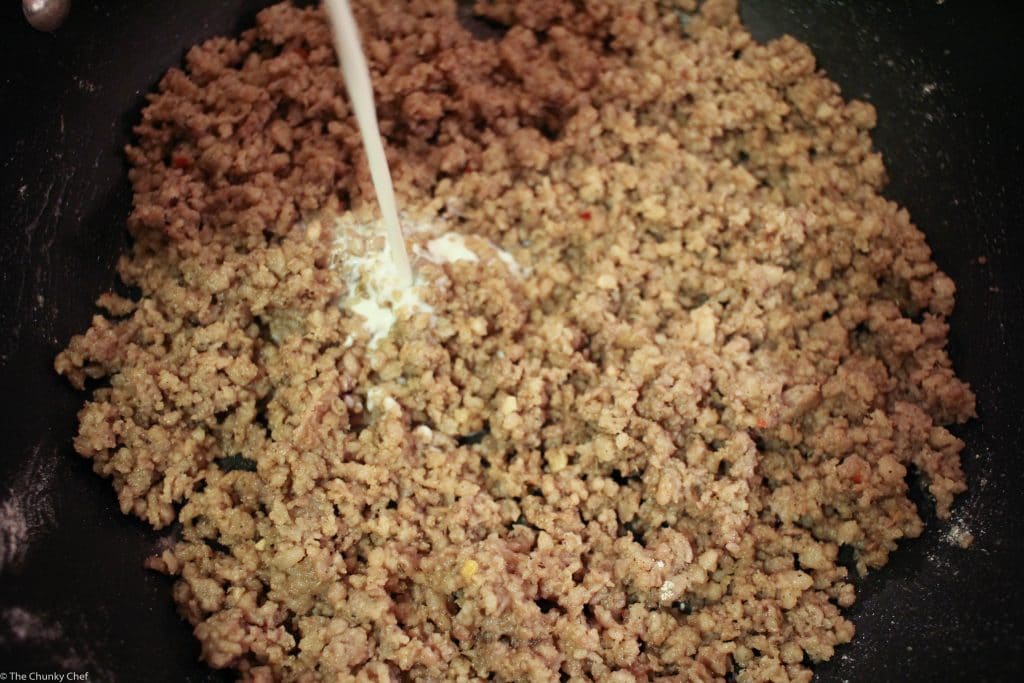 Now just season with a little seasoned salt, ground thyme, and black pepper.  Voila!  That's it… not difficult at all right?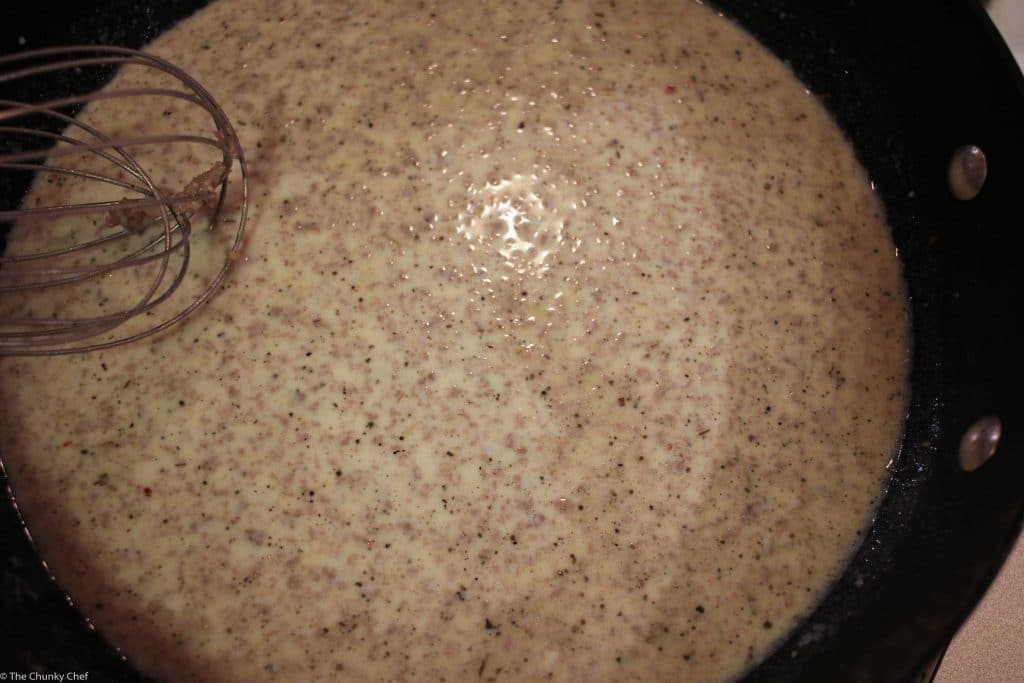 Just stir it frequently until it reaches the consistency you like… if it gets too thick too quickly, add a splash of milk.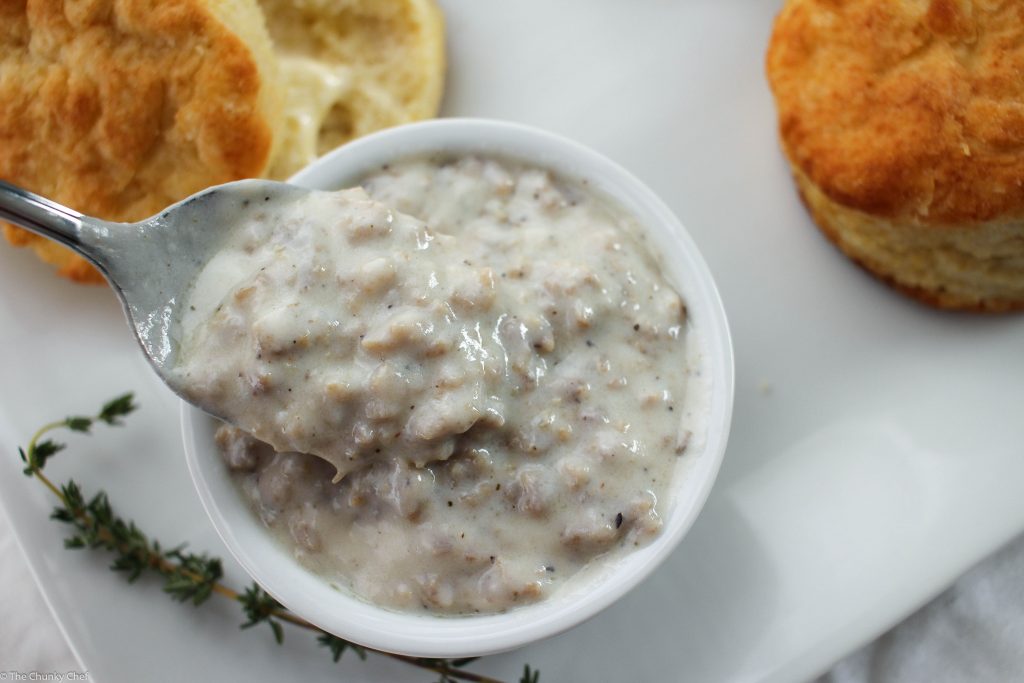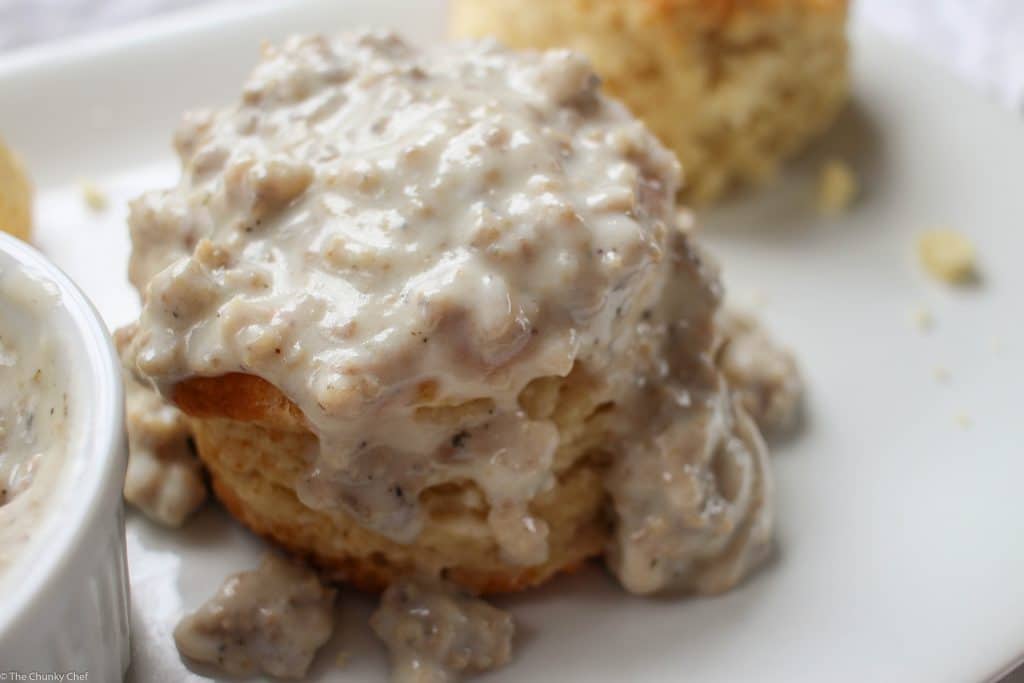 Just pour that gravy alllllllll over the fluffy biscuits!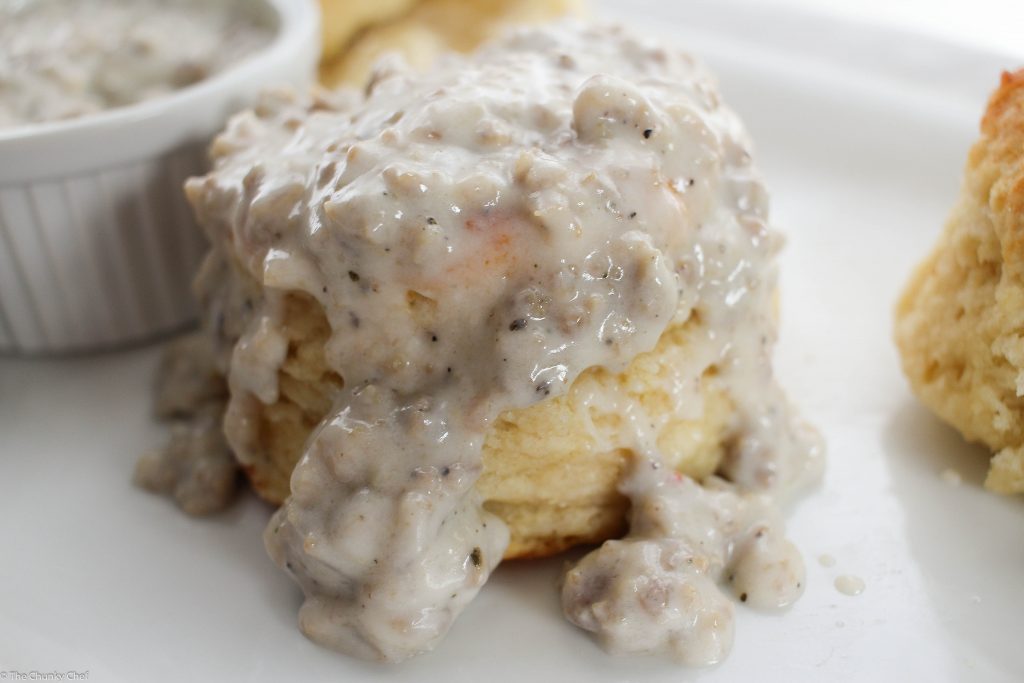 I can't even begin to describe how amazing that tastes… let's just say we all ate too much.  Wayyyyyyy too much 😀
Because apparently I needed 2 pork products in one meal, I also cooked some bacon to have alongside.  I didn't want to deal with the hassle of frying up the bacon, so I baked it instead.  It's my preferred method for cooking bacon.  I'll share it with you really quickly… cover a large baking sheet in 2 layers of aluminum foil, lay out your bacon, season with black pepper, a sprinkle of garlic powder, chili powder and dried rosemary.  Place the baking sheet in a COLD oven, then turn it to 400 degrees and set your timer for about 18 minutes.  Amazing bacon, every time…. with no mess to clean up!

These biscuits and sausage gravy would go great with some Oven Roasted Breakfast Potatoes 🙂
Helpful Tools for This Recipe:
Recipe inspired from A Family Feast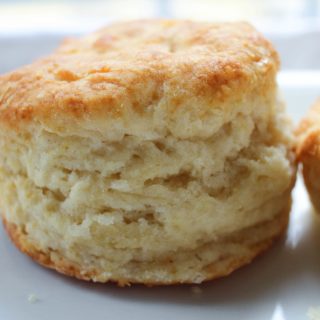 Buttermilk Biscuits
Soft and fluffy buttermilk biscuits, perfectly big yet light at the same time, smothered with a creamy homemade sausage gravy... classic down home cooking!
Ingredients
6 Tbsp butter
2 cups all purpose flour
1 Tbsp sugar
1/4 tsp baking soda
1 Tbsp baking powder
1 tsp salt
1 cup buttermilk
Instructions
Preheat oven to 450 degrees.

Cut butter into small cubes. Place the butter on a plate and place in the freezer while you mix the dry ingredients. The butter should be very cold.

In a

food processor

(or large bowl), sift together flour, sugar, baking soda, baking powder and salt.

Add the butter to the

food processor

and pulse to combine, until it looks like coarse crumbs (you could also use a pastry cutter or 2 forks in a large bowl).

Add the butter and flour mixture to a large bowl and make a well in the middle, add the cold buttermilk. Stir until dough is mixed and combined, it will be slightly sticky/tacky. If it's still really sticky, add a bit more flour!

Turn out the dough onto a floured surface (I use my counter) and pat into a rectangle.

Fold the dough over and onto itself six times, so you end up with a tall square, then pat down to about 1 inch thick.

With a 2.5 inch round

biscuit cutter

, push down to cut the dough and pull up (remember not to twist!). Leftover scraps can be combined and cut again – but no more than 1 or 2 more times.

Place the biscuits on a parchment paper lined baking sheet, almost touching each other, and bake at 450 degrees for 12-15 minutes until browned.

After the biscuits are baked, brush tops with melted butter.
Notes
 As things like humidity, the way flour is measured, etc can affect the way recipes like these buttermilk biscuits turn out... use the flour/buttermilk measurements as an approximation.  If you notice your dough is really sticky, add a bit more flour and work it in.  If you notice your dough is not wet enough, add a tiny splash more buttermilk.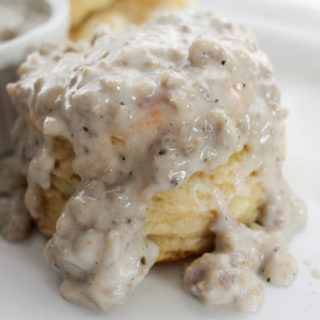 Creamy Sausage Gravy
Soft and fluffy buttermilk biscuits, perfectly big yet light at the same time, smothered with a creamy homemade sausage gravy... classic down home cooking!
Ingredients
1 lb sage sausage
1/3 cup flour
3-4 cups whole milk
1/2 tsp seasoned salt
1/4 tsp ground thyme
3/4-1 tsp black pepper
Instructions
Brown sausage in a large skillet over medium high heat, crumbling as it browns (use your potato masher to make it easy).

Reduce the heat to medium low and add in the flour, stirring to combine. Cook for about 1 minute.

Pour in the milk, stirring frequently, until it thickens to your desired consistency.

Add seasoned salt, ground thyme and black pepper and stir to combine.

I say 3 to 4 cups because that all depends on how much gravy you want and how thick you like it. Customize it to your likes 🙂