These Parmesan Baked Fish Sticks are so crispy on the outside and flaky on the inside. Made from real fish filets, this kid-approved and freezer-friendly recipe is so much better than any box from the frozen foods section!
This is one of my Seafood recipes I know you'll want to keep on hand!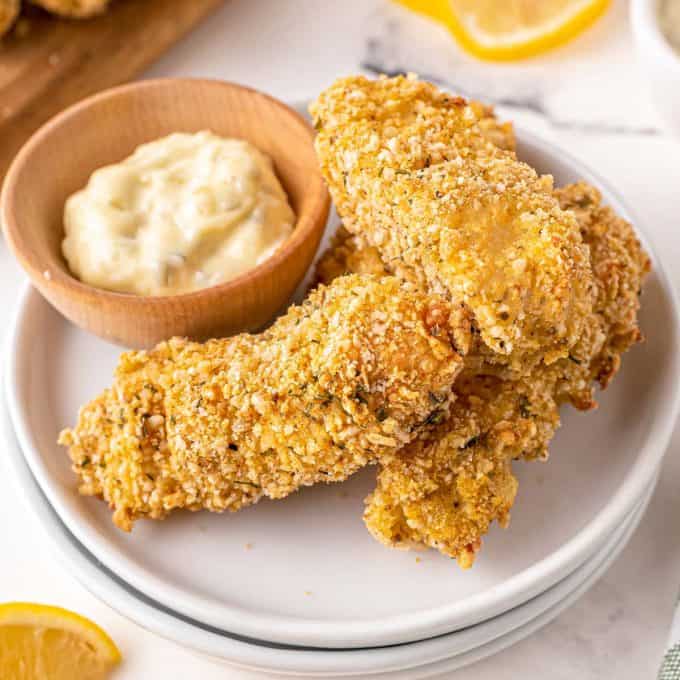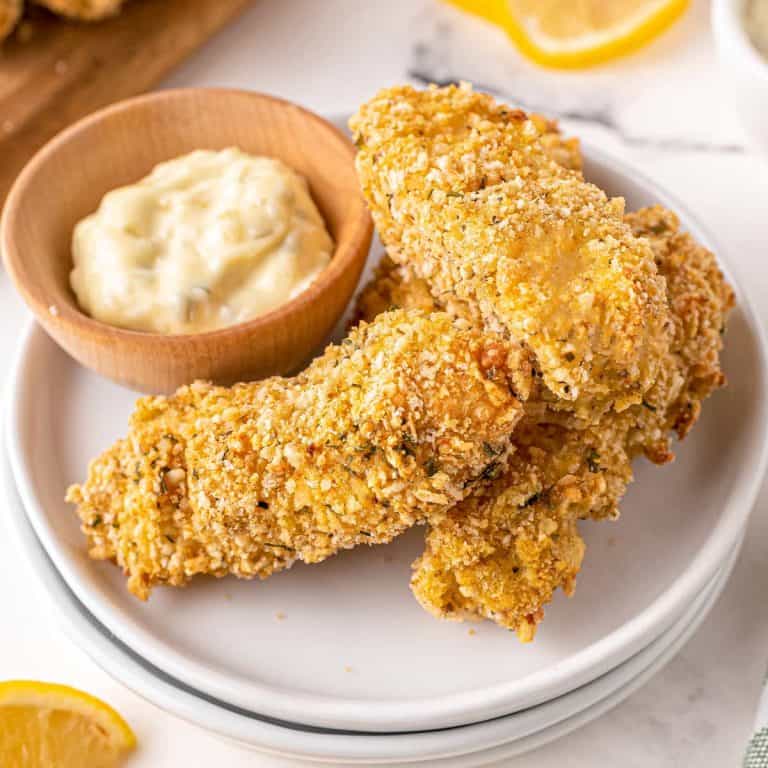 If you have kids, and they're anything like ours… they are pretty, well, particular, about the foods they like. Hot dogs, chicken nuggets, pasta, mac and cheese, and fish sticks are always winners in our house.
But honestly, they're not the most healthy dinner options, and I always wonder what else is in those bags of frozen nuggets/fish sticks.
That's why we love to make our own homemade versions of those classic frozen foods. I found that my kids love the flavor of a little Parmesan cheese, like in these Parmesan Chicken Nuggets, so I added some to this fish stick recipe too.
As always though, feel free to play around with this recipe and truly make it your own, based on what you and your family like best!
How to make baked fish sticks?
This is just an overview; the full ingredients and directions are in the recipe card toward the bottom of this post.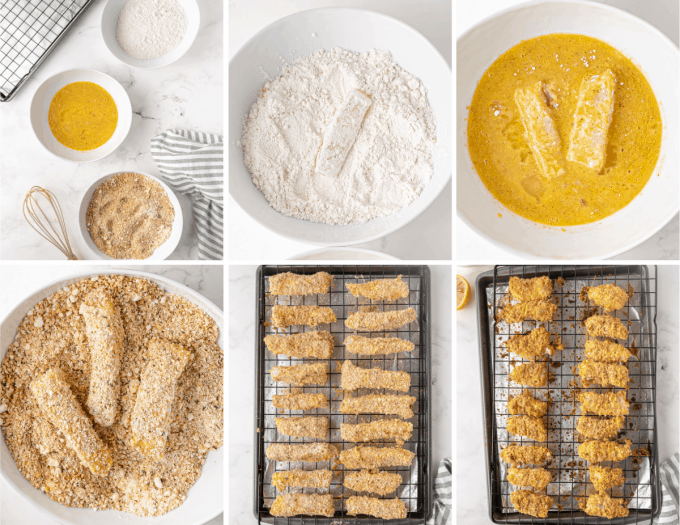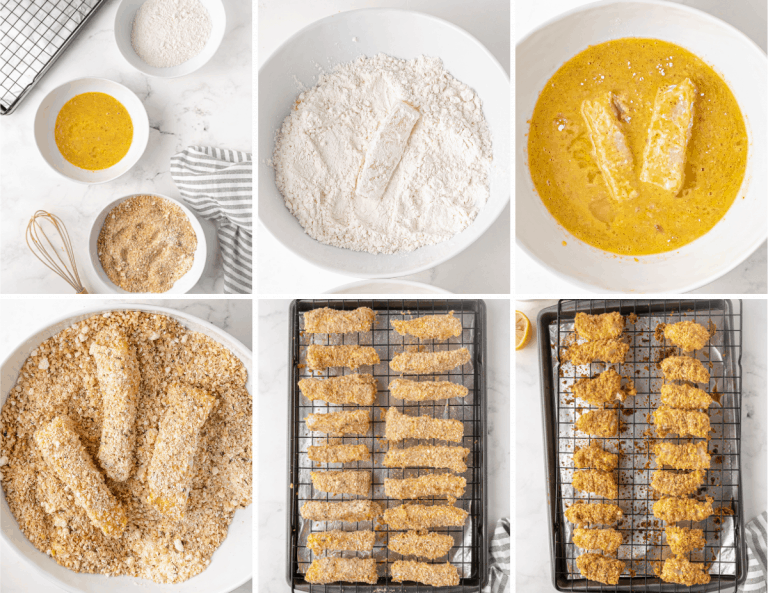 Set up breading assembly line with flour, egg mixture, and panko/breadcrumbs. See the helpful tip below for more details. Shallow bowls are best here, so you can easily manipulate the fish.
Bread fish. I find it best to bread the fish sticks one at a time, so you can ensure each stick is fully coated.
Add breaded fish to baking sheet. I like to bake the fish sticks elevated off the baking sheet, so I top the baking sheet with a metal cooling rack that's been sprayed with nonstick cooking spray.
Spray fish sticks. I normally use an olive oil or avocado oil spray. This helps them brown a bit in the oven.
Bake. Bake the fish sticks for about 15-18 minutes, turning over halfway through.
Helpful Tip!
The trick to avoiding ending up with completely breading coated fingers is to set up a simple assembly line.
Set up your food from left to right (or vice versa if you're a lefty), in the following order: fish pieces, bowl of flour, bowl with egg mixture, bowl with panko/breadcrumbs, and baking sheet topped with cooling rack that's been sprayed with nonstick cooking spray.
Designate your left hand the "dry" hand, and your right hand the "wet" hand.
Work from left to right, using your dry hand to add a fish piece to the flour, then drop it in the egg mixture.
Use your wet hand to toss it in the egg mixture, coating it on all sides, then drop it in the breadcrumb mixture.
Use your dry hand again to coat the fish in the breadcrumbs and add it to the baking sheet topped with the cooling rack.
Repeat with remaining fish pieces, being careful not to use the wet hand in the flour or breadcrumbs.
It'll still be messy, but you shouldn't have completely breaded fingers at the end.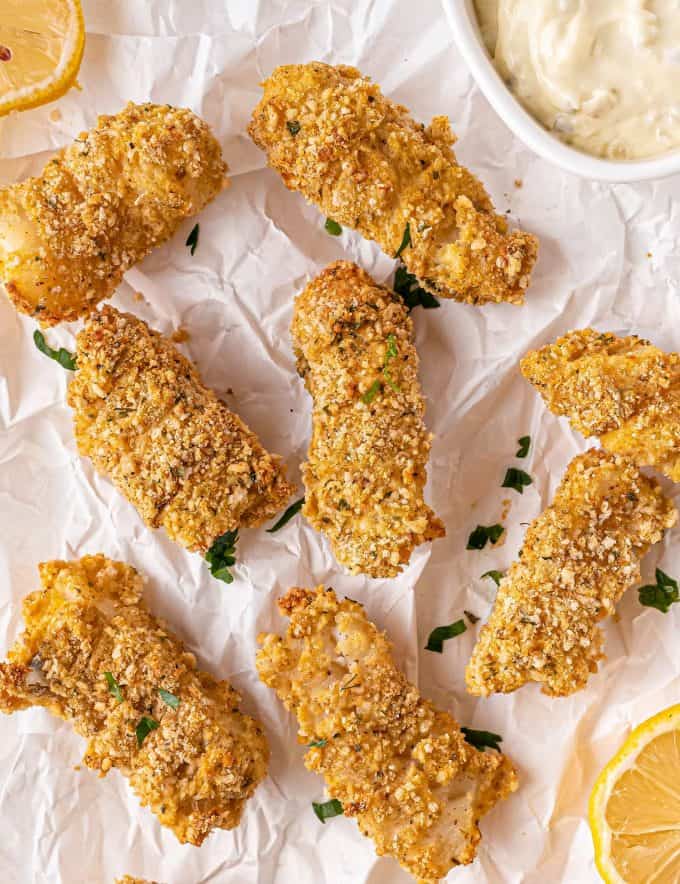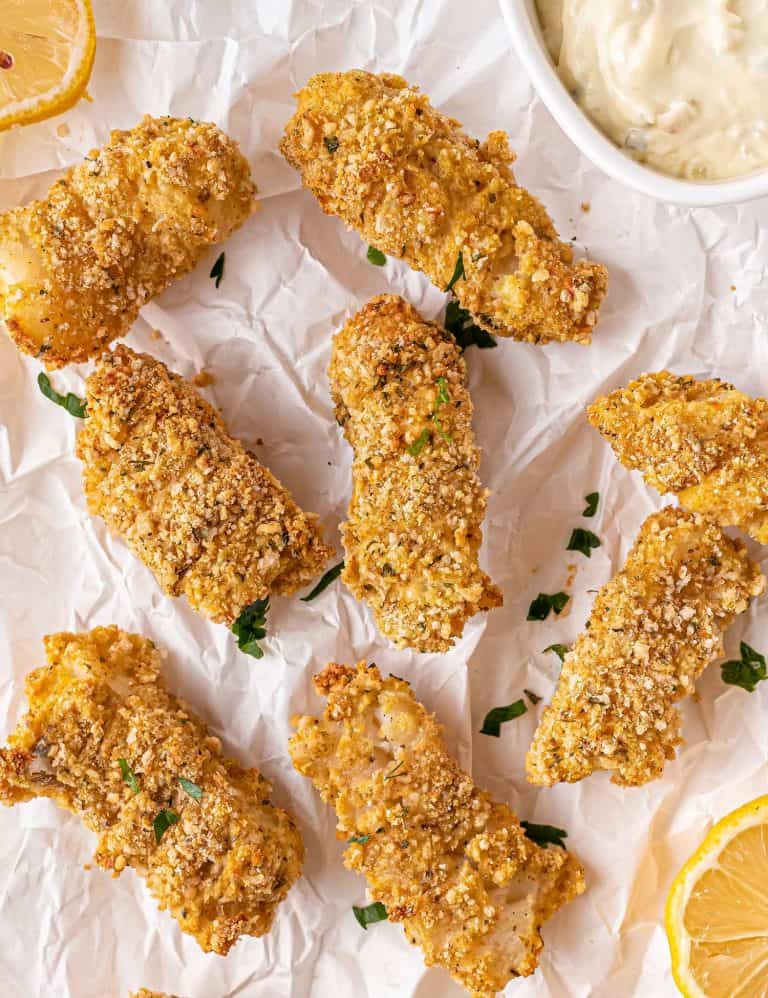 Variations of this recipe
Seasonings – feel free to play around with the seasonings in this recipe. I kept it fairly simple; with the flavors we enjoy, but we all have different tastes.
Other types of fish – any mild-flavored white fish would be great in this recipe. Haddock, tilapia, halibut, bass, grouper, etc. Cod is traditional, which is what I've used here.
Air Fryer – I've not specifically tested making this recipe in an air fryer, but I'm confident it would work well; I just can't speak to the exact settings or bake times.
Fried – if you'd rather pan or shallow fry these fish sticks, you can absolutely do that. Just heat a bit of vegetable oil (about a cup or so) in a large heavy bottomed skillet and heat over medium heat until the oil registers about 350°F. Fry for about 3 minutes per side, or until golden brown and fish inside is light and flaky.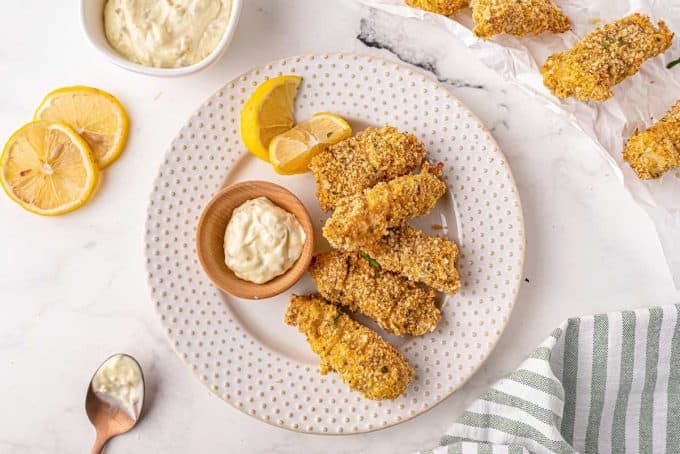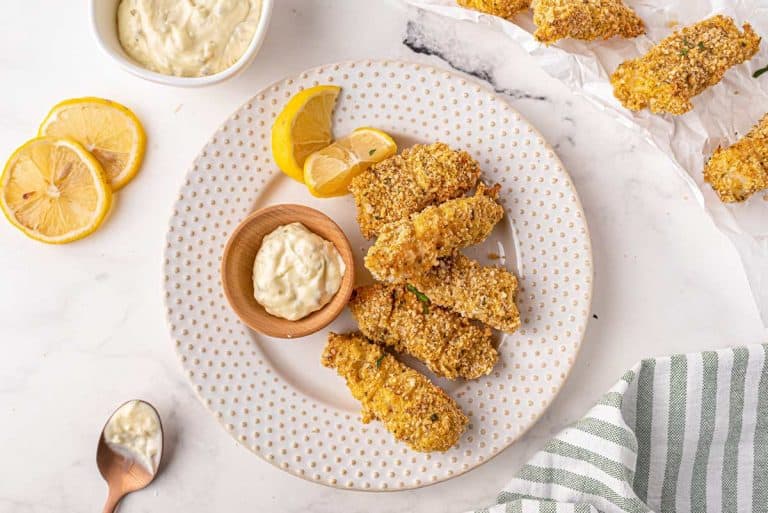 FAQ's
How to keep fish sticks crispy?
There's nothing worse than something that's supposed to be crispy, ending up soggy instead. Once the fish sticks are baked, don't immediately add them to a paper towel or straight onto a plate. Those things will cause the fish to steam a bit, which makes the coating soggy. Adding the cooked fish sticks to a wire cooling rack is preferred, since it elevates the fish off the surface.
How to pick the best fish for fish sticks?
We prefer to buy fresh fish from the grocery store, instead of frozen filets in bags, since those tend to be very thin.  Cooking Light has a great article on how to pick the best fish at the grocery store.
Are fish sticks healthy?
It really depends on your version of healthy. These fish sticks are baked rather than fried, so you're not getting all that excess oil. Plus, they're made with real, natural ingredients, no added preservatives, and you can control the salt content.
What to serve with fish sticks?
The sky is the limit, but we like to serve any of the following with fish sticks. French fries, mac and cheese, roasted broccoli, coleslaw, and of course, plenty of tartar sauce.
Making homemade baked fish sticks ahead of time
This recipe, like all crispy foods, tastes best when made fresh.
However, the cod can be sliced ahead of time (and kept refrigerated), and if you're making any homemade sauces, they can be made ahead of time as well. This cuts down on the prep time.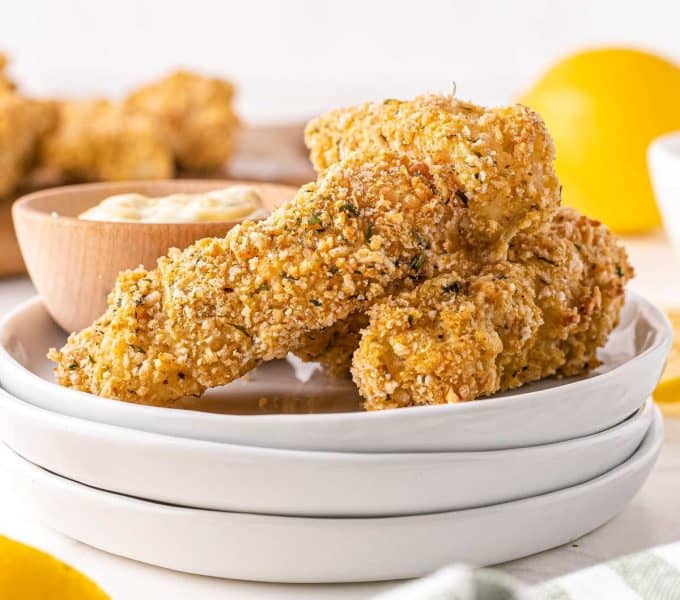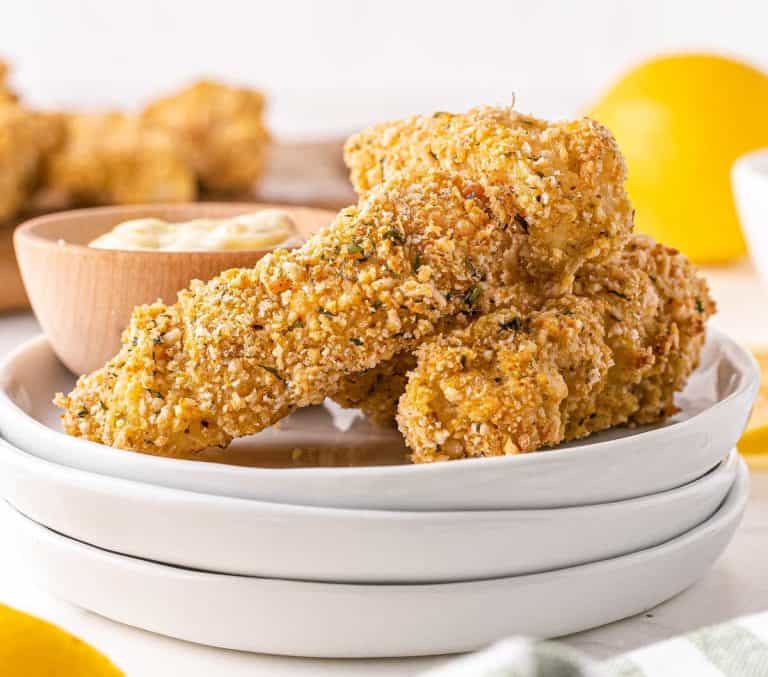 Storage
Leftover fish sticks should be stored in an airtight container and eaten within 3-4 days.
To reheat, bake in a preheated 350°F for 10-15 minutes. This should help it stay crispy during the reheating process.
Freezing
The great news about this recipe is that the unbaked fish sticks can be frozen! Assemble and bread them, then add them to a wax-paper lined baking sheet and freeze for 1-2 hours, or until hard.
Then transfer to freezer-safe bags or containers and freeze for up to 2 months. Freezing them on the baking sheet first keeps them from freezing together in one big clump.
Bake from frozen at 400°F for 20-25 minutes, turning halfway through, or until golden brown and fish inside flakes easily with a fork.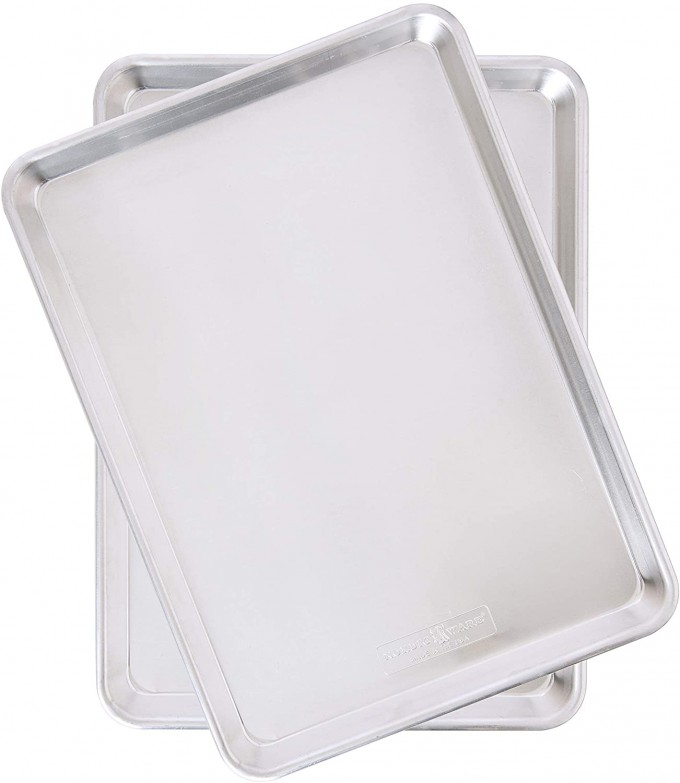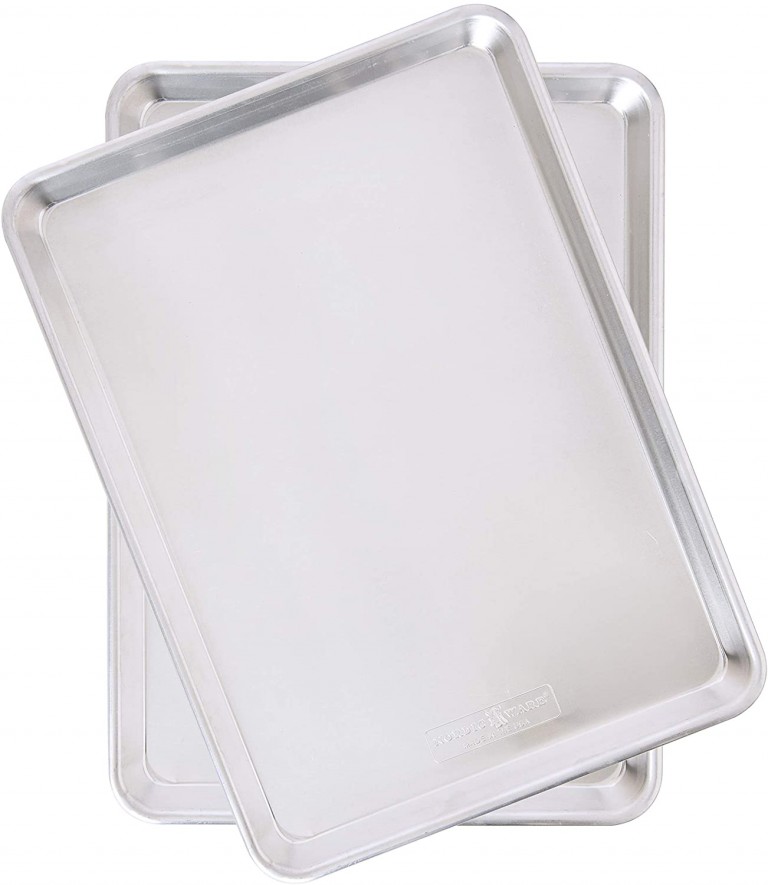 These baking sheets have been in my kitchen for years, with no warping! Plus, they're economical and come in a ton of different sizes!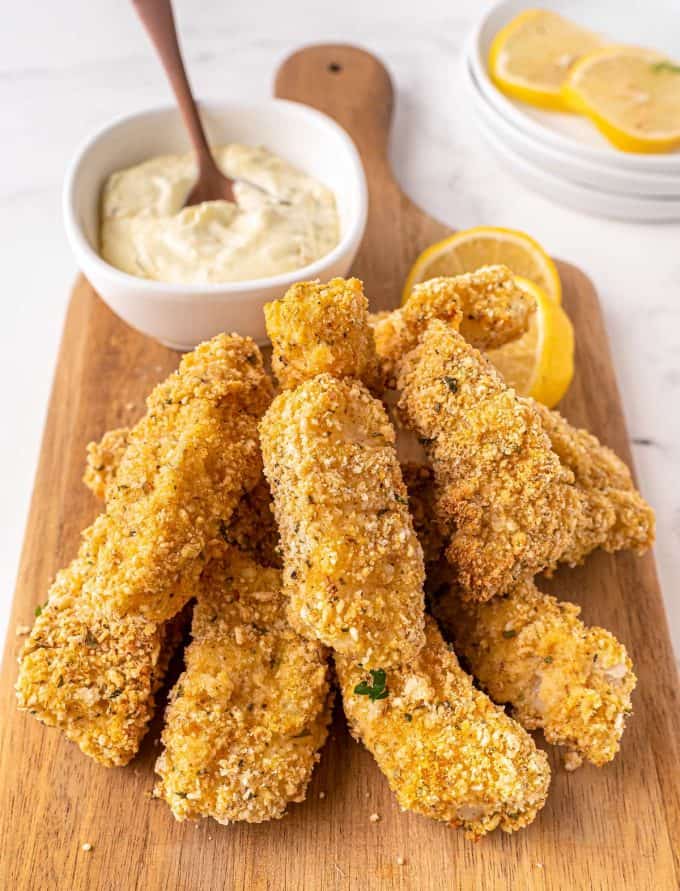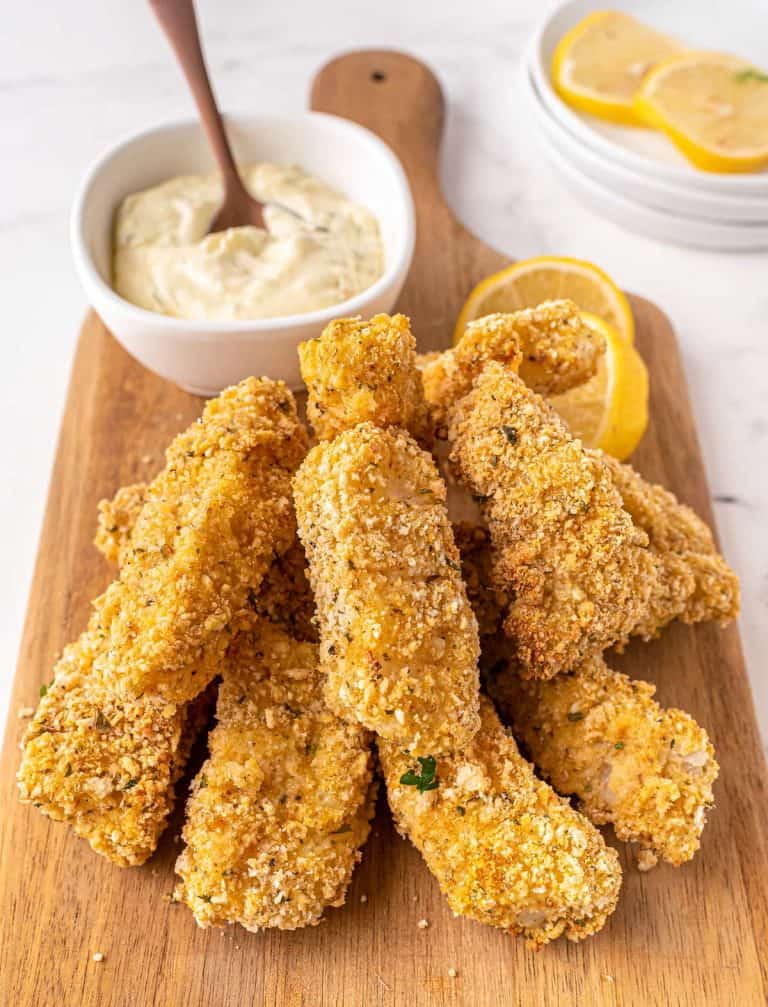 Did you make this? Be sure to leave a review below and tag me @the_chunky_chef on Facebook and Instagram!
These Parmesan Baked Fish Sticks are so crispy on the outside and flaky on the inside.
Ingredients
1 lb. fresh cod filets sliced into roughly 1 inch wide strips
1 cup all purpose flour
2 large eggs beaten
2 tsp spicy brown mustard
1 cup panko breadcrumbs
1 cup regular dry breadcrumbs
1/2 cup grated Parmesan cheese
1 tsp old bay seasoning
1 tsp dried parsley
1/2 tsp kosher salt
1/2 tsp black pepper
1/2 tsp smoked paprika
lemon wedges
Instructions
Preheat oven to 400°F, and line a rimmed baking sheet with foil.  Top baking sheet with a metal cooling rack and spray cooling rack lightly with olive oil cooking spray.

Lightly season the cod strips with a sprinkle of salt and pepper.

Line up 3 shallow bowls next to the prepared baking sheet. In one of the bowls, add flour. In the second bowl, add eggs and mustard, whisking together.

In the third bowl, add panko, breadcrumbs, Parmesan, salt, black pepper, smoked paprika, old bay and parsley.  Stir together.

Add the cod strips, one at a time in the flour, turning to coat all sides, then gently shaking off the excess.

Next, add the fish stick to the egg mixture, turning to coat all sides, letting the excess drip off.

Next add the fish stick to the breadcrumb mixture, turning and patting to coat all sides in the breadcrumbs.

Finally, transfer the fish stick to the prepared baking sheet/cooling rack.  Repeat with all remaining fish sticks.

When all fish sticks are breaded and on the baking sheet, spray them lightly with olive oil spray.

Bake for 7 minutes, then turn fish sticks over and bake another 7-10 minutes, until golden brown and fish flakes easily with a fork.

Serve with tartar sauce and a lemon wedge.
Want to save this recipe for later? Click the heart in the bottom right corner to save to your own recipe box!
Nutrition Disclaimer
The Chunky Chef is not a dietician or nutritionist, and any nutritional information shared is an estimate. If calorie count and other nutritional values are important to you, we recommend running the ingredients through whichever online nutritional calculator you prefer. Calories can vary quite a bit depending on which brands were used.