---
Tender marinated carne asada steak, grilled until charred on the outside, and tossed with grilled peppers and onions for the most delicious steak fajitas!
---
Your favorite steak fajitas get a big upgrade with this incredibly tasty carne asada marinade!  It's easy to whip up the marinade in the blender and the steak fajitas only take about 15 minutes to cook, so it's perfect for even the busiest weeknight meal!
**Post may contain affiliate links… meaning if you click on the link and make a purchase, I'll get a very small percentage in commission.  There's never any extra cost to you, and I only link to products I actually own and use.  Your support is very much appreciated!**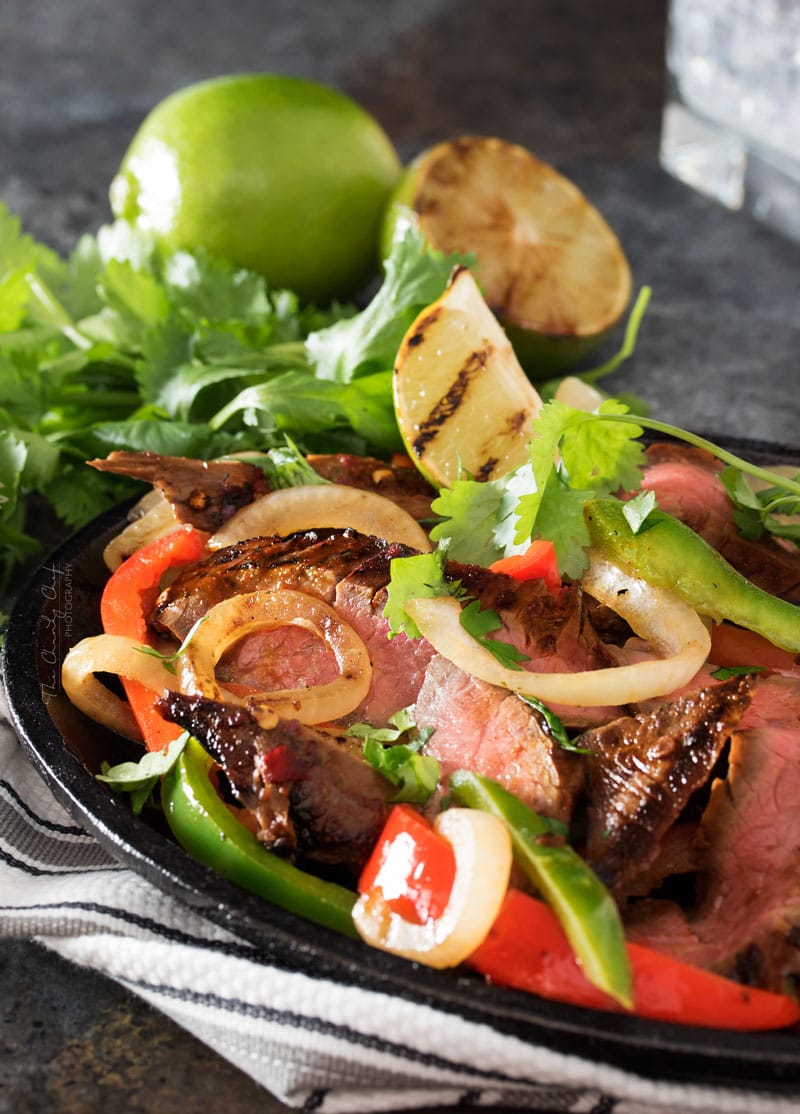 So I've been doing something pretty drastic here you guys… The Chunky Chef is on a mission to be less chunky.  If you know me, you know I DON'T do diets… I'll be all about it for a few days, then I get hungry and go crazy eating things that I shouldn't, and just like that, I'm off the "diet".  So this time around, I took some inspiration from a friend of mine, and I'm eating low-carb.  Well, actually I don't really know what to call it… but in a nutshell, I cut out processed foods, breads, pastas and sugary junk foods (including pop – or soda, depending on where you live), and instead, I'm eating a lot of protein, good fats, low carb + whole natural foods.  While most low carb "dieters" stay away from veggies that contain starch, I'm going with the motto, "if it's a veggie, fruit, meat or cheese, I'll eat it".
I've been doing this lifestyle change for about a week and a half, and as of Monday (which was 7 days from when I started), I had lost 2 inches off my waist, and 2.5 inches off my hips!!!  And the crazy part is… I don't get hungry!  I've never felt so full and satisfied on a "diet" before.  Of course I still crave the things I shouldn't, and I'm hoping that will fade away over time 🙂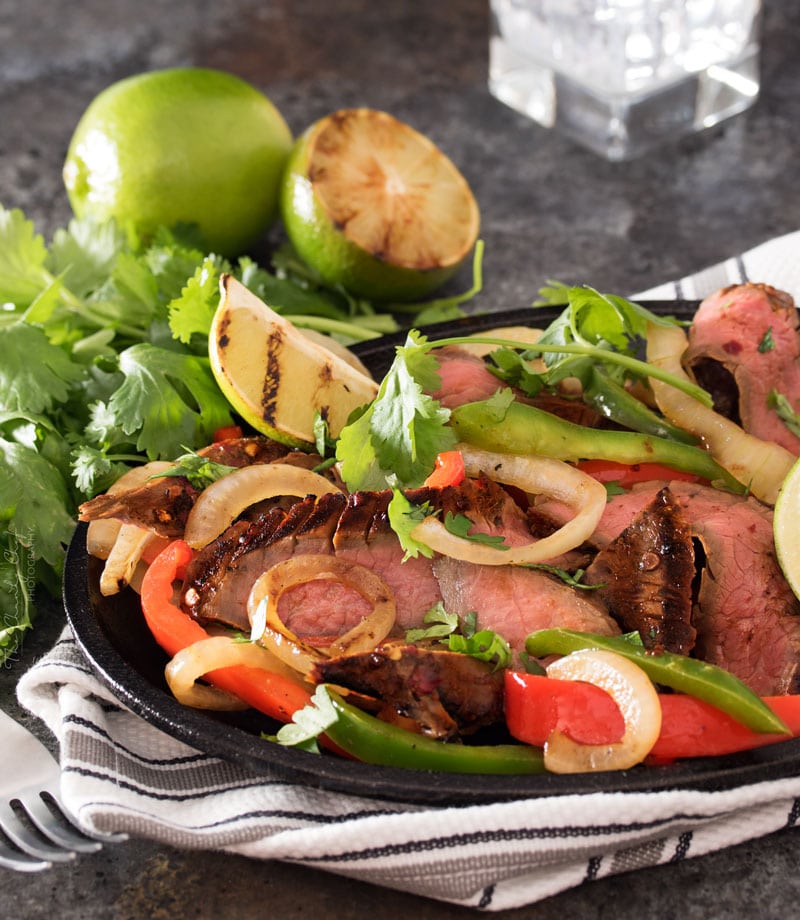 Don't worry, I'm still planing on sharing a variety of recipes here on the blog… desserts, carbs and all.  My plan is to weave some low carb meals I've been enjoying into the mix though!  So stay tuned for some amazing meals to satisfy any appetite… diet or not 🙂
Like these carne asada steak fajitas!  The marinade is super simple to make, (just zip it up in your blender or food processor), then all you have to do it toss it on your grill for a few minutes, and you have yourself a great, restaurant quality meal in no time!  You'll love the peppery citrus flavor that tenderizes the steak to perfection!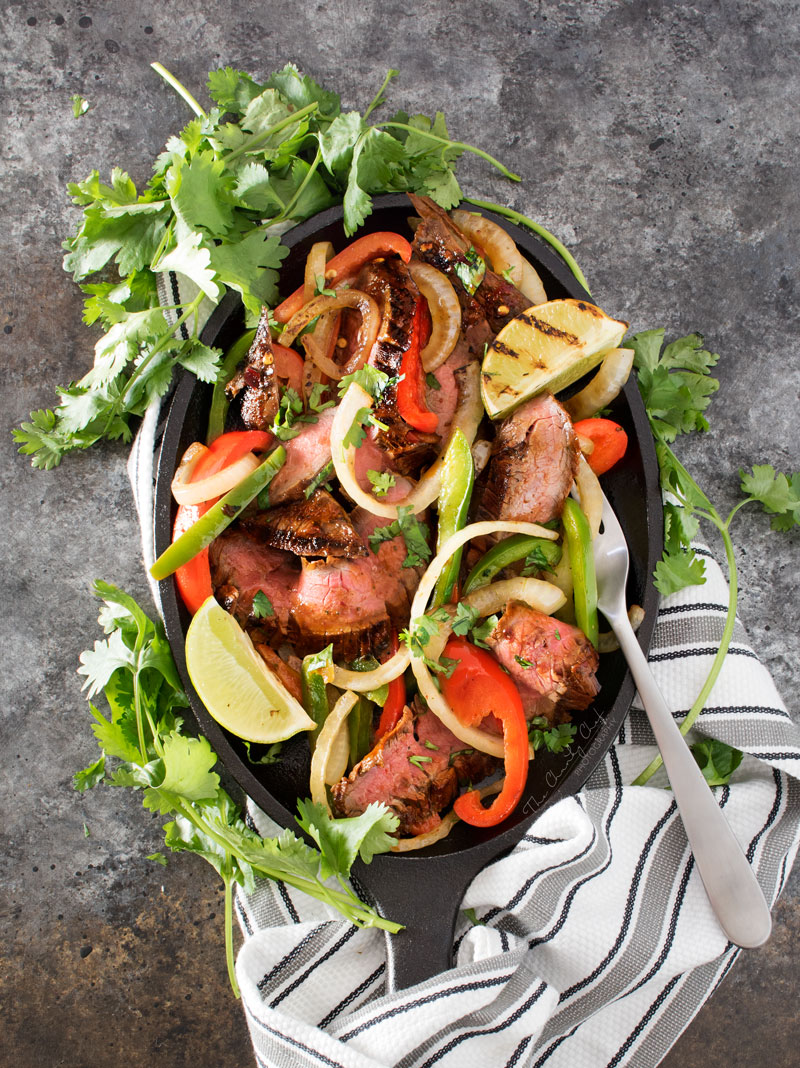 If you're not worried about carbs, go ahead and fill a flour or corn tortilla with the grilled steak fajitas, along with a drizzle of sour cream and splash of lime juice.  You'll feel like you're at your favorite local Mexican restaurant!  If you are watching your carb intake like me, go ahead and drizzle the meat and veggies with some sour cream, fresh cilantro and lime juice and go to town with your fork!  No tortilla needed 🙂
My Other Mexican Night Favorites!!
The steak is tender enough that you don't even need a knife to cut it!  Feel free to adjust the spice level to your tests… I find this to be a moderate heat level as is.
Go ahead and grill yourself up some of these Carne Asada steak fajitas tonight… you deserve it!!  If you make this as a meal, snap a photo of it and share it on Instagram with #thechunkychef … I'd LOVE to see what you create 😀
Some tools used to make these Carne Asada Steak Fajitas:
Lodge Pre-Seasoned Fajita Skillet Set – While not necessary, it's SUPER fun to serve these on a sizzling fajita skillet!
Cuisinart Elite 12 Cup Food Processor – I love that this processor comes with two different bowl sizes!
Dragonn Stainless Steel Kitchen Tongs – Perfect for flipping the steak, plus, they're dishwasher safe!
---
Let's Connect!
You can find me on Facebook, Twitter, Pinterest, and Instagram, so follow me if you'd like… I love keeping in touch with all of you 🙂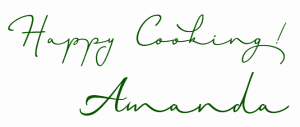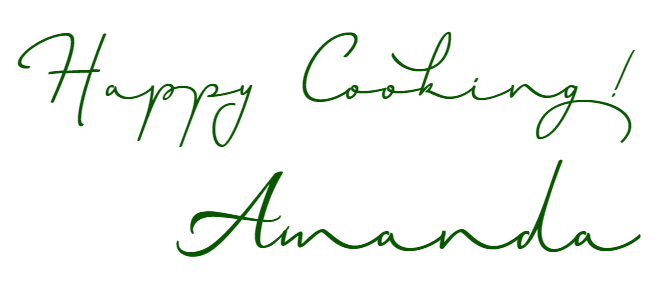 Did you make this? Be sure to leave a review below and tag me @the_chunky_chef on Facebook and Instagram!
Tender marinated carne asada steak, grilled until charred on the outside, and tossed with grilled peppers and onions for the most delicious steak fajitas!
Ingredients
MARINADE:
3 whole dried ancho chilies stems and some seeds removed
2 in whole chipotle peppers adobo
2 large oranges juiced
2 limes juiced
2 Tbsp extra-virgin olive oil
2 Tbsp soy sauce
2 Tbsp Asian fish sauce
6 cloves medium garlic roughly chopped
1 leaves small bunch cilantro only (roughly 1 cup)
1 Tbsp ground cumin
1 tsp ground coriander
2 Tbsp light brown sugar
1 tsp kosher salt
STEAK FAJITAS:
2 pounds skirt or flank steak trimmed
1 in yellow onion cut half and sliced
1 red bell pepper seeds removed and sliced
1 green bell pepper seeds removed and sliced
Instructions
Trim skirt or flank steak and set aside.

Place dried ancho chile on a paper plate and microwave for about 15 seconds, until it smells toasty.

To a food processor or blender, add all marinade ingredients and process until smooth. Taste and adjust salt level as needed.

Pour half of the marinade into a large seal-able plastic bag, and pour the remaining half of the marinade into an airtight container and place in the refrigerator.

To the marinade in the bag, stir in about 1 1/2 tsp more salt, then add steak to the bag. Remove as much air as possible from the bag and seal. Move steak around in the bag to ensure it's well coated.

Marinate in the refrigerator for 3-4 hours, or overnight if preferred.

Preheat grill over high heat (covered), or preheat indoor grill pan over high heat (if grilling this steak indoors, you might want to turn the hood fan on and open a window or two to reduce smokiness). Oil grill or grill pan.

Remove container of leftover marinade to warm up to room temperature.

Pat steak slightly dry with a paper towel and place on the grill.

Cook steak for about 5-6 minutes per side, basting with additional marinade from the container, until steak reaches an internal temperature of about 135 degrees F for medium-rare, or until desired doneness.

Remove steak to a large cutting board, tent with aluminum foil and let rest about 5-10 minutes.

While steak is resting, add sliced peppers and onions to hot grill and grill for a few minutes, until tender and slightly charred.

Garnish with lime wedges, minced cilantro, sour cream, salsa, guacamole or avocado slices.

Serve as is, or wrapped up in flour or corn tortillas.
Want to save this recipe for later? Click the heart in the bottom right corner to save to your own recipe box!
Nutrition Disclaimer
The Chunky Chef is not a dietician or nutritionist, and any nutritional information shared is an estimate. If calorie count and other nutritional values are important to you, we recommend running the ingredients through whichever online nutritional calculator you prefer. Calories can vary quite a bit depending on which brands were used.