It's Taco Tues… oh wait… Taco Sunday!
Tacos.  What's not to love?  Most everyone loves a good taco, but sometimes, they could use a makeover.  These taco cupcakes are a great way to put your own spin on taco night!  Plus, if you have kids, you know that occasionally (okay sometimes more often than not) they can be a little picky.  But if you do 2 things, they will be more excited about dinner.  Wanna know those 2 things?  First, have them help you with a part of the dinner process.  Of course this varies, depending on the age of your child.  For instance, my 1.5 year old, yeah he won't be helping me cook just yet lol.  But my nearly 5 year old?  Oh yeah, she loves to help!  Even if it's just something simple, like pushing the buttons on the microwave, sprinkling some cheese on top of the tacos, stirring the cream sauce, ripping off a handful of cilantro leaves… any of those things give her a sense of pride and accomplishment and encourage her to want to eat the dinner she helped create.
Secondly, you can let your kids help you choose the meal… within reason of course lol.  My daughter would probably say she wanted mac and cheese every. single. night…. but if I show her a picture of something like these taco cupcakes, she'll get excited about making them.  Anything you can do to ease the dinner time meltdowns, trust me, you should do it.  Cooking for kids can be a huge challenge, but it doesn't have to be 🙂
Okay, back to the taco cupcakes!  This recipe is a starter base, you can customize these til your heart's content 🙂  Whatever you like on your tacos, you can put on these taco cupcakes.  I had some leftover Corn Salsa, but you could use any salsa or sauce that you'd like.  I made my own taco seasoning, you can find the really easy recipe below, but a regular package of taco seasoning does the trick as well.  I hope you all give these taco cupcakes a try, they're fun to make, and fun to eat!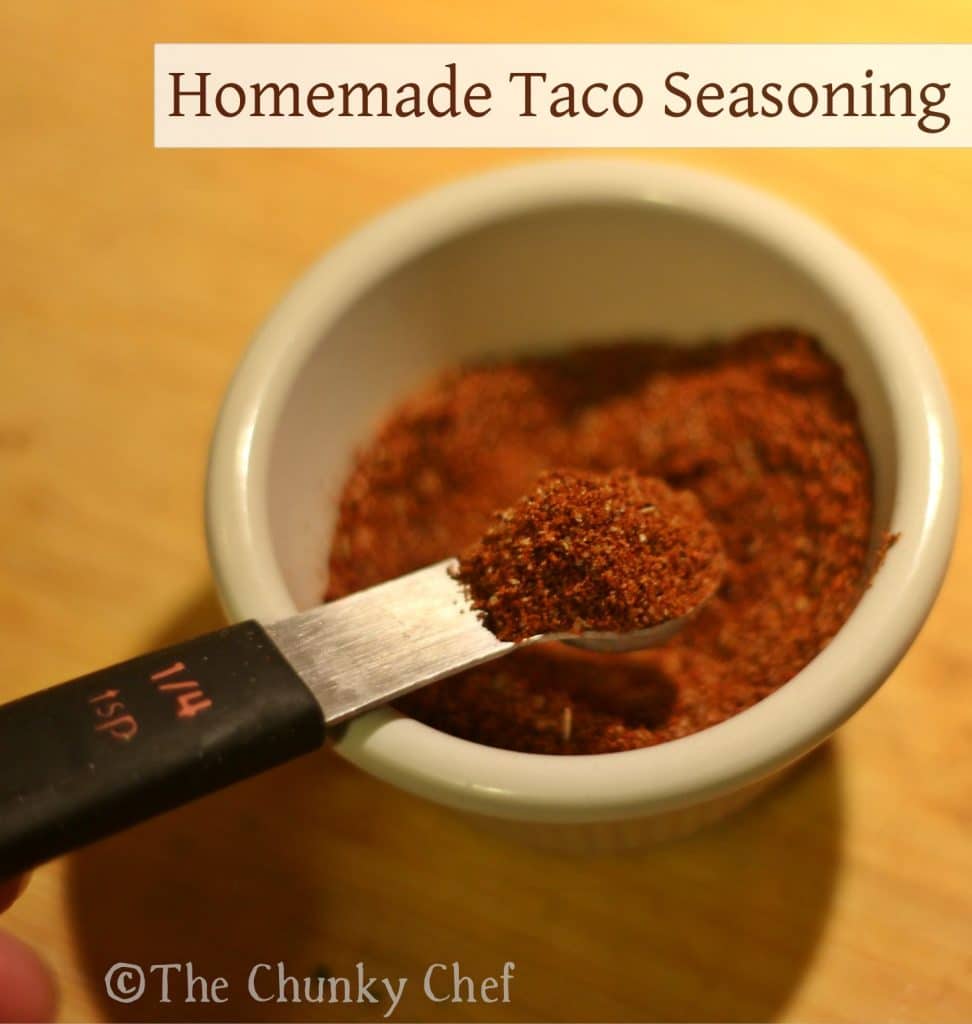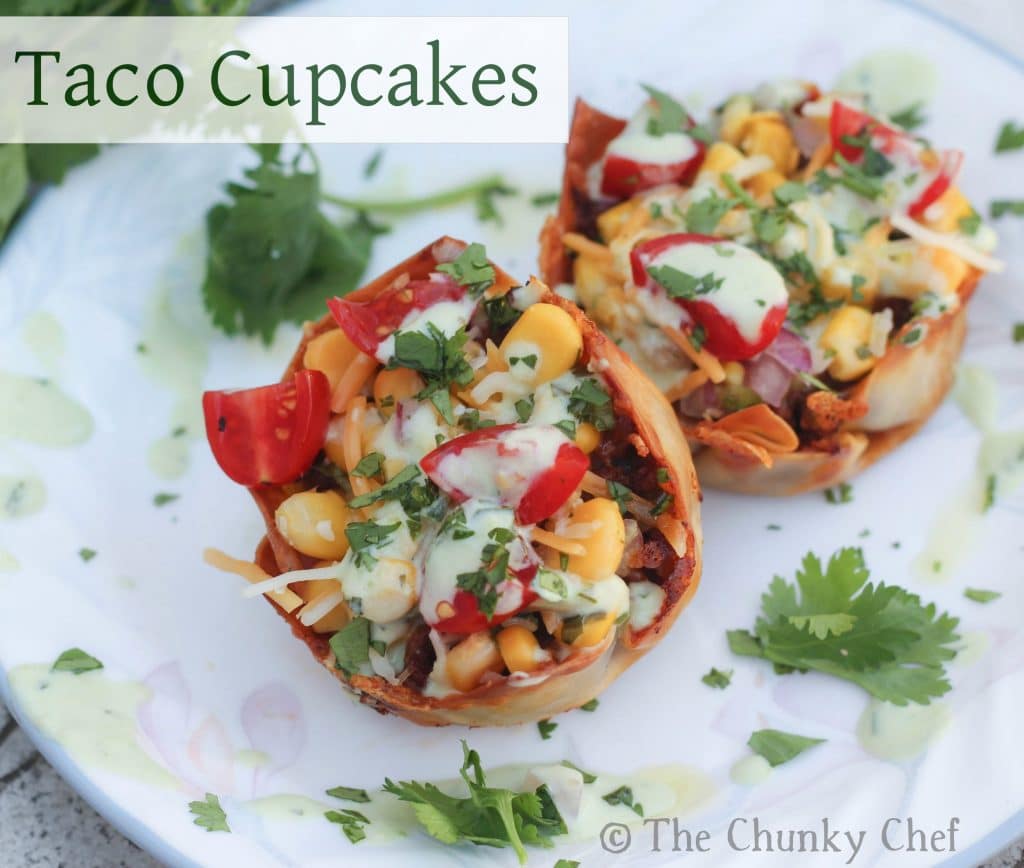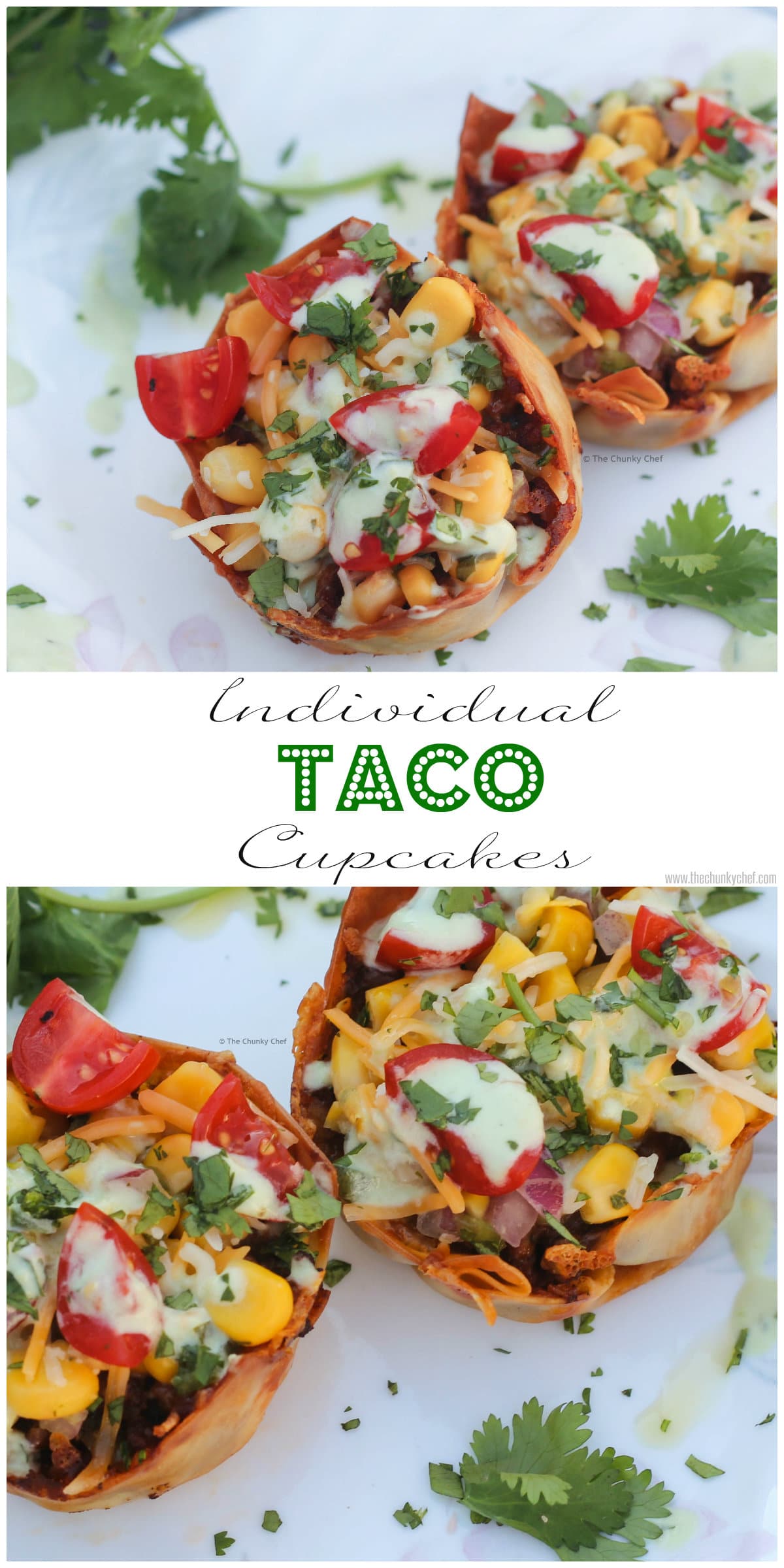 Recipe adapted from MyRecipes.com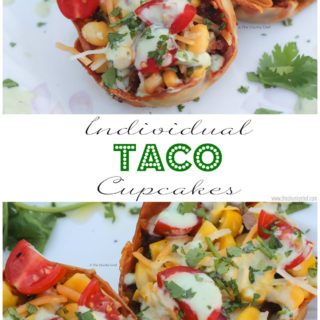 Homemade Taco Seasoning
You can have your own taco seasoning without having to worry about what's in those packets. Easy to put together, easy to store, and tastes fantastic!
Ingredients
1 Tbsp chili powder
1/4 tsp garlic powder
1/4 tsp onion powder
1/8 tsp crushed red pepper flakes
dash cayenne pepper
1/4 tsp dried oregano
1/2 tsp paprika
1 1/2 tsp ground cumin
1 tsp salt
3/4 tsp black pepper
Instructions
Stir it all together and store in an airtight container (I use a leftover spice bottle).

For use with 1 lb of ground beef, use approximately 3 Tbsp. of the mixture and 2/3 cup of

water. Basically the way you'd usually make tacos, just instead of the packet, use 3 Tbsp. of

your seasoning mix.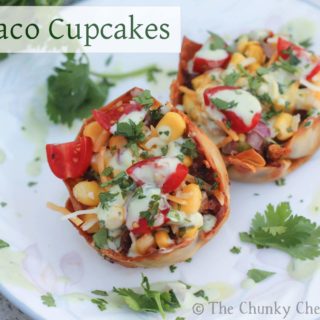 Taco Cupcakes with Avocado Cream
All the flavors of yummy beef tacos in a bite size package!
Ingredients
1 lb ground beef
taco seasoning - 1 packet or homemade
2/3 cup water
1/4 cup picante sauce
12-24 wonton wrappers (12 for single lined - 24 for double)
1/2 cup refried beans
Mexican cheese blend shredded
taco toppings of your choosing
AVOCADO CILANTRO LIME CREAM
1 cup sour cream
1 avocado pitted and chopped
1/4 cup cilantro chopped
zest of 1 lime
juice of 1/2 a lime
Instructions
Brown your ground beef, drain. Add taco seasoning, water, and 1/4 cup picante sauce. Let

simmer until thick but not dry.

Heat up your refried beans in the microwave.

Spray your muffin cups with cooking spray and line with wonton wrappers. I usually use two

wrappers for a more secure cup, but it will work just fine with one wrap per cup as well.

Dab some refried beans in the bottom of your cups, add some ground beef, and top with a

sprinkle of mexican cheese.

Bake in a 350 degree oven for about 12-15 minutes. Remove from oven and top with desire

taco toppings.

FOR THE AVOCADO CILANTRO LIME CREAM

Pit the avocado, scoop out flesh into a food processor, add sour cream, lime zest, lime juice

and cilantro and a pinch of salt.

Pulse a few times, then process until smooth and creamy.