Lemon Sweet Tea is smooth, sweet, and oh so refreshing on a hot summer day! This classic Southern drink is incredibly easy to make at home, using simple ingredients, and with no bitterness!
This is one of my Drink recipes I know you'll want to keep on hand!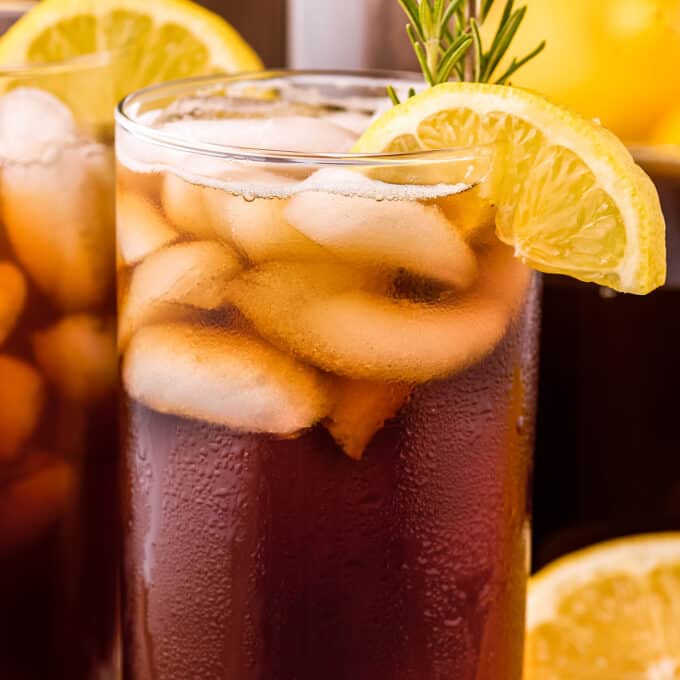 As the weather warms up and the sun starts making it's appearance more and more, I start craving cold and refreshing drinks.
Usually, those will involve some kind of alcohol (like my Tropical Rum Punch), but my all time favorite cool drink is sweet tea.
I haven't had the best of luck in finding a bottled sweet tea that I love. Most are too sweet, not sweet enough, or have an odd after taste.
But once I started making my own, I fell head over heels in love!
This recipe has 2 parts, but I promise they're simple…
Simple syrup – this sweetens the tea (without any graininess), as well as infusing it with lemon flavor.
Tea concentrate – this is like an ULTRA strong tea, which you then add the simple syrup to, and stir in plenty of cold water to dilute it down to the perfect strength and flavor.
How to make homemade sweet tea?
This is just an overview; the full ingredients and directions are in the recipe card toward the bottom of this post.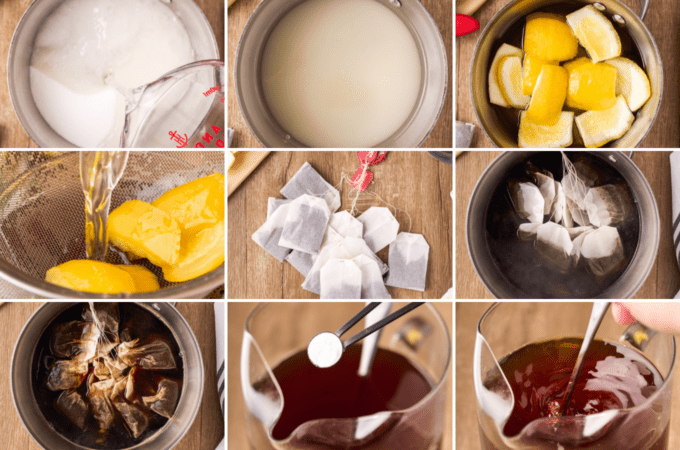 Make simple syrup. This method involves boiling equal parts sugar and water until clear. Lemon peels are added for lemon flavor.
Make tea concentrate. This is a very strong saucepan of tea, that will be mixed with water and the simple syrup to dilute it.
Add baking soda and cold water. The baking soda can be eliminated, but I prefer using it.
Helpful Tip!
Most of the ingredients here are common, and probably what you'd expect to see in a recipe for lemon sweet tea, except for one. The baking soda. Baking soda is important to neutralize any potential bitterness (which is common with tea, due to the tannins). The small amount does the job, but you won't taste it, I promise! Just make sure to use baking soda, not baking powder!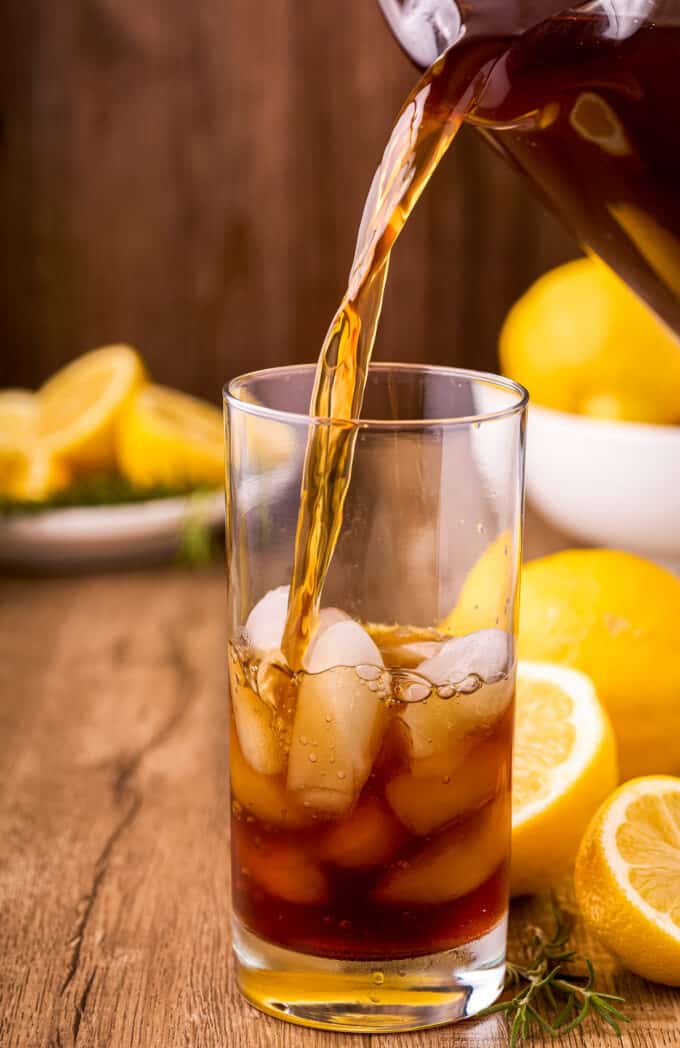 Variations of this recipe
Plain – for a great base recipe for sweet tea, omit the lemon from the simple syrup.
Stronger – I wouldn't increase the amount of tea bags used, but instead of mixing the tea concentrate with 10 cups of water, use a bit less of the water.
Sweeter – if you love your tea very sweet, feel free to increase the amount of sugar used in the simple syrup, or simply make more of the syrup.
Concentrate – feel free to make a sweet tea concentrate (by not adding the 10 cups of water). Then when you want a glass of iced tea, add some ice, some concentrate, and then fill the rest of the way with cold water. Stir and enjoy!
Sweetened individually – to make your iced tea last longer in the refrigerator, or if you'd rather adjust the sweetness level on a glass by glass basis, don't mix the simple syrup into the tea. Keep it in a separate container in the refrigerator and add some to your glass with some tea.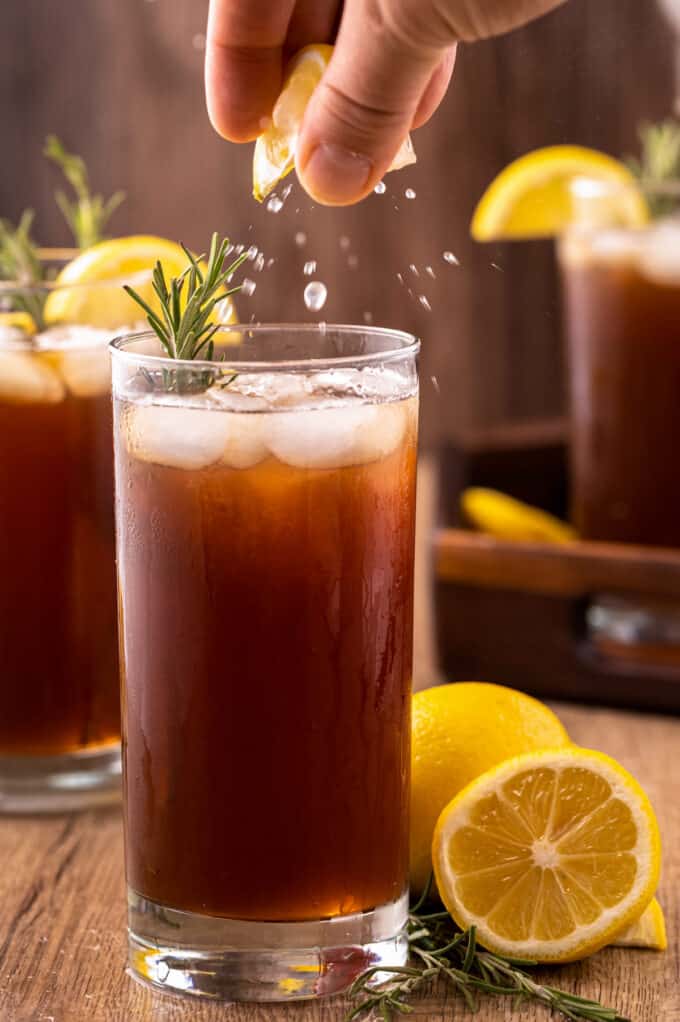 FAQ's
How can you keep sweet tea from being bitter?
This recipe uses a couple of methods to keep the tea from being overly bitter. By letting the boiling water sit for a minute before adding the tea bags, this means the temperature of the water has cooled a little, and it won't be so hot that it causes bitterness. Baking soda is also the secret ingredient to neutralize bitterness in the tea.
Can this sweet tea be made using other flavors?
Sure can! I haven't tested other flavors, but in theory you can add any fruit to the simple syrup and it will flavor the tea accordingly.
Making sweet tea ahead of time
While this recipe needs to be made somewhat ahead of time (since it needs to chill for at least a few hours), I wouldn't make sweet tea more than a day or two ahead of time.
However, the simple syrup can be made, cooled, and stored (in an airtight container) for up to 2-4 weeks.
Storage
Sweet tea should be refrigerated in a covered pitcher and enjoyed within 4-7 days.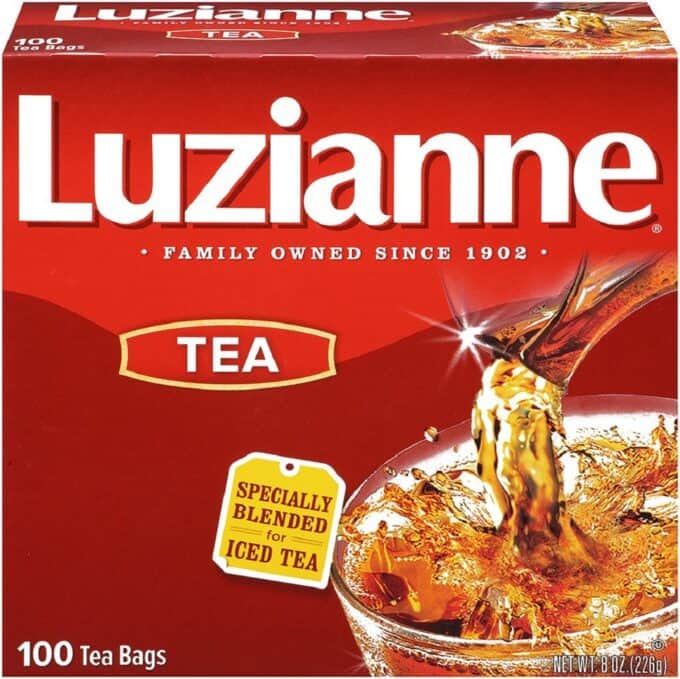 You can use any brand of tea you like, but I'm partial to Luzianne. This type is formulated for iced tea, and the flavor (and bargain) is great!
Did you make this? Be sure to leave a review below and tag me @the_chunky_chef on Facebook and Instagram!
Lemon Sweet Tea is smooth, sweet, and oh so refreshing on a hot summer day! This classic Southern drink is incredibly easy to make at home, using simple ingredients, and with no bitterness!
Ingredients
Lemon simple syrup
2 lemons
2 cups granulated sugar
2 cups water
Tea concentrate
12 regular size tea bags (Luzianne is our favorite brand, but any brand will work)
6 cups water
1/4 tsp baking soda
To serve
10 cups water
lemon slices
rosemary sprig
Instructions
Make the simple syrup
Use a paring knife to slice the peel off of the lemons, then set aside for a minute.

To a small saucepan, add 2 cups of sugar and 2 cups of water and bring to a boil over MED heat. Once boiling, add lemon peels and boil for 2-3 minutes, stirring occasionally, until mixture is clear (aside from the lemon peels).

Set simple syrup aside to cool.
Make the tea concentrate
Tie tea bags together at the top (by the tags). This makes it a lot easier to remove all the tea bags at once.

In another larger saucepan, add 6 cups of water and bring to a boil. Once boiling, remove from heat and let sit for a minute or so.

Add tea bags and let steep for 5-6 minutes. Remove tea bags, but don't squeeze the tea bags (this could make the tea bitter).

Transfer hot tea mixture to a large gallon-sized pitcher, or several smaller pitchers.
Put it all together
Place a strainer over the pitcher and pour in the cooled simple syrup through a strainer to remove the lemon peels.

Add baking soda and 10 cups of cold water, stirring well to combine.

Cover pitcher and chill in the refrigerator for at least 2 hours, or until cold.
Serve
Serve over ice, garnished with a lemon wedge/slice and a sprig of rosemary if desired.
Want to save this recipe for later? Click the heart in the bottom right corner to save to your own recipe box!
Chef Tips
Recipe makes approximately 1 gallon, which translates into 16 8oz glasses.
Recipe can be halved if you don't need a large batch of sweet tea.
The baking soda neutralizes any possible bitterness that comes from hot brewing tea, but can be omitted if you want. Just know that your tea may have a slightly bitter taste.
Everyone has their own preferences when it comes to the sweetness level, so please feel free to make and add more simple syrup (or less) if you'd like.
Nutrition Disclaimer
The Chunky Chef is not a dietician or nutritionist, and any nutritional information shared is an estimate. If calorie count and other nutritional values are important to you, we recommend running the ingredients through whichever online nutritional calculator you prefer. Calories can vary quite a bit depending on which brands were used.