20 Adorable Easter Cupcakes
I'm a sucker for a great cupcake… and I think holiday themed cupcakes are just too cute for words!  I love all of these bright, Spring-y, and adorable Easter cupcakes!!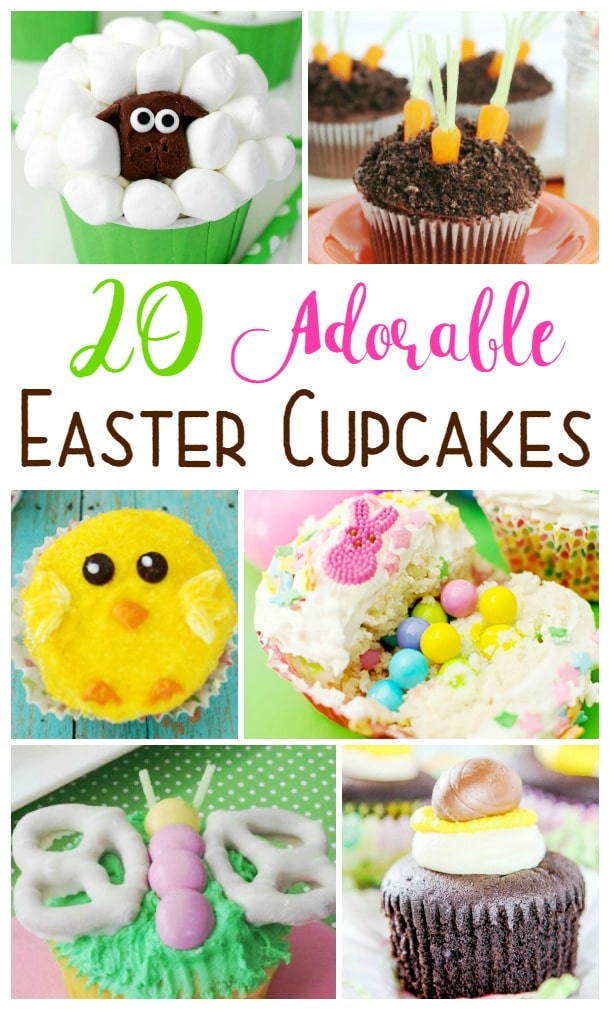 Check out the talented ladies below!!
Cincy Shopper – Carrot Garden Easter Cupcakes
Thrifty Jinxy – Spring Butterfly Cupcakes
Simmworks Family – Easter Egg Basket Cupcakes
Mama Dweeb – Easter Chick Cupcakes
Baking Beauty – Cadbury Cupcakes
Dorky's Deals – Chocolate Easter Bunny Cupcakes
Living Well Mom – Easter Bunny Peep Cupcakes
Jefferson Parish Parent – Easter Surprise Cupcakes
The Sweetest Occasion – Cotton Candy Easter Cupcakes
I Am Baker – Daisy Easter Cupcakes
Cooking Classy – Carrot Cake Cupcakes with Cream Cheese Frosting
Thirsty For Tea – Matcha Moss Cupcakes
The First Year Blog – Jelly Bean Cupcakes
Cincy Shopper – Sheep Easter Cupcakes
Life Made Simple Bakes – Carrot Patch Cupcakes
Urban Bakes – Speckled Easter Cupcakes
The Simple Sweet Life – Easter Chick Cupcakes
---
Let's Connect!
You can find me on Facebook, Twitter, Pinterest, and Instagram, so follow me if you'd like… I love keeping in touch with all of you 🙂