This Stromboli is loaded with Italian meats, cheeses and vegetables, and all wrapped up in a crispy cheesy crust. Like a deluxe pizza, all rolled up like a burrito. Great for a busy weeknight when you use store bought pizza dough!
This is one of my Italian-inspired recipes I know you'll want to keep on hand!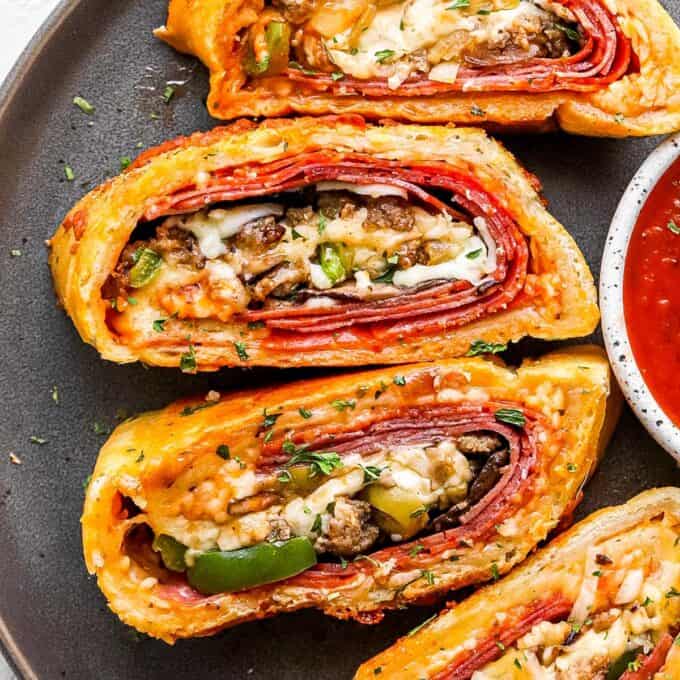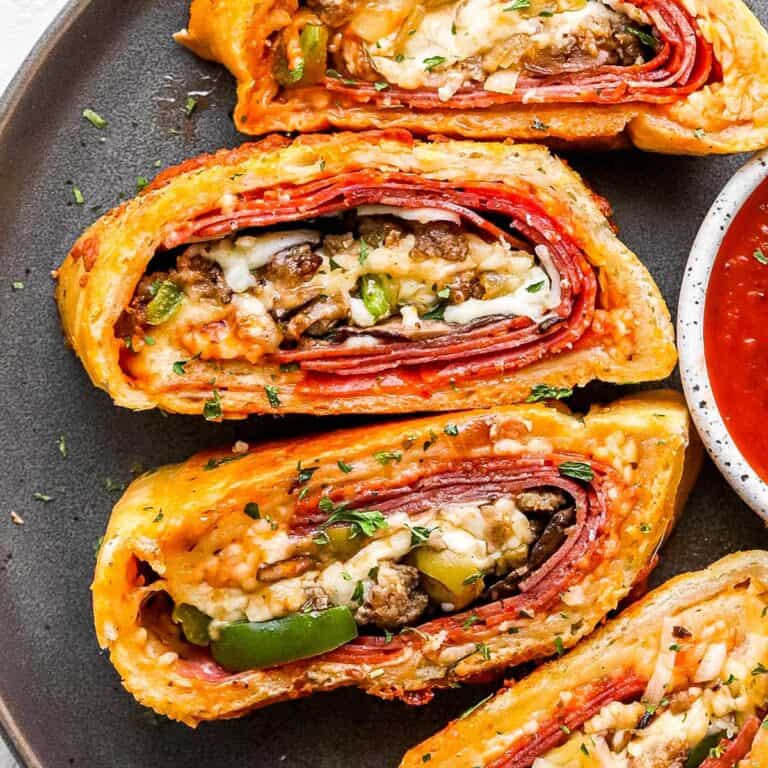 Have you ever had stromboli? If you haven't, you're missing out! It's like a pizza, but better.
Full of plenty of meats, cheeses and vegetables, and all rolled up in a crispy cheesy crust… what could be better?
I've had this stromboli recipe on the website for years, but I figured it was time for a facelift, and some updated information.
It's one of our favorite meals because it tastes absolutely amazing, yet is surprisingly easy to make! It's even great for a weeknight meal.
You can put anything in a stromboli that you'd put on a pizza, but for this recipe, I just couldn't choose… I wanted allllll the toppings.
How to make deluxe stromboli?
This is just an overview; the full ingredients and directions are in the recipe card toward the bottom of this post.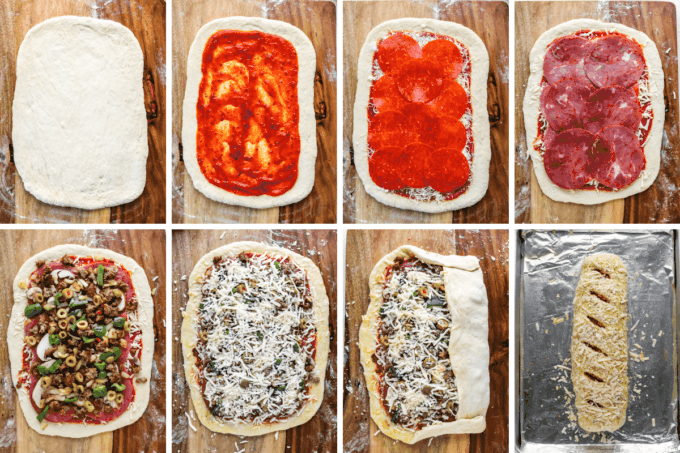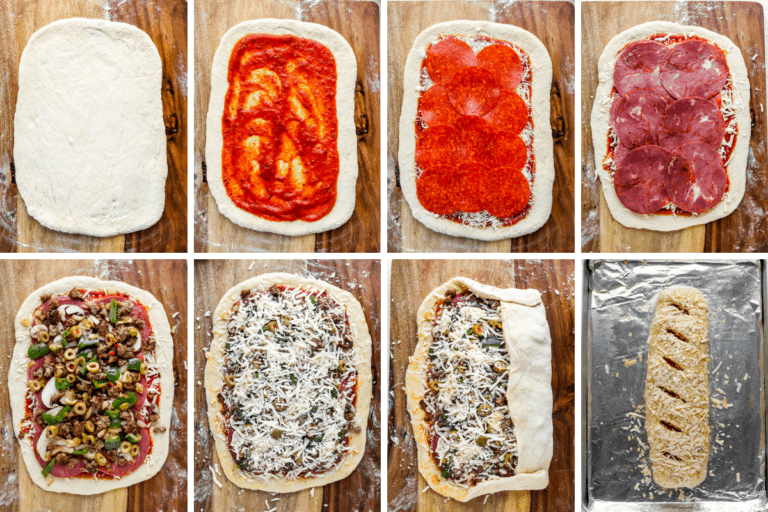 Cook sausage, onion and bell pepper. Drain the sausage and cook the the onion and pepper in the residual drippings left in the skillet.
Roll dough. I like to aim for a rectangle-ish shape, about 10×15″.
Spread sauce. A thin, even layer is good here. Too much sauce, and the stromboli could end up soggy.
Add half the cheese, and all the sliced meats.
Add cooked sausage, onion and pepper, and mushrooms.
Top with other half of the cheese.
Brush border with egg wash. Just an egg beaten with a splash of water.
Roll up into a log.
Top with spices and cheese. Then cut slits in the top of the dough to let steam escape.
Bake.
Helpful Tip!
When you're rolling the dough out into a rectangle shape, first, don't be too worried if it's not a perfect rectangle… mine never are! Secondly, if the dough keeps springing back a lot, and not staying in place as you roll, just let it sit there for 10 minutes or so. This relaxes the dough and it should be more manageable after that.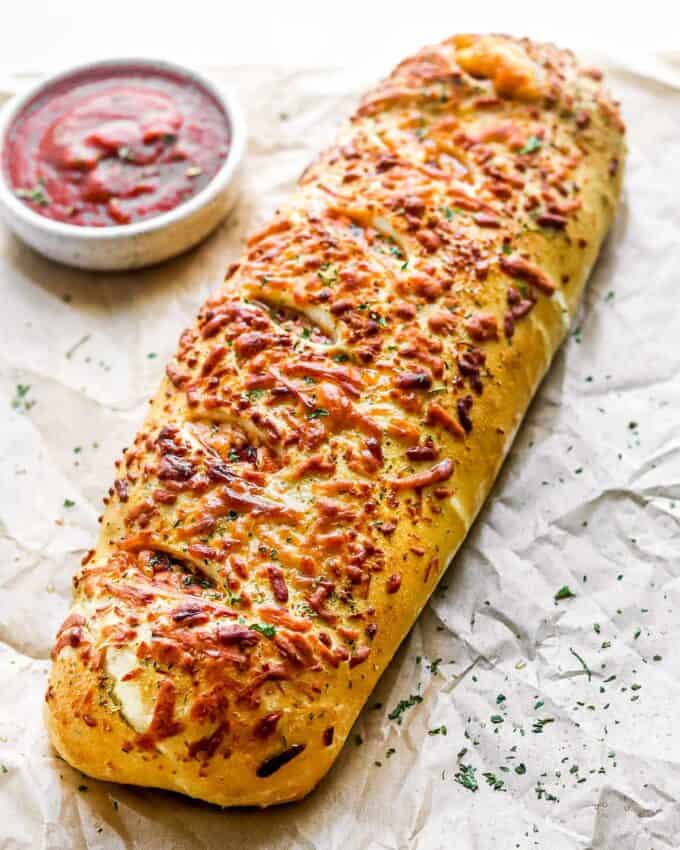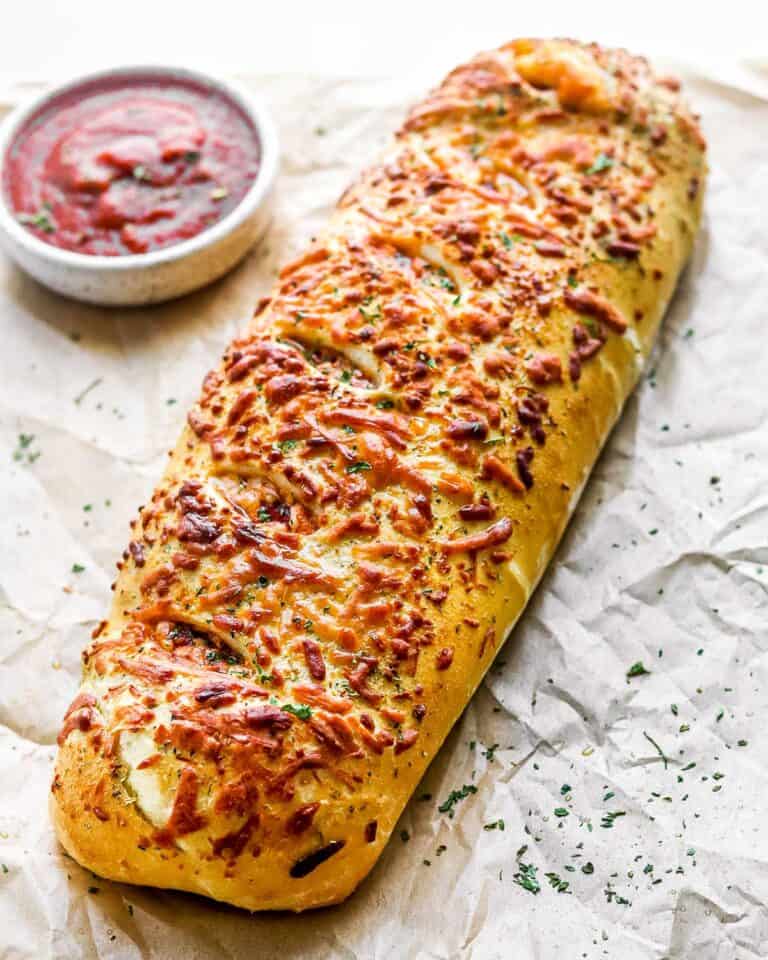 Variations of this recipe
Pizza dough – any type of pizza dough will work for this recipe, but we prefer to use the frozen balls of dough (usually in 1 lb sizes) in the freezer section.
Toppings – the toppings here are completely up to you. Anything you'd like on a pizza, you can put in stromboli! My kids love ham, bacon, and pineapple.
Sauce – my homemade pizza sauce is great in this recipe, but feel free to use any sauce you'd like. You could even switch it up and use bbq sauce for a bbq chicken stromboli, alfredo sauce, etc. The sky is the limit!
Cheese-less crust – you can omit the Parmesan on the top of the stromboli if you'd like, there's plenty of cheese inside. Or be extra decadent and brush the crust with a garlic butter before baking!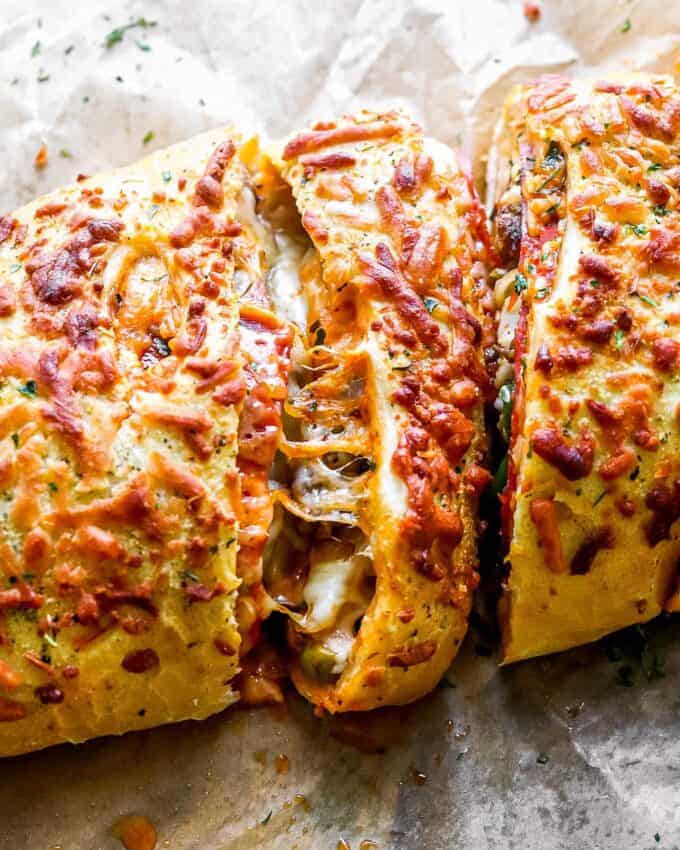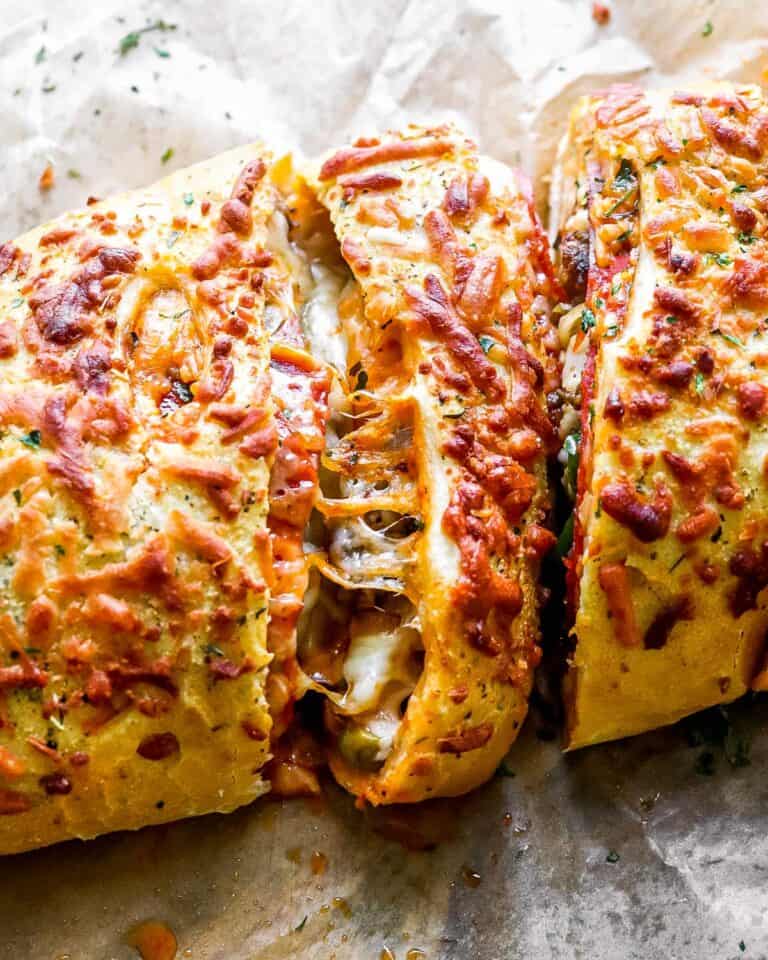 FAQ's
What's the difference between a stromboli and calzone?
They have very similar components, but a calzone is folded. Sort of like if you made a pizza, then folded one half over the other, making a half moon shape. Stromboli is rolled up like a burrito or cinnamon roll.
What normally goes in a stromboli?
You can put anything in a stromboli that you want, but traditionally you have pizza dough, pizza sauce, some variety of Italian meat, and cheese.
Can I use homemade dough to make a stromboli?
Absolutely! I'm currently working on a perfect homemade pizza dough recipe, but if you have one that you love, feel free to use it 🙂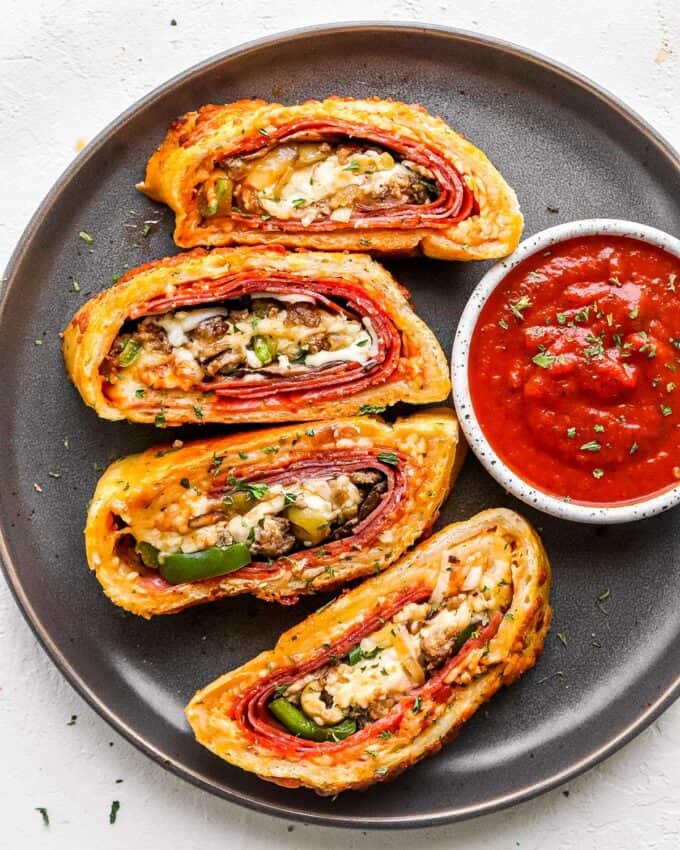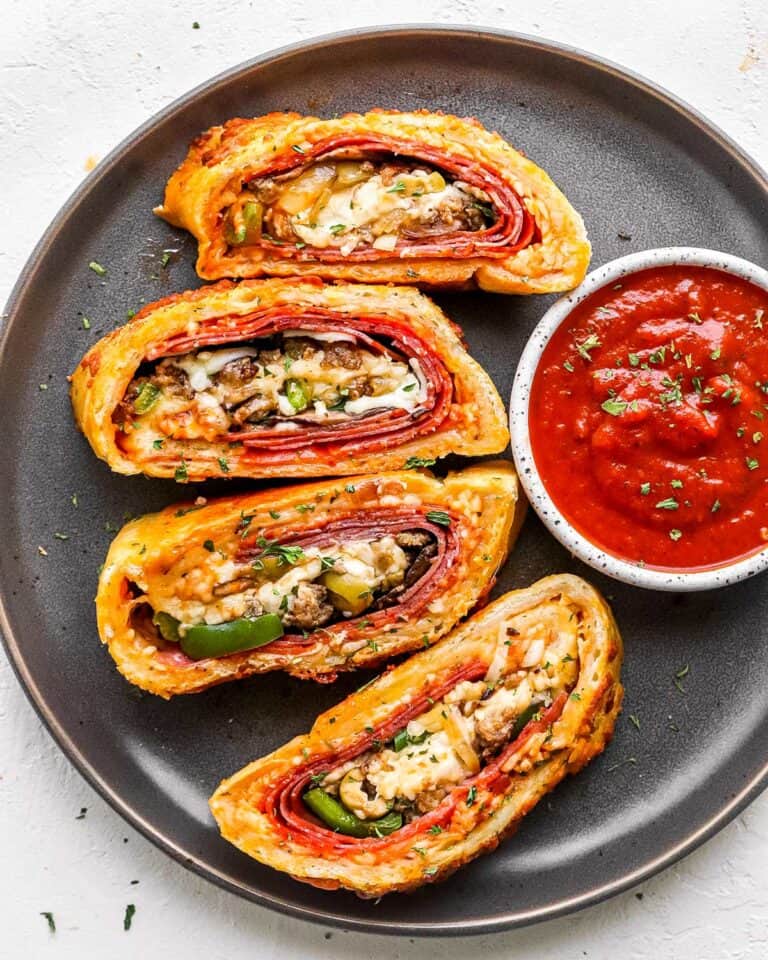 Making stromboli ahead of time
Stromboli can be prepared up to a day ahead of time, then wrapped tightly in foil or plastic wrap.
Let the stromboli sit out at room temperature for 20 minutes or so, then bake as directed.
You can also do a lot of the prep ahead of time as well, which is another way to shorten your cooking time.
Cook sausage, drain, cool, then keep refrigerated.
Cook pepper and onion, cool, then keep refrigerated.
If you're making homemade pizza sauce, make it and keep it refrigerated.
Storage
Leftover stromboli should be stored in an airtight container in the refrigerator and eaten within 4-5 days.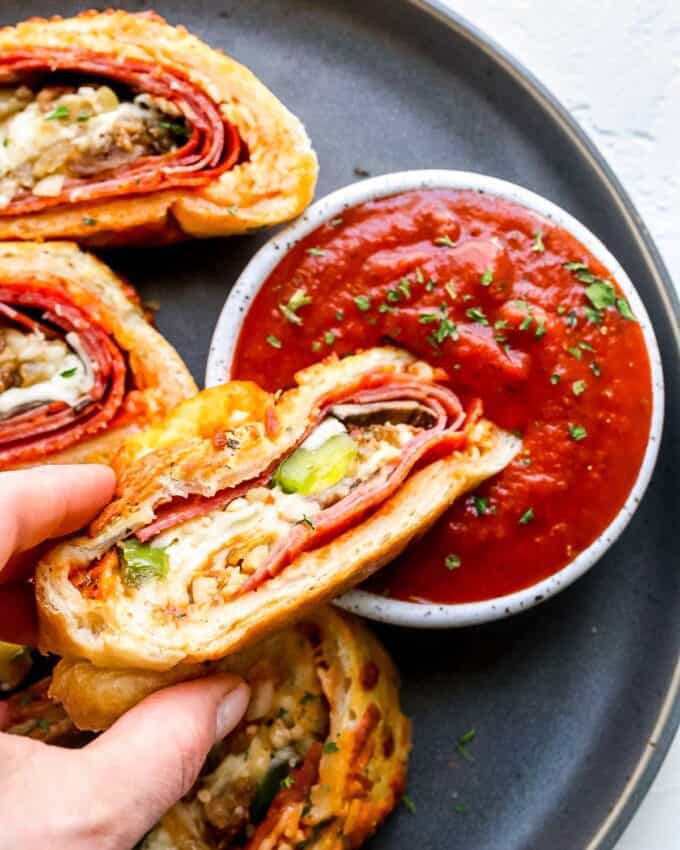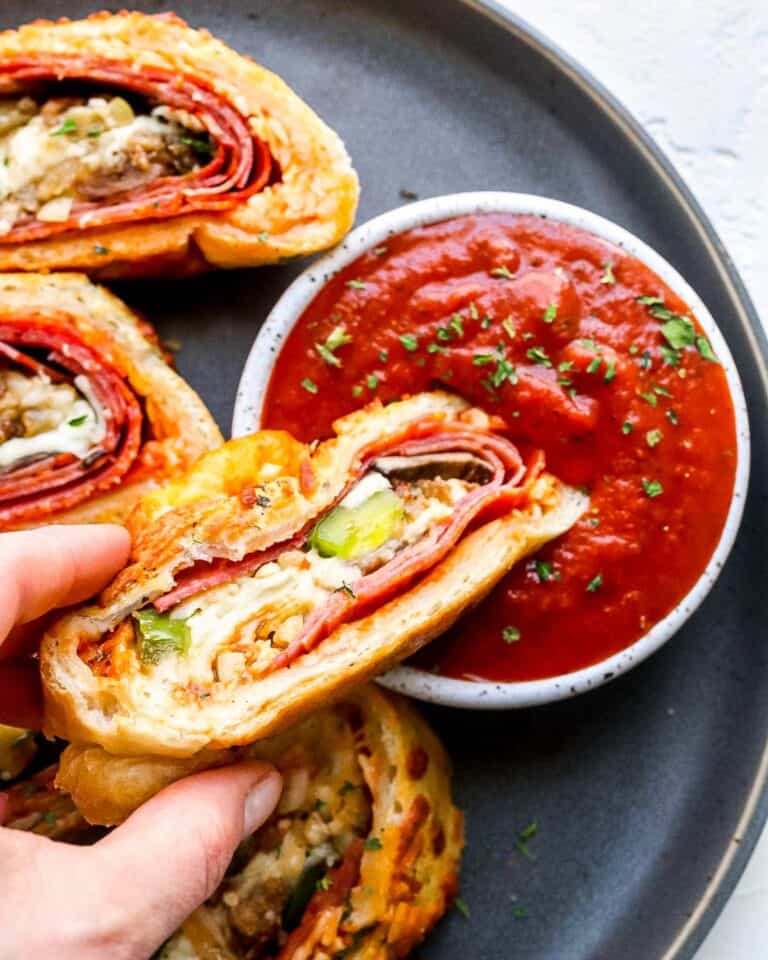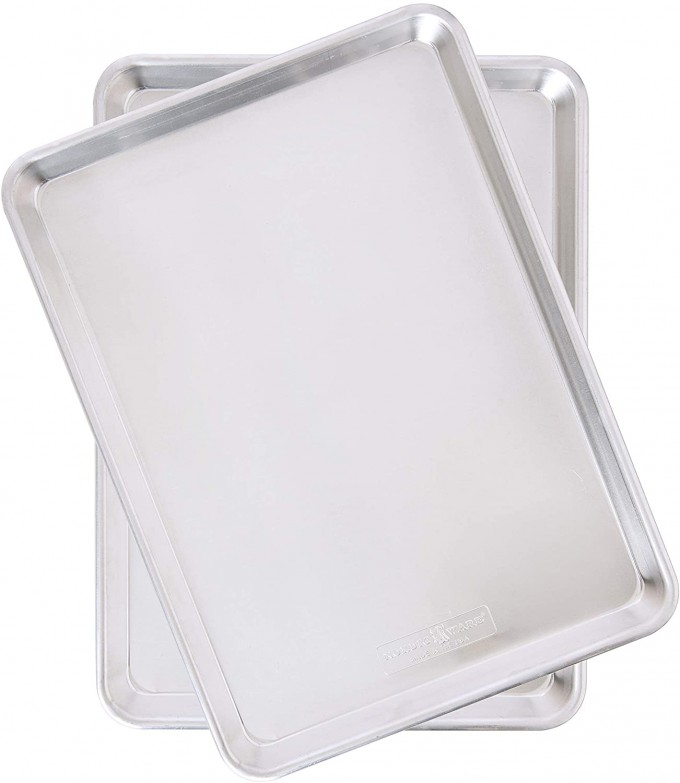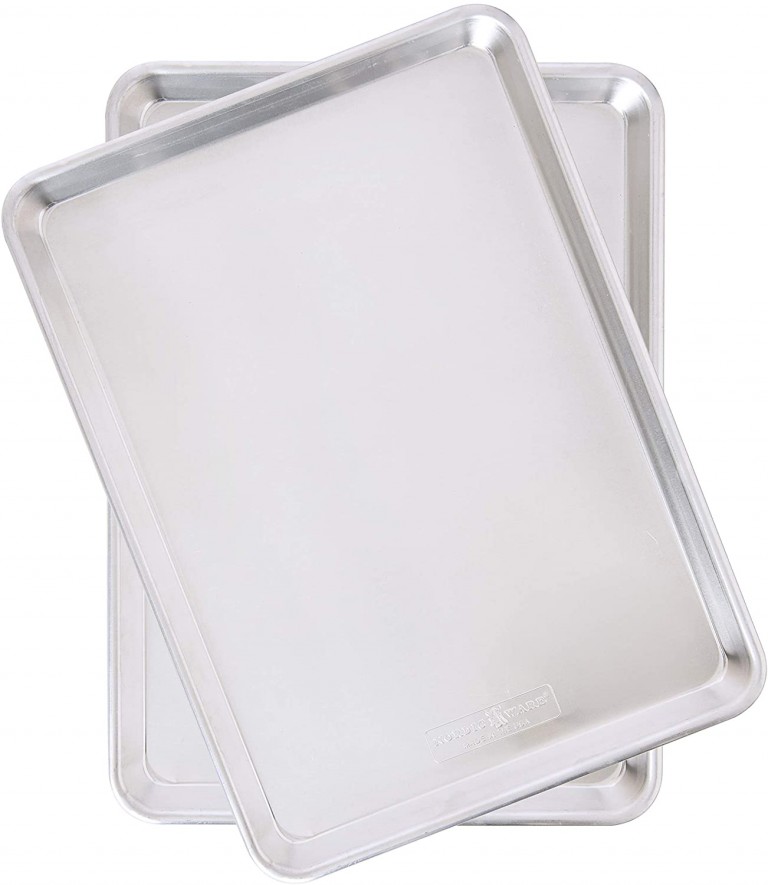 These half sheet pan is the perfect size for making this stromboli. I've had multiple of these baking sheets for years and they hold up so well!
Did you make this? Be sure to leave a review below and tag me @the_chunky_chef on Facebook and Instagram!
This Stromboli is loaded with Italian meats, cheeses and vegetables, and all wrapped up in a crispy cheesy crust.
Ingredients
1/4 pound Mild Italian sausage (hot can also be used)
1/2 green bell pepper sliced into roughly 1 inch long pieces
1/2 yellow onion sliced into roughly 1 inch long pieces
1 lb. frozen pizza dough thawed
1/2 cup pizza sauce
1 cups shredded mozzarella cheese
1/2 cup grated Parmesan cheese
10 large slices pepperoni
6 slices Genoa salami
6 slices hot capicola ham
4 oz very thinly sliced mushrooms uncooked
1/4 cup sliced green olives
pinch red pepper flakes
1 egg + splash of water beaten
1/4 tsp garlic powder
1/4 tsp dried Italian seasoning
1/4 cup freshly grated Parmesan cheese
Instructions
Preheat oven to 425°F.  Line a large rimmed baking sheet with foil and spray lightly with nonstick cooking spray.  Set aside.
Cook toppings
In a skillet over MED HIGH heat, add a small drizzle of olive oil and brown Italian sausage, then drain and set aside.  In the leftover drippings in the skillet, cook green bell pepper and onion slices.  Cook about 3 minutes, then set aside.
Assemble stromboli
Roll pizza dough out into a large rectangle, roughly 10×15".

Spread pizza sauce evenly over the dough, leaving a 1.5" border along all the edges.

Top with half the mozzarella and half the Parmesan, pepperoni slices, salami slices, capicola slices, mushrooms, cooked Italian sausage, cooked onion and green pepper, and green olives.

Top with remaining mozzarella and Parmesan cheeses.
Egg wash
Combine egg and splash of water, beating until combined. Brush a bit of the egg wash over the un-sauced border of the dough.
Roll up stromboli
Starting with a long edge of the stromboli, roll up into a log shape, pinching in the sides as you roll, so you have a long log, approximately 15 inches long.  If the dough is too sticky, dust your hands with flour.
Bake
Carefully transfer stromboli to prepared baking sheet and brush the entire top of the stromboli with the rest of the beaten egg.  Sprinkle the top with 1/4 tsp garlic powder, 1/4 tsp Italian seasoning, and 1/4 cup Parmesan cheese.

Using a sharp knife make a couple of roughly 2 inch long diagonal slits in the top of the stromboli, then bake in preheated oven for 25 minutes, or until center of the stromboli is at least 200°F with an instant read thermometer.

Let rest for 5-10 minutes, then slice and serve with additional pizza or marinara sauce if desired.
Want to save this recipe for later? Click the heart in the bottom right corner to save to your own recipe box!
Nutrition Disclaimer
The Chunky Chef is not a dietician or nutritionist, and any nutritional information shared is an estimate. If calorie count and other nutritional values are important to you, we recommend running the ingredients through whichever online nutritional calculator you prefer. Calories can vary quite a bit depending on which brands were used.