This baked mac and cheese is a family favorite recipe, loved by both children and adults. It uses a combination of cheeses, layered in the dish as well as melted into a rich and creamy cheese sauce, for the ultimate in cheesy deliciousness!  Perfect for a comforting dinner or as a holiday side dish!
Looking for other comfort food dishes?  Check out my Homemade Sloppy Joes, Creamy Broccoli Cheddar Soup, Crockpot Meatloaf, and Homestyle No-Boil Mashed Potatoes!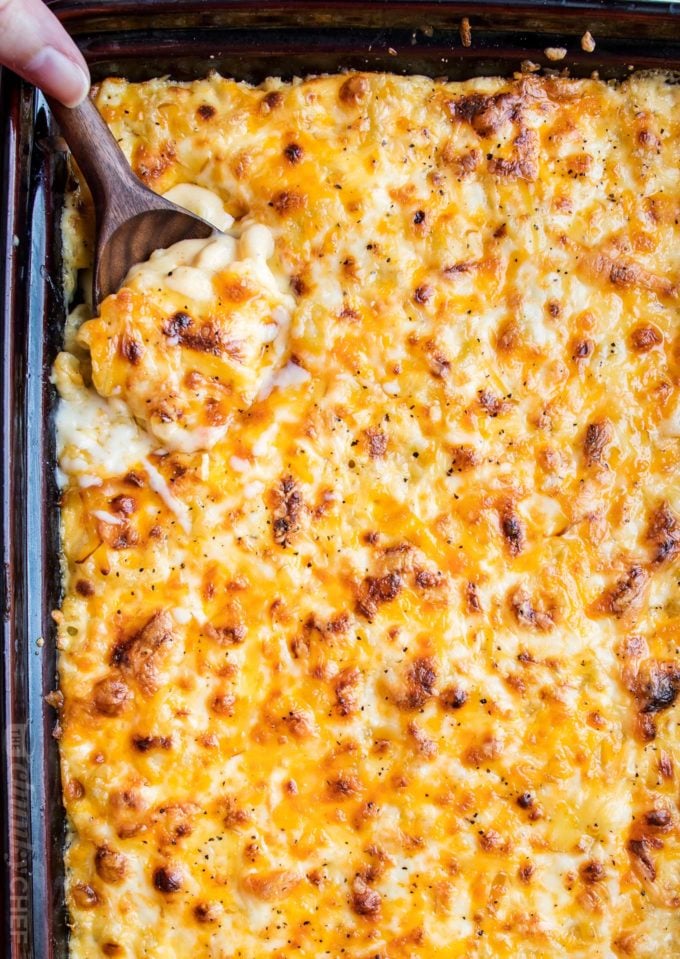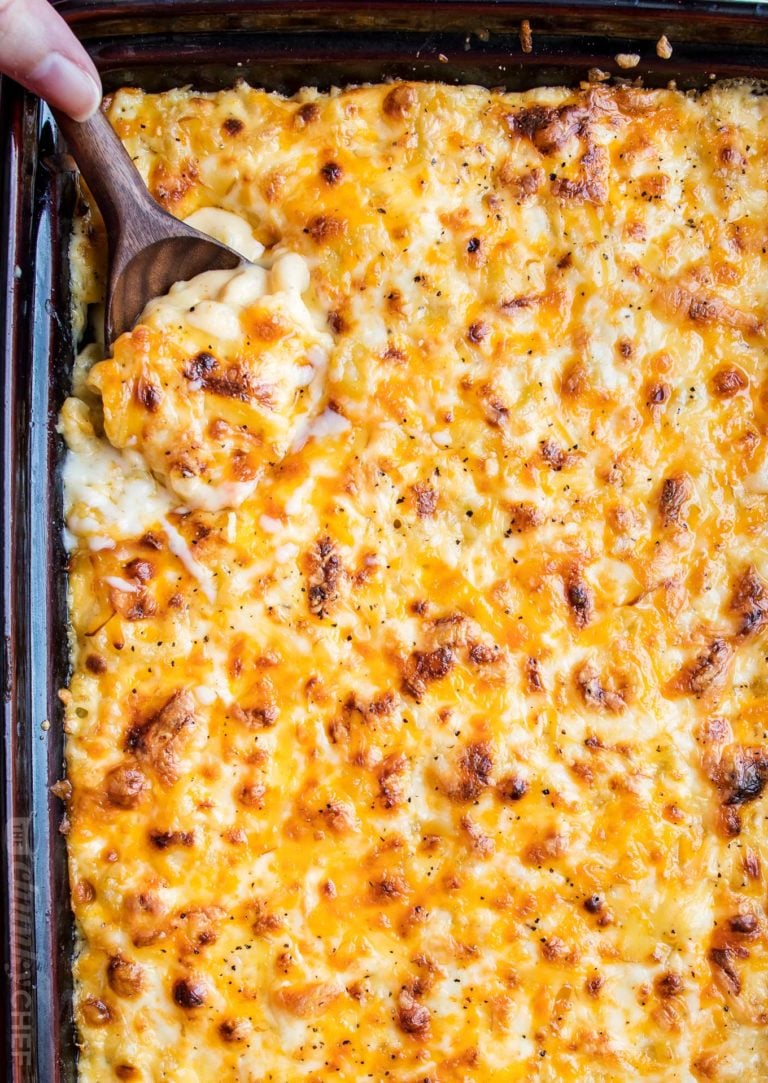 BAKED MAC AND CHEESE
Baked mac and cheese.  It's nearly the universal comfort food, and there are SO many variations!  In fact, I almost didn't post this recipe, as there are SOOOO many mac and cheese recipes available, and most people already have their favorite way of making it.
Of course, there's no "right" way or "wrong" way, so I'm here sharing the way I like to make my mac and cheese (the way my family loves it too).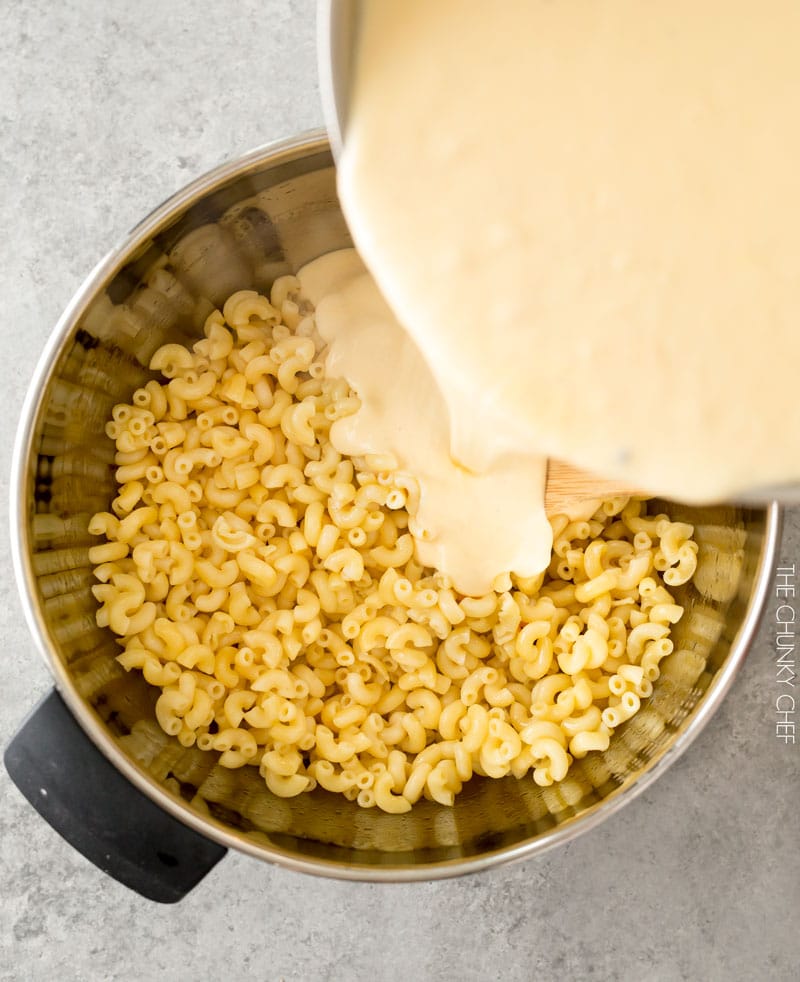 HOW TO MAKE MAC AND CHEESE
If you've never made homemade mac and cheese before, it can seem a bit daunting.  But don't worry, we'll break it down and take it step by step!
Boil the pasta, drain.
Make the cheese sauce by combining a fat (butter), and starch (flour), then whisking in the milk products.
Cook the sauce until it's nice and thick.
Add in shredded cheeses, stir well.
Combine cheese sauce with cooked pasta.
Transfer half of the mac and cheese to a baking dish, sprinkle with more shredded cheese.
Top with the rest of the mac and cheese, top with more shredded cheese.
Bake and prepare to thoroughly enjoy!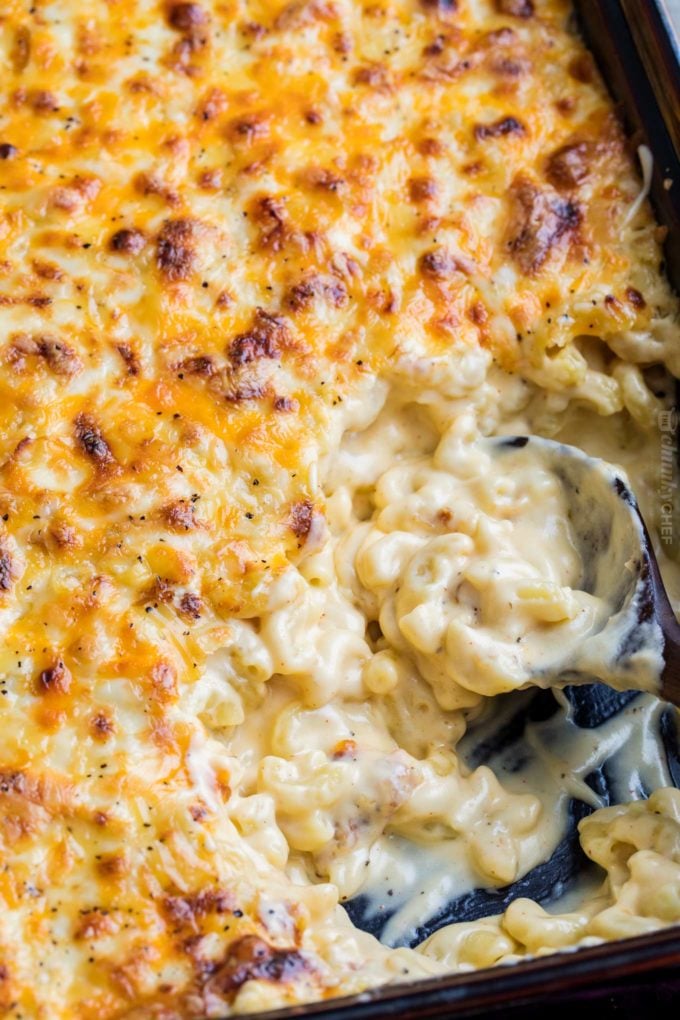 COOKING TIPS FOR BAKED MAC AND CHEESE
Boiling the pasta – cook the pasta less than you normally would.  I like to boil my elbow pasta for between 4 and 5 minutes.  The pasta will continue to cook in the oven, and you don't want it to get mushy.
Use room temp liquids – if you can… cold liquids generally take longer to thicken than warmer ones.  I usually set my milk and half and half out while the water for the pasta is coming up to a boil.
The cheeses – use your favorites!  Our personal favorites are the cheddar and gruyere used in this recipe, but you can be very creative with the cheese selection here.  Mozzarella, gouda, smoked gouda, swiss, monterey jack, colby jack, colby.  There are plenty of reader comments down below the recipe that talk about the cheeses they used!
Shred your own – I know it's a pain, and it's SO tempting to use the pre-shredded cheese in the bags.  But those bags of cheese contain a starchy substance that keeps the cheese from clumping… which also prohibits it from melting as well as it should.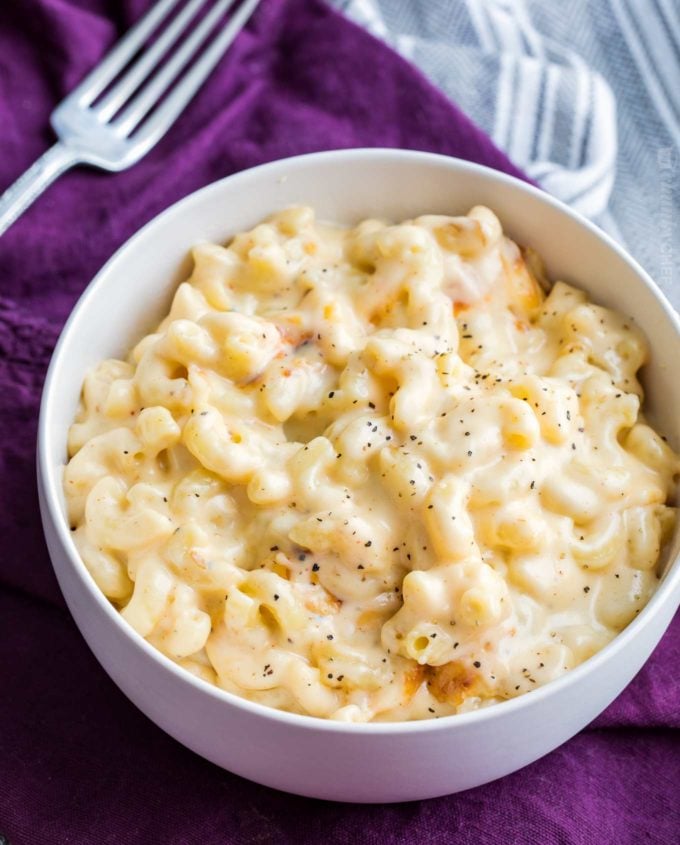 VARIATIONS OF MAC AND CHEESE
Bacon – if you love bacon, feel free to add some crispy, crumbled bacon to the topping, or even inside the mac and cheese as well!
Stovetop – if you'd prefer not to bake this mac and cheese, you don't have to! Make sure you boil your pasta until al dente (check the packaging for correct times), and you'll only need about 3 – 3 1/2 cups of cheese total.  No need to layer the pasta and cheese, just add all the cheese to the sauce, then combine with the pasta.
Different Toppings – I'm a huge fan of the cheese layer on top, since it gets nice and crispy, but we also love tossing 1 cup of panko with 2 Tbsp of melted butter and using that as a topping.  1 cup of crushed Ritz crackers with 2 Tbsp of butter work amazingly well too!
Different Baking Times – the recipe calls for a lower baking temperature and time, but most of the time I find myself adjusting that based on my family's tastes.  I like to bake this mac and cheese at 350 F degrees for 30 minutes, then broil for 2-3 minutes to get that glorious cheesy "crust".
MAKING MAC AND CHEESE AHEAD OF TIME
Make as directed (but do not bake), transfer to baking dish and cool completely.  Cover tightly with foil and refrigerate 1-2 days ahead.
Before baking, let dish sit on counter for 30 minutes.
Bake at recipe temperature for 25-35 minutes, until hot and bubbly.
As a caveat, this recipe, as with most mac and cheese recipes, loses some of it's creaminess when made ahead.  This dish has been tested when made right away, which yields the best results.  
I would increase the amount of sauce slightly if you need to make this recipe ahead of time.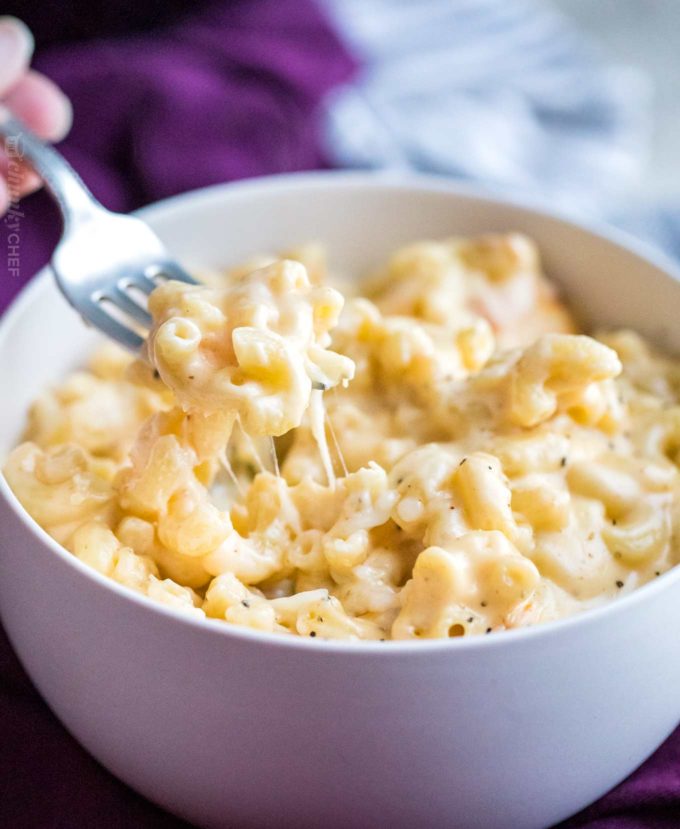 STORING MAC AND CHEESE
Any leftovers need to be refrigerated and covered tightly.  Mac and cheese can be stored this way for 3-4 days.
To reheat, stir in a little bit of milk or cream and microwave partially covered with plastic wrap.  Stir often as it reheats.
SPECIAL EQUIPMENT USED IN THIS RECIPE
Box Grater – remember, the best mac starts with freshly shredded cheese!


BE SURE TO SCROLL DOWN TO CHECK OUT OTHER READERS' COMMENTS!
AND DON'T FORGET, IF YOU'VE MADE THIS RECIPE, LEAVE A COMMENT AND PLEASE GIVE IT A STAR RATING!
Post has been updated in September 2019 with new photos and additional information.
Did you make this? Be sure to leave a review below and tag me @the_chunky_chef on Facebook and Instagram!
Servings:
8
- 10 servings
(hover over # to adjust)
This baked mac and cheese is a family favorite recipe, loved by children and adults.
Ingredients
1 lb. dried elbow pasta
1/2 cup unsalted butter
1/2 cup all purpose flour
1 1/2 cups whole milk
2 1/2 cups half and half
4 cups shredded medium cheddar cheese divided (measured after shredding)
2 cups shredded Gruyere cheese divided (measured after shredding)
1/2 Tbsp. salt
1/2 tsp. black pepper
1/4 tsp. paprika smoked paprika is our favorite!
Instructions
Preheat oven to 325 degrees F and grease a 3 qt baking dish (9x13"). Set aside.

Bring a large pot of salted water to a boil. When boiling, add dried pasta and cook 1 minute less than the package directs for al dente. Drain and drizzle with a little bit of olive oil to keep from sticking.

While water is coming up to a boil, shred cheeses and toss together to mix, then divide into three piles.  Approximately 3 cups for the sauce, 1 1/2 cups for the inner layer, and 1 1/2 cups for the topping.

Melt butter in a large saucepan over MED heat.  Sprinkle in flour and whisk to combine.  Mixture will look like very wet sand.  Cook for approximately 1 minute, whisking often.  Slowly pour in about 2 cups or so of the half and half, while whisking constantly, until smooth.  Slowly pour in the remaining half and half and the whole milk, while whisking constantly, until combined and smooth.

Continue to heat over MED heat, whisking very often, until thickened to a very thick consistency. It should almost be the consistency of a semi thinned out condensed soup.

Remove from the heat and stir in spices and 1 1/2 cups of the cheeses, stirring to melt and combine.  Stir in another 1 1/2 cups of cheese, and stir until completely melted and smooth.

In a large mixing bowl, combine drained pasta with cheese sauce, stirring to combine fully.  Pour half of the pasta mixture into the prepared baking dish.  Top with 1 1/2 cups of shredded cheeses, then top that with the remaining pasta mixture.

Sprinkle the top with the last 1 1/2 cups of cheese and bake for 15 minutes, until cheesy is bubbly and lightly golden brown.  
Want to save this recipe for later? Click the heart in the bottom right corner to save to your own recipe box!
Chef Tips
Please feel free to add additional seasonings per your tastes, this is a base recipe that you can change up to make your own. Garlic powder, onion powder, ground mustard, smoked paprika, and hot sauce are some favorites of ours to add.
To get the 4 cups of cheddar, use a 16 oz block of cheddar and shred. 
To get the 2 cups of gruyere, use as close to an 8 oz block of gruyere as you can (different brands have different sized blocks), and shred.
Mac and Cheese can be made ahead:
Make as directed (but do not bake), transfer to baking dish and cool completely.  Cover tightly with foil and refrigerate 1-2 days ahead.  
Before baking, let dish sit on counter for 30 minutes.
Bake at recipe temperature for 25-35 minutes, until hot and bubbly.  
FIVE CHEESE VARIATION:
Replace cheese amounts with the following:
2 cups cheddar cheese, shredded
1 cup Colby cheese, shredded
1 cup Muenster cheese, shredded
1 1/2 cups Gruyere cheese, shredded
1/2 cup mozzarella cheese, shredded
FOR A CRUNCHIER TOPPING AND FIRMER CONSISTENCY:
Prepare recipe as directed but bake at 350 or 375 F degrees for 20-30 minutes.  Broil at the end of baking for approximately 2-5 minutes, until golden brown and crunchy.
Nutrition Disclaimer
The Chunky Chef is not a dietician or nutritionist, and any nutritional information shared is an estimate. If calorie count and other nutritional values are important to you, we recommend running the ingredients through whichever online nutritional calculator you prefer. Calories can vary quite a bit depending on which brands were used.