Favorite Fall Donut and a Giveaway!
---
My pick for the ultimate Fall donut… the caramel apple croissant donut from Dunkin' Donuts!  Plus a sweet giveaway!
---
Fall is officially here folks… embrace it with the great Fall menu from Dunkin' Donuts!  
This post was sponsored by Dunkin' Donuts, but all opinions are my own.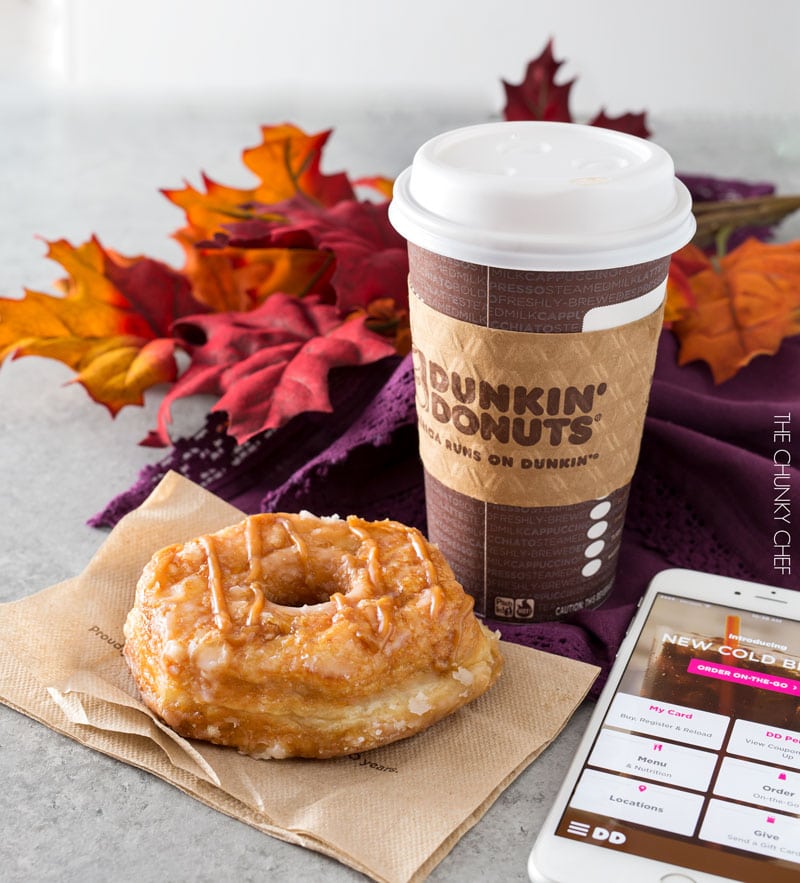 Okay you guys… we can't really deny it any longer.  Fall is HERE!  It's officially my absolute favorite time of year.  The crisp, chilly air, leaves changing colors and falling, bonfires, football, boots, hoodies… I'm getting excited just talking about it!  And don't even get me started on the food.  Comfort food, appetizers and desserts reign supreme in the Fall… whether it's a comforting bowl of soup, big pile of nachos, or a perfectly baked cookie… I'm allllll over it!
It's no secret that I'm a huge fan of Dunkin' Donuts.  I've been a Dunkin' lover for YEARS!  In fact, we always pick up some Dunkin' Donuts k-cups whenever we can, because theirs is the only coffee I'll drink.  They actually have pumpkin flavored k-cups and a 16oz size bag available HERE!  Perfect for those of us who would prefer to brew a cup at home (**cough cough** like me, the ultimate homebody!).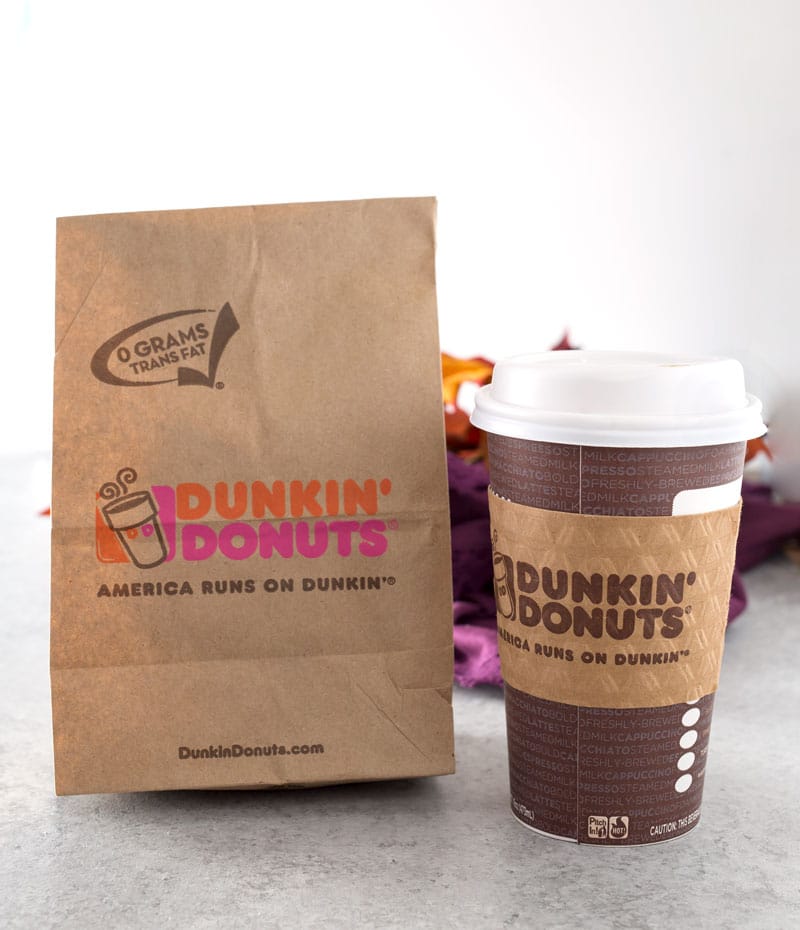 But sometimes, you just have to get out of the house… and Dunkin' Donuts is a great place to start!  I recently tried their newest Fall creation, the caramel apple croissant donut… and OMG.  My mouth was in pure heaven you guys.  I mean it has alllll the amazing flavors you'd expect from a great donut from Dunkin' Donuts… but kicked up to level 12!  The flaky, tender and chewy croissant donut is so light (not greasy at all like some croissant donuts can be), and the top is decadently drizzled with caramel icing.  But did they stop there?  Ohhhhhhh no…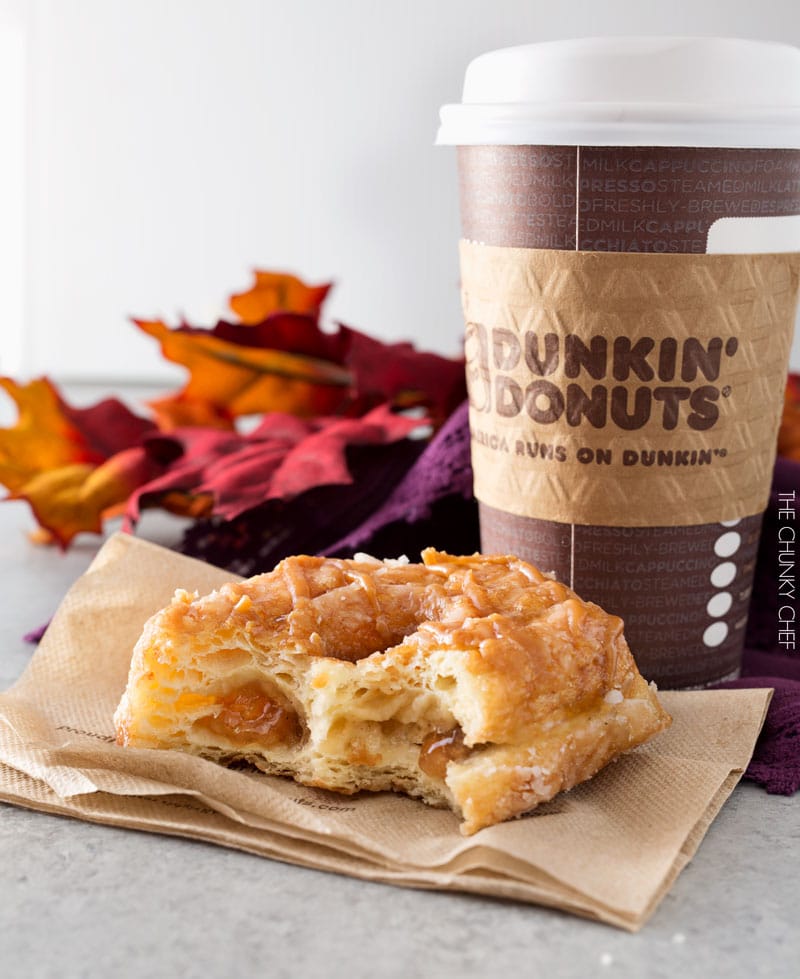 Look at that gooey filling.  Just look at it!  The filling tastes just like your favorite apple pie, but surrounded by a soft donut.  Dear sweet Lord, it's so amazing.  And the caramel apple croissant donut is definitely popular in my area, as the donut in these photos was their last one (they were preparing more, but still, definitely a fan favorite!).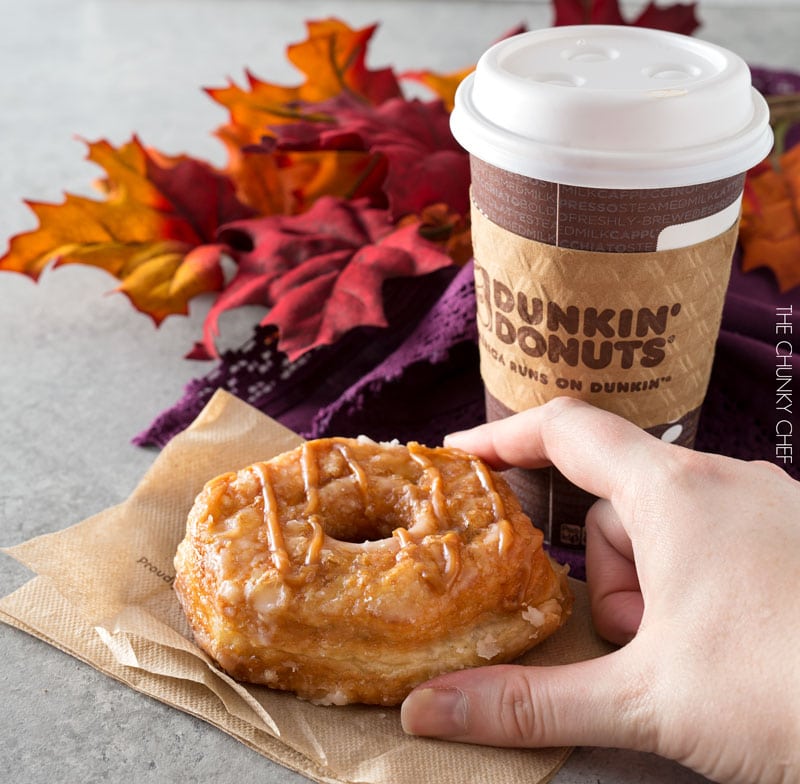 When you head to Dunkin' Donuts to try out this fabulous new donut, be sure to check out their other great Fall menu items like:
Dunkin' Donuts' pumpkin flavored coffee, lattes and macchiatos, served hot or cold.
Dunkin' Donuts' Pumpkin Macchiato is also served hot or iced, and is a handcrafted, layered espresso beverage made with steamed milk and pumpkin flavored swirl, then topped with a double shot of Dunkin' Donuts' rich, freshly-brewed espresso.
Dunkin' Donuts' Pumpkin Donut is a glazed pumpkin cake donut that can also be enjoyed as bite-size MUNCHKINS® donut hole treats.
Dunkin' Donuts' Pumpkin Muffin is a pumpkin spiced autumn delight topped with white icing and sweet streusel crumbs.
My personal favorites are the pumpkin muffins and the pumpkin latte (pictured in my photos on this post)!  Plus, the ENTIRE menu at Dunkin' Donuts, including breakfast items, is available all day.  Craving some breakfast deliciousness at 4pm?  No probem, just head to Dunkin' Donuts!
Here's the best part… Dunkin' Donuts is giving YOU a chance to win a FREE $25 mGift!  All you have to do is enter below, and if chosen to win, respond to my email within 48 hours and Dunkin' Donuts will send you the mGift!  Easy peasy 🙂
Giveaway details:
This giveaway is open until Friday, October 14th, at 11:59PM EST. The giveaway is only open to residents of the U.S. Winner will be chosen randomly and contacted. Winner will respond within 48 hours, or a new winner will be selected.