One of my favorite things about ordering takeout is how many yummy things there are to choose from… my absolute favorite thing to order is chicken in garlic sauce (which I'm on the hunt for a killer recipe for), but my verrrrrry close second favorite is cashew chicken.  I love that savory sauce, tender chicken, and crunchy cashews… it's just about a perfect combination.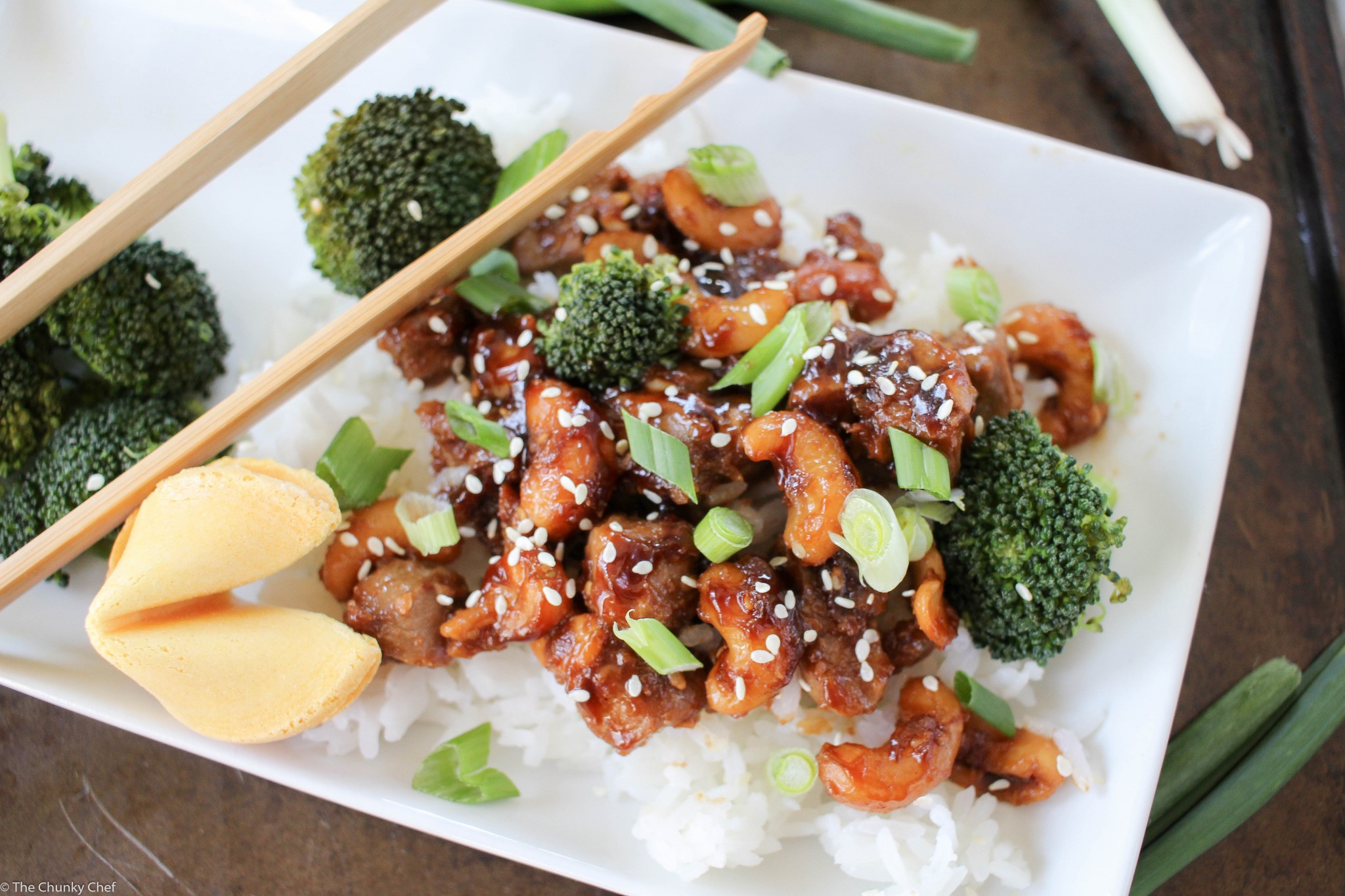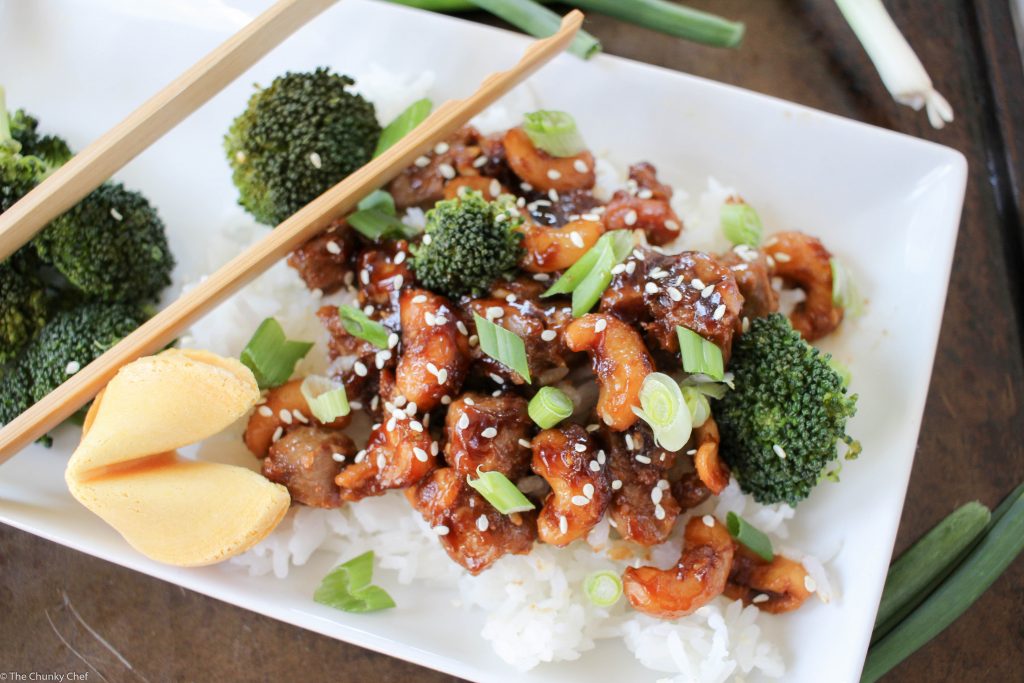 You know what I don't think is perfect?  The cost, and the lack of cashews lol.  Seriously, around here anyway, cashew chicken comes with about 10 cashews in it.  No bueno.  I LOVE cashews and I want a lot more than that 🙂
So what's my solution you ask?  Make it yourself at home, for way less money, and get to add as many cashews as you want 🙂
I love how quickly this recipe comes together… barely any prep and a less than 15 minutes of cook time.  Such an easy weeknight dinner recipe 🙂
My recipe makes this cashew chicken spicy, but if you prefer it not to be spicy (or you're making it for your kiddos), feel completely free to omit the red pepper flakes.  Or if you're like my husband, and you want it extra spicy… go for it and add more 🙂
To start this recipe, take some chicken breasts and cut them into bite sized pieces.  Toss them into a bowl with a little bit of soy sauce and hoisin sauce to marinate for 10 minutes or so.
I used that time to go ahead and mince my garlic, slice the green onions, and cut my broccoli into florets.  If you wanted to save a little time, you could buy the pre-sliced florets, or go for a bag of frozen ones… they're all good 🙂
This is a stir fry, so it cooks fairly quickly, that's why I try to do all my chopping and measuring ahead of time.  It's less stressful during cooking 🙂  I went ahead and whisked together my sauce ingredients (soy sauce, sugar, vinegar and cornstarch) and set it aside.
Next I added the vegetable oil to my big deep skillet over medium high heat, and while it was preheating I drained my chicken.  You want to discard as much of the liquid marinade as you can, so the chicken can really sear in the pan.  Add the red pepper flakes (if you're using them) to the hot oil and stir a few times.  Add your chicken and cook for 2 minutes until golden brown, add your garlic and broccoli and cook chicken another 2-3 minutes until it's cooked through and golden.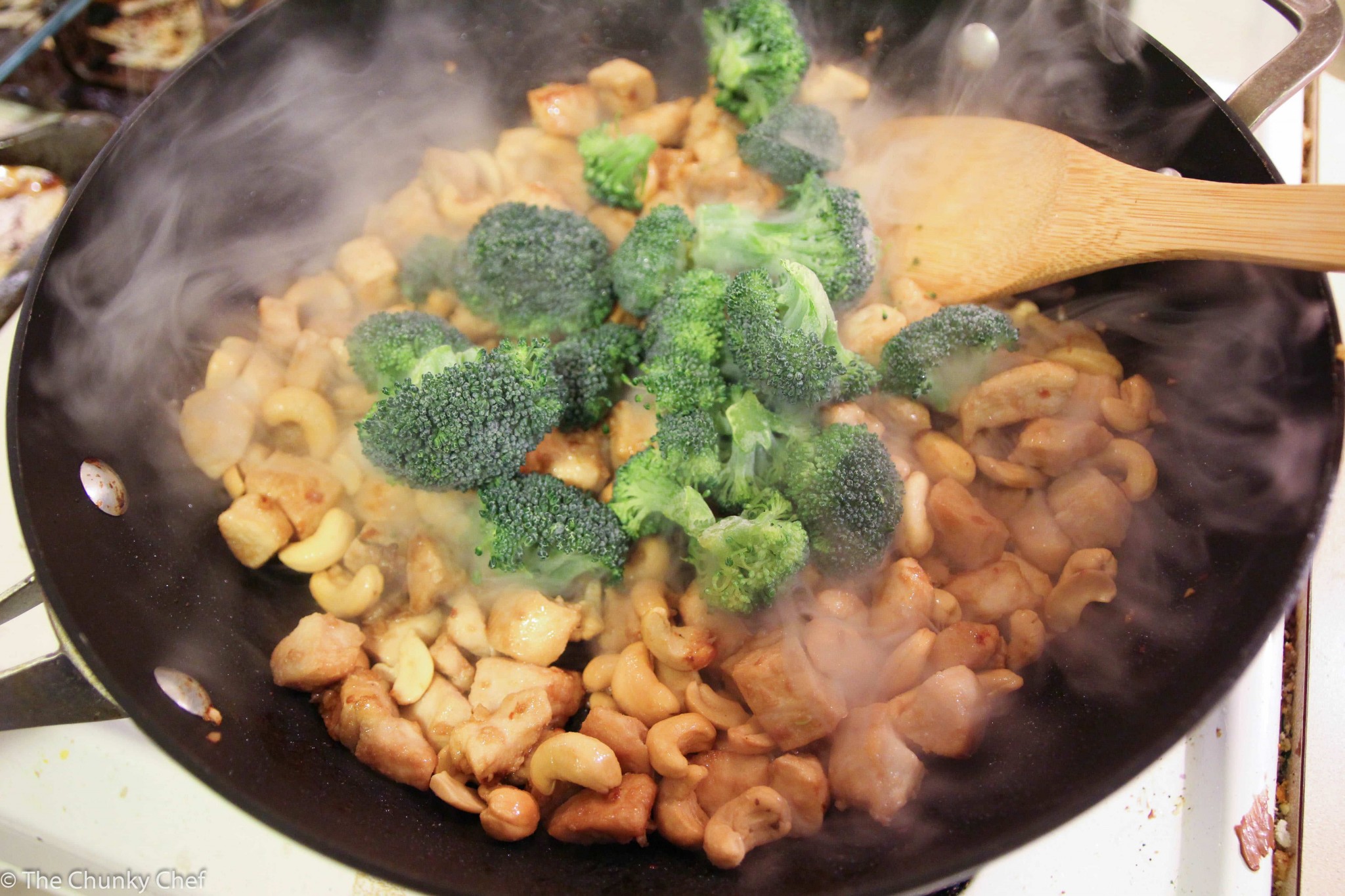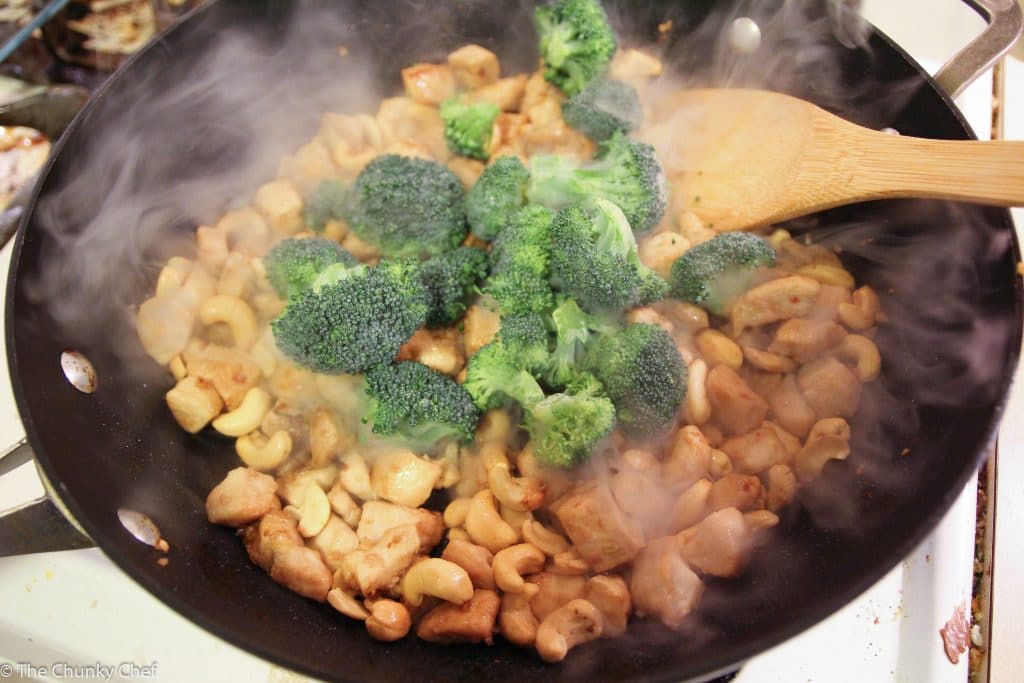 At this point, if there's a lot of oil in the skillet, you need to drain the oil off.  But there may not be, it just depends.  Add your cashews and turn off the heat.  Pour in your sauce and stir to completely coat the chicken in the sauce.  The sauce will thicken, that's a good thing.  You want that sticky, savory sauce 🙂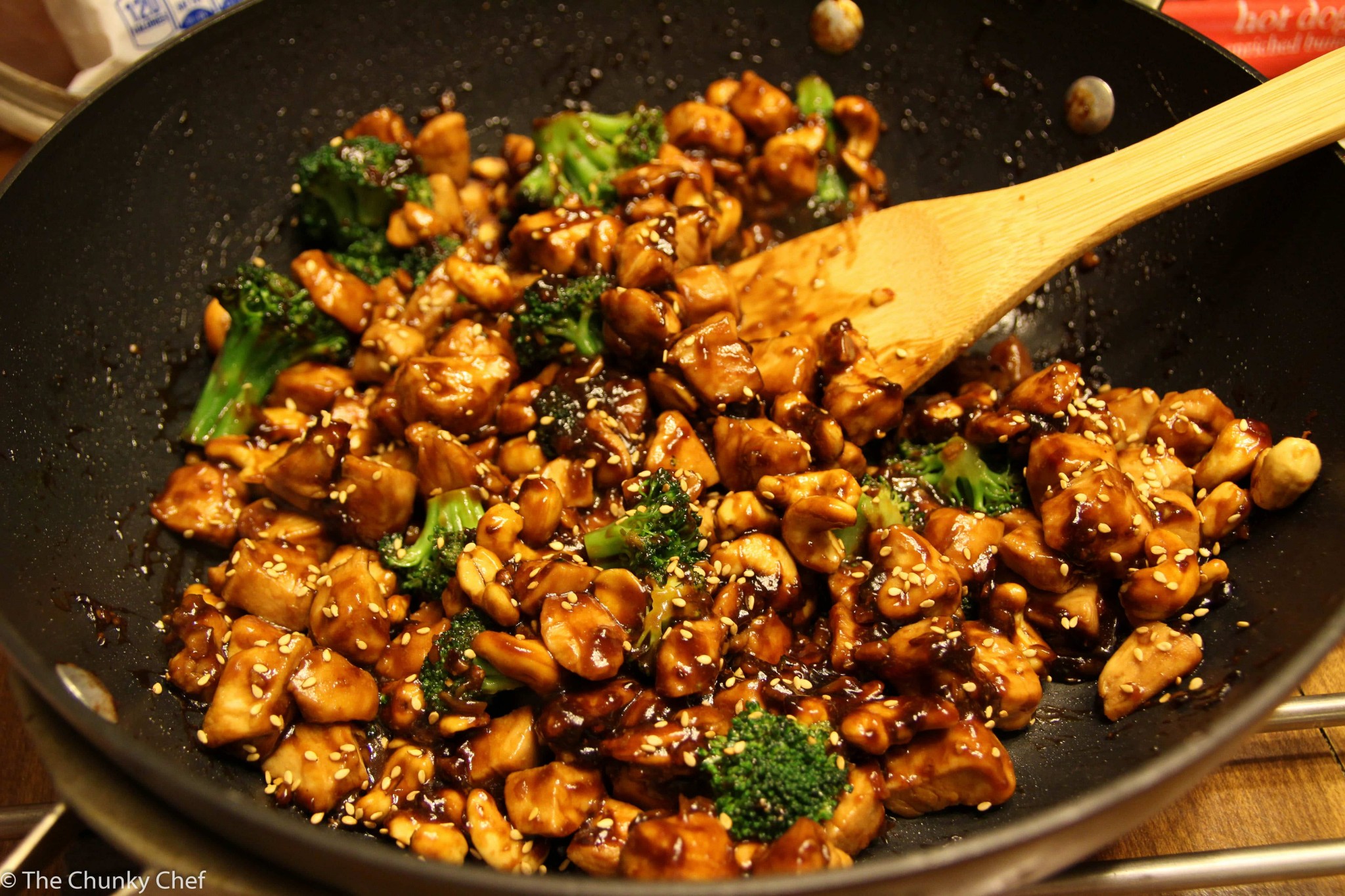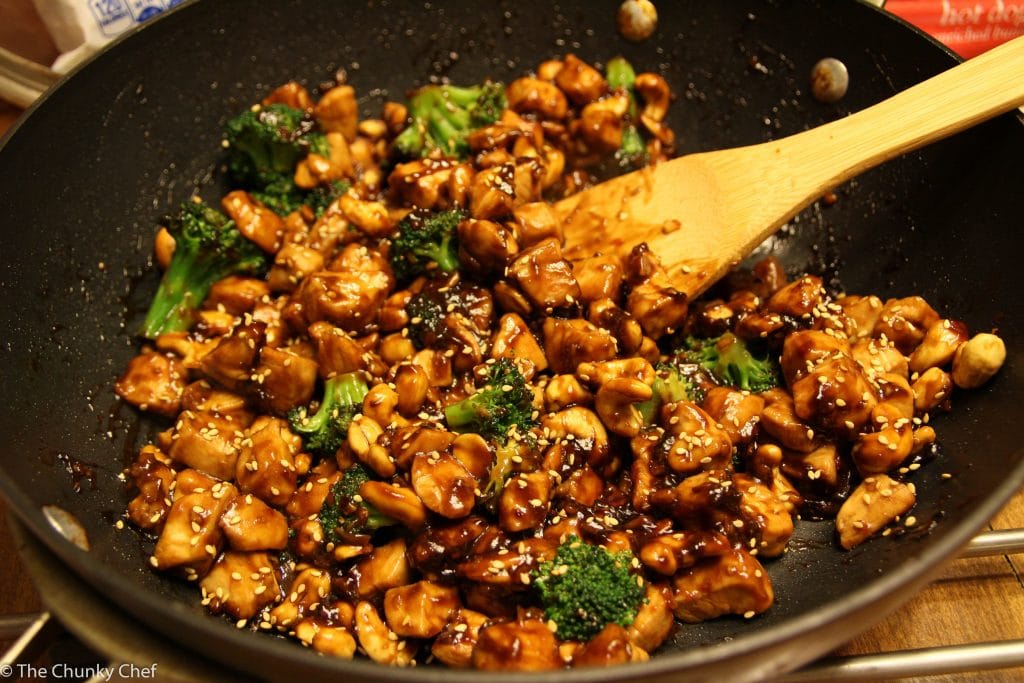 Sprinkle with sesame seeds and sliced green onions and serve over rice.  I used my Sticky Coconut Rice and I think it pairs really nicely 🙂
This is a recipe that I think the whole family will love… I know mine did!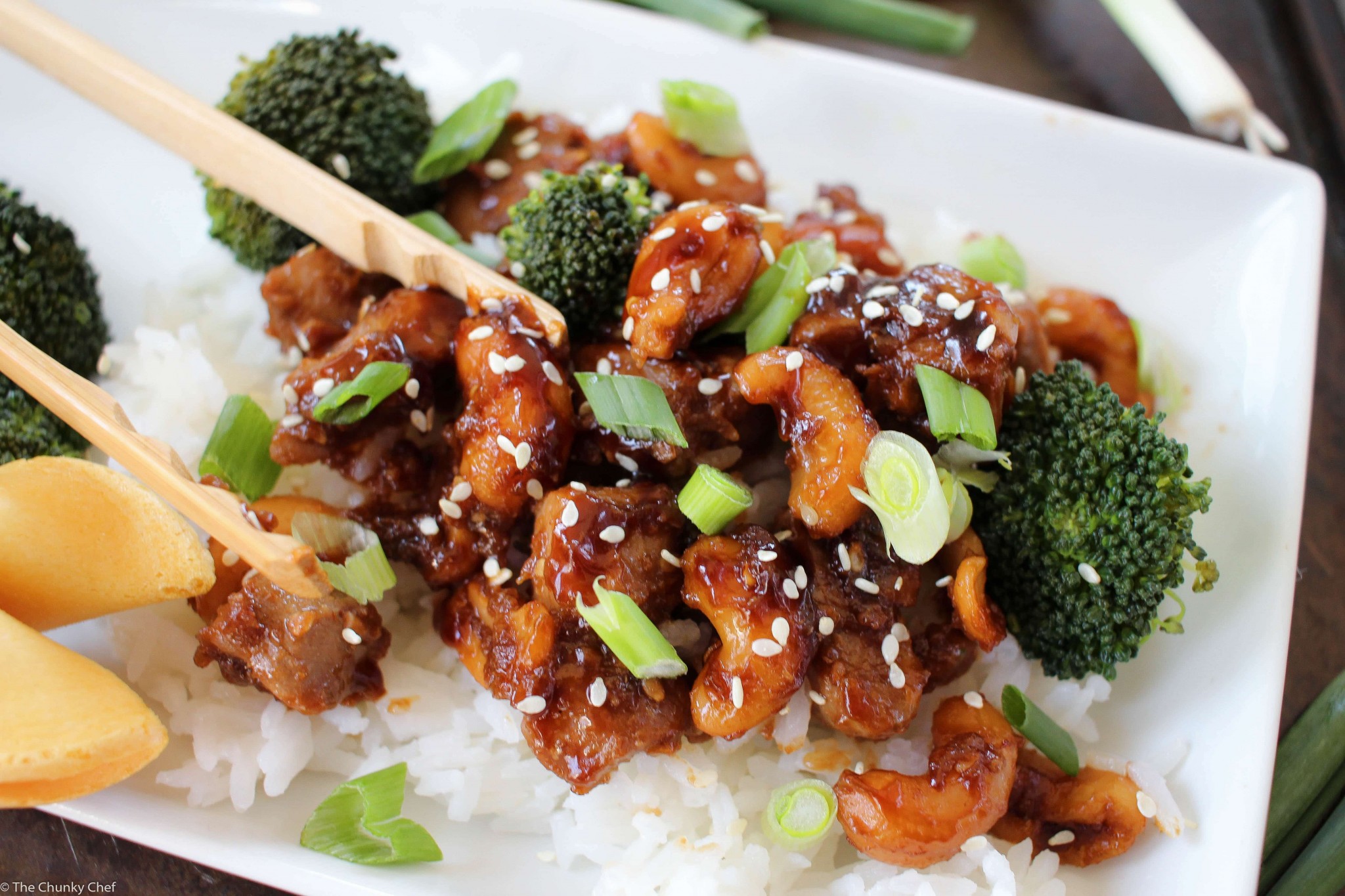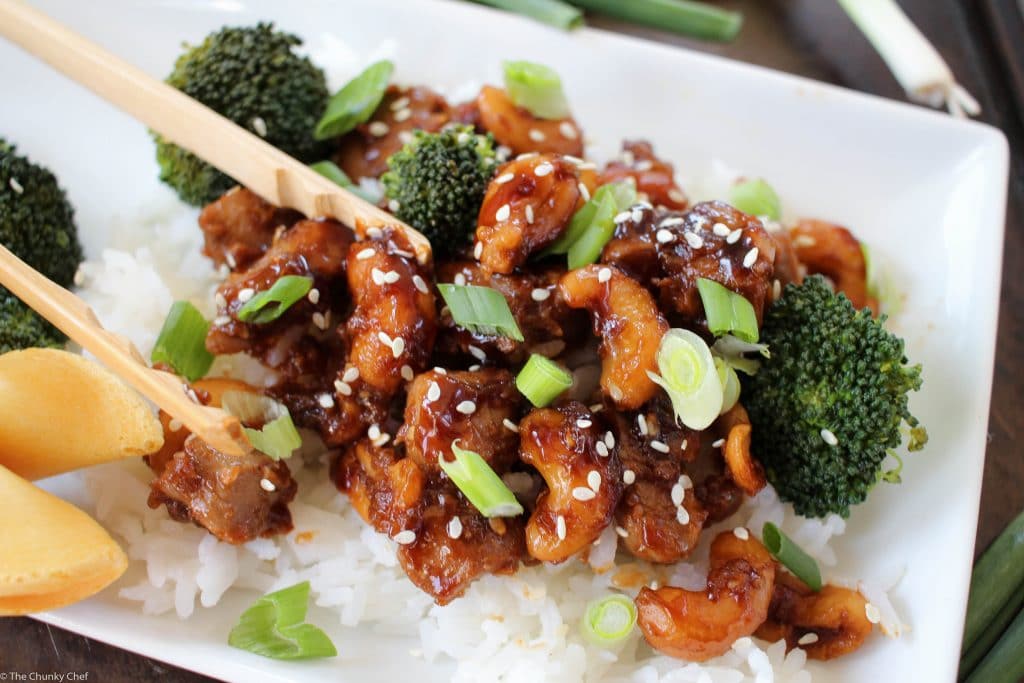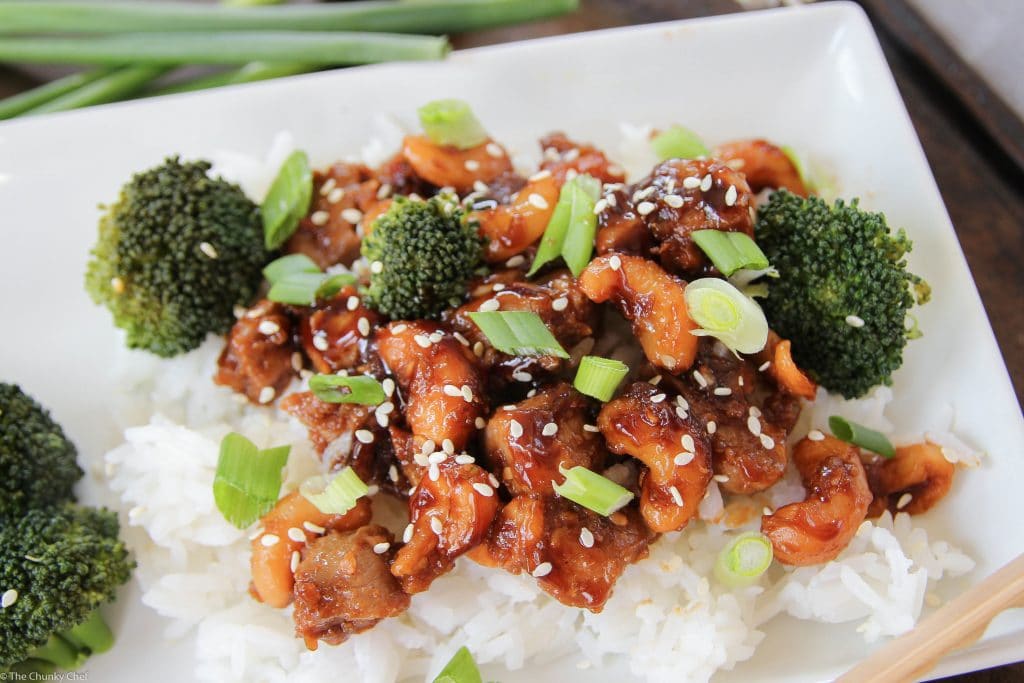 This cashew chicken is delicious and perfect for a main dish, but it would also be super yummy as an appetizer.  Just pick up some butter lettuce (or regular ol' iceburg) and peel the leaves to make lettuce cups.  Fill them with this spicy cashew chicken and enjoy!!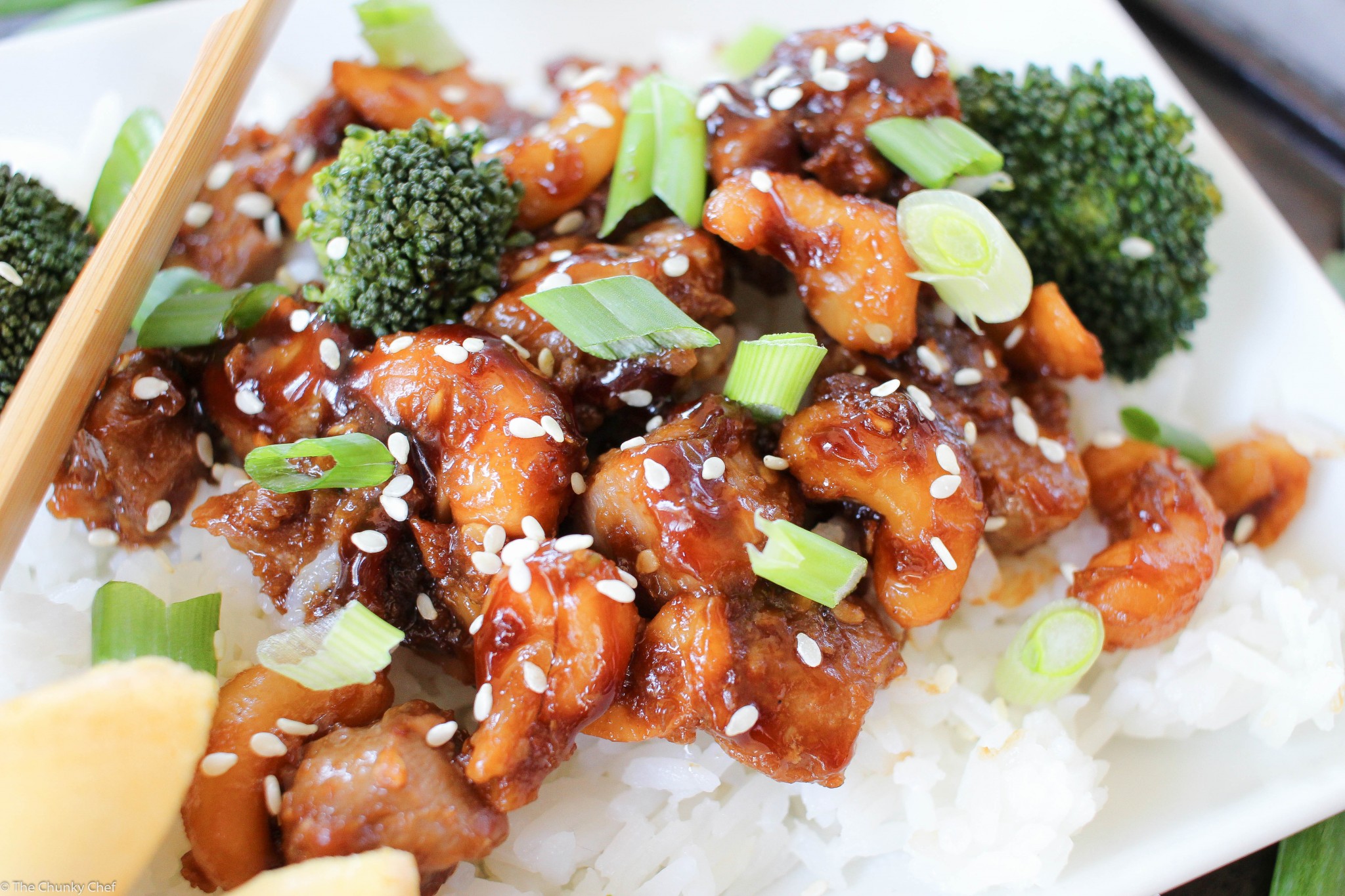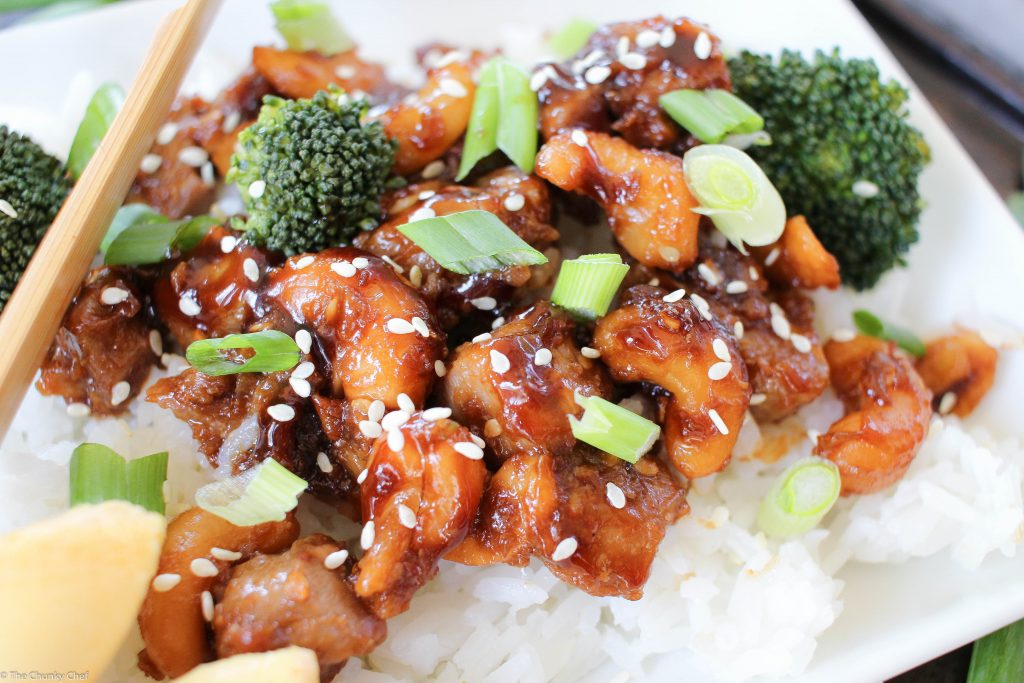 ---
Never miss a recipe!
[mc4wp_form]
You can find me on Facebook, Twitter, Pinterest, Instagram and Google +, so follow me if you'd like… I love keeping in touch with all of you 🙂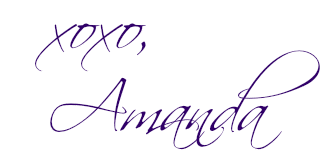 Did you make this? Be sure to leave a review below and tag me @the_chunky_chef on Facebook and Instagram!
Deliciously savory, saucy and spicy, this cashew chicken is about 100 times better than takeout! You should try it tonight, it's super easy to make!
Ingredients
2 - 3 chicken breasts cut into small bite sized pieces
2 tsp hoisin sauce
2/3 cup soy sauce (reduced sodium is preferred)
1/4 cup vegetable oil
1 to 2 tsp red pepper flakes
4 green onions sliced
4 cloves garlic minced
1 cup broccoli florets
3 Tbsp cornstarch
8 tsp sugar
4 tsp white vinegar
3/4 cup whole cashews or more, if you like
sesame seeds for garnish
Instructions
Slice chicken breasts into bite sized pieces. Pour 1 tablespoon soy sauce and 2 tsp of hoisin sauce into a bowl. Place chicken in soy sauce. Let sit.

In a small bowl, whisk together the remaining soy sauce, cornstarch, sugar, and vinegar. Slice the green onions, mince garlic, and measure out red pepper flakes.

Pour chicken into a strainer to drain and remove as much marinade as possible. Heat oil in a large deep skillet (or wok if you have one) over high heat. Add red pepper flakes to oil, stir a few times.

Add chicken and cook for 2 minutes until golden, then stir chicken. Add garlic and broccoli and cook until chicken is cooked through, then drain oil (if necessary).

Add cashews. Turn off heat and pour in sauce. Stir until chicken is covered in sauce. Sauce will thicken considerably. Add green onions and sesame seeds and serve over white rice.
Want to save this recipe for later? Click the heart in the bottom right corner to save to your own recipe box!