Pizzaaaaa… what's not to love?  Pizza is one of those foods that I never get tired of eating.  Like ever.  With different crusts and toppings, I could probably eat pizza every night 🙂  So when I stumbled across this great recipe on Pinterest, I knew we had to try it!  All the flavors of a great pizza, wrapped up in a delicious homemade crust, baked and seasoned to perfection!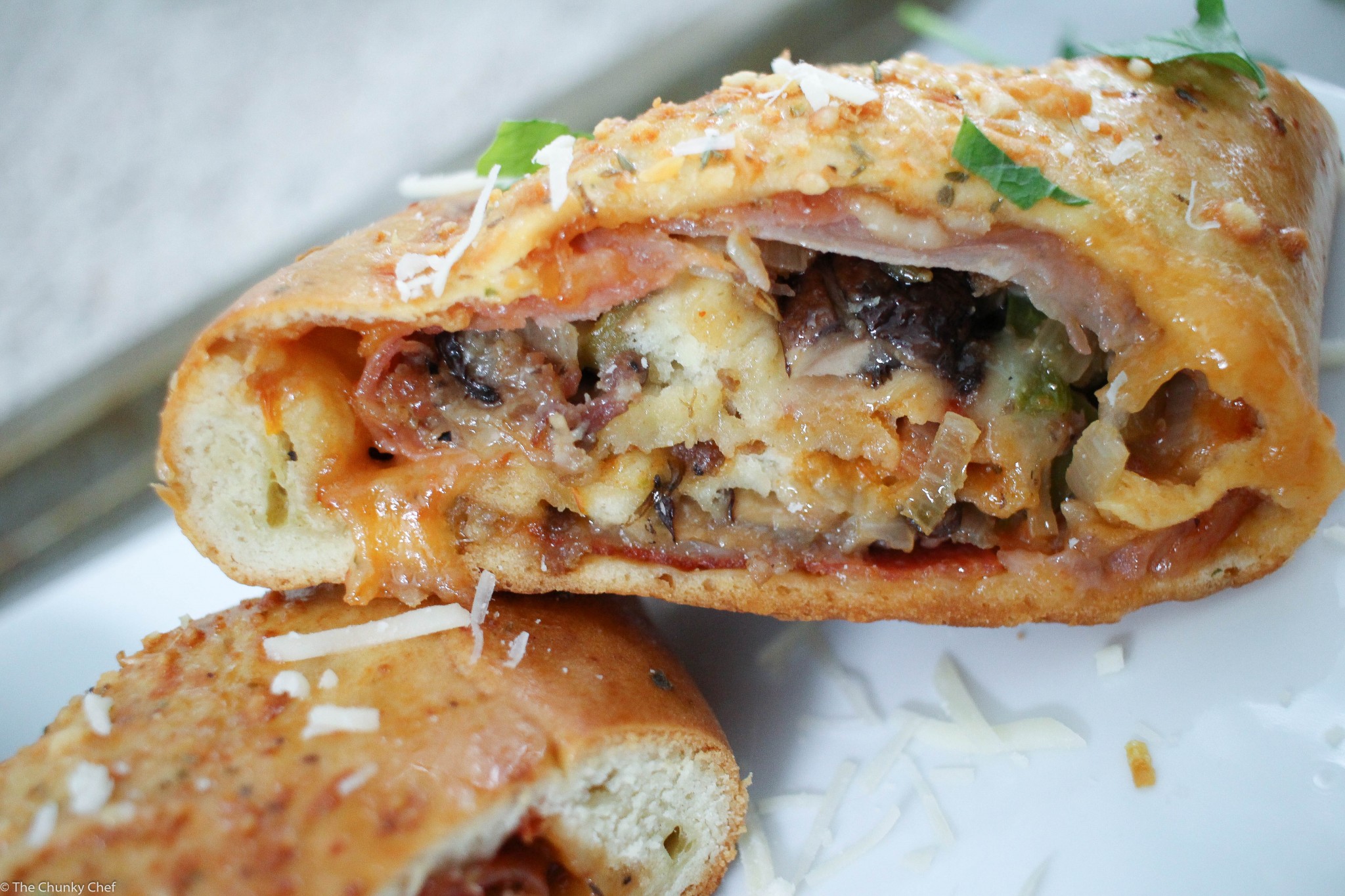 What are your favorite pizza toppings?  My tastes run allllll over the place… traditional pepperoni and mushroom, the "works", meat lovers, bbq chicken, hawaiian, and when I was pregnant… onion, pineapple, bacon and meatball.  I know.  I took quite a lot of s**t for that one lol.  But hey, cravings are cravings right?
So here's a little trivia info for you all… what's the difference between a stromboli and a calzone?  I honestly had NO idea.  I figured they were both just basically a folded over pizza.  So google to the rescue lol.  The difference is in the sauce.  Traditionally the calzone is served with sauce on the side, while stromboli has sauce on the inside.  Woohoo!  Mystery solved 🙂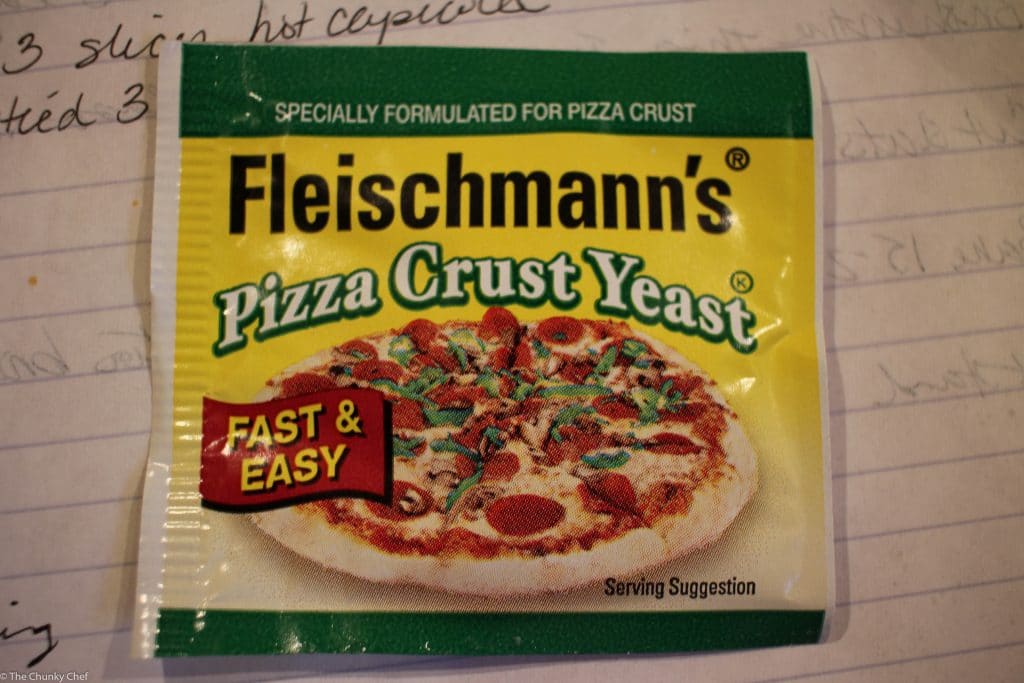 The beauty of that yeast is that you don't have to wait for it to rise!  As soon as you're done kneading the dough, just roll it out and start topping it with your toppings 🙂
I had never heard of this type of yeast before, and wow is it awesome!  I usually shy away from making pizza dough, because most days I just don't have the patience and time to deal with letting it rise.  And refrigerated pizza dough in a can, it's not bad, it just has that taste that isn't exactly pizza-ish.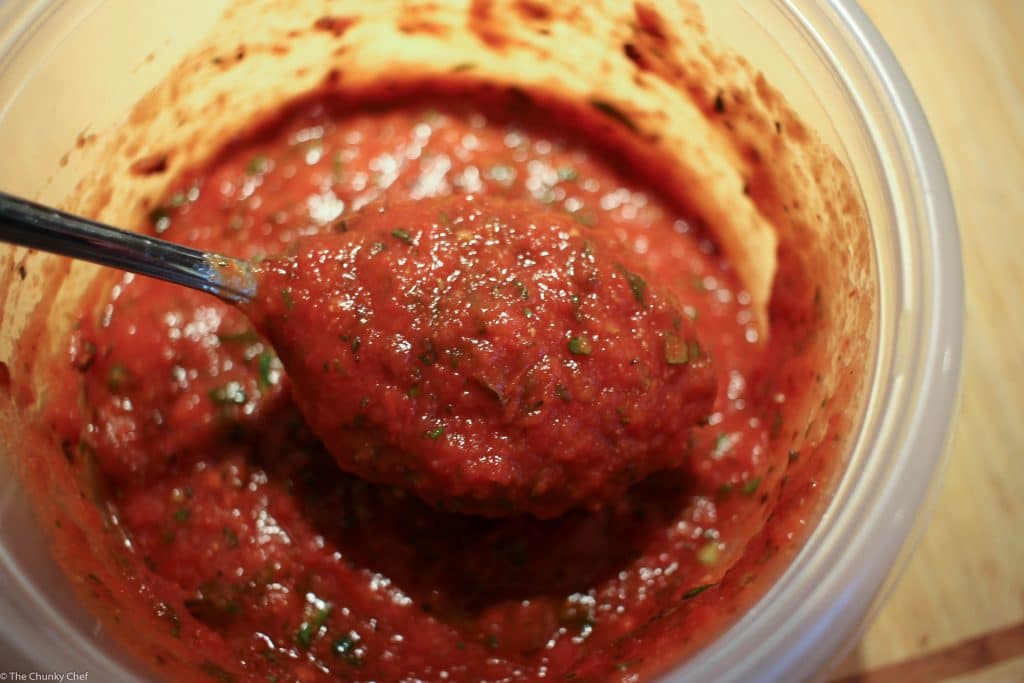 Now you can use whatever pizza sauce you prefer, or even make your own… but I usually go for our favorite, Classico pizza sauce, and just jazz it up a bit by adding additional garlic and herbs.  I use the same sauce base for my Cast Iron Skillet Pan Pizza.
First you're going to want to saute your meat.  I chose a mild Italian sausage, so I browned it in a skillet (crumbling it finely).  Then I removed it from the pan and added in my onions and green peppers to saute in the rendered sausage fat.  Set cooked toppings aside to cool for a little bit.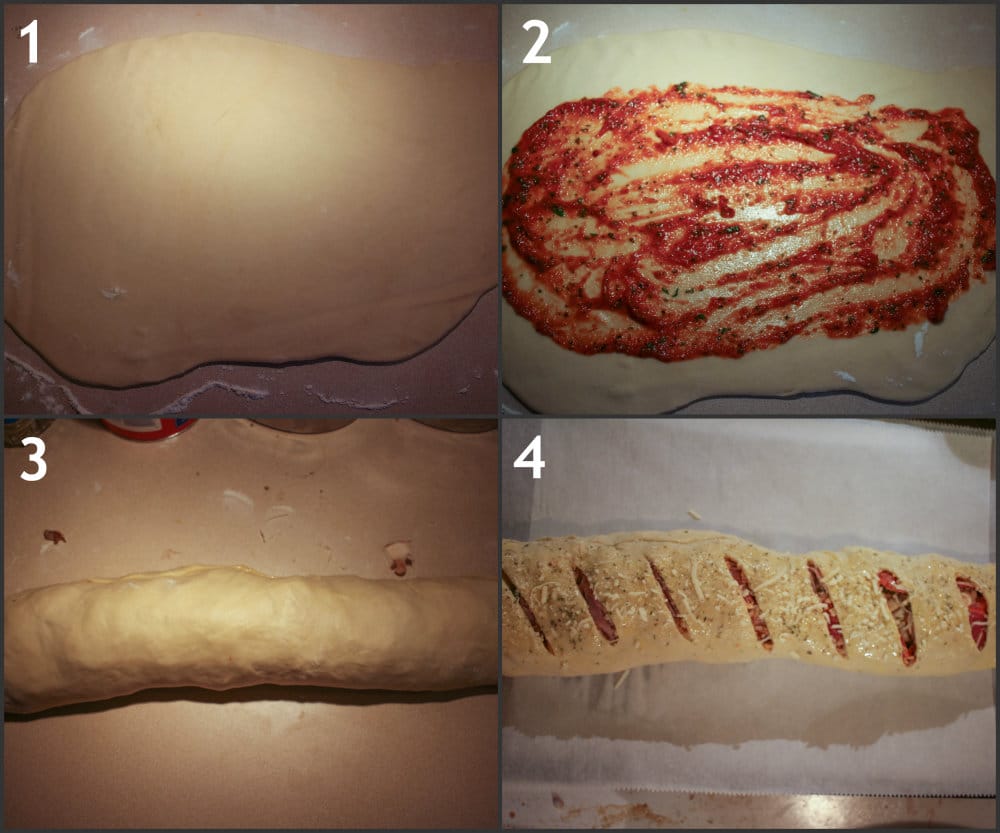 The process above is pretty simple… just roll out your dough into a rough rectangle (or very rough in my case lol).  Now spread your pizza or marinara sauce over the dough, leaving a 1.5-2 inch border all around.  The rest of the toppings are up to you!  I basically added all the pizza toppings we love… mozzarella cheese, Parmesan cheese, Italian sausage, pepperoni, honey ham, hot capicola ham, green bell pepper, onions, mushrooms and green olives.  Whew, what a mouthful!
No matter what toppings you choose, I would recommend using half your cheese, then rest of your toppings, then the remaining half of your cheese.  That way you have cheese alllllll around your toppings 🙂
The toppings were also a fun way to get my daughter in the kitchen helping me 🙂  She layered on the uncooked toppings and had a ball doing it.
Okay, so once all your toppings are on top of the dough, start at the bottom (closest to you), and roll it up towards the top.  Make sure to pinch the dough on the sides together to seal them, you don't want all your yummy toppings leaking out during the baking process 🙂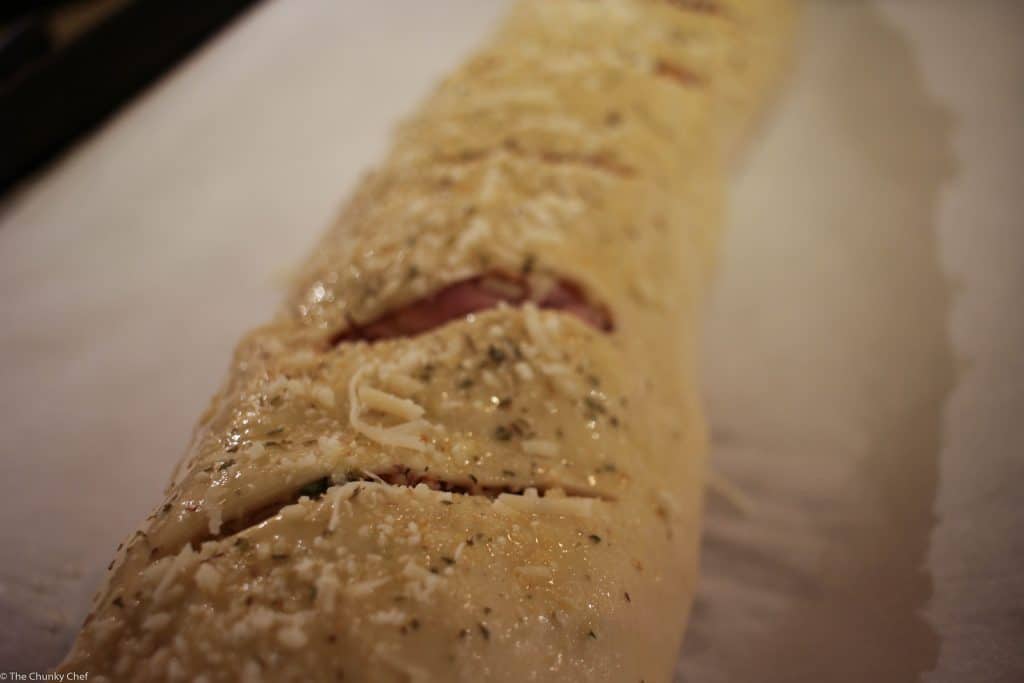 Whip up a quick egg wash with some seasonings and brush it over the whole stromboli.  Cut slats every 1 to 2 inches and sprinkle with cheese.  Pop it in the oven for about 15-30 minutes (depending on how many toppings you put in) and enjoy the delicious smells!
If your cheese on top is browning too much, too soon, you can cover with aluminum foil.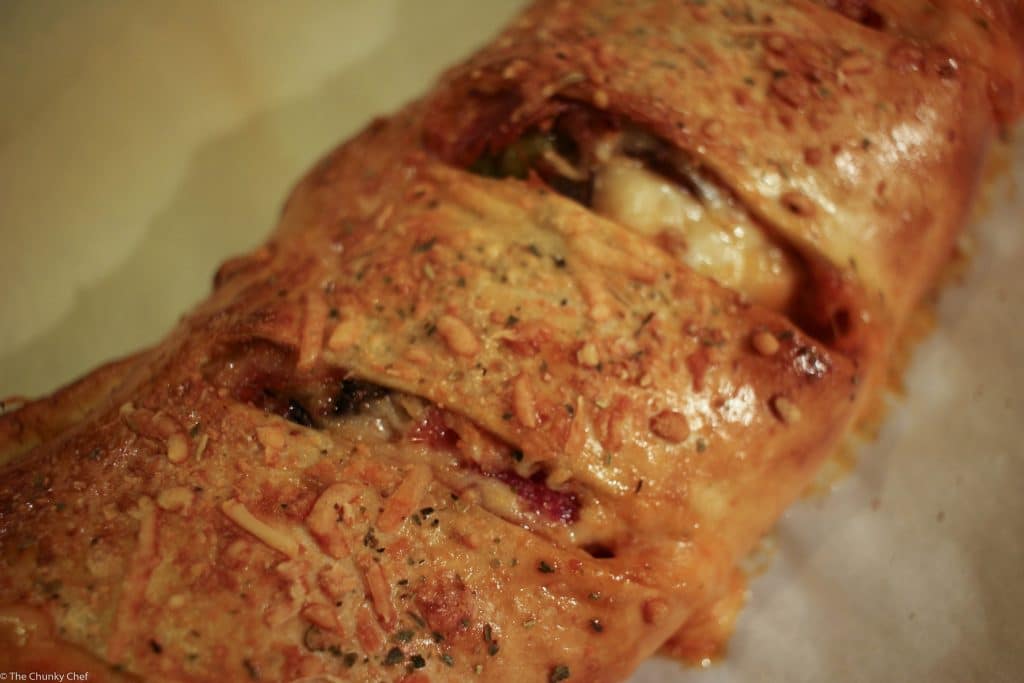 You guys, I can't even describe to you how heavenly this smells!  The 5 minutes to wait while it stands after baking is torture… but it's all worth it in the end.  Now just slice through the slats to get perfectly portioned out slices of Italian heaven.
Because I'm a rule-breaker, I decided I wanted sauce to dip my stromboli in as well, so I served the leftover pizza sauce on the side at the table.  Shhhh, don't tell… it was excellent!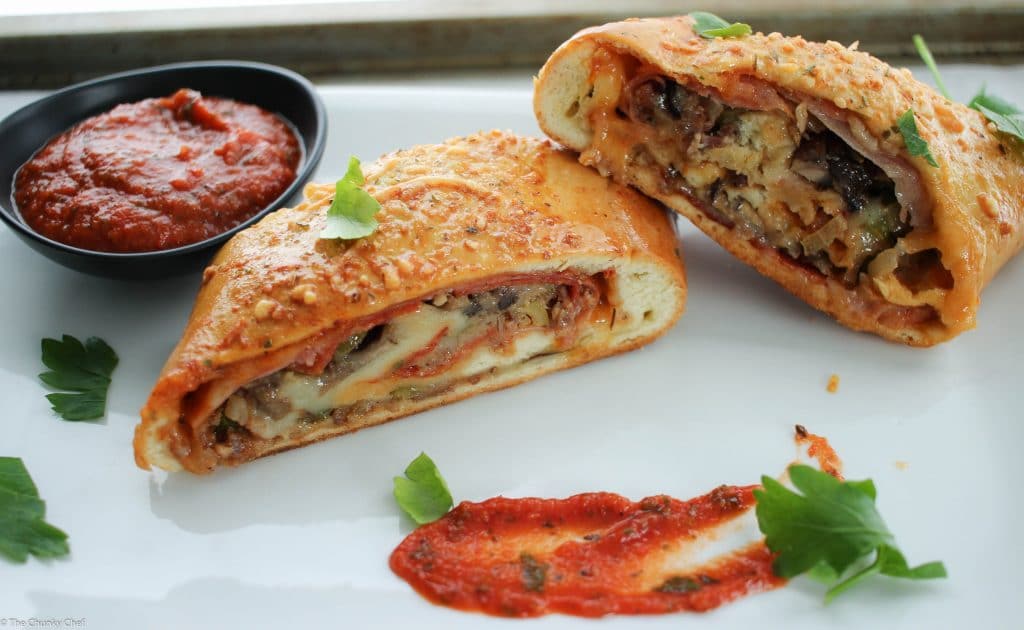 All those layers.  All those toppings.  All that flavor!!!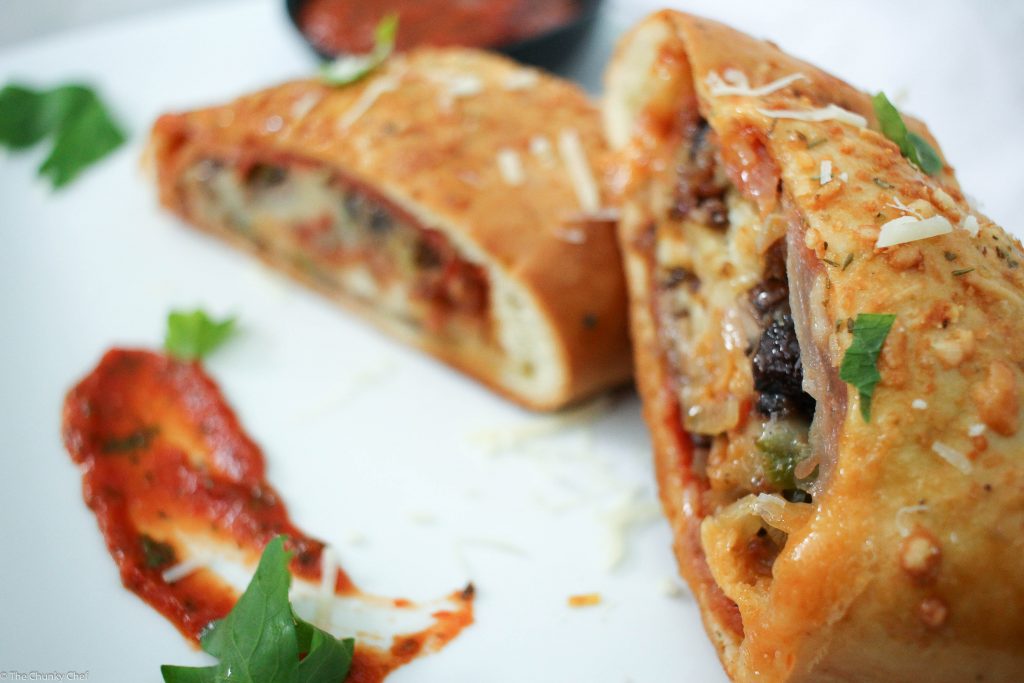 From start to finish, this meal took me around 45 minutes.  If I'd used less toppings, it would have baked faster, making that time decrease even more.  But I just couldn't choose… I had to have them all!
I served this with a simple salad, but it would be equally amazing with this Parmesan Crusted Roasted Garlic Asparagus, or Roasted Garlic Broccoli!

Recipe adapted from Carlsbad Cravings… a drool-worthy blog!
Don't miss a new recipe, enter your email below to stay updated!
[mc4wp_form]
You can find me on Facebook, Twitter, Pinterest, and Google +, so follow me if you'd like… I love keeping in touch with all of you 🙂
Linked to Made By You Monday | Melt in Your Mouth Mondays | Munching Mondays | Tickle My Tastebuds Tuesdays | Try a New Recipe Tuesday | Take A Look Tuesday | Totally Talented Tuesdays | Lou Lou Girls Fabulous Party | Simple Suppers | What's Cooking Wednesdays | Whimsy Wednesdays | The Wednesday Roundup | Wordless Wednesday | Showcase Your Talent Thursdays | Full Plate Thursdays | Favorite Things Blog Hop | Foodie Fridays | Fiesta Fridays | Pure Blog Love | Pin Junkie Pin Party | Foodie Friends Friday | Foodie Friday and Everything Else | Fresh Ideas for Your Home | Friday Favorites | Show Stopper | Best of the Weekend | Show and Tell Saturday | Link Party Palooza
Did you make this? Be sure to leave a review below and tag me @the_chunky_chef on Facebook and Instagram!
All the flavors of a works pizza, wrapped up in a delicious homemade crust, baked and seasoned to perfection!
Ingredients
Stromboli Dough:
1 3/4 - 2 1/4 cups of flour
1 envelope Fleischmann's® Pizza Yeast
1 1/2 teaspoons sugar
3/4 teaspoon salt
2/3 cup of very warm water
3 tablespoons olive oil
Toppings : or whichever you choose
1/2 cup pizza sauce I use Classico pizza sauce - marinara could also be used
2 cloves garlic finely minced
1/2 teaspoon dry basil
1/2 teaspoon fresh parsley minced
1/4 teaspoon dry oregano
pinch of red pepper flakes to taste optional
3/4 cups grated mozzarella cheese
3/4 cups grated Parmesan cheese
1/4 pound Mild Italian sausage cooked (hot can also be used)
12-15 slices pepperoni
3 slices sliced honey ham
3 slices hot capicola ham
1/2 small green bell pepper thinly sliced, sauteed 3 minutes
1/2 small onion thinly sliced, sauteed 3 minutes
1 cup very thinly sliced mushrooms uncooked
1/4 cup sliced green olives
Garnish:
1 egg beaten
freshly grated Parmesan cheese
garlic salt to taste
extra pizza sauce for dipping optional
Instructions
Stromboli Dough:

Combine 1 cup flour, contents of yeast packet, sugar, and salt in the bowl of a stand mixer (or large mixing bowl). Add water and oil and mix together until well blended. Add the flour, a little at a time, until dough forms into ball. Dough should be slightly sticky. Knead with your mixer (fitted with a dough hook), or by hand, for about 4 minutes, until dough is smooth and elastic.

Preheat oven to 425 degrees. Get out a large baking sheet and set aside. Roll stromboli dough out into a rough rectangle, about 10 by 14 inches on a piece of parchment paper (I did this on my counter for a greater working surface area).


Stromboli:

Stir parsley, basil, minced garlic, oregano and red pepper flakes to taste into 1/2 cup pizza sauce and spread sauce over the dough, leaving a 1.5 - 2 inch border along the edges. To the sauce, add half the cheeses, then your meats, vegetables and lastly, the remaining cheese.

Brush the plain border of dough with the egg wash.

Starting at the bottom edge (closest to you) roll up the Stromboli towards the top, pinching the sides to seal the dough. Brush the entire Stromboli with egg wash and carefully cut diagonal slats in the top of the dough every 1-2 inches. Sprinkle with grated Parmesan and lightly sprinkle with garlic salt. Bake for 15-30 minutes, or until golden, covering with foil if your cheese is getting too brown toward the end of baking.

Let cool 5 minutes before cutting through the slats to slice. Serve with extra marinara sauce if desired.
Want to save this recipe for later? Click the heart in the bottom right corner to save to your own recipe box!
Chef Tips
** Choose whichever toppings you prefer, the sky is the limit! Just be aware that the more toppings you add, the longer the Stromboli will take to bake. Also, don't add more than the 1/2 cup of sauce to the Stromboli, otherwise it could get soggy.