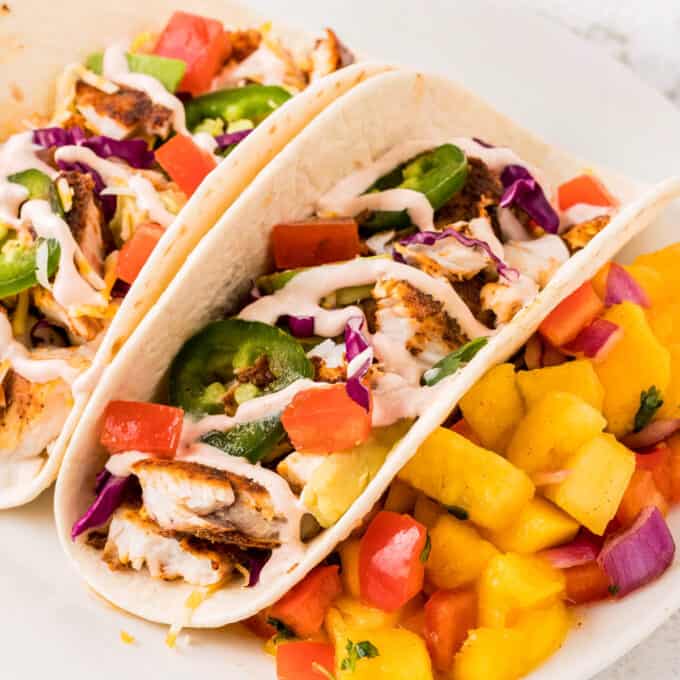 If there's one food I'm almost always in the mood for, it's tacos… okay, and pizza… but today we're just talking about tacos!
I'm a sucker for all things taco, and you can make them out of so many different types of foods! Carnitas, beef barbacoa, sweet potatoes, etc.
But now that we're coming up on Spring, I tend to get in the mood for fish tacos. Something about seafood just seems light and refreshing!
Plus it's a nice way to get extra nutrients and vitamins, in a fun, family-friendly dinner idea. And did I mention this meal only takes 30 minutes?
How to make pan-seared white fish tacos?
This is just an overview; the full ingredients and directions are in the recipe card toward the bottom of this post.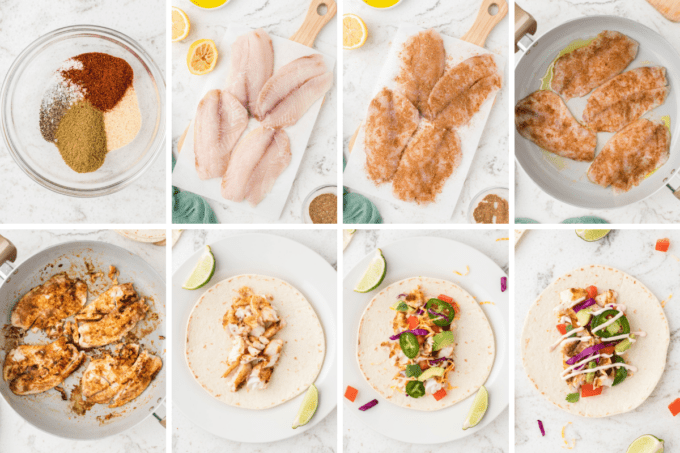 Combine spices. This may seem like an unnecessary step, but combining the spices first helps ensure an even distribution.
Add citrus, then spices. Adding some lime juice not only adds flavor, but helps the spices really stick on the fish.
Sear the fish. Tilapia doesn't take long to cook, just a few minutes per side.
Assemble tacos. Top with anything you normally love on tacos.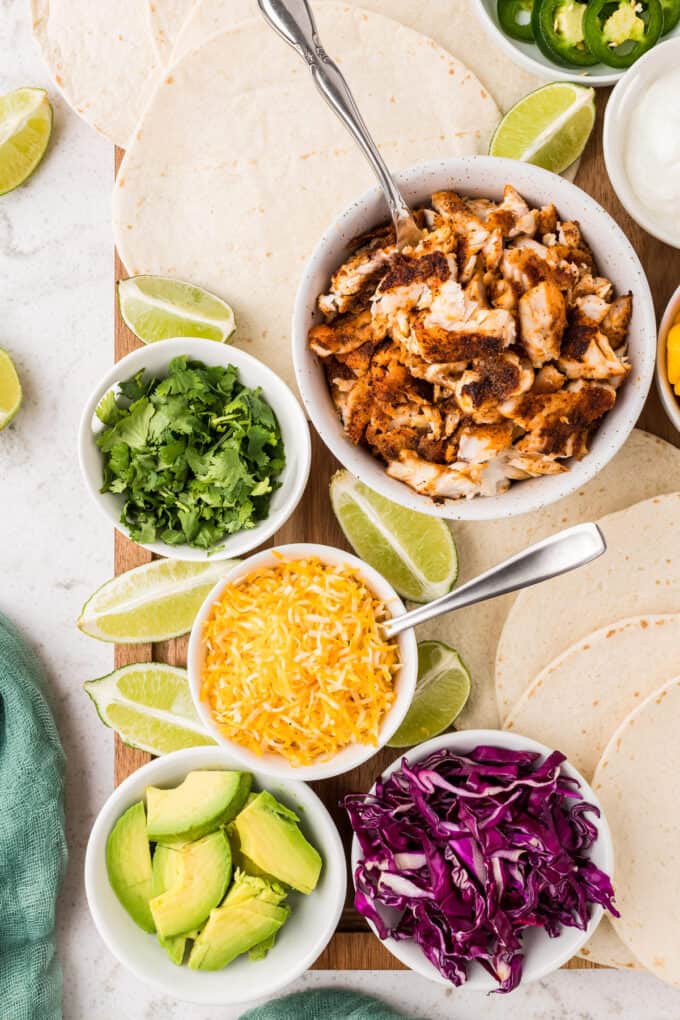 Variations of this recipe
Fish – please feel free to swap the tilapia for your favorite white fish, such as tilapia, cod, haddock, snapper, or halibut, or mahi mahi.
Other protein – alternately, this recipe would also be delicious with shrimp or even chicken!
Crema – if you're not a fan of taco sauce, you could use a pureed red salsa (or salsa verde if you prefer), or try out this avocado crema for a refreshing twist.
Tortillas – my family prefers the texture of flour tortillas, but if you prefer corn, please feel free to use what you'd like.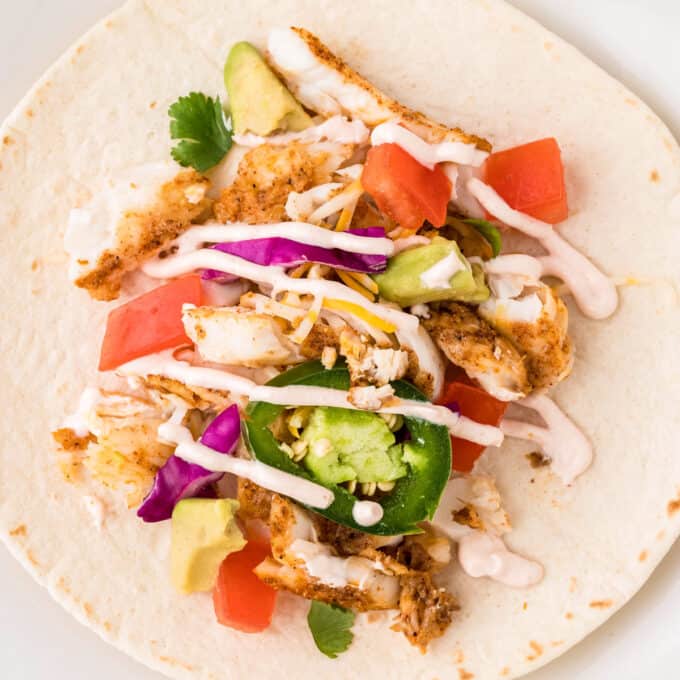 Making fish tacos ahead of time
I think the flavor of white fish is best when made right before eating, but parts of this recipe can be prepped/made ahead!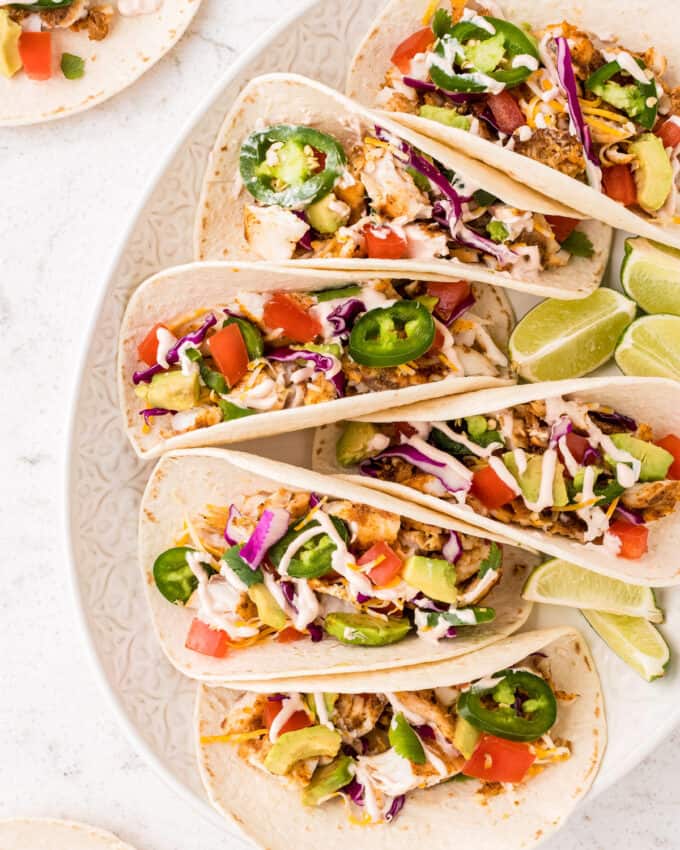 How to prep ahead for this recipe:
Seasoning – the seasonings for the fish can be combined and stored at room temperature.
Taco crema – the crema can be made, and kept refrigerated.
Toppings – any toppings can be chopped and kept refrigerated in different containers.
Storage
Leftover cooked fish should be refrigerated in an airtight container and enjoyed within 3 days.
Leftover taco crema should be refrigerated in an airtight container and enjoyed within 4-5 days.
Any leftover toppings should be refrigerated in separate containers.