---
This copycat of Abuelo's tomatillo salsa is so close, you'll think you're actually at the restaurant!  Bright and fresh, this salsa is a "must try"!
---
Abuelo's is one of my favorite Mexican restaurants, not only for the meals and margaritas, but for their salsas!!  When I was pregnant with my son, I craved their "green salsa" quite literally, every single day.  I'm pretty sure I drove my husband insane lol.  Over time I learned that it was a tomatillo lime salsa, and started trying to make it at home!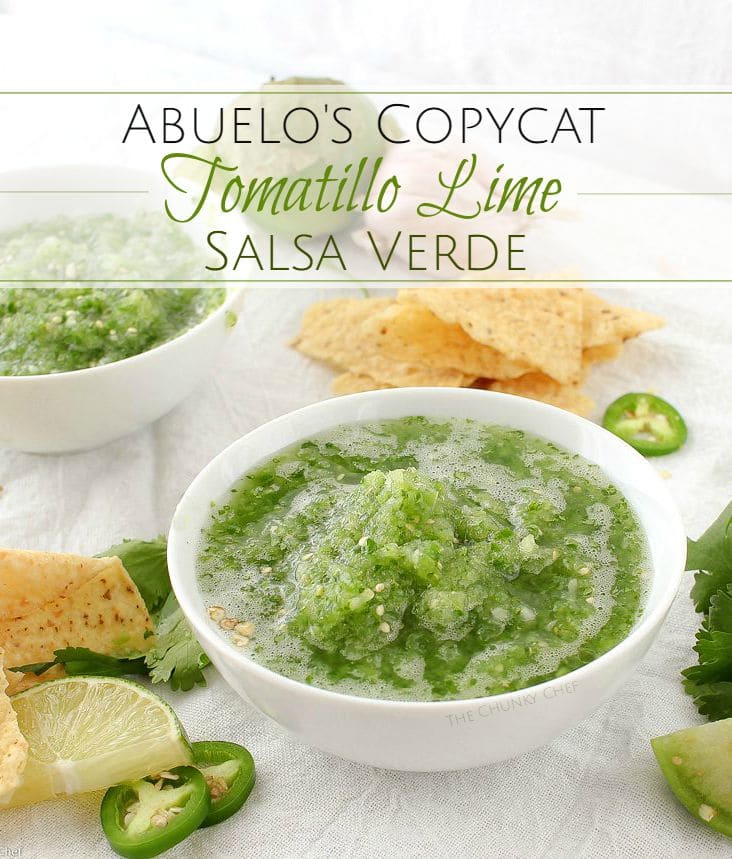 Most of the tomatillo salsas I've had before used roasted tomatillos, which while they are delicious, results in a duller color.  The bright fresh green color of this salsa comes from the fact that you don't cook these tomatillos at all!
If you haven't seen a tomatillo before, here's what they look like: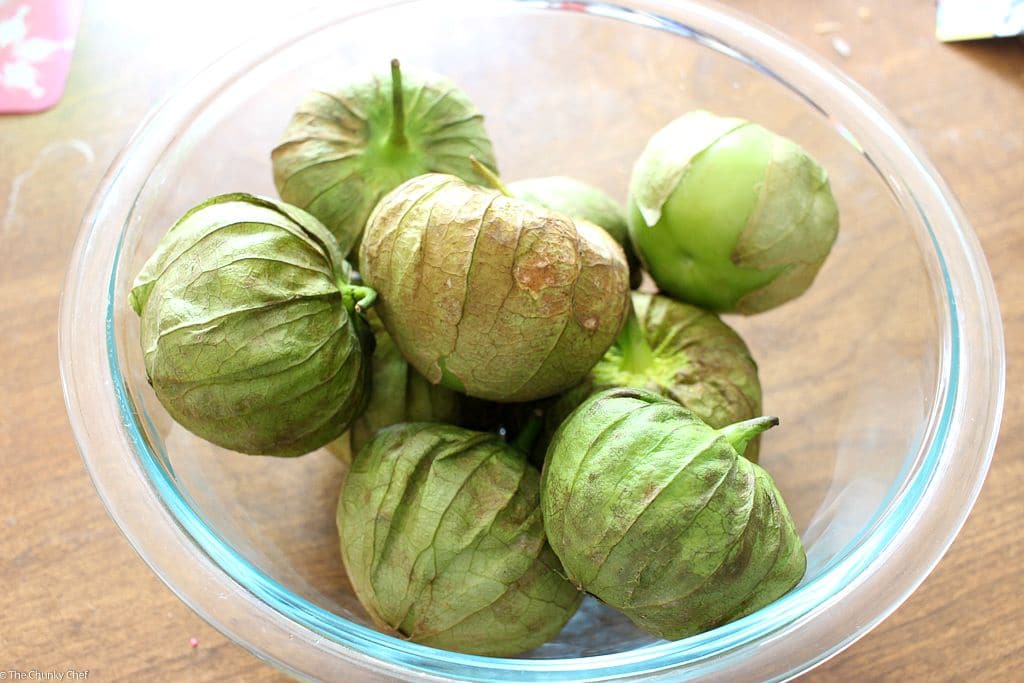 They look like little green tomatoes with papery husks on the them.  I find mine next to the regular tomatoes in my grocery store.  There are two things to remember about tomatillos… first, after you remove the husk, you need to wash them thoroughly.  There's a sticky residue on the outside of the flesh… it's stubborn!  Secondly, when picking your tomatillos, try to go for the smaller, lighter in color ones.  They tend to be sweeter and have better flavor!
I didn't really take any step by step photos for this recipe because guess what?  It's about the simplest thing ever!  You wash the tomatillos, roughly chop them, toss them in the food processor with the rest of the ingredients, and pulse until it's a salsa consistency.  Viola!  The salsa is finished!
I like my salsas easy to make, with no real prep or cooking time… like my 5 Minute Restaurant Salsa!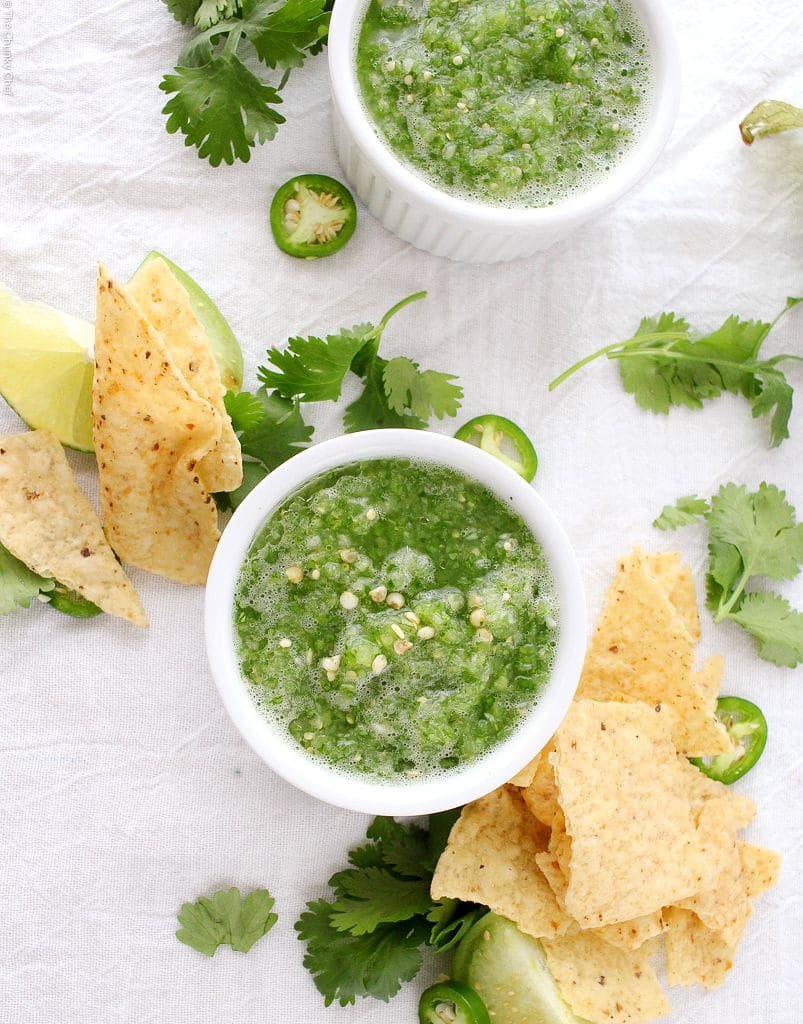 I'm sure this tomatillo salsa would be awesome over some grilled chicken or drizzled over a taco or fajita… honestly, I haven't gotten that far yet.  Every time I make this… it… ahem…. magically gets eaten… in like a day…. wonder how that happens? 😉
See, there I am, digging in mid-photoshoot!  It's that good you guys… all the flavors really work together here.  The tart freshness of the lime, brightness of the fresh tomatillos, spiciness from the jalapeno, classic salsa flavor from the cilantro and a kiss of sweetness from the honey.  Ahhhhhh-mazing!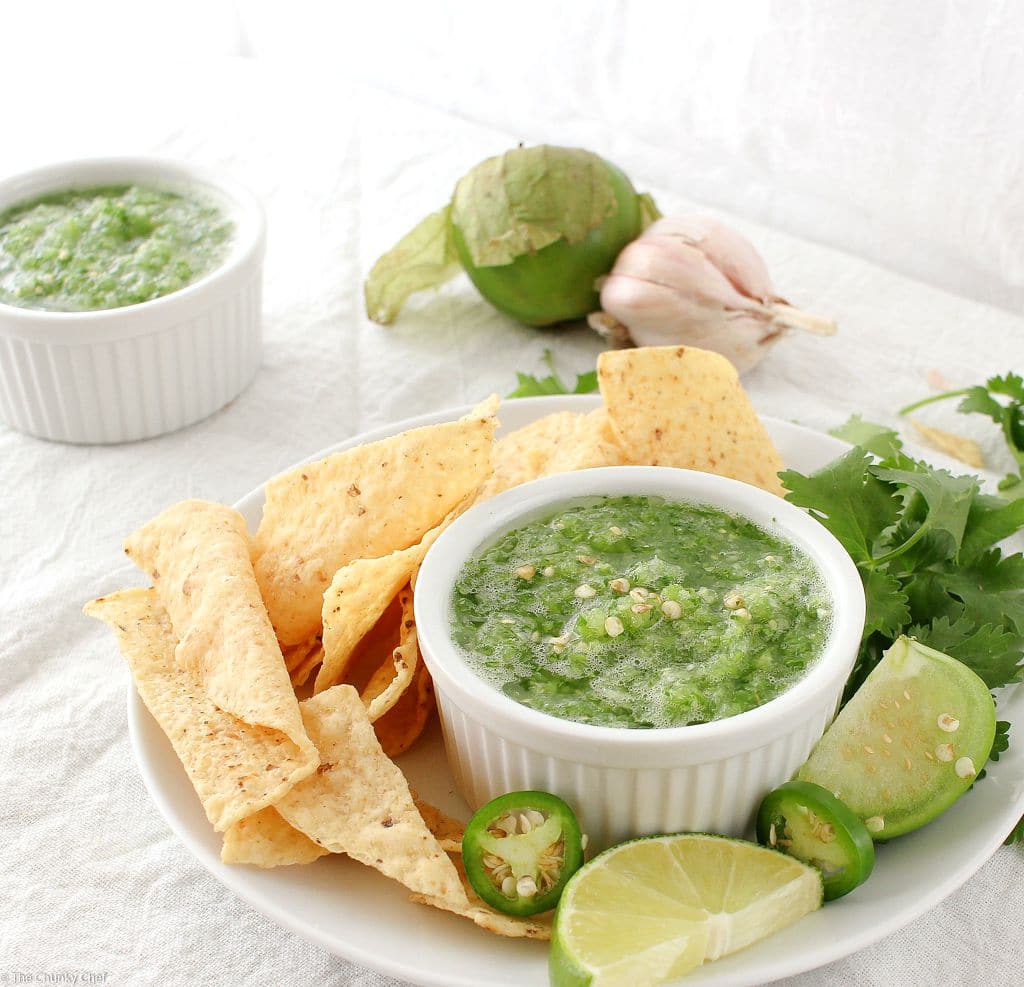 I made a little mistake during this photoshoot… I made the salsa then immediately set up for the shoot.  So you can see how fresh the salsa is by the little air bubbles in the dish from all the ingredients being whirred together in the food processor.  Oooops!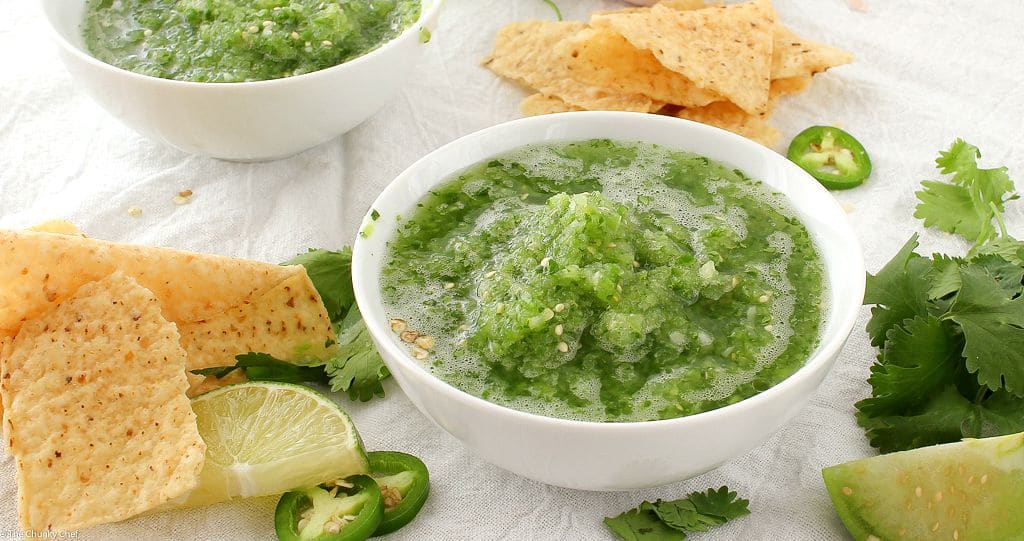 Dig in!!  The recipe make a lot… I want to say about 2 cups or more… probably more like 3.  But you won't want to share!  You may find yourself sliding the bowl to the back of the refrigerator so no one else sees that it's in there and you can snack on it as much as you'd like 😉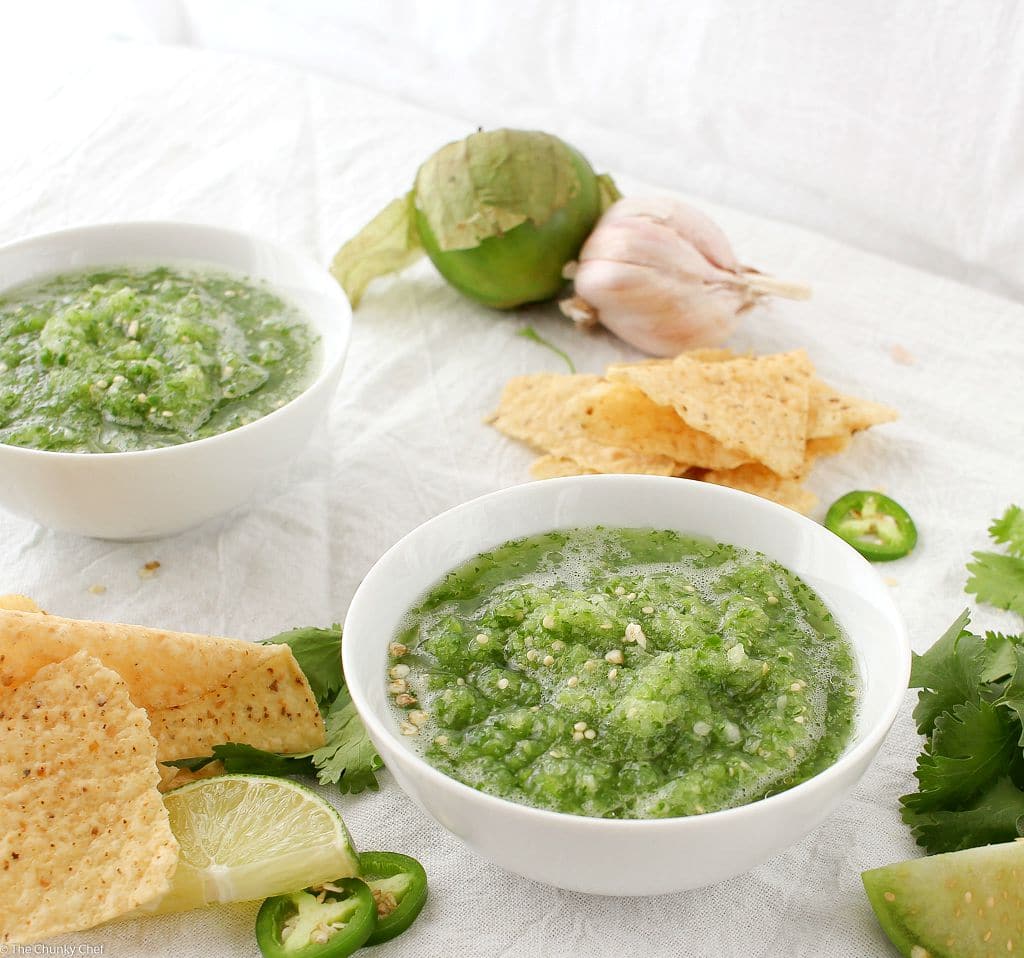 Just 7 ingredients and about 5 minutes of your time, that's all it takes!  Perfect for us busy parents.
The amounts of the ingredients are sort of a guideline… it's your salsa… customize it the way you want it!  We love cilantro, so I used more than you may like, same with the jalapeno.
The next time you get a hankering for some Abuelo's or great mexican food… skip the $50 dinner bill and start off your meal with this salsa, and serve up some Slow Cooker Pork Carnitas, Beef Barbacoa Tacos, Tequila Lime Chicken, or Beef Enchiladas and serve a side of Cilantro Lime rice along with them.  It's a perfect Mexican inspired meal… at home… for a fraction of the cost!
---
Never miss a recipe!
[mc4wp_form]
You can find me on Facebook, Twitter, Pinterest, Instagram and Google +, so follow me if you'd like… I love keeping in touch with all of you 🙂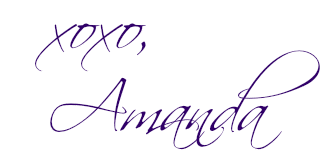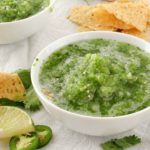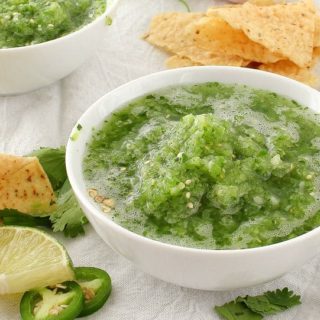 Abuelo's Copycat Tomatillo Lime Salsa
This copycat of Abuelo's tomatillo salsa is so close, you'll think you're actually at the restaurant! Bright and fresh, this salsa is a "must try"!
Print
Ingredients
8-9

tomatillos

husks removed, rinsed, and roughly chopped

1-2

fresh jalapeños

seeds removed (unless you want it really spicy!)

1

clove

garlic

1

rough handful fresh cilantro

1

medium sweet onion

diced

2

Tbsp

lime juice

1

tsp

salt (or more

to taste)

tsp

Drizzle of honey (I just drizzled around my food processor one time

probably around 1 1/2 )
Instructions
Put the tomatillos in a food processor and pulse a few times to break them down a bit.

Add remaining ingredients and pulse until desired consistency is achieved.
Linked to Made By You Monday | Melt in Your Mouth Mondays | Munching Mondays | Tickle My Tastebuds Tuesdays | Try a New Recipe Tuesday | Take A Look Tuesday | Totally Talented Tuesdays | Lou Lou Girls Fabulous Party | Simple Suppers | What's Cooking Wednesdays | Whimsy Wednesdays | The Wednesday Roundup | Wordless Wednesday | Showcase Your Talent Thursdays | Full Plate Thursdays | Favorite Things Blog Hop | Foodie Fridays | Fiesta Fridays | Pure Blog Love | Pin Junkie Pin Party | Foodie Friends Friday | Foodie Friday and Everything Else | Fresh Ideas for Your Home | Friday Favorites | Show Stopper | Best of the Weekend | Show and Tell Saturday | Link Party Palooza | Saucy Saturday