This copycat of Abuelo's tomatillo salsa is so close, you'll think you're actually at the restaurant!  Bright and fresh, this salsa is a "must try"!
Abuelo's is one of my favorite Mexican restaurants, not only for the meals and margaritas, but for their salsas!!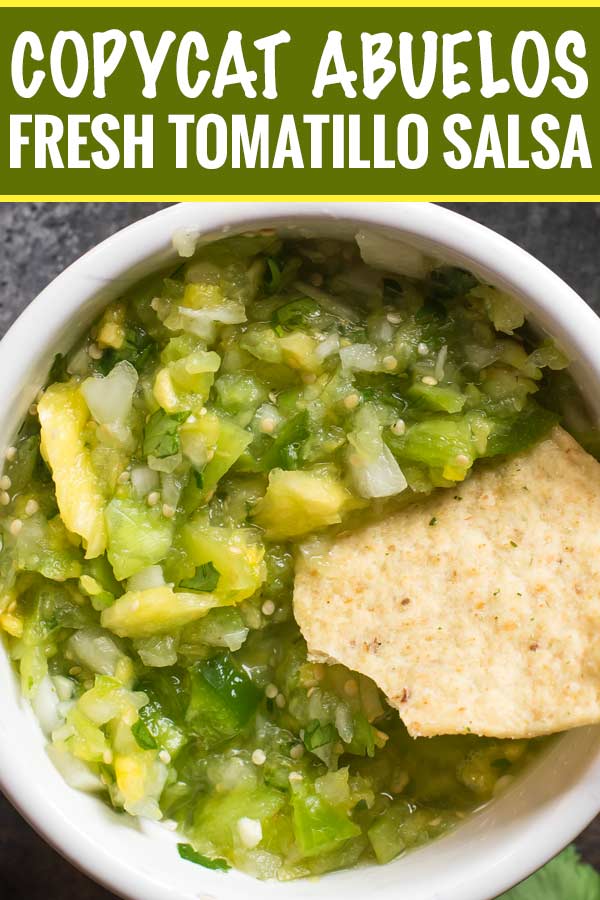 When I was pregnant with my son, I craved their "green salsa" quite literally, every single day.  I'm pretty sure I drove my husband insane lol.  Over time I learned that it was a tomatillo lime salsa, and started trying to make it at home!
WHAT IS A TOMATILLO?
If you haven't seen a tomatillo before, here's what they look like: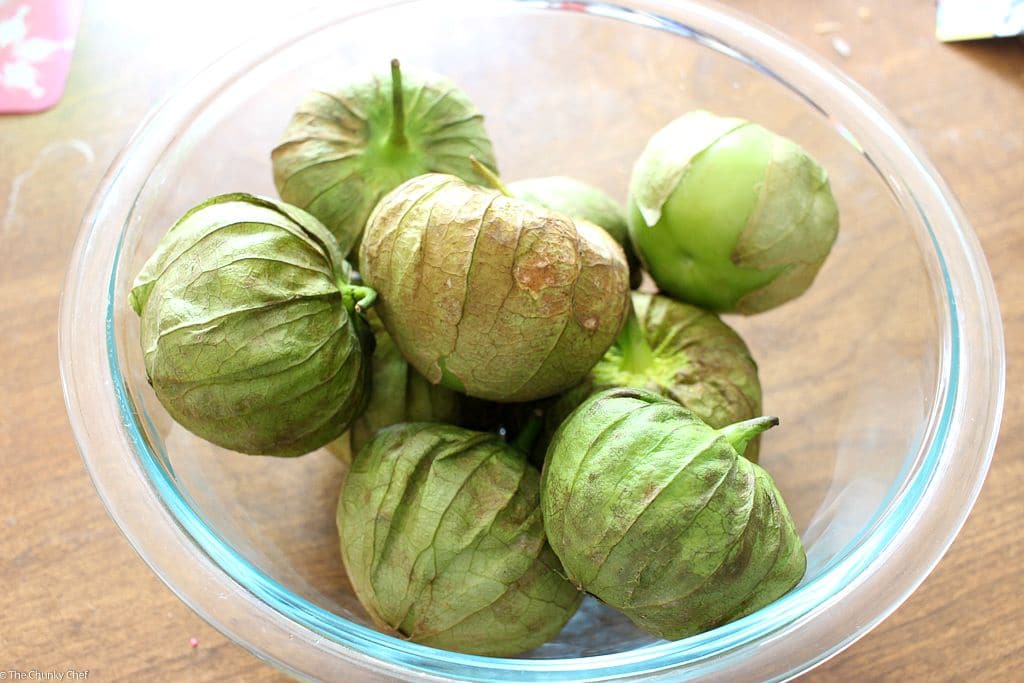 They look like little green tomatoes with papery husks on the them.  I find mine next to the regular tomatoes in my grocery store, which is because they're in the tomato family, even though they're more closely related to gooseberries!  There are two things to remember about tomatillos.
First, after you remove the husk, you need to wash them thoroughly.  There's a sticky residue on the outside of the flesh… and it's stubborn!  
Secondly, when picking your tomatillos, try to go for the smaller, lighter in color ones.  They tend to be sweeter and have better flavor!
IS THIS TOMATILLO SALSA A SALSA VERDE RECIPE?
It is, but probably not the type you're thinking of.  Most salsa verdes use tomatillos that have been roasted first.  Which are delicious, but the cooking process results in a duller color and a smoother taste.  The bright fresh green color, as well as the piquant zing of this salsa comes from the fact that you don't cook these tomatillos at all!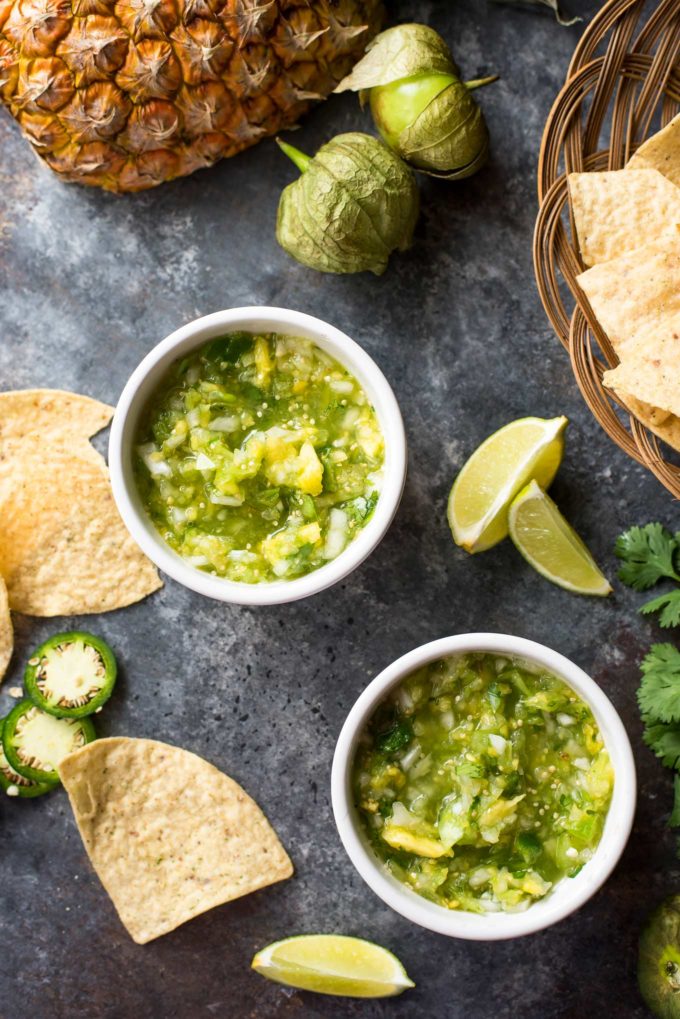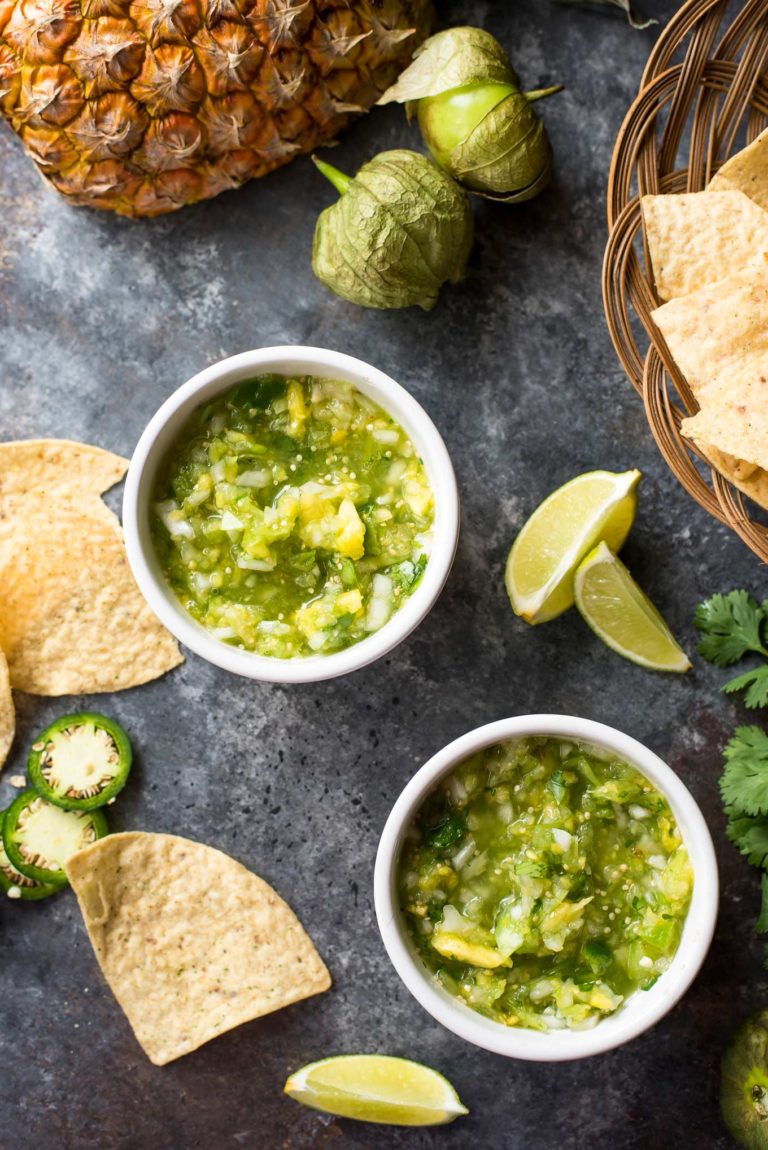 I didn't really take any step by step photos for this recipe because guess what?  It's about the simplest thing ever!  You wash the tomatillos, roughly chop them, toss them in the food processor with the rest of the ingredients, and pulse until it's a salsa consistency.  Viola!  The salsa is finished!
I like my salsas easy to make, with no real prep or cooking time… like my 5 Minute Restaurant Salsa!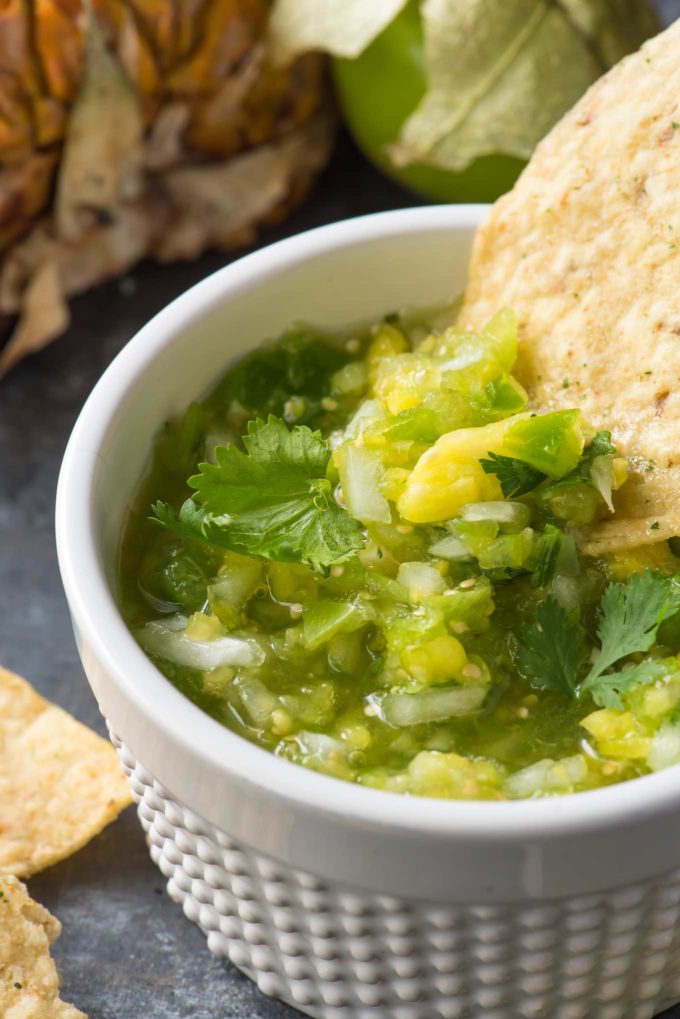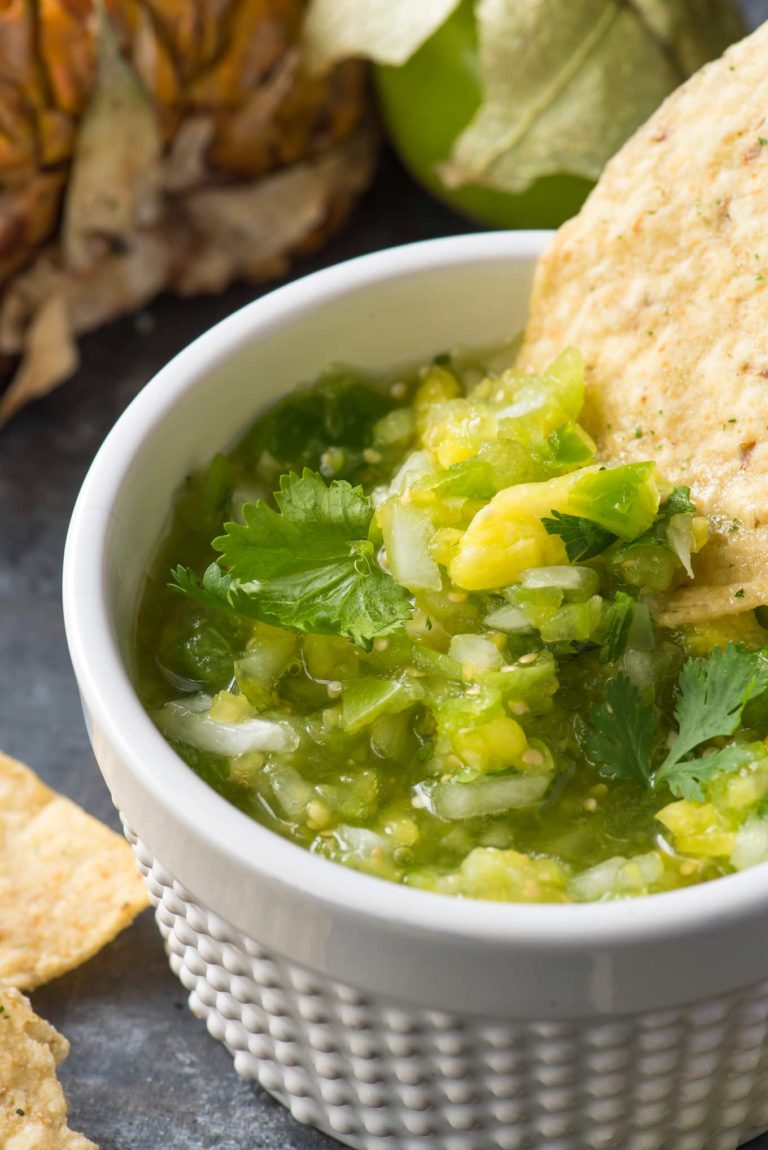 See, there I am, digging in mid-photoshoot!  It's that good you guys… all the flavors really work together here.  The tart freshness of the lime, brightness of the fresh tomatillos, spiciness from the jalapeno, classic salsa flavor from the cilantro and a kiss of sweetness from the honey and pineapple.  Ahhhhhh-mazing!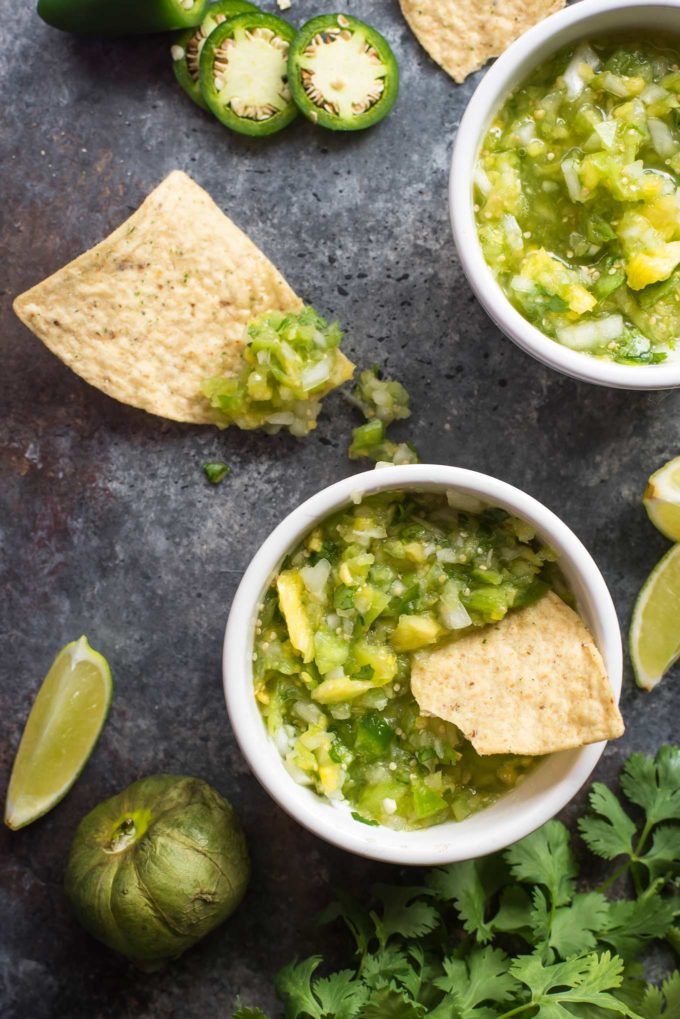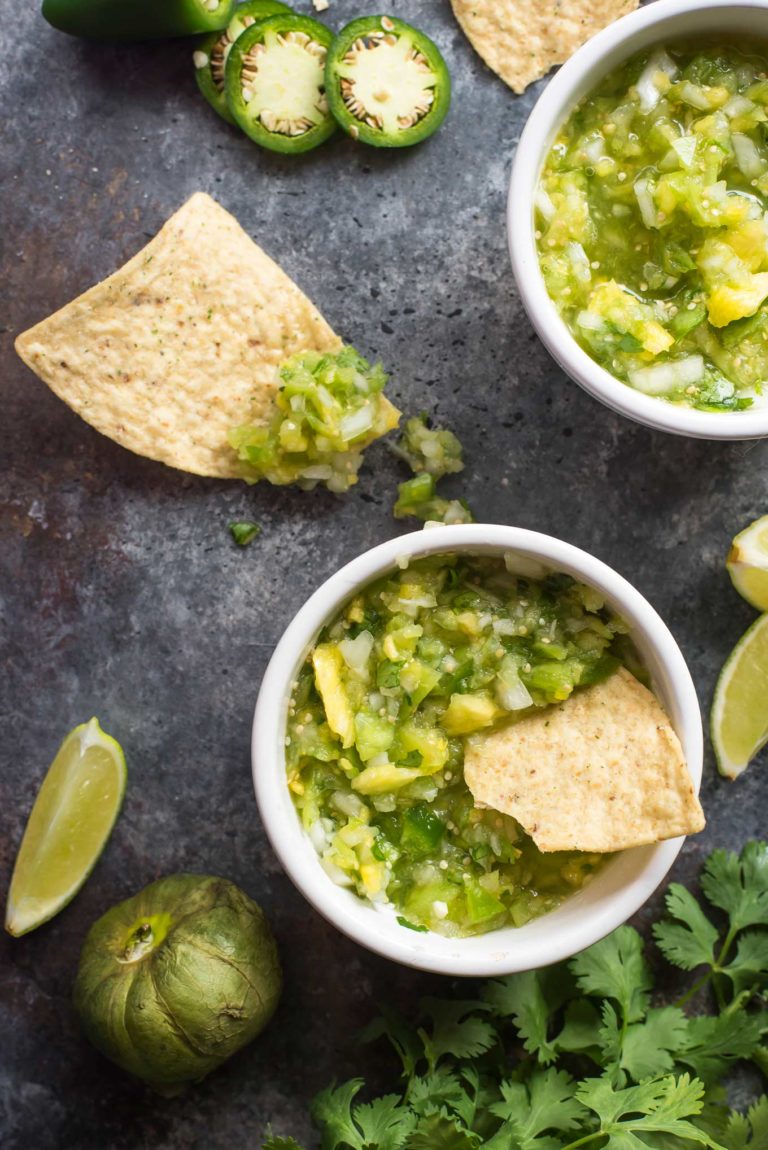 This is an older recipe of mine, back from 2015… and the original photo is below.  You can see how fresh the salsa is by the little air bubbles in the dish from all the ingredients being whirred together in the food processor.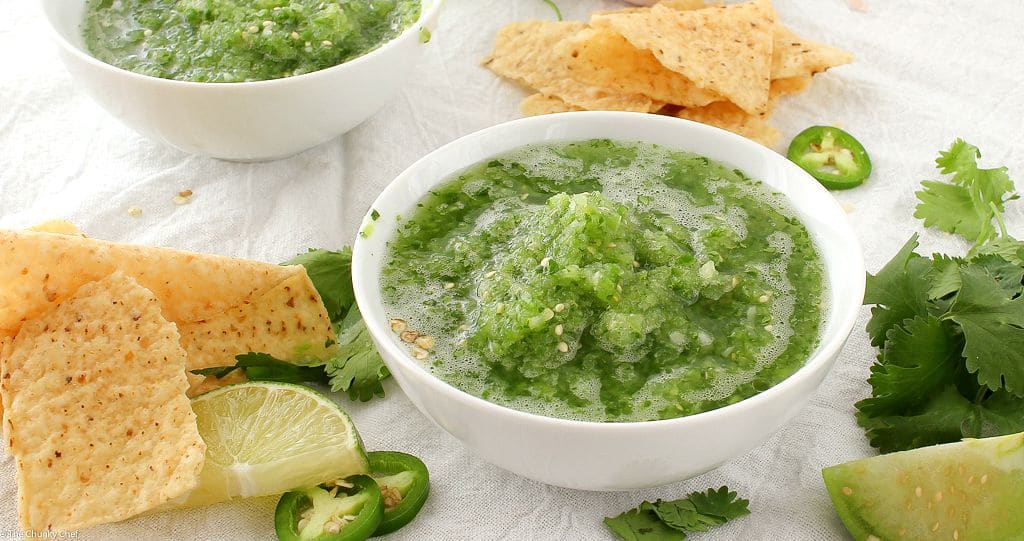 HOW MUCH TOMATILLO SALSA DOES THIS RECIPE MAKE?
The recipe make a lot… I want to say about 2 cups or more… probably more like 3.  But you won't want to share!  You may find yourself sliding the bowl to the back of the refrigerator so no one else sees that it's in there and you can snack on it as much as you'd like 😉
PRO TIPS FOR MAKING FRESH TOMATILLO SALSA:
Make sure you scrub the tomatillos thoroughly.  The sticky substance on the flesh of the tomatillo is really stubborn!
You can use either a food processor or blender for this recipe.  Use whichever you have on hand.
As far as the consistency, feel free to chop the ingredients up as finely or roughly as you'd like.  Traditionally, in Abuelos' restaurants, the salsa is very fine (like in the photo above), but sometimes I want more texture.
The amounts of the ingredients are sort of a guideline.  Customize it the way you want!  I love cilantro, so I might use more than you like, so feel free to play around and get it perfect… for you!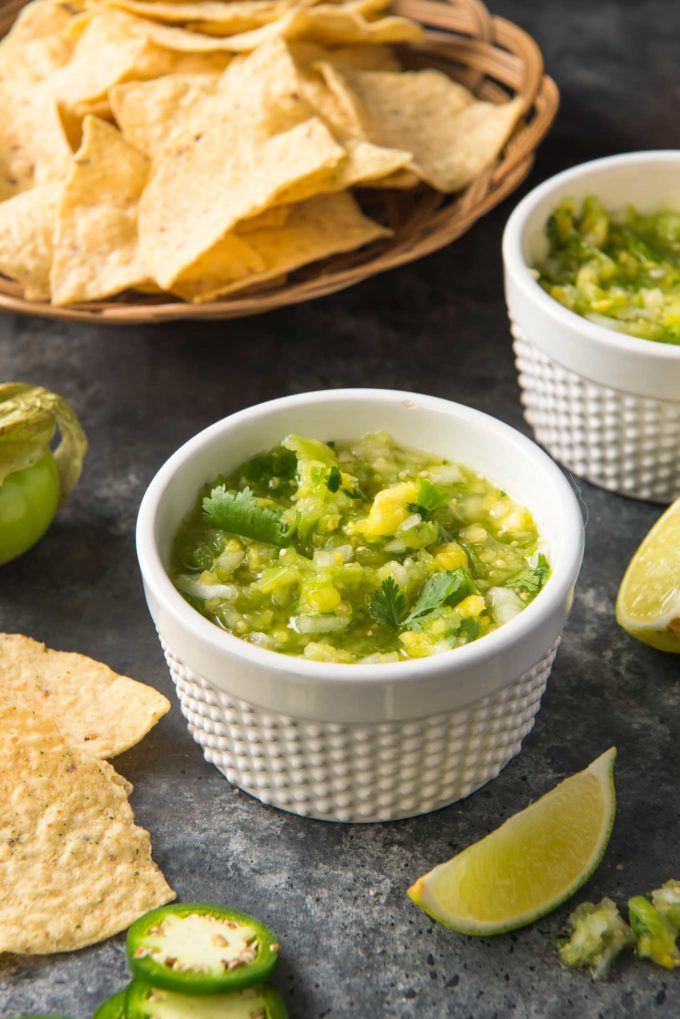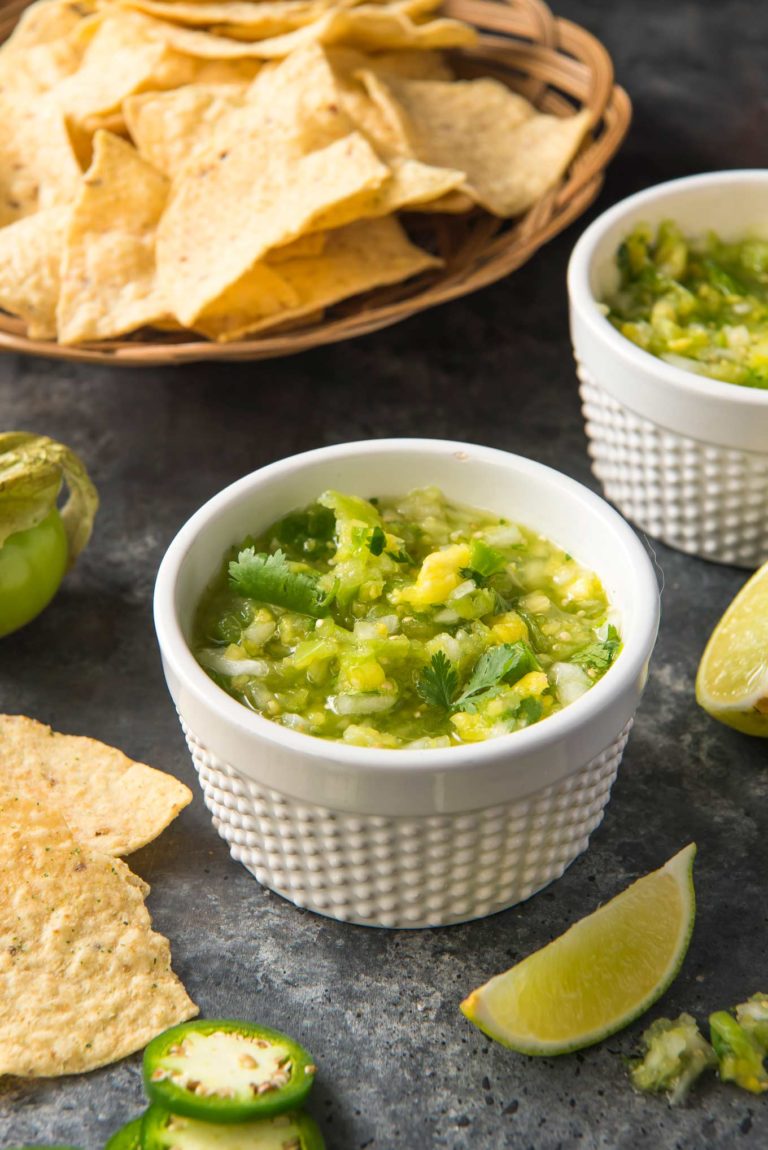 OTHER GREAT MEXICAN-INSPIRED MEALS:
SHOP THE RECIPE:
Food Processor – I LOVE this Cuisinart food processor, it's a workhorse!
Blender – if you don't want to use a food processor, or don't have one… this blender works great!


Did you make this? Be sure to leave a review below and tag me @the_chunky_chef on Facebook and Instagram!
This copycat of Abuelo's tomatillo salsa is so close, you'll think you're actually at the restaurant! Bright and fresh, this salsa is a "must try"!
Ingredients
8-9 tomatillos , husks removed, rinsed, and roughly chopped
1-2 fresh jalapeños , seeds removed (unless you want it really spicy!)
1 clove garlic
1 rough handful fresh cilantro
1 medium sweet onion , diced
4-6 oz ripe pineapple , cored and cut into chunks
2 Tbsp lime juice
1 tsp salt , (or more, to taste)
1 tsp honey
Instructions
Put the tomatillos in a food processor and pulse a few times to break them down a bit.

Add remaining ingredients and pulse until desired consistency is achieved.
Want to save this recipe for later? Click the heart in the bottom right corner to save to your own recipe box!
Nutrition Disclaimer
The Chunky Chef is not a dietician or nutritionist, and any nutritional information shared is an estimate. If calorie count and other nutritional values are important to you, we recommend running the ingredients through whichever online nutritional calculator you prefer. Calories can vary quite a bit depending on which brands were used.