Making hard boiled eggs in the Instant Pot is SO easy! Perfectly cooked, with no grey ring, and they peel perfectly every time. Great for breakfast, salads, deviled eggs, and more!
This is part of a series of recipes here on the site that I'm calling "Back to Basics". In this series you'll find recipes that are common building blocks for beginner cooks, as well as homemade versions of pantry/store-bought staples, such as cream of mushroom soup, pie crust, garlic bread, etc. With easy to follow instructions, detailed notes, and step by step photos, you'll be on your way to being a master in your kitchen in no time!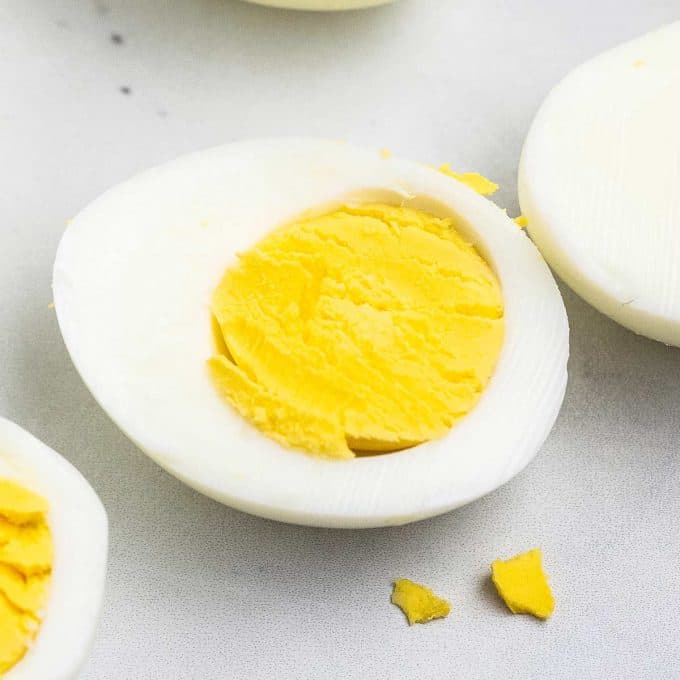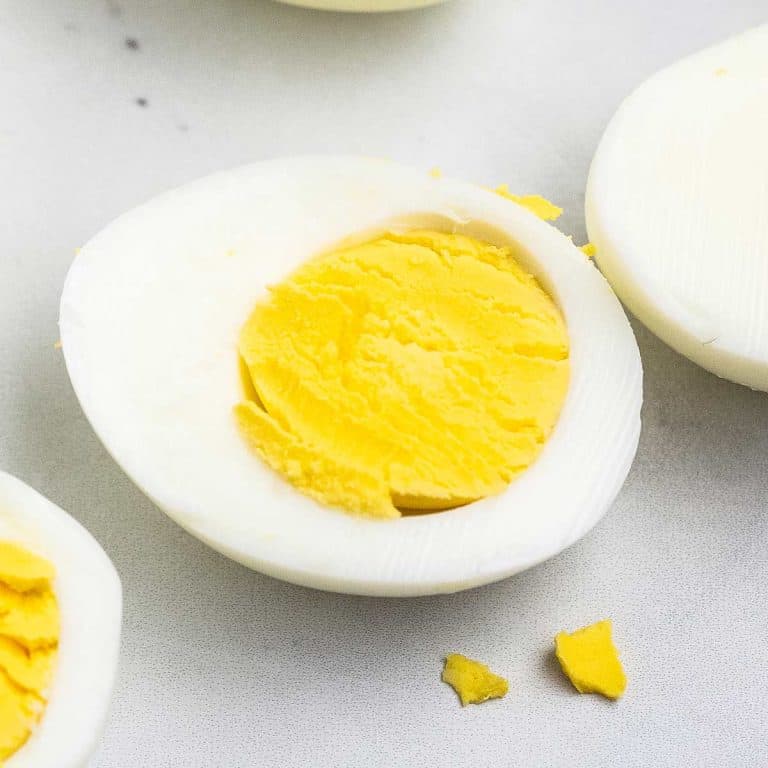 I'm a huge hard boiled egg fan, and will regularly eat them as a part of my lunch, or in salads. My pre-teen daughter loves them too!
Honestly there are so many methods for making hard boiled eggs, it can be hard to wade through them all.
I think we've tried just about every one of them, including baking them in the oven, and by far, the method that produces the best texture, is using the Instant Pot!
It doesn't really take less time, so you may be wondering why even bother with getting out a kitchen appliance… why not just boil them?
There are three main reasons why I prefer to use my Instant Pot:
It's hands off time (meaning once you set the Instant Pot, you can do other things – not sit and watch a pot of water).
You can use really fresh eggs. No more waiting a week or so just to be able to use them without having peeling issues.
The egg shells come off so easily, without taking half of the egg white with them. I was amazed at how well these hard boiled eggs peel.
How to make hard boiled eggs in an Instant Pot?
This is just an overview; the full ingredients and directions are in the recipe card toward the bottom of this post.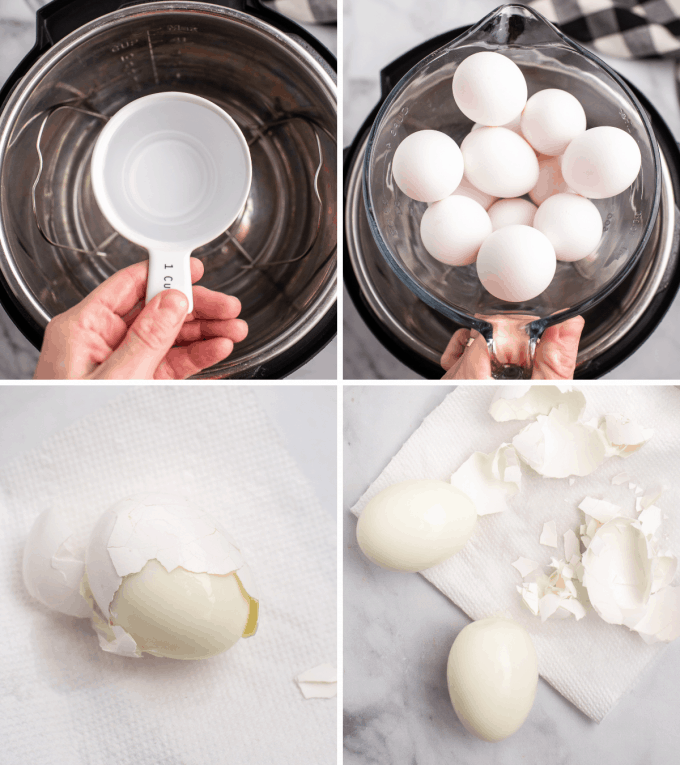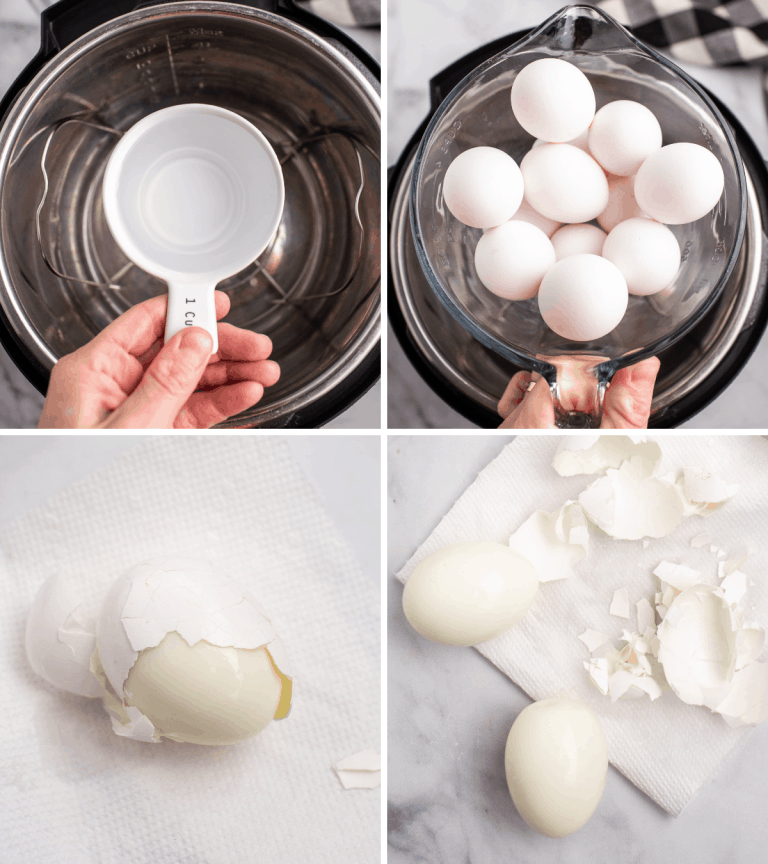 Add trivet to Instant Pot. I just use the one that came with my pot.
Add water and eggs. Arrange the eggs in an even layer on the trivet.
Pressure cook. Cook on high pressure for 3 minutes.
NPR for 7-10 minutes.
Ice bath. Be careful transferring the eggs, they're hot!
Peel and eat. Or peel and store.
Helpful Tip!
This recipe was tested using large eggs, since that's the most common type of egg used in recipes. For medium eggs, reduce pressure cooking time by 1 minute. For extra large eggs, increase pressure cooking time by 1 minute.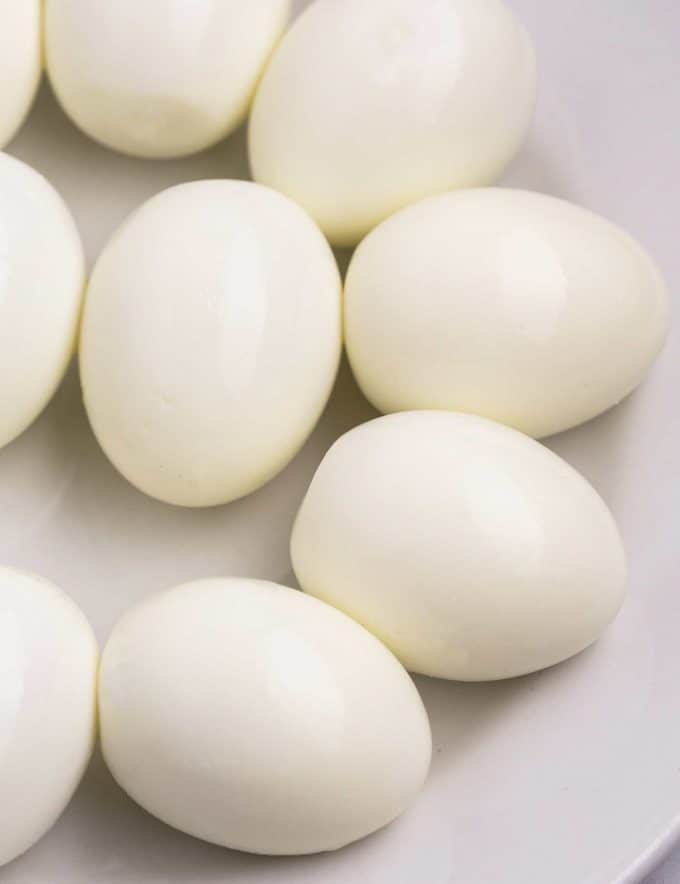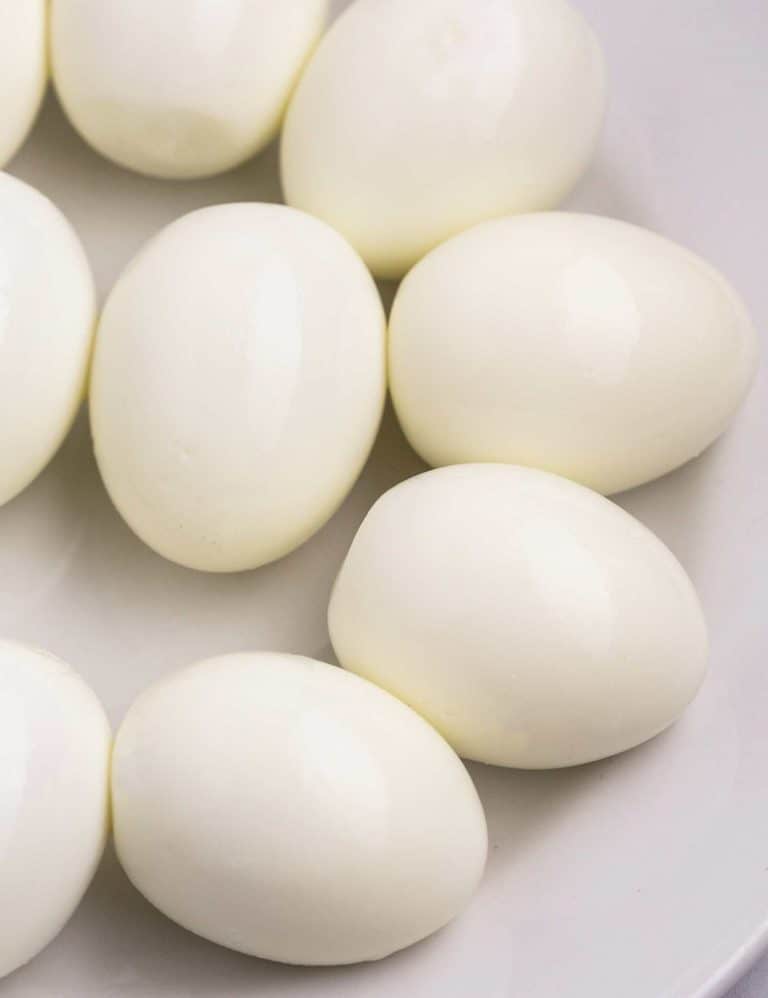 Ways to use this recipe
Egg salad – one of my favorite ways to use hard boiled eggs is to whip up an egg salad. We love my Tarragon Shallot Egg Salad, and I have a classic recipe to share with you soon!
In salads – Cobb salad anyone? Try my Keto version with a low carb homemade ranch dressing.
Sliced – sometimes the easiest and most simple method is the way to go. Peel 'em, slice 'em, and eat 'em!
Seasoned – I love using everything bagel seasoning on my hard boiled eggs, but smoked paprika, seasoned salt, or plain salt and pepper are great too.
Sauces – a dash of hot sauce, sriracha, drizzle of garlic olive oil, or even a bit of cocktail sauce are all great options!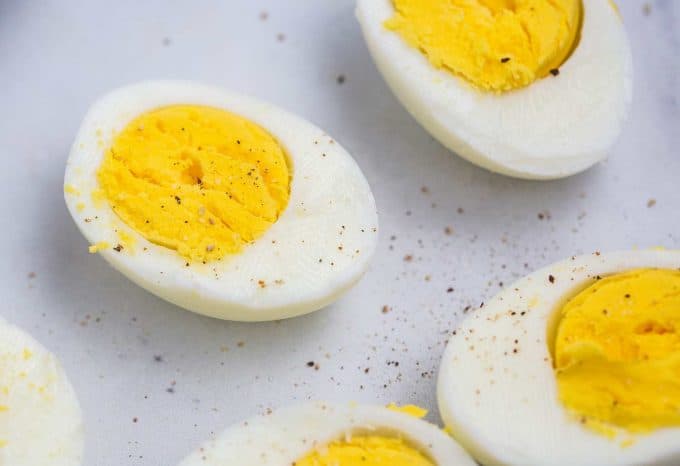 FAQ's
How can you tell an egg is hard boiled?
Place the egg on a hard surface (like a kitchen counter) and give it a spin, like a top. An egg that's hard boiled will spin easily. Once the egg is spinning, lightly tap it. If it stops spinning pretty quickly, it's hard boiled. Raw eggs will wobble a bit and be slow to spin, due to the liquid inside.
What's the best way to peel hard boiled eggs?
I wrap an egg in a paper towel, place it on my cutting board and tap the egg firmly on each end, then apply even, gentle pressure with my hand while I roll it back and forth.  The shell crunches, then you can peel the shell off.
Making hard boiled eggs ahead of time
Hard boiled eggs are perfect to make ahead of time! If stored in an airtight container, they should stay fresh and delicious for several days.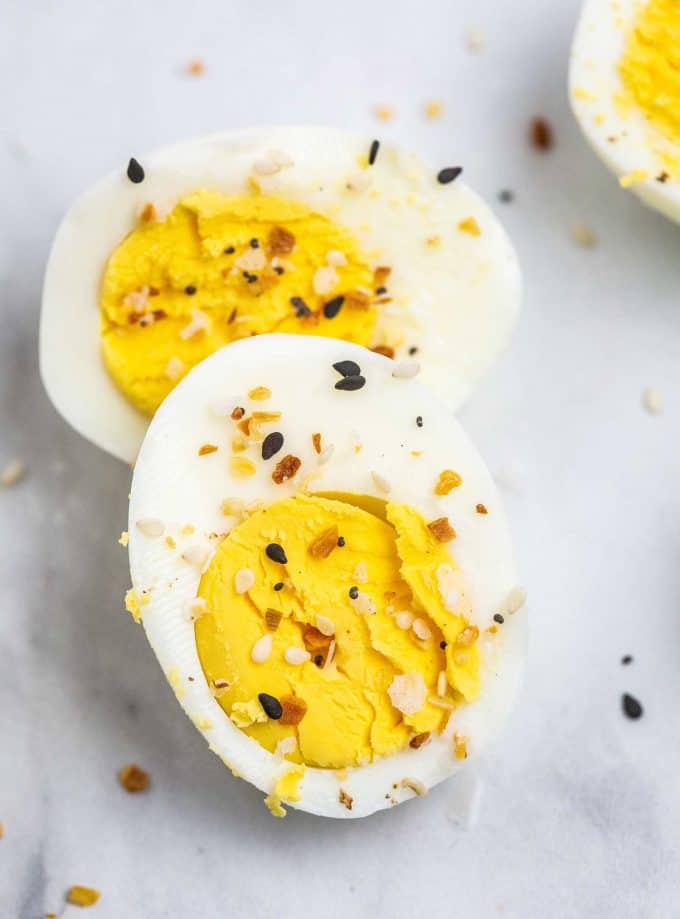 Storage
Leftover hard boiled eggs should be refrigerated and eaten within approximately 7 days. However, always use your own judgement when it comes to leftovers.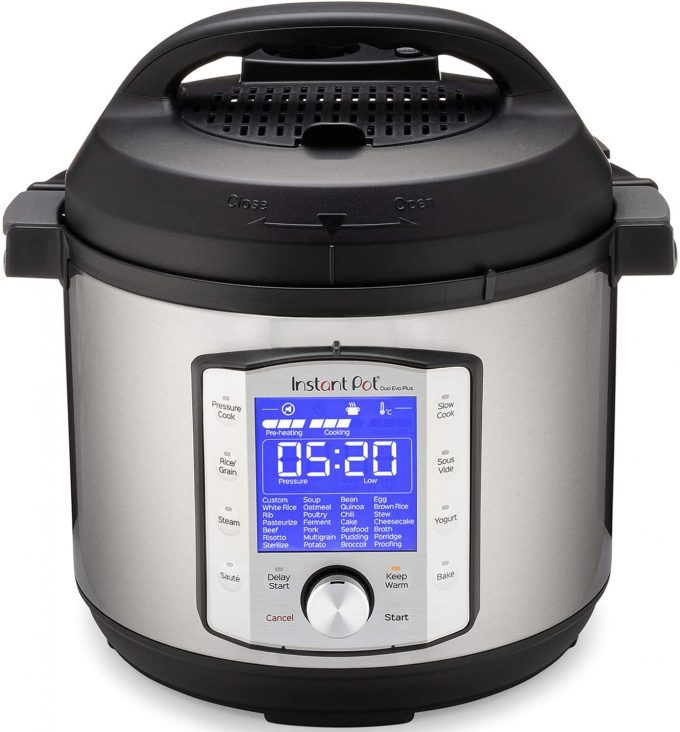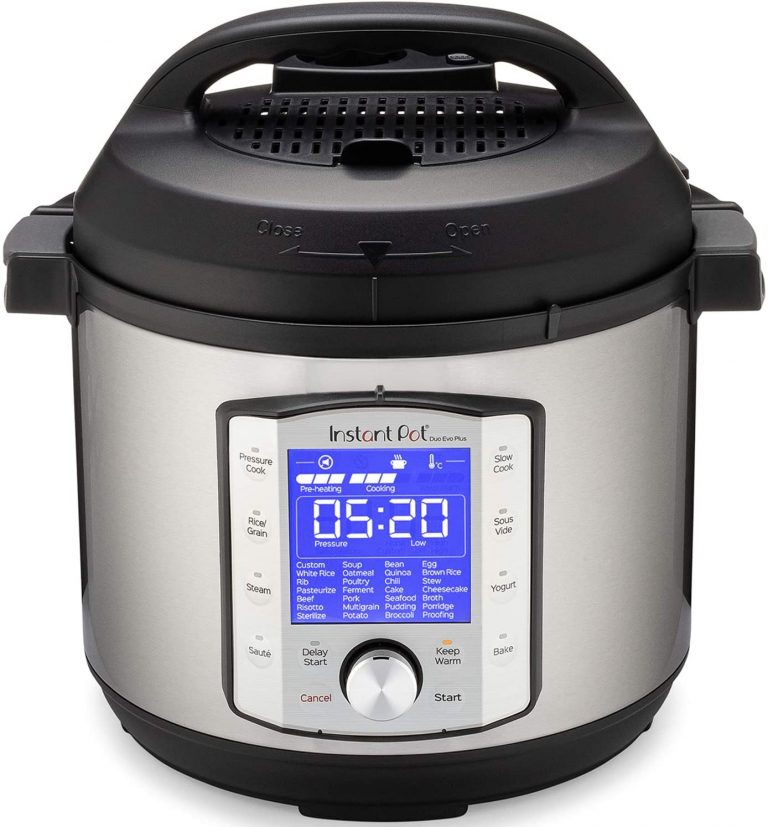 I've had this model for a while and I love it! The inner pot locks into place, so there's no issues when stirring, and I love the easy to use display panel.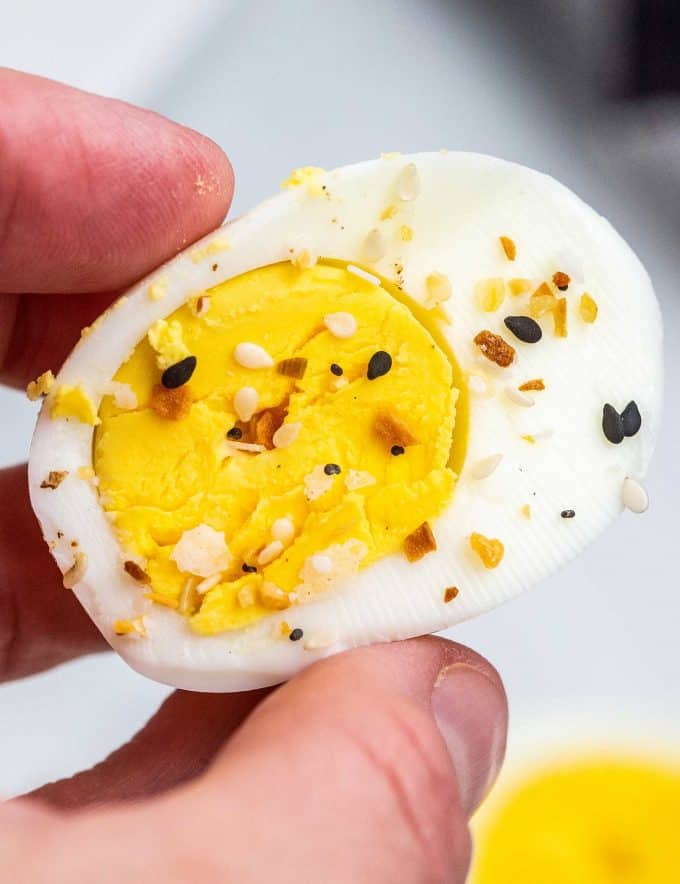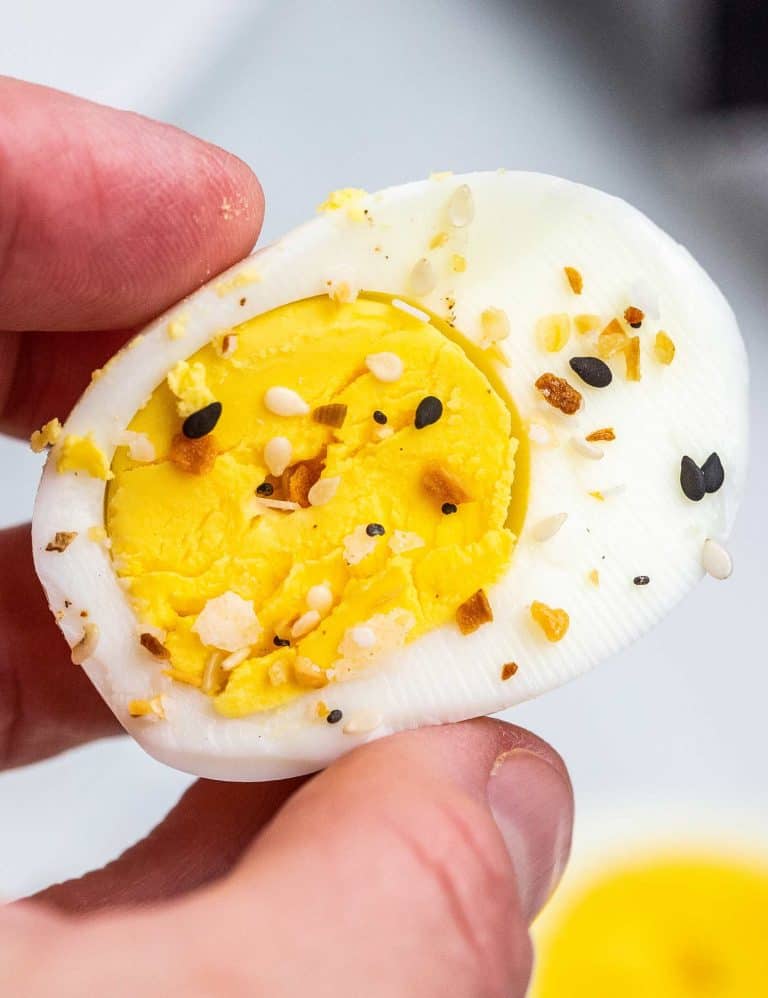 Did you make this? Be sure to leave a review below and tag me @the_chunky_chef on Facebook and Instagram!
Making hard boiled eggs in the Instant Pot is SO easy! Perfectly cooked, with no grey ring, and they peel perfectly every time.
Instructions
Add the trivet to the bottom of 6 quart Instant Pot. 

Pour in water, then add eggs, arranging them in an even layer. Secure Instant Pot lid and set to "sealing".

Pressure cook on high for 3 minutes.  Once the timer goes off, perform a natural pressure release by leaving the Instant Pot alone for 7-10 minutes, then release any remaining pressure.

Fill a large bowl with ice and cold water. This will be a water bath to stop the cooking process of the eggs.

Using tongs to gently transfer the eggs to the bowl of ice cold water and let sit for 5-10 minutes.

Peel and enjoy.  If not eating immediately, cool completely and store peeled eggs in a sealed container in the refrigerator for 5-6 days.
Want to save this recipe for later? Click the heart in the bottom right corner to save to your own recipe box!
Chef Tips
This recipe has been tested in a 6 quart duo evo plus model.  If using a larger or smaller Instant Pot, or different brand of electric pressure cooker, you will want to experiment with the amount of liquid and cooking/venting times, as it will likely be a bit different.
If you're new to pressure cooking, check out my Instant Pot 101 page with helpful tips, pressure cooker terms, what all the buttons do, etc.
Cooking time does not include the amount of time the pot takes to come up to pressure, as this will vary from individual and pot to pot.  For reference, mine usually takes between 5 and 10 minutes.
Another popular cooking method for hard boiled Instant Pot eggs is the 5-5-5 method.  Pressure cook on high for 5 minutes, leave the pot alone for 5 minutes, then place the eggs in an ice bath for 5 minutes.  
I've found all Instant Pots will vary a tiny bit, so you may want to play around with the times and experiment a bit if you find this recipe doesn't work perfectly for you.
If you prefer to cook your hard boiled eggs on low pressure, pressure cook on low for 7 minutes, then let the pressure release on it's own for 5-8 minutes, then an ice bath as directed in this recipe.
Nutrition Disclaimer
The Chunky Chef is not a dietician or nutritionist, and any nutritional information shared is an estimate. If calorie count and other nutritional values are important to you, we recommend running the ingredients through whichever online nutritional calculator you prefer. Calories can vary quite a bit depending on which brands were used.