Soft and moist spiced pumpkin cookies sandwiched together with a browned butter maple buttercream that is out of this world delicious! They're the perfect Fall baking treat!
This is one of my Dessert recipes I know you'll want to keep on hand!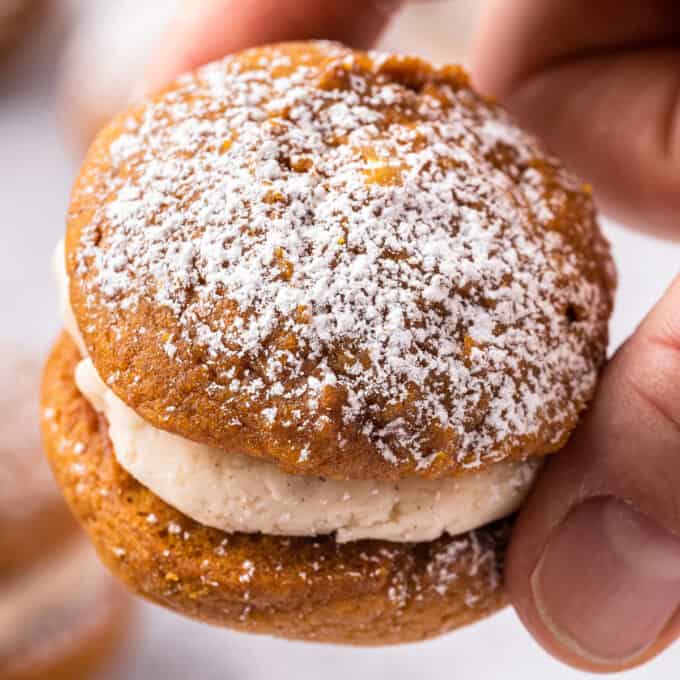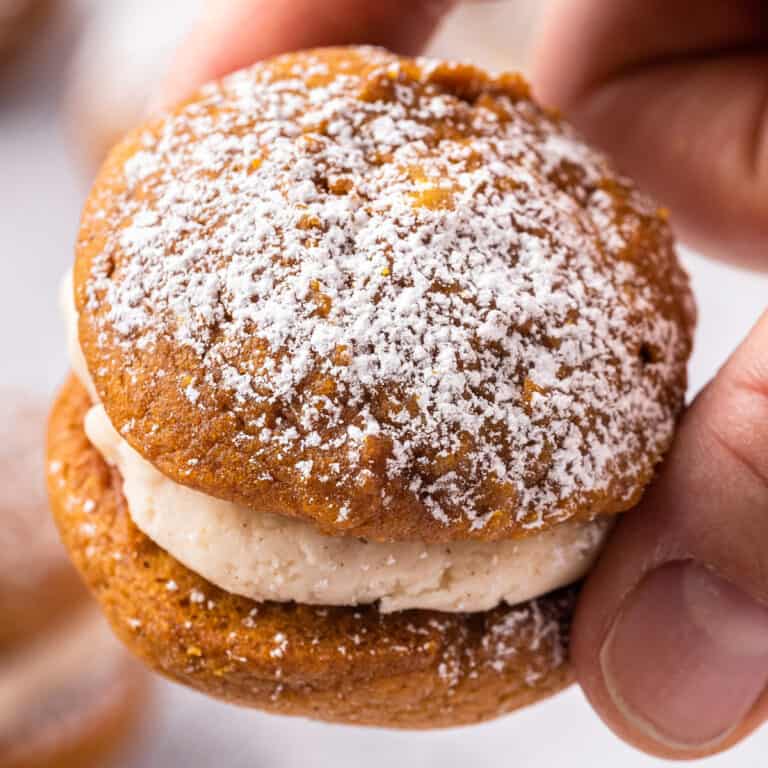 This is a recipe that's been on the website since 2015, and while the recipe is solid and amazing, the photos needed a bit of an update.
These cookies are super easy to make, yet look fabulous, so they're perfect for Fall entertaining! The pumpkin flavor is strong, but not overpowering, and perfectly paired with the sweet and slightly nutty browned butter maple cinnamon frosting.
If you've never done it, don't let the browned butter scare you. I know when I was first cooking and baking the idea of browned butter was just overwhelming.
But when you break it down and really think about it, you're just gently heating butter until it melts, and then continue gently heating the butter until it turns a beautiful golden brown color.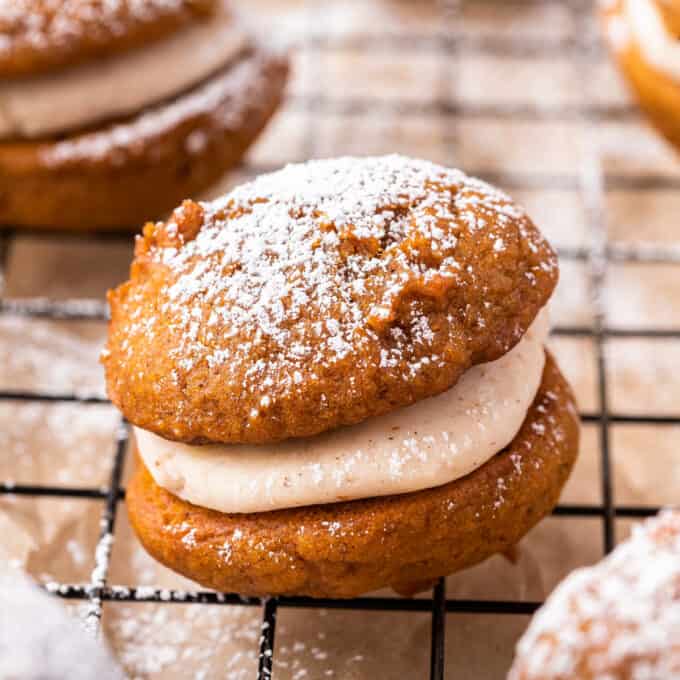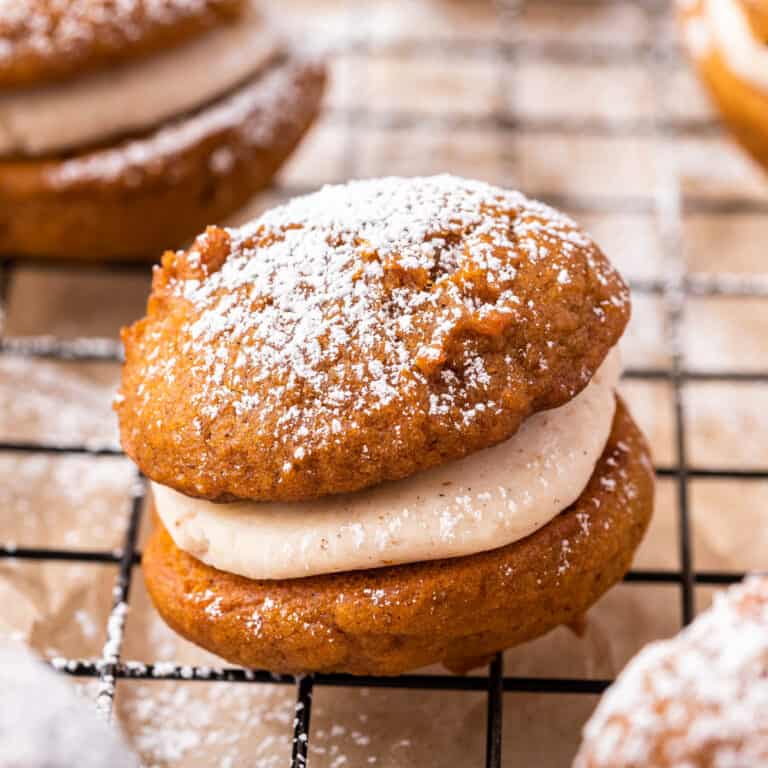 The only trick is not to let it go too far… dark brown/black is burnt and will definitely not have the wonderful taste we're going for. Fear not, I explain exactly how to do it, and what you're looking for during each step.
So let's make some amazing whoopie pies!
How to make spiced pumpkin whoopie pies?
This is just an overview; the full ingredients and directions are in the recipe card toward the bottom of this post.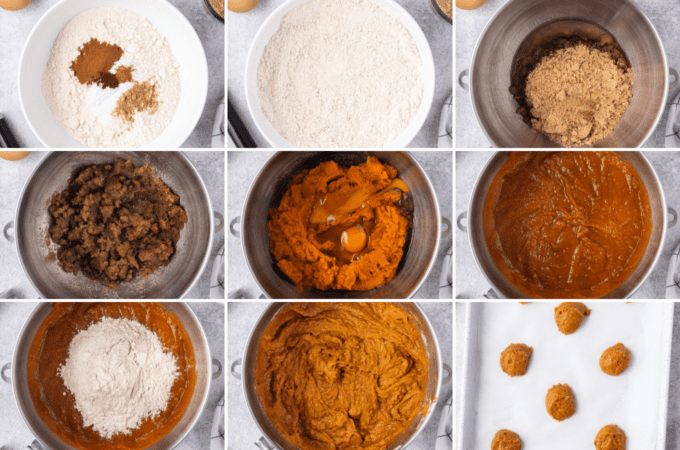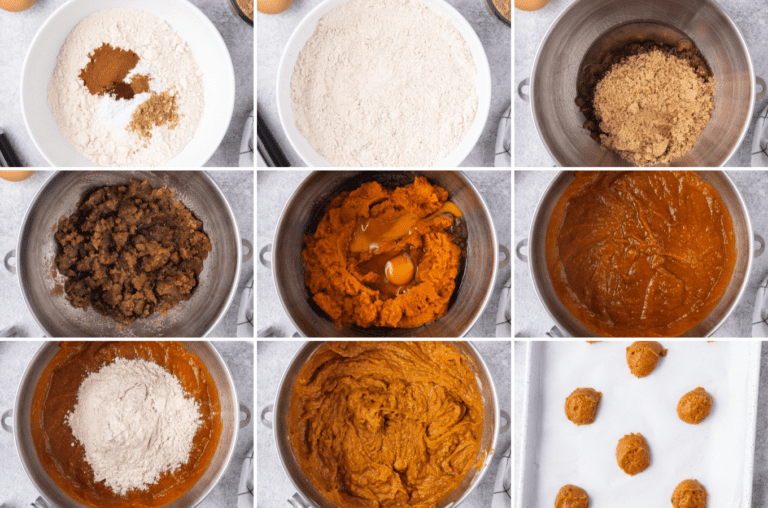 Combine dry ingredients. In a separate bowl, then whisk.
Beat butter, oil and sugar. I like to use my stand mixer, but a hand mixer and big bowl will work just as well.
Add other wet ingredients. Beat in the pumpkin, eggs and vanilla.
Beat in flour. Do this in thirds, mixing until just combined after each addition.
Scoop onto baking sheet. A small cookie scoop, or 1 Tbsp measuring spoon are the perfect size.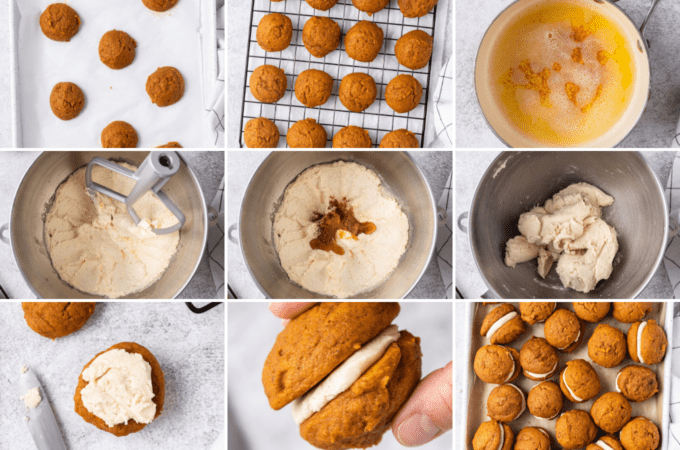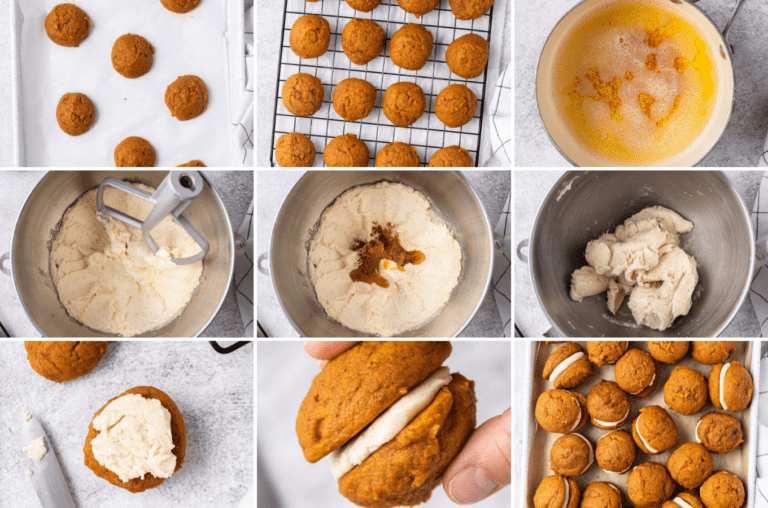 Bake. This should take around 12-14 minutes.
Cool.
Brown the butter. The key here is to use a saucepan, or even a skillet, with a light colored bottom. It'll be much easier to see what you're doing if you can see the color the solids are turning.
Beat cream cheese and browned butter. Until creamy and light, about 2 minutes.
Beat in flavoring ingredients. This is the maple syrup, cinnamon, nutmeg, salt and cloves.
Beat in sugar. Just like the flour, do this in thirds.
Assemble whoopie pies. Add about 2 tsp of the frosting to the flat side of one cookie, then top that with another cookie.
Dust with powdered sugar.
Helpful Tip!
While it may be tempting to make these whoopie pies quickly (so you can eat them sooner!), it's really important to let the cookies cool completely before you frost them. Add frosting to a warm or hot cookie makes for a huge, sticky mess when the buttercream melts all over the place.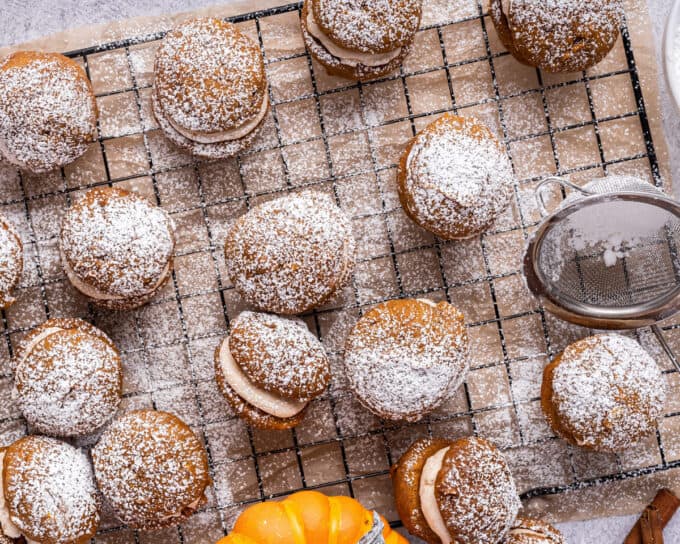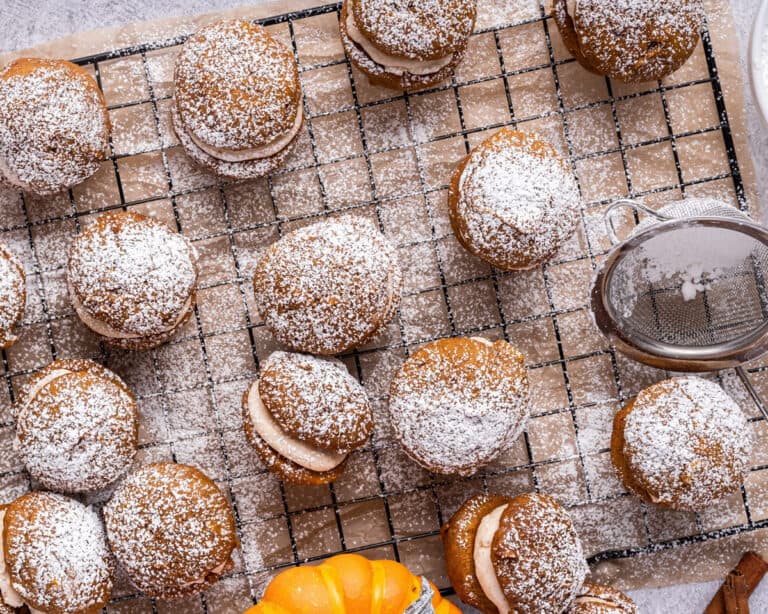 Variations of this recipe
Different fillings – try experimenting with different frosting filling flavors if you'd like. Cream cheese frosting is another one of our favorites.
Drizzled – if you feel like being extra decadent, try drizzling some chocolate or caramel sauce (this homemade caramel is our favorite!) over the top of these whoopie pies!
Doubled – this recipe is easily doubled if you need to make a large batch. A single batch of these cookies yields approximately 36 cookie sandwiches, so most of the time, a single batch will be all you need. Conversely, this recipe is also easily halved, if you only need about 18 cookie sandwiches. Just make sure you halve ALL the ingredients.
Powdered sugar – the dusting of powdered sugar is delicious and recommended, but not mandatory. So if you'd rather not do it, or used up all your powdered sugar making the frosting, you can skip it.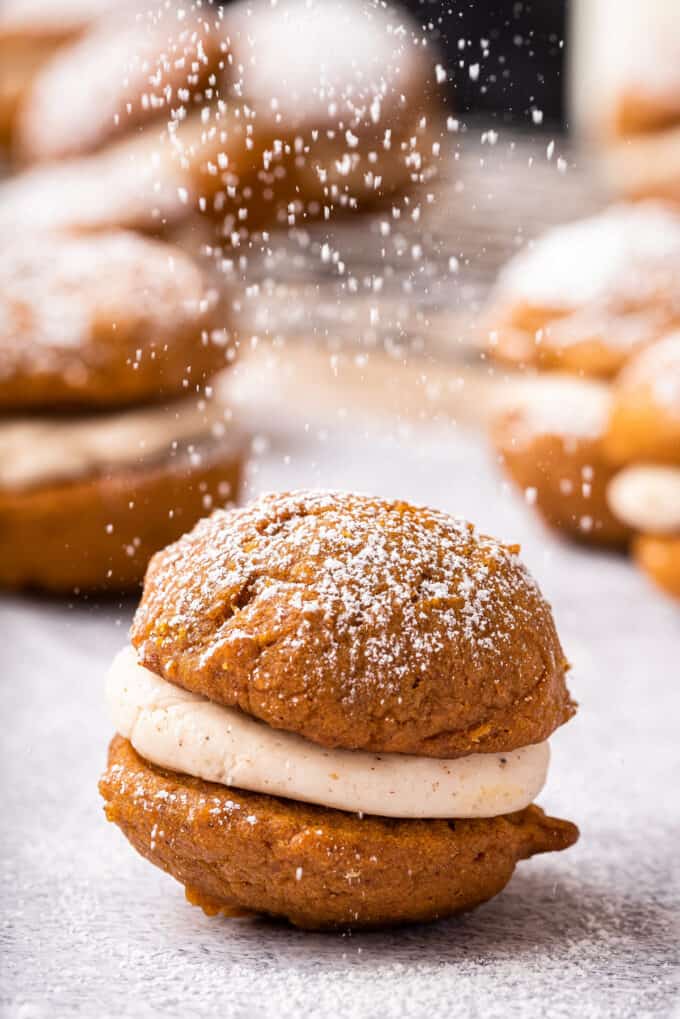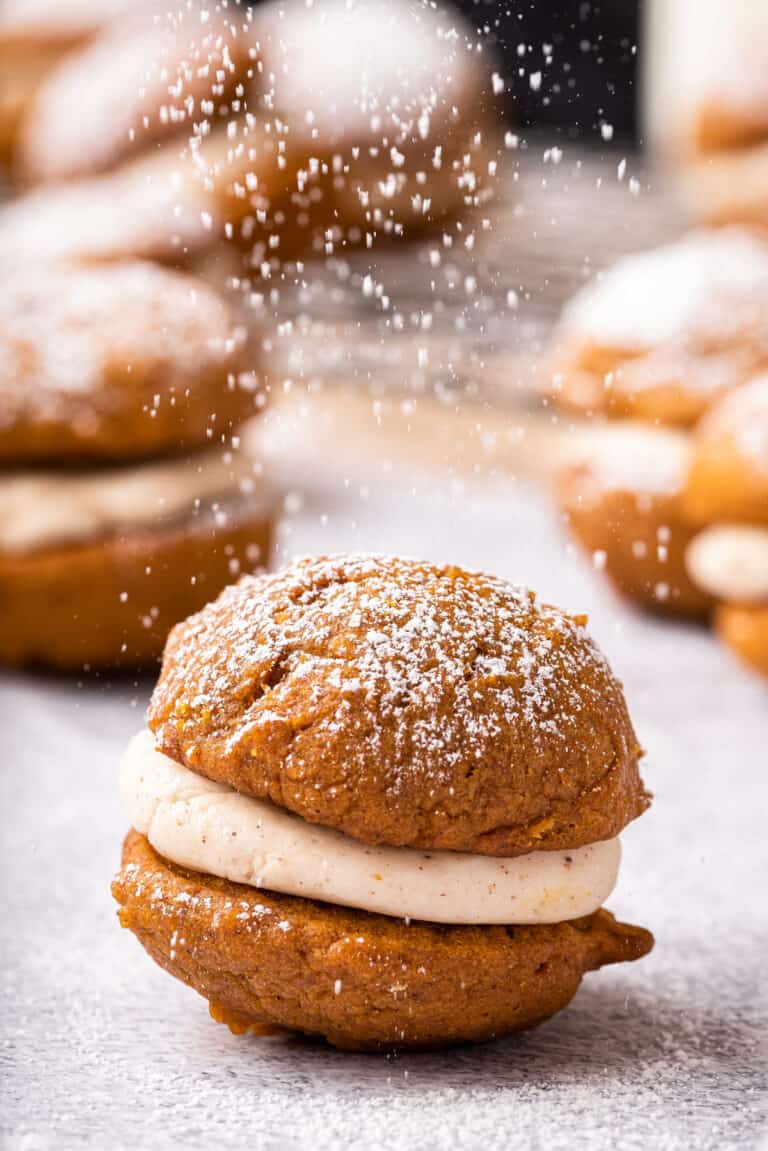 FAQ's
What is a whoopie pie?
Whoopie pies are a classic New England treat, comprised of two soft cookies (almost like cakes) with a creamy filling.  In the traditional recipe, the cookie/cakes are chocolate, and the filling is made of buttercream and marshmallow fluff.  This version uses a pumpkin spice cookie and a browned butter frosting laced with cinnamon and maple syrup.

Are whoopie pies a cookie, or a cake?
That's up for debate lol.  In my opinion they're cookies, since the chocolate rounds are baked on a baking sheet and not in a pan like a traditional cake.  But these cookies are so soft, they taste just like cake, with a slightly crispy outside edge that is just delectable.

Making whoopie pies ahead of time
The great part about this dessert is that it can be made ahead in various ways.
Assembled whoopie pies can be kept fresh in an airtight container (at room temperature), for 3 days.
The pumpkin cookies can be made the day before, then sandwiched with the frosting the day of serving.
Freezing
While I've not tested freezing the assembled whoopie pies, the pumpkin cookies can be frozen for up to 3 months.
Thaw in the refrigerator, then frost, and you're good to go.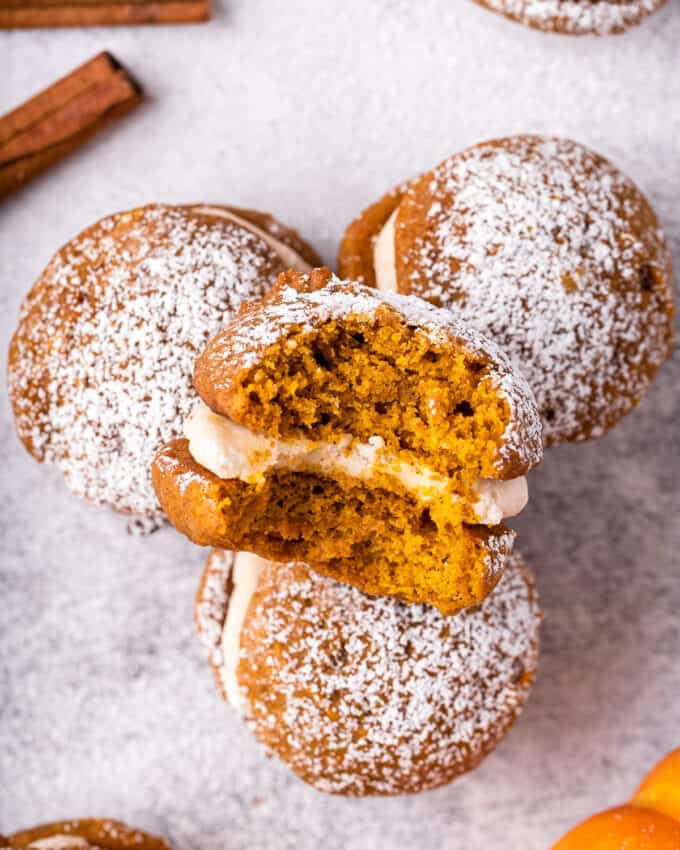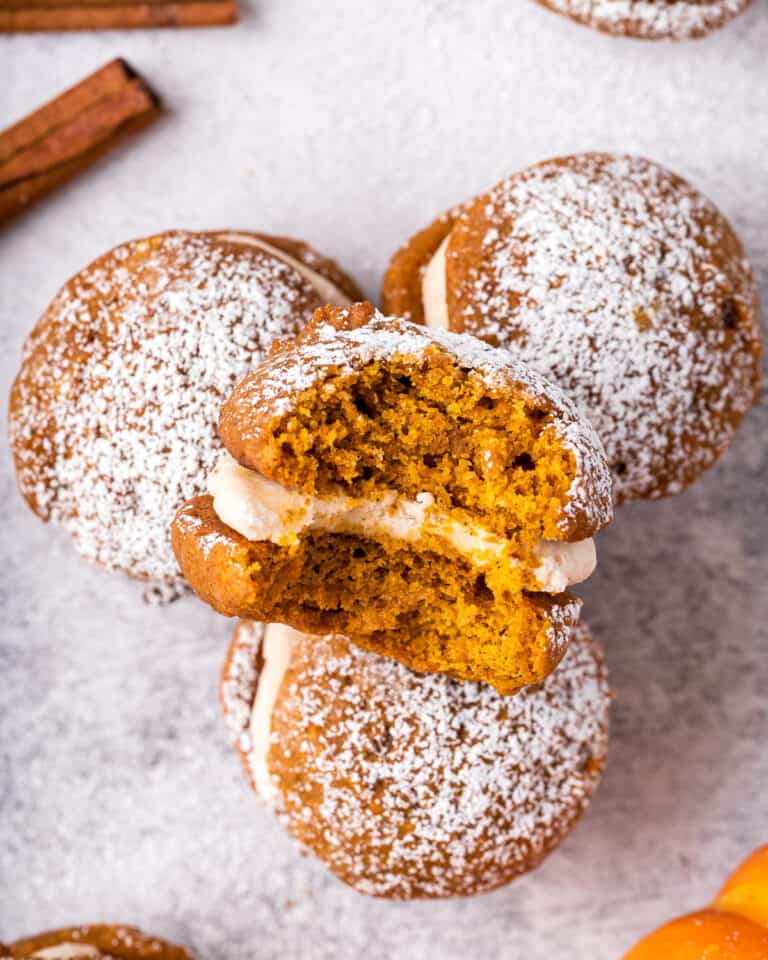 Storage
Leftover whoopie pies should be stored in an airtight container at room temperature for about 3 days, or in the refrigerator for up to a week.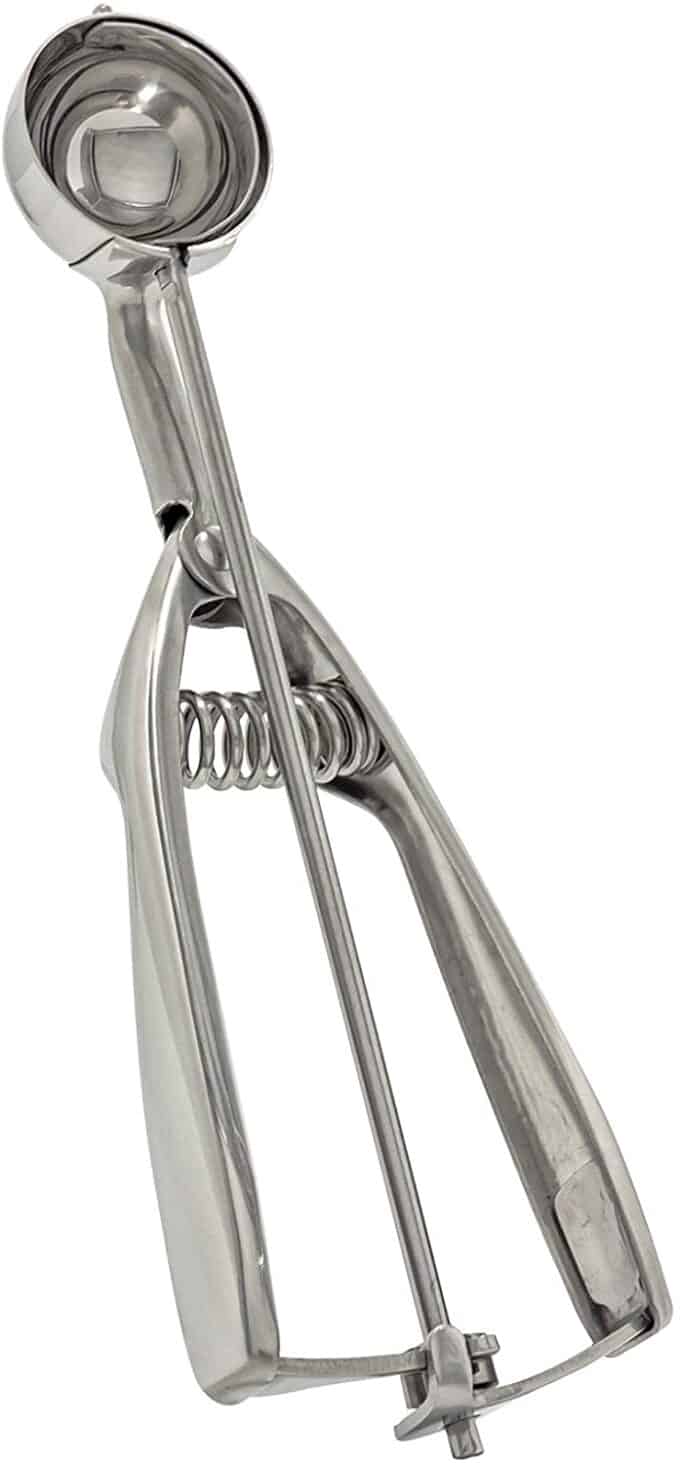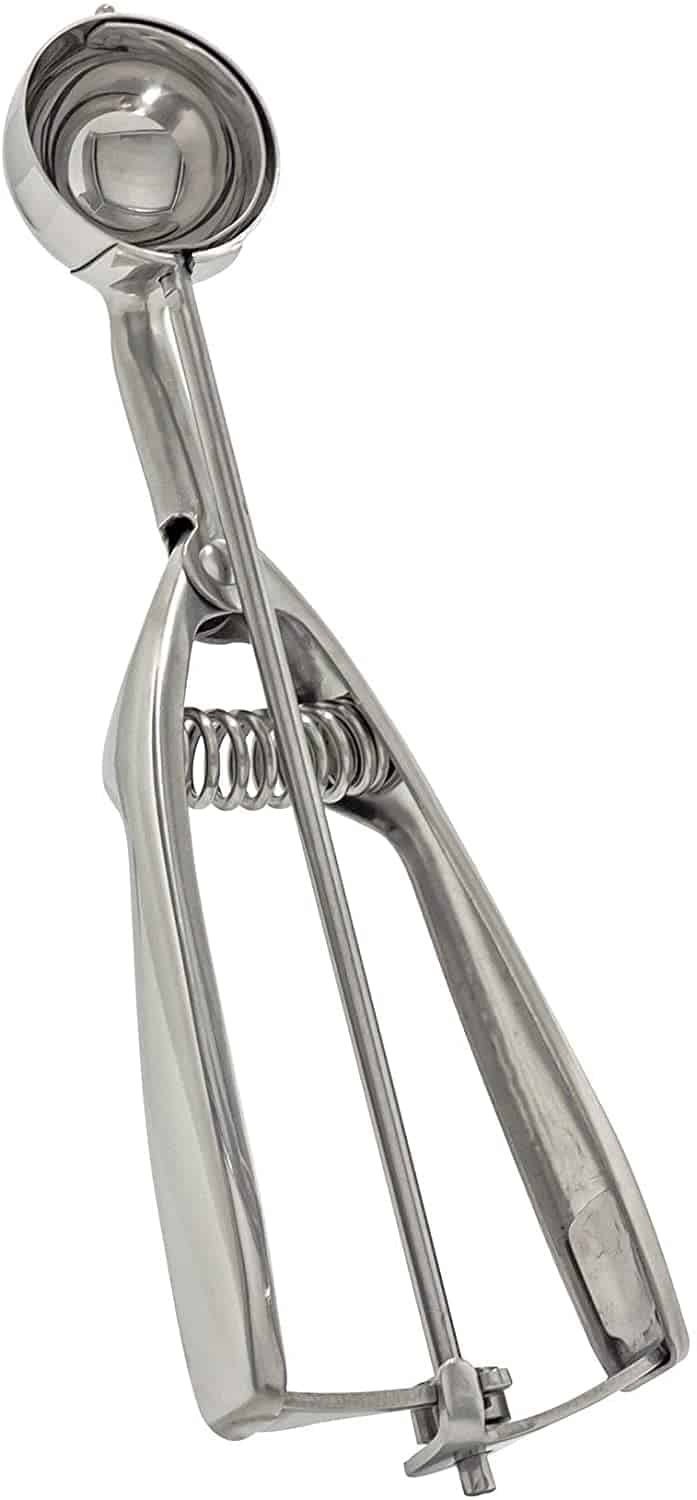 Cookie scoops are the most versatile kitchen tool… you can use them for cookies, meatballs, ice cream, and more! This scoop is the exact size you'll need for these whoopie pies!
Did you make this? Be sure to leave a review below and tag me @the_chunky_chef on Facebook and Instagram!
Servings:
36
whoopie pies
(hover over # to adjust)
Soft and moist spiced pumpkin cookies sandwiched together with a browned butter maple buttercream that is out of this world delicious!
Ingredients
PUMPKIN COOKIES
3 cups all purpose flour
2 tsp ground cinnamon
1 tsp baking powder
1 tsp baking soda
1 tsp kosher salt
1 tsp ground ginger
1/4 tsp ground cloves
Pinch ground nutmeg
2 cups packed light brown sugar
3/4 cup vegetable oil
1/4 cup butter melted and cooled
2 eggs
2 3/4 cup canned pumpkin NOT pumpkin pie filling
1 1/2 tsp vanilla extract
BROWNED BUTTER FROSTING
5 Tbsp butter
4 oz cream cheese softened
1 Tbsp maple syrup
1/2 tsp ground cinnamon
1/4 tsp ground nutmeg
Pinch of salt
pinch of ground cloves
3 cups powdered sugar
Instructions
Preheat oven to 350°F degrees. Line a baking sheet with parchment paper and set aside.
Make pumpkin cookies
In a large mixing bowl, add flour, cinnamon, baking powder, baking soda, salt, ginger, cloves and nutmeg.  Whisk and set aside.

To the bowl of a stand mixer (or another large mixing bowl and use a hand mixer), add melted butter, oil, and brown sugar and beat on LOW speed until combined.

Add in eggs, pumpkin, and vanilla, and beat about 1 minute.

Add in the flour mixture in thirds, beating on MED LOW speed until just combined after each addition.  The mixture will look like thick cake batter at this point.

Use a small cookie scoop or 1 Tbsp measuring spoon to scoop dough onto baking sheet, about 2 inches apart.

Bake for 12-14 minutes.  When done, the tops of the cookies should spring back when touched lightly.

Let cookies cool on the baking sheet for a few minutes, then transfer to a wire rack to cool completely.

While the cookies are cooling, make the frosting.
Make browned butter maple frosting
In a small saucepan over MED LOW heat, add 5 Tbsp butter.  Continue heating the butter, low and slow, swirling the pan occasionally. The butter will melt, then get foamy, and then as it begins to brown, the foam will start to recede to the outer edges of the saucepan and you can see the milk solids from the butter turning a light golden brown color.

Set saucepan off of the heat to cool for about 15 minutes.

In the bowl of a stand mixer (or a large mixing bowl and use a hand mixer), add the cream cheese.  Add cooled browned butter and beat on MED speed, until light and fluffy, about 2 minutes.

Add in maple syrup, cinnamon, nutmeg, salt, and cloves and mix on LOW until just combined.

Add in powdered sugar in thirds, beating after each addition.
Assembling whoopie pies
Take one cooled cookie and spread about 2 tsp of the frosting over the flat surface.  Top with another cookie.  Repeat with remaining cookies and frosting.

Place whoopie pies on a wax paper lined baking sheet and chill in the refrigerator for about 30 minutes.

Dust with powdered sugar just before serving.
Want to save this recipe for later? Click the heart in the bottom right corner to save to your own recipe box!
Chef Tips
Recipe makes 36 fully assembled whoopie pies.
Calorie information is for 1 assembled whoopie pie (2 cookies plus the filling in between).
Prep time does not include the time needed for cookies to cool before frosting, as this will vary from individual to individual.
Nutrition Disclaimer
The Chunky Chef is not a dietician or nutritionist, and any nutritional information shared is an estimate. If calorie count and other nutritional values are important to you, we recommend running the ingredients through whichever online nutritional calculator you prefer. Calories can vary quite a bit depending on which brands were used.