Soft and lightly spiced pumpkin cookies sandwiched together with a decadent, yet easy to make, browned butter maple cinnamon frosting!
 These cookies are super easy to make, yet look fabulous, so they're perfect for Fall entertaining!  The pumpkin flavor is strong, but not overpowering, and perfectly paired with the sweet and slightly nutty browned butter maple cinnamon frosting.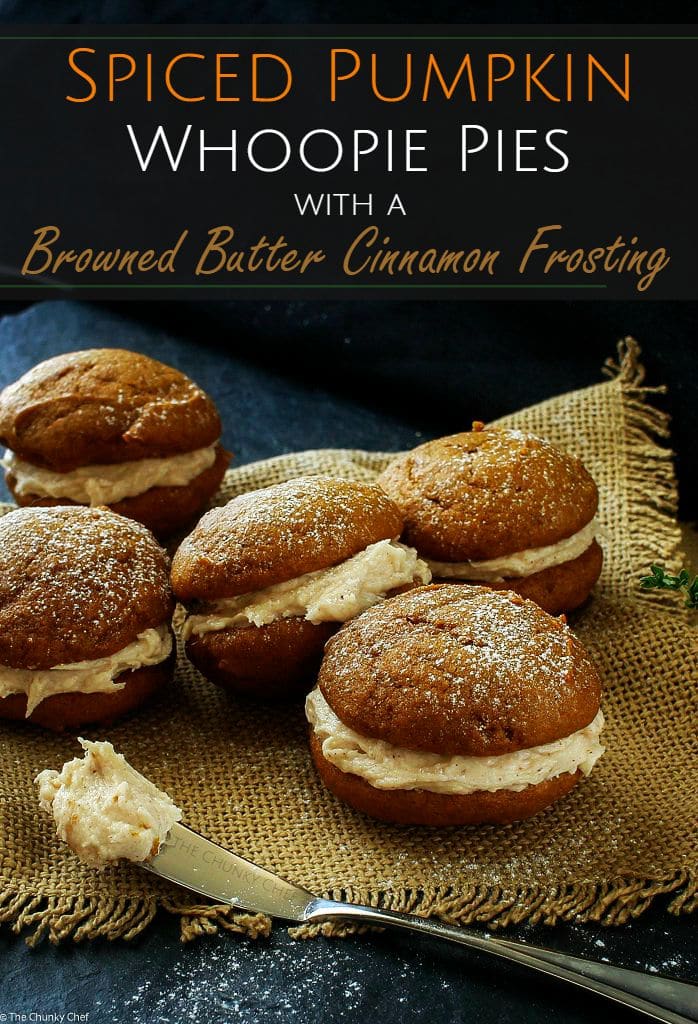 Here we go, my first pumpkin recipe of the season… are you psyched?  Did I really just say psyched?  Lol.  These cookies are pretty much amazing… although I can't take full credit for them.  I found them in an issue of Better Homes and Gardens (Fall Baking edition), and made a few little tweaks (as I always do lol).  These cookies are no ordinary cookies… they're whoopie pies, which is just about the most fun type of dessert.  Just saying it leaves you with a smile on your face!
The cookie part of these is really straightforward and simple… the hardest part is not eating the soft cookies when they come out of the oven lol.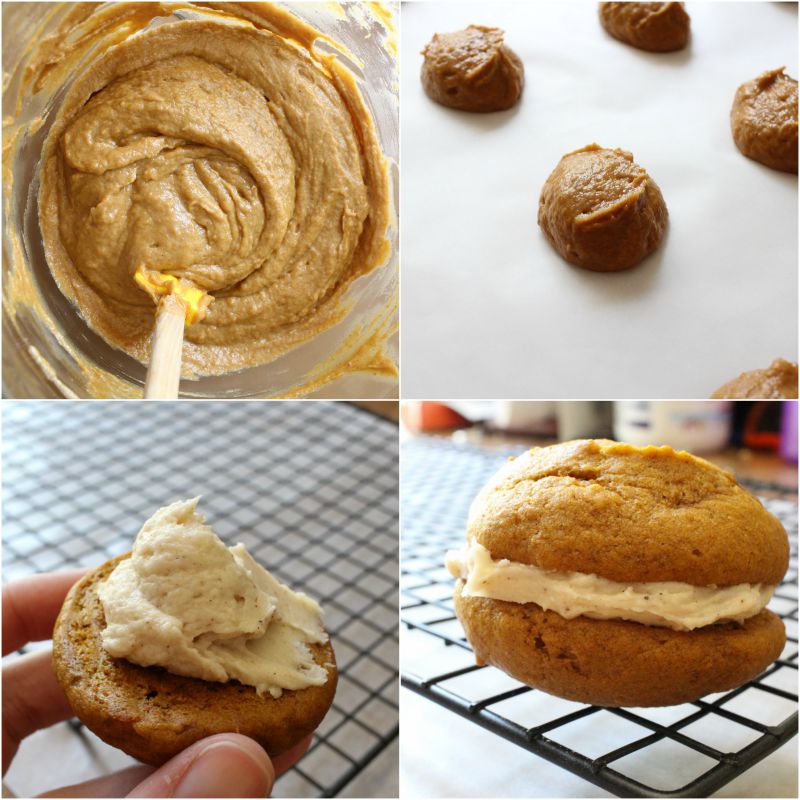 Once the pumpkin cookies are cooling, you can go ahead and get started on the frosting.  Don't let the browned butter scare you.  I know when I was first cooking and baking the idea of browned butter was just overwhelming.  But when you break it down and really think about it, you're just gently heating butter until it melts and then continue gently heating the butter until it turns a beautiful golden brown color.  The only trick is not to let it go too far… dark brown/black is burnt and will taste realllllly gross!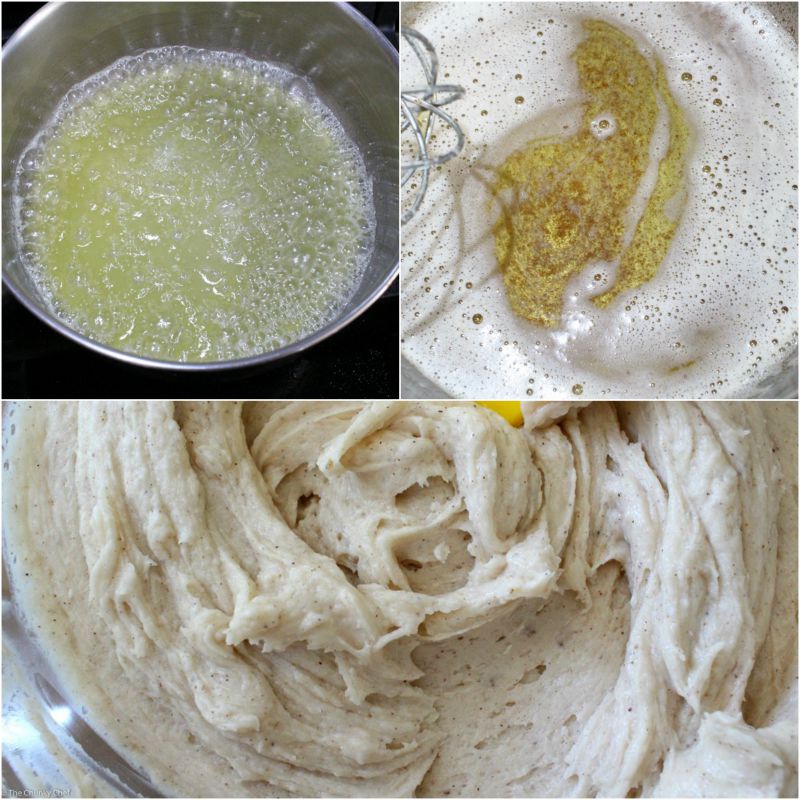 This frosting.  Ohhhhh this frosting.  It's so delicious!  The slight nuttiness from the browned butter, silky richness from the cream cheese and amazing seasonings that echo the seasonings from the cookies… it's a perfect combination!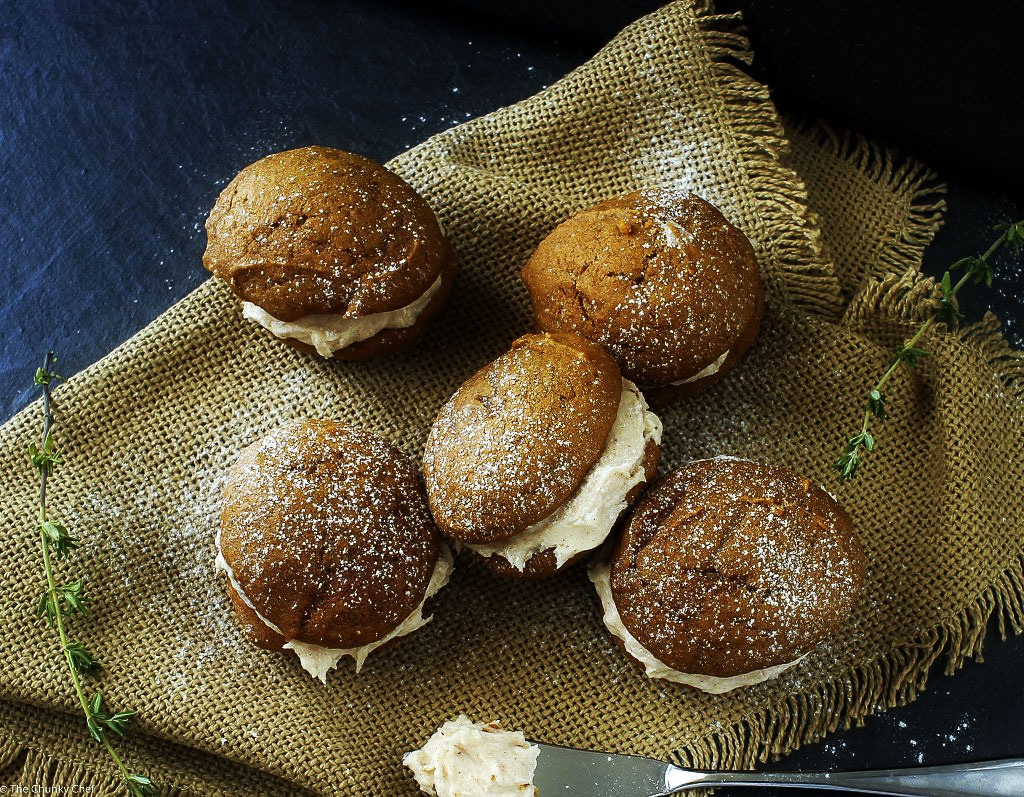 These spiced pumpkin whoopie pies are for both the adults and kids alike… fancy enough to bring to a party, yet casual enough for an afternoon snack with the kids.  My daughter devoured about 3 of these while I was taking the pictures lol.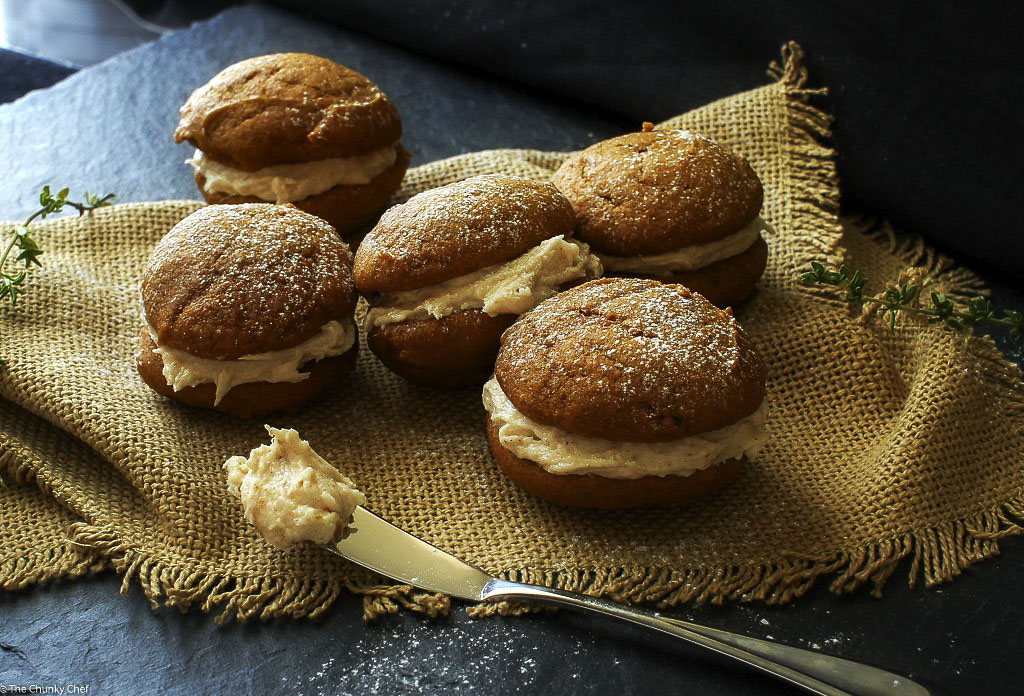 I've made these multiple times already this season, and anticipate making them many more!  I hope you all try these and love them… they're such a fun way to enjoy the spiced pumpkin flavor 🙂


Did you make this? Be sure to leave a review below and tag me @the_chunky_chef on Facebook and Instagram!
Servings:
36
whoopie pies
(hover over # to adjust)
Soft and light spiced pumpkin cookies sandwiched together with a decadent, yet easy to make, browned butter maple cinnamon frosting!
Ingredients
PUMPKIN COOKIES
3 cups all purpose flour
2 tsp ground cinnamon
1 tsp baking powder
1 tsp baking soda
1 tsp salt
1 tsp ground ginger
1/4 tsp ground cloves
Pinch ground nutmeg
2 cups brown sugar packed
3/4 cup vegetable oil
1/4 cup butter melted and cooled
2 eggs
2 3/4 cup canned pumpkin NOT pumpkin pie filling
1 1/2 tsp vanilla
BROWNED BUTTER FROSTING
5 Tbsp butter
4 oz cream cheese softened
1 Tbsp maple syrup
1/2 tsp ground cinnamon
1/4 tsp ground nutmeg
Pinch of salt
pinch of ground cloves
3 - 3 1/2 cups powdered sugar
Instructions
Preheat oven to 350 degrees.

Line a baking sheet with parchment paper and set aside.

In a mixing bowl, whisk together the first 8 ingredients (through nutmeg) and set aside.

To the bowl of a stand mixer, add melted butter, oil, and brown sugar and beat until combined.

Add in eggs, pumpkin, and vanilla and beat for about 1 minute.

Add in the flour mixture, a little at a time, beating until just combined after each addition. Batter will look like thick cake batter at this point.

Use a small cookie scoop or Tbsp measuring spoon and scoop batter onto baking sheet, about 2 inches apart.

Bake for 12-14 minutes. Tops of cookies should spring back when touched lightly.

Let cool on baking sheet for a few minutes, then transfer to a cooling rack.

While the cookies are cooling, make the frosting.

In a small saucepan, over MED-LOW heat, melt the butter. Continue heating the butter until it turns a light golden brown color. Set aside and let it cool for 15 minutes.

In a stand mixer, beat the cooled browned butter and softened cream cheese on MED speed, until light and fluffy (about 2 minutes).

Add in maple syrup, cinnamon, nutmeg, salt and ground cloves and mix on LOW until just combined.

Slowly and gradually beat in the powdered sugar.

To one of the cooled cookies, spread about 2 tsp of the frosting, then top with another cookie. Place on a wax paper lined baking sheet and chill in the refrigerator for about 30 minutes.

If desired, sprinkle with powdered sugar just before serving.
Want to save this recipe for later? Click the heart in the bottom right corner to save to your own recipe box!