I know it may seem a little weird to make a post about gravy… but seriously… this gravy is good!  It's also versatile… it's great on biscuits, mashed potatoes, chicken tenders, chicken fried steak… whatever your heart desires 🙂  No need to use any of those gravy packets from the store, no no no… this tastes way better, and takes hardly any time at all to whip up!
Just 3 ingredients (I don't count salt and pepper) is all it takes to make the thickest, creamiest, smoothest, most delicious white gravy.  3 ingredients.  And they're staple ingredients… butter, flour, and milk.  I'd be willing to bet that you have those in your kitchen right now 🙂
What's your favorite thing to have gravy on?  For me, it's a toss up between mashed potatoes and chicken… specifically fried chicken.  I know… certainly not the healthiest of foods lol (this is why I am the "chunky" chef).  But there is something about that crispy breading, tender juicy chicken, and the creamy, peppery gravy just coating the chicken…… ohhhhh emmmm geeeee I'm hungry now!
So it should be no surprise to you that in this post I'll also be sharing my go-to recipe for fried chicken tenders, however don't let that stop you from serving this gravy over anything you'd like 🙂 My apologies for the lack of cooking pictures for this recipe… I was frying multiple things and got carried away and forgot to photograph what I was doing lol.  Although, this gravy is pretty self explanatory.
Here's how to make this amazing gravy…. Melt your butter in a pan, once it's fully melted, add your flour.  Whisk the flour into the melted butter… it will clump and look like wet sand.  That's what it's supposed to look like, and it's what will thicken your gravy.  Let it cook for about 30 seconds to a minute, then slowly pour in your milk, whisking while you pour.  Continue to whisk until all the clumps have disappeared into the milk.  Let it cook another minute or so, stirring frequently and watch as milk is transformed into a thick gravy 🙂  At this point you can add your salt and pepper, to taste.  Go as peppery as you like.  I knew the kiddos would be eating this too, so I went a little light and added about 1/2 to 3/4 tsp of pepper, and then my husband and I added our own pepper at the table.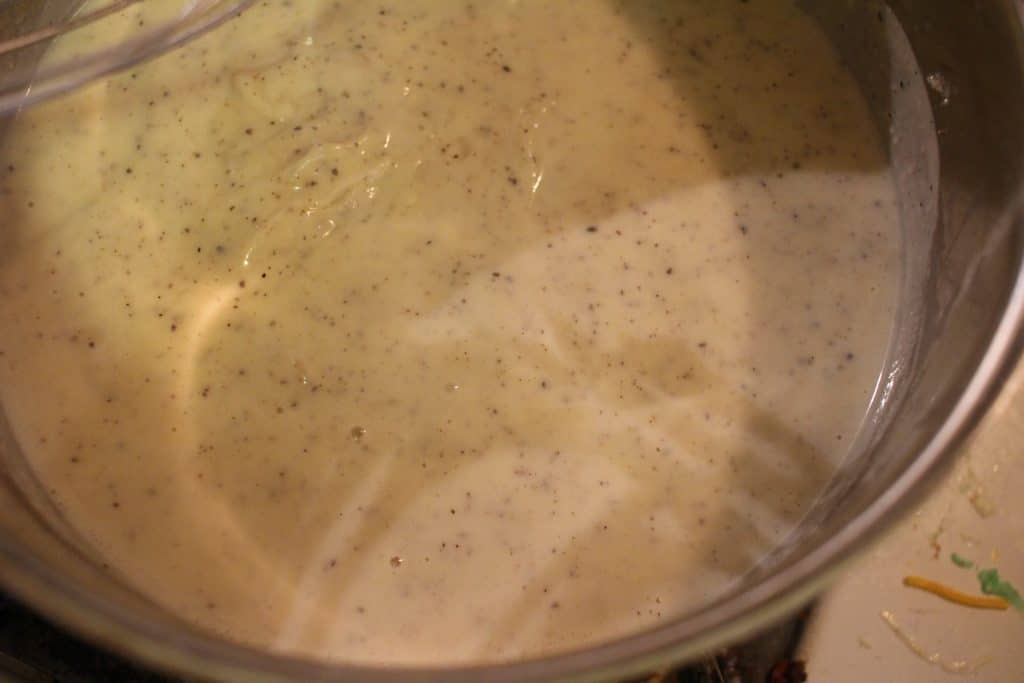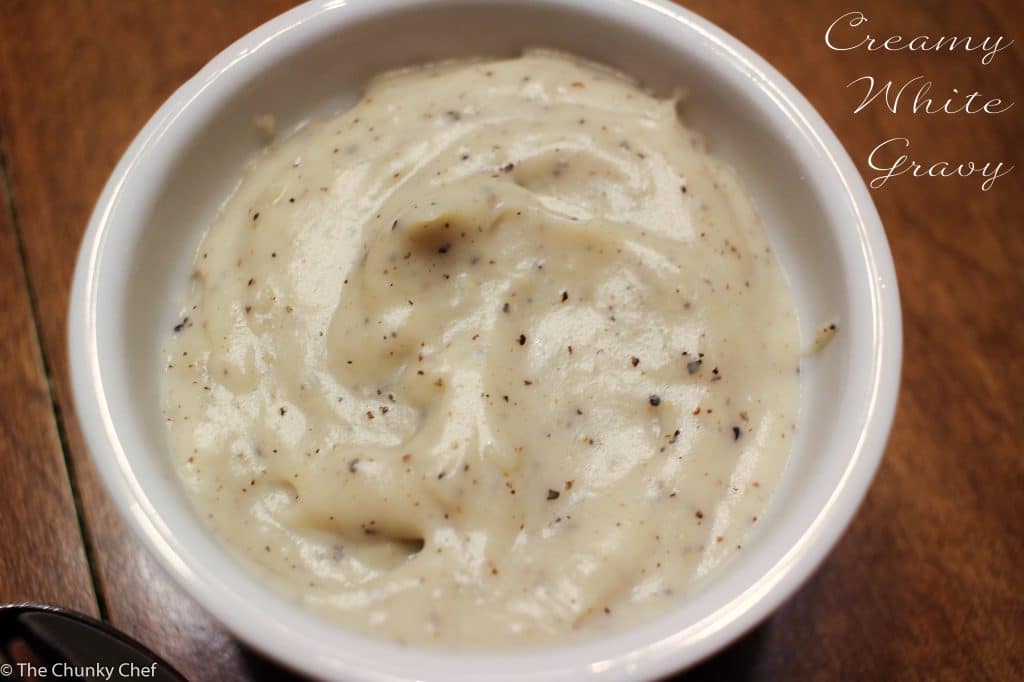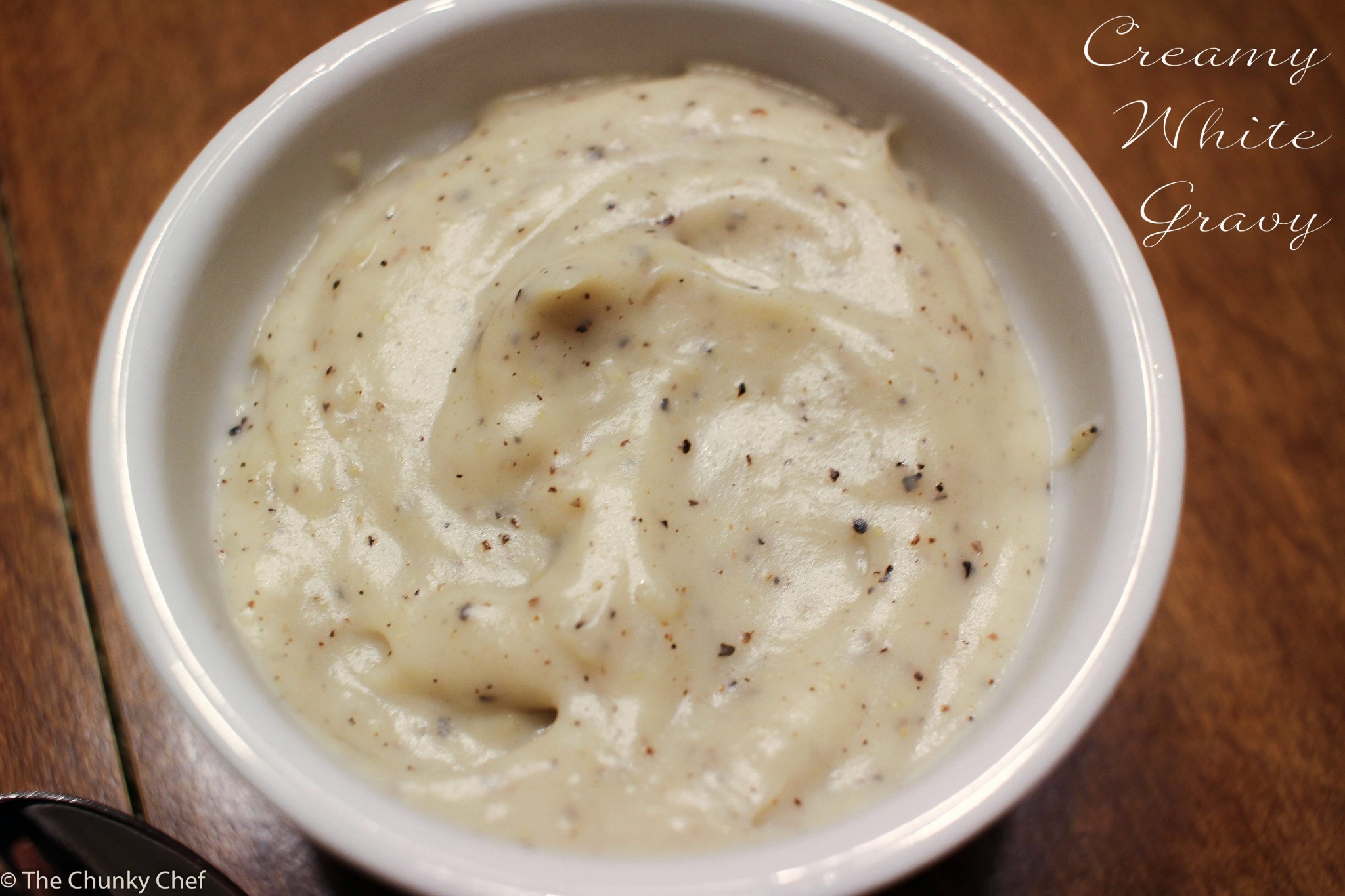 Just look at how thick and creamy that gravy looks 🙂 I served it up with my crispy fried chicken fingers, which I'll share here with you… although please don't judge the pictures… I was more concerned with eating and didn't get to take good pictures of the food lol.
I get a little excited about food 🙂
Soaking the chicken tenders in buttermilk before breading them is what really makes these juicy and tender, not dried out at all.  All I had on hand was chicken breasts, instead of chicken tenders, so I just sliced the breasts into strips… voila!  Chicken tenders 🙂
Toss the chicken into a bowl with the buttermilk and let it sit for about 20-30 minutes or so.  While they're soaking, go ahead and heat up your oil in a large, deep skillet.  I went with vegetable oil, although peanut oil would have been my preferred choice. Add flour and your seasonings to to a dish and stir to combine them well.  Stir in some buttermilk as well, just a few drops at a time, stirring to mix it in well.  It will look like little clumps in the flour.  That's a good thing 🙂 Roll and press the chicken into the flour, coating it well, then fry them in the oil for 3-4 minutes per side, until golden brown and deliciously crunchy!
To keep the chicken crunchy and not soggy, drain the chicken on a paper towel, then place them onto a wire cooling rack while you cook the remaining chicken.  This allows for air to circulate the chicken, so you don't end up with soggy chicken breading… no one likes that! Now just enjoy some comfort food 😀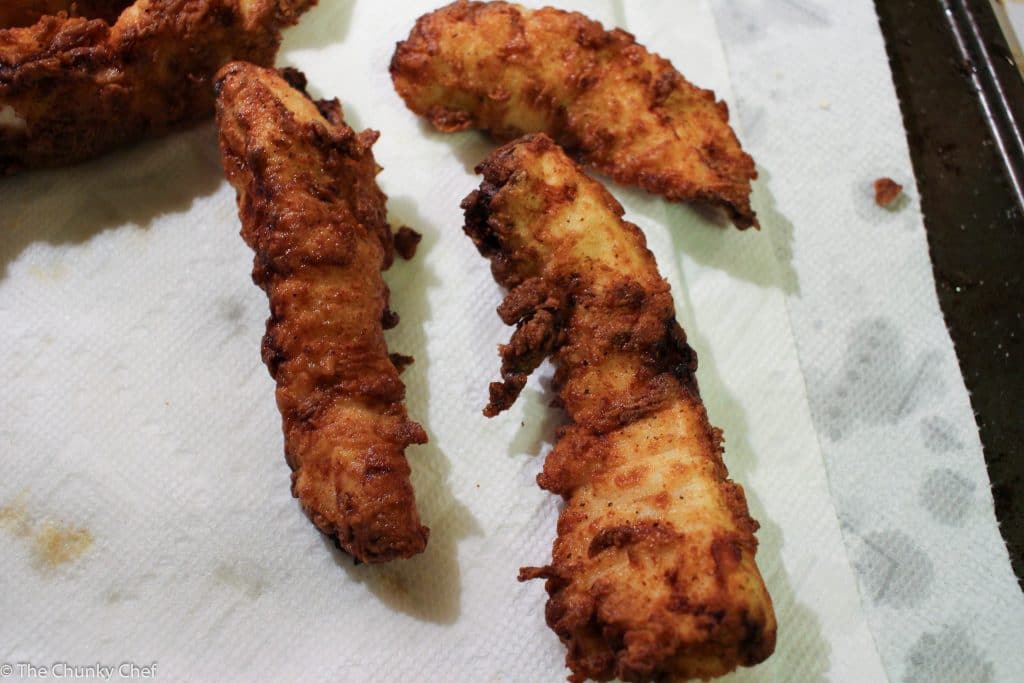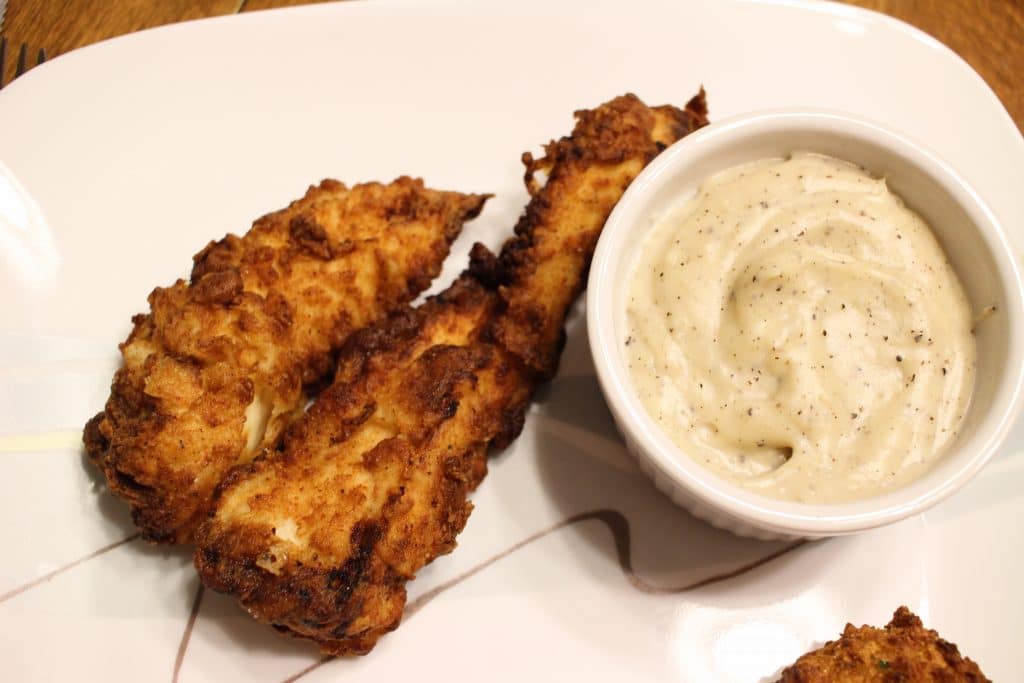 Clearly not the best photographs, but hopefully you can still see how crunchy they look 🙂
If you'd rather have a healthier version of chicken, try my Parmesan Chicken Nuggets, or Heroin Chicken Tenders 🙂
Gravy recipe adapted from Cooking with Honey Coconuts
This recipe will be linking up at the parties on my Link Parties page… be sure to check them out!
Did you make this? Be sure to leave a review below and tag me @the_chunky_chef on Facebook and Instagram!
Creamy, thick, and delicious... try this gravy on your favorite chicken, mashed potatoes, anything you'd like!
Ingredients
3 tablespoons butter
3 tablespoons flour
1 cup milk plus 1-2 optional tablespoons (depending on your preference of thicker or thinner gravy)
salt
pepper
Instructions
In small saucepan, melt butter.

Once butter is melted, add the flour and whisk. It will look like the consistency of wet sand.

Slowly add the milk, and whisk to incorporate. Whisk until smooth.

Gravy will thicken, add in the additional milk if you want a thinner gravy.

Add salt and pepper to taste.
Want to save this recipe for later? Click the heart in the bottom right corner to save to your own recipe box!
Did you make this? Be sure to leave a review below and tag me @the_chunky_chef on Facebook and Instagram!
Servings: 4 servings
(hover over # to adjust)
Irresistibly crunchy and flavorful on the outside, tender and juicy on the inside... these are the best fried chicken tenders!
Ingredients
3-4 boneless skinless chicken breasts sliced into strips
1 cup buttermilk
2 cups flour
1 tsp paprika
1/2 tsp garlic powder
1/4 tsp ground thyme
1/4 tsp onion powder
salt and pepper
Oil for frying (vegetable peanut, etc)
Instructions
Heat frying oil in a large deep skillet to about 350 degrees.

Place sliced chicken in a large bowl, pour buttermilk over, toss and set aside for 20-30 minutes.

Combine flour and seasonings in a shallow bowl or dish. Drizzle some additional buttermilk into the flour mixture, tossing together with a fork. Crumbles will form, the more crumbles the better.

Roll and press the chicken into the flour mixture, coating thoroughly.

Add a couple chicken tenders to the hot oil, being sure not to overcrowd the skillet.

Fry about 3-4 minutes per side, until golden brown.

Use a strainer to remove chicken to a paper towel lined plate, sprinkle lightly with salt.

Then place chicken on a wire cooling rack to allow for air circulation and ensure a crispy outside crust.

Repeat with the remaining chicken tenders.
Want to save this recipe for later? Click the heart in the bottom right corner to save to your own recipe box!