This roasted pork tenderloin is ready in a flash, and absolutely packed with great ginger, honey and garlic flavors! It's a weeknight winner!
Stuck in a weeknight dinner rut?  Try this oven roasted pork tenderloin that's marinated, seared, roasted and basted with plenty of the extra marinade for maximum flavor!  The best part?  It's ready in less than 30 minutes!!
This post is sponsored by the Ohio Pork Council. All opinions are my own.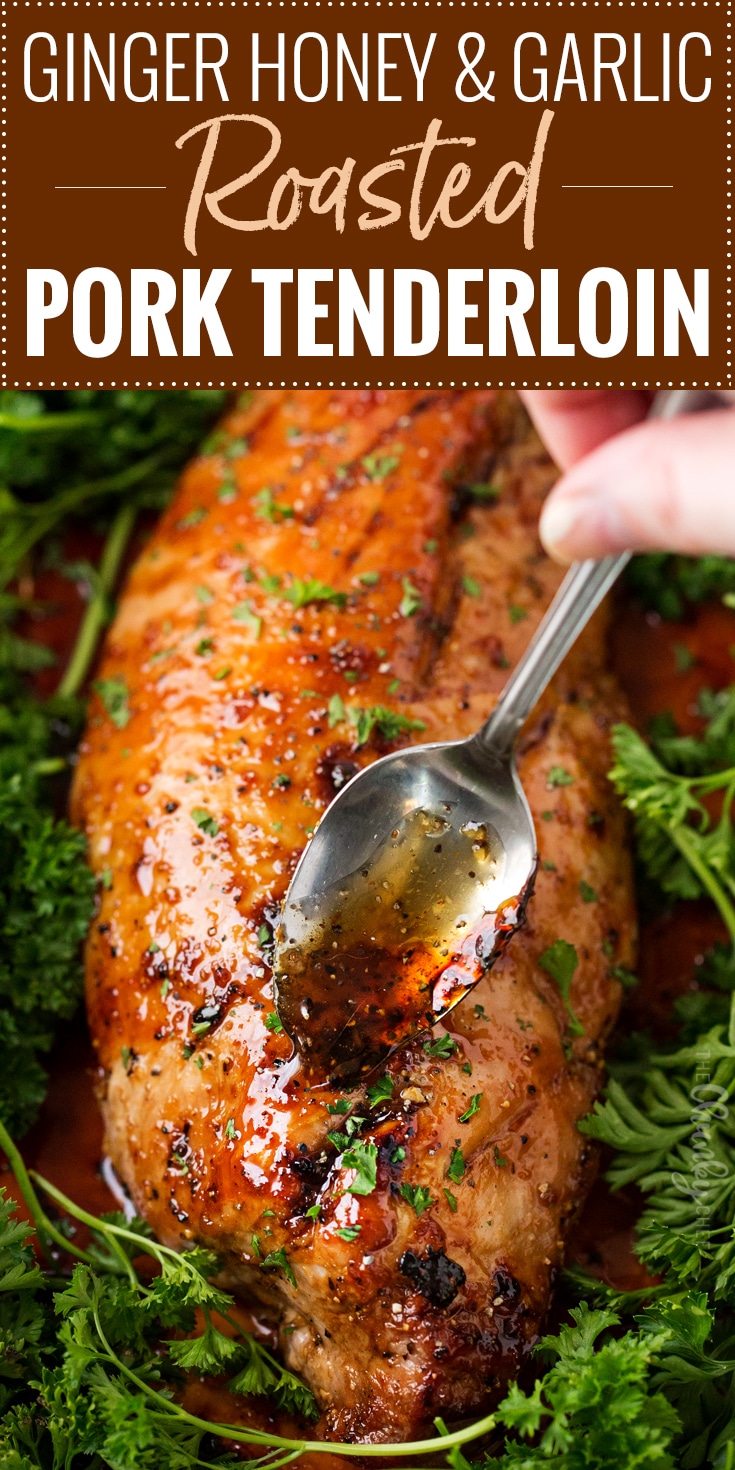 Are you all ready for a great less than 30 minute meal?  With school back in session, I am SO not in the mood for long, involved meals.  Even basic beef tacos had me dreading dinner time the other night.  My energy level is just. not. there!  Anyone else feeling this way lately?
When I plan out my meals for the week, I always ask for input from my husband and daughter (my son doesn't get a vote since he literally lives on chicken nuggets, ketchup and pasta lol), and a lot of the time I get a, "I don't care what the meal is, but just NO chicken!".  We eat a LOT of chicken in this house you guys… and apparently, some family members are so over it.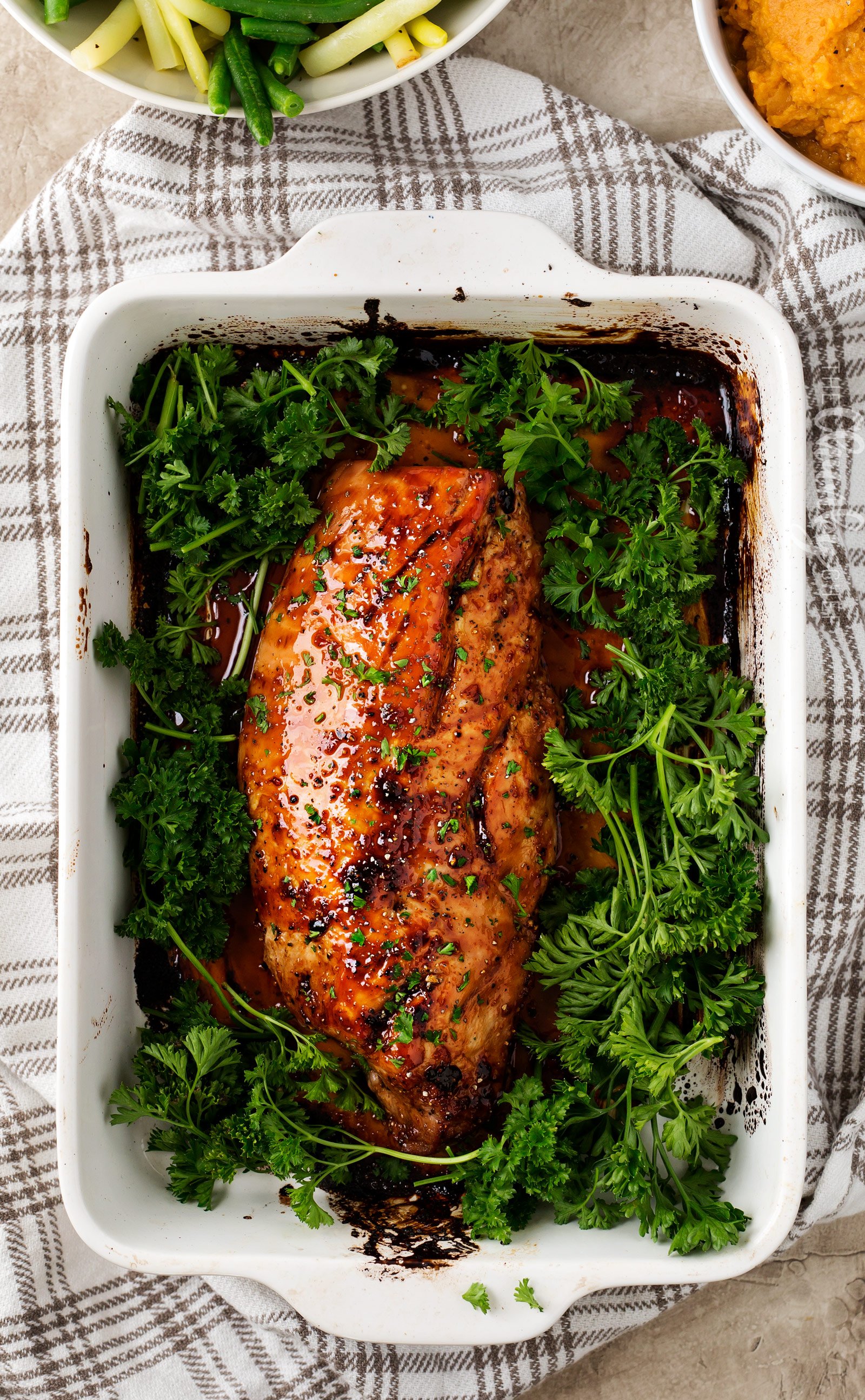 I figured that I needed to choose something quick, easy, and healthy, so I went with a pork tenderloin!  Alright, confession time… before I created and tested this recipe, I had never cooked a pork tenderloin before.  I know… crazy right?!  Somehow I always thought it would be fussy or complicated, but in reality, it's exactly the opposite!
IS THIS MEAL REALLY READY IN UNDER 30 MINUTES?
Yes indeed!  Well, marinade time not included.  But just toss the pork in the marinade in the morning, and you'll be ready to go at dinner time!  The beauty of a pork tenderloin is that it's pretty quick-cooking.  Plus, you don't want to overcook the meat, so it doesn't have to cook as long as you'd think.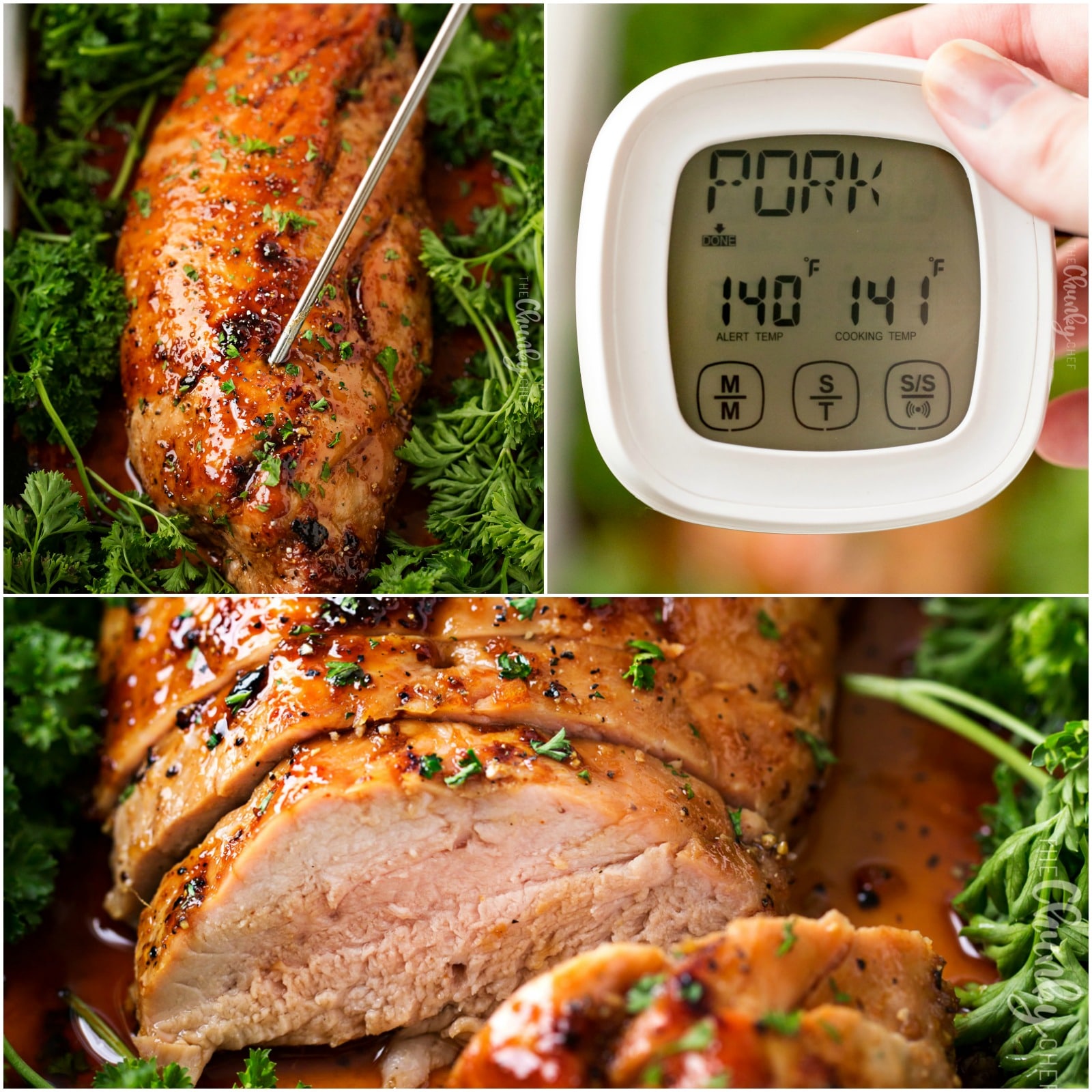 BUT… YOUR PORK IS KIND OF PINK!
It sure is, which is what makes it so tender and delicious!  Pork is actually supposed to be cooked to an internal temperature of 140-145 degrees F and have a blush of pink.  I pull my tenderloin from the oven before then, so it can broil and get that great glaze on top without going over the temperature and losing that great blush of pink!  I love to use my handy meat thermometer for this, because I can leave the probe IN the meat while it's in the oven, and the device sits on my counter.  I can program it to beep when it's at a certain temperature, so I don't have to continually check and re-check.
Don't let the pink scare you… it's not like chicken where pink = bad.  I promise you'll love it 🙂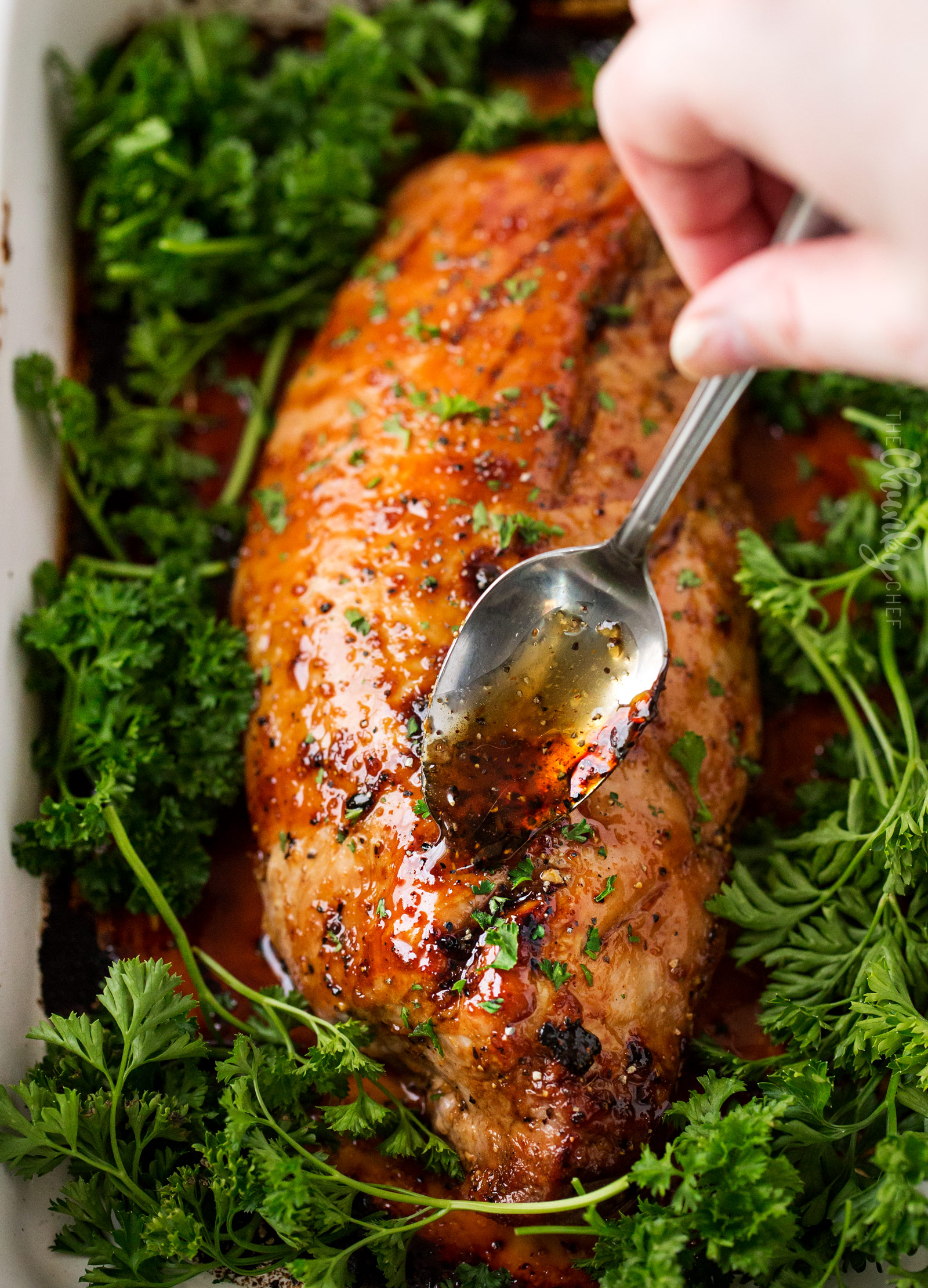 IS THIS PORK SWEET OR SPICY?
It's really a perfect blend of sweet and savory, and the spiciness is up to you!  I add a pinch of cayenne to my marinade, but you can leave that out if you don't like a little spice, or increase the amount to give it a healthy kick!  The great thing about pork is that it's really a blank canvas, (like chicken), in that it takes on the flavors that you give it, so you can truly make this dish your own.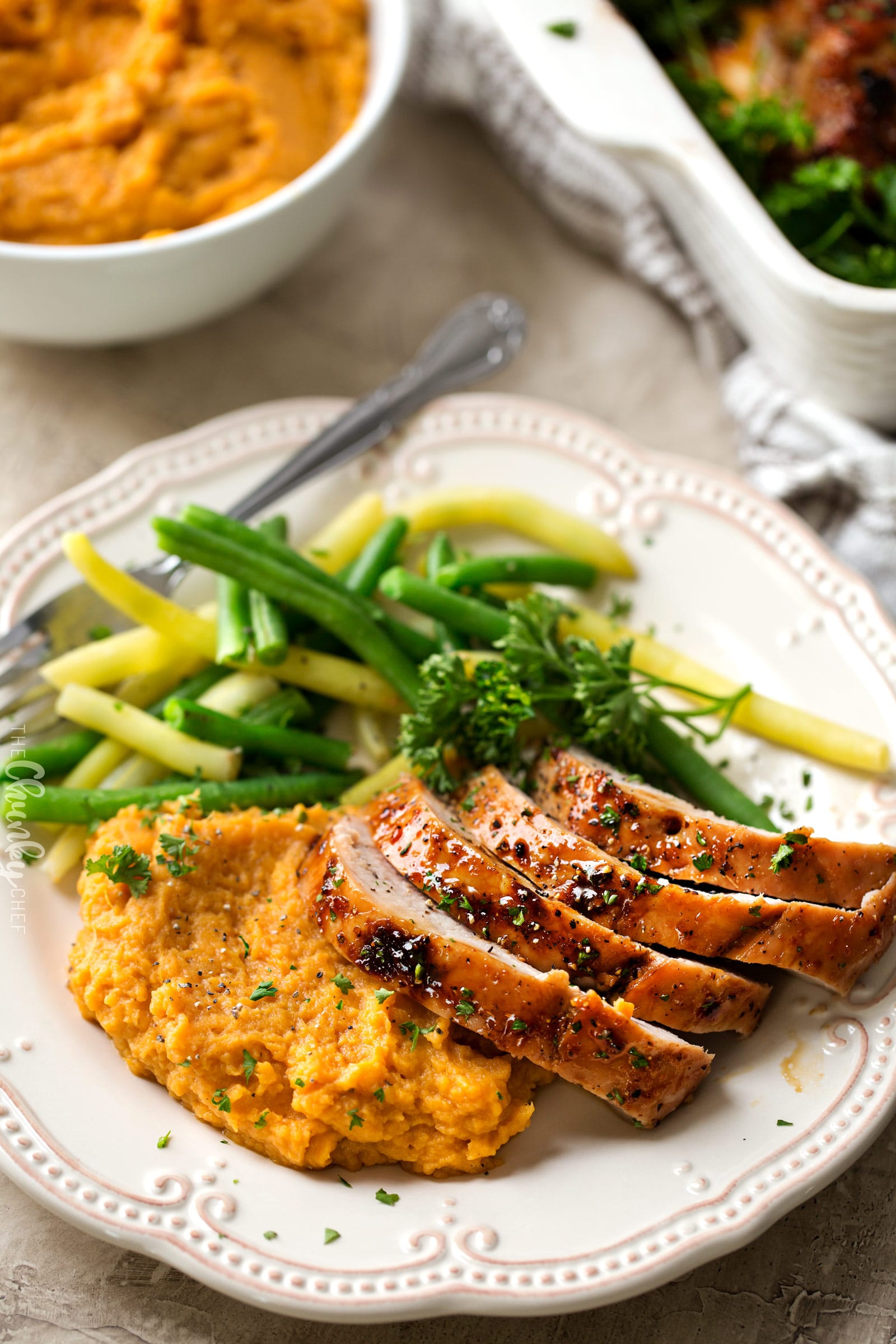 WHAT DO I SERVE WITH THIS ROASTED PORK TENDERLOIN?
Since it's almost Fall, I went with a mashed sweet potato and some steamed green and wax beans.  BUT, here are some other delicious options!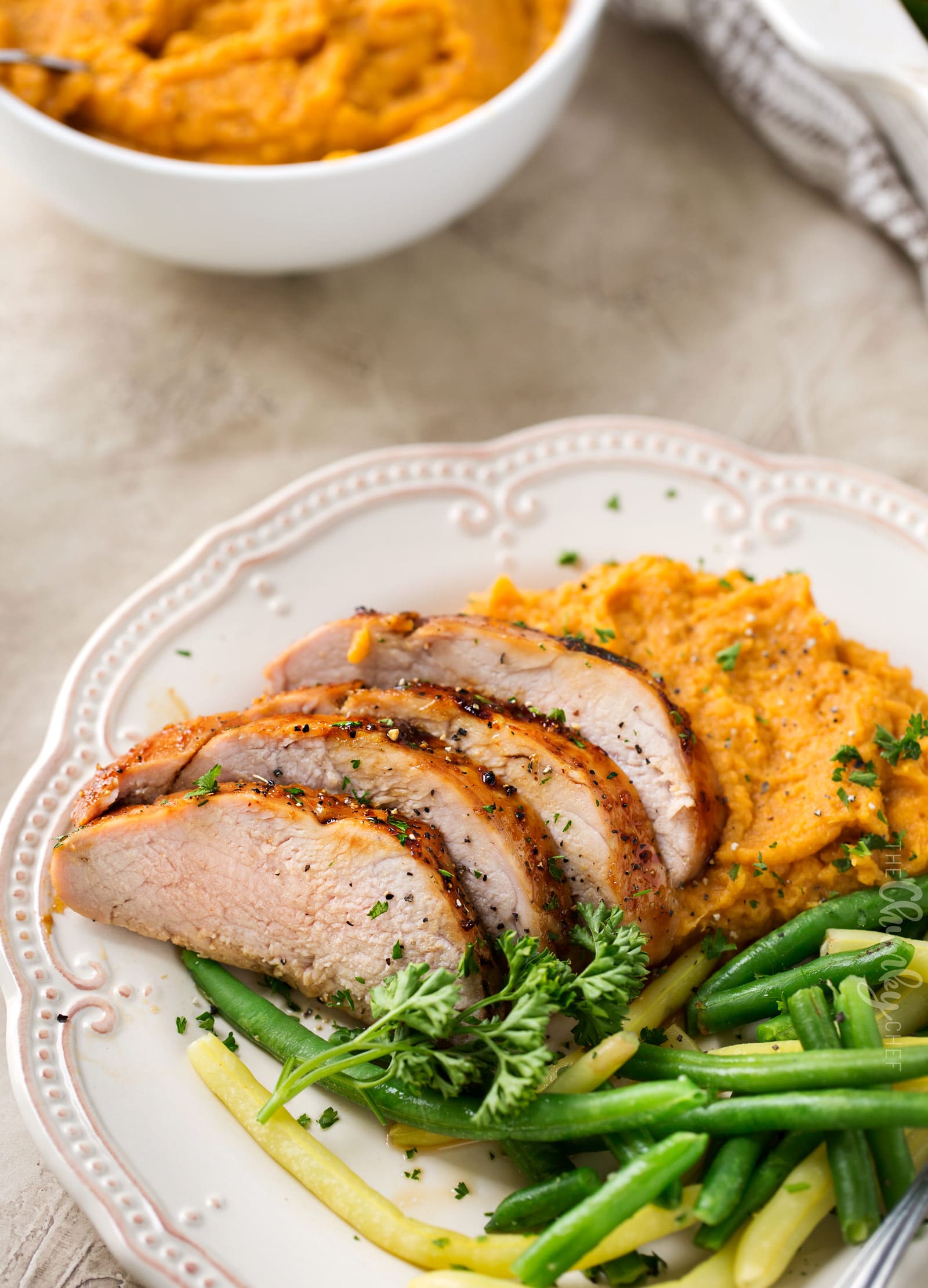 I really hope you guys give this ginger honey roasted pork tenderloin a try… I promise, it's not complicated, and it comes together SO quickly!  Give it a try instead of opting for chicken (again), and I'm sure you'll love it!
LOOKING FOR MORE GREAT PORK RECIPES?


Did you make this? Be sure to leave a review below and tag me @the_chunky_chef on Facebook and Instagram!
This roasted pork tenderloin is ready in a flash, and absolutely packed with great ginger, honey and garlic flavors! It's a weeknight winner!
Ingredients
1 lb pork tenderloin, excess fat trimmed
1 1/2 Tbsp fresh ginger, grated
7 Tbsp honey
2 Tbsp lemon juice
2 tsp grated fresh garlic
2 1/2 Tbsp soy sauce
kosher salt and black pepper, to taste
pinch cayenne pepper
olive oil for cooking
chopped fresh parsley, for garnish
Instructions
Combine ginger, honey, lemon juice, garlic, soy sauce, cayenne, salt and pepper in a small mixing bowl.

Add half the marinade ingredients to a large ziplock bag and add pork tenderloin. Seal bag and marinate for a few hours or overnight. Pour leftover marinade into an airtight container and keep refrigerated until ready to roast the pork.

Line a baking sheet or baking dish with a double layer of aluminum foil and set aside. Remove leftover marinade container from the refrigerator and preheat oven to 400 F degrees.

Heat a large skillet with a bit of olive oil over MED-HIGH heat, remove excess marinade and sear pork tenderloin very briefly on all sides until lightly golden brown.

Transfer tenderloin to prepared baking sheet/dish and roast for 10-15 minutes, until a meat thermometer inserted in the thickest part of the tenderloin registers 133 F degrees.

Brush with leftover marinade and broil on HIGH for 1-2 minutes until golden. Remove from oven, cover with foil and let rest a few minutes. Pork will continue carry-over cooking and should end up between 140-145 F degrees with a blush of pink.

Brush marinade over the top of pork tenderloin and sprinkle with parsley if desired.Slice into 1/2 inch thick slices and serve.

Want to save this recipe for later? Click the heart in the bottom right corner to save to your own recipe box!
Chef Tips
Prep time does not include marinating time, as this will vary from individual to individual.
Nutrition Disclaimer
The Chunky Chef is not a dietician or nutritionist, and any nutritional information shared is an estimate. If calorie count and other nutritional values are important to you, we recommend running the ingredients through whichever online nutritional calculator you prefer. Calories can vary quite a bit depending on which brands were used.