These cheesesteaks are made with juicy chopped ribeye, caramelized onions, golden brown mushrooms, and are smothered in gooey provolone cheese. All that goodness is wrapped up in a tender hoagie roll that's been slathered in a creamy garlic horseradish sauce!
This is one of my Sandwich recipes I know you'll want to keep on hand!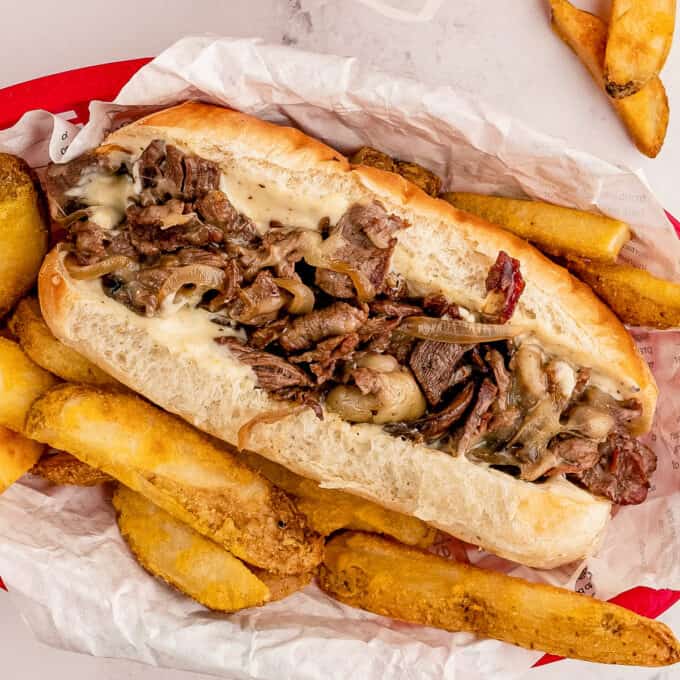 Do you have a go-to sandwich? Whenever we're headed to a sub place, I already know I'm getting a cheesesteak.
There's just something about that fantastically gooey concoction of juicy steak, caramelized onions and mushrooms and melted cheese!
While this is not an authentic Philly Cheesesteak (so no hate please), this is the version we find most often here in Ohio, and the version my family and I love.
One of the things that makes this sandwich so great is a super easy creamy garlic horseradish sauce. No regular mayo or mustard here folks… it adds an extra flavor boost that is just irresistible!
How to make cheesesteaks?
This is just an overview; the full ingredients and directions are in the recipe card toward the bottom of this post.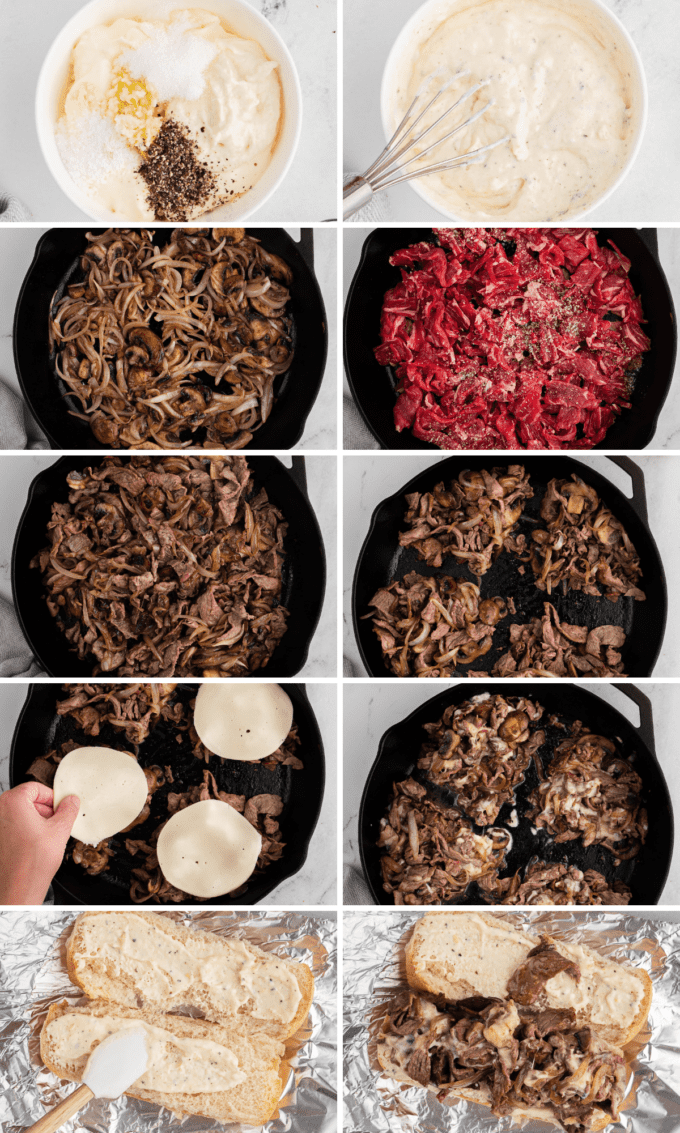 Make horseradish sauce. This can be done earlier in the day, or even a day or two before.
Cook onions and mushrooms. To get a great color on the onions and mushrooms, wait to add the salt and pepper until after they've cooked.
Cook steak. Stir just occasionally, to allow the steak to get some good golden brown color.
Combine and add cheese. Add the onion and mushroom mixture to the steak, divide into sections and top with cheese.
Assemble cheesesteaks. Add plenty of horseradish sauce and cheesesteak mixture, then roll up in the foil (or other oven-safe material of your choosing).
Bake. This quick bake makes everything super gooey.
Helpful Tip!
The easiest way to slice a ribeye steak is to put it in the freezer first. Just for about 20-30 minutes… it firms up the steak so you can slice it much easier. It's also super important that you cut the steak against the grain and slice it at a 45 degree angle. I discuss more about that, and include step by step photos for doing it, in this Mongolian beef post.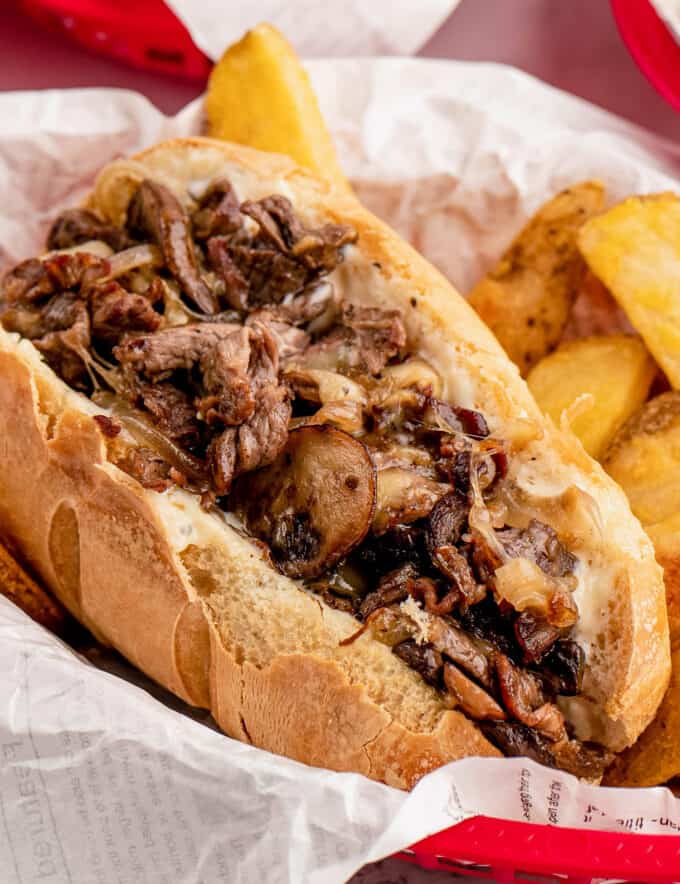 Variations of this recipe
Mushrooms – we love the meaty flavor of cremini (sometimes called baby bella) mushrooms, but simple white button mushrooms will also work just fine.
Peppers – if you prefer peppers in your cheeseteaks, please feel free to add some! Some of our favorites are green bell peppers, cubanelle peppers, and banana peppers.
Un-baked – if you're running short on time, you can skip the oven step if you'd like. However we definitely prefer these cheesesteaks baked.
Rolls – you can use any hoagie rolls you'd like. We like to pick up a pack of Perfection Deli Super Sub rolls from the grocery store, but any hoagie roll/bun will work.
No horseradish – if you aren't a horseradish fan, feel free to omit the horseradish sauce, and go for plain mayonnaise, or a mayo and spicy brown mustard combo.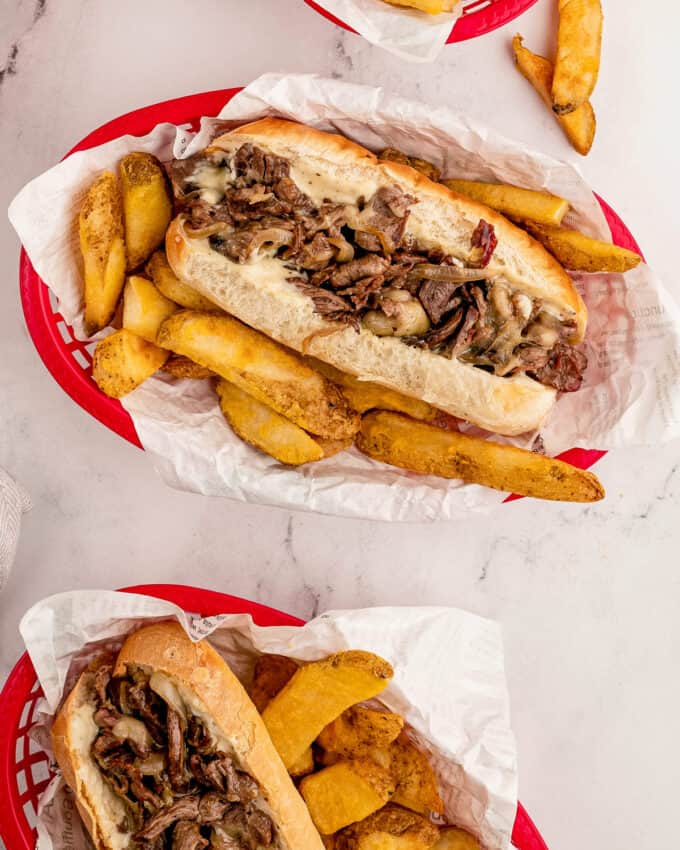 FAQ's
What's the best steak to use for cheesesteaks?
The holy grail of a cheesesteak is of course, the steak itself. Through a lot of testing, I found that the best cut of steak to use is a boneless ribeye. All that marbleization leads to great flavor and tenderness. Although steaks can be expensive, the good news is that you only need one steak to make 4 cheesesteaks!
Is this an authentic Philly-style cheesesteak?
No, this is just the version of a cheesesteak that we love. An authentic Philly cheesesteak has several differences in the ingredients added to the steak, uses a different cheese (usually Cheez Whiz), and typically use a very specific type of roll (Amoroso rolls).
Making cheesesteaks ahead of time
During testing, I found that the hoagie rolls got pretty soggy when the cheesesteaks were made ahead of time.
However, the filling and horseradish sauce can be made entirely ahead of time, which saves a bunch of time!
You can also prep this meal ahead.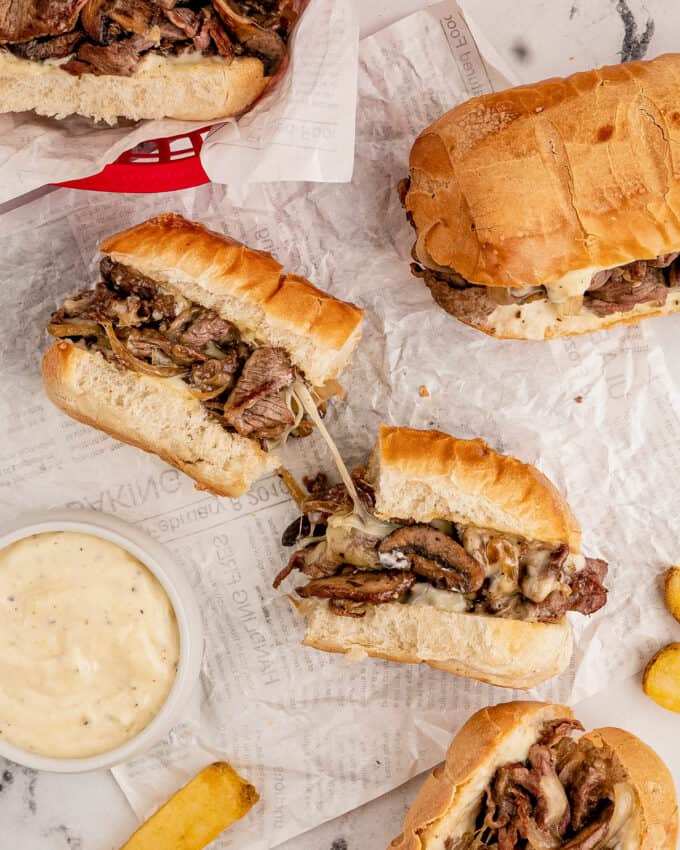 How to prep ahead for this recipe:
Steak – the ribeye can be sliced and chopped, and kept in the refrigerator for a day or so.
Onions – the onion can be sliced and kept refrigerated for a day or so.
Mushrooms – the mushrooms can be sliced and kept refrigerated for a day or so.
Sauce – the sauce can be made and refrigerated for a few days.
Storage
Leftover cheesesteak mixture should be refrigerated in an airtight container for up to 4-5 days.
Reheat, then add to hoagie rolls and bake as directed for a quick and easy dinner!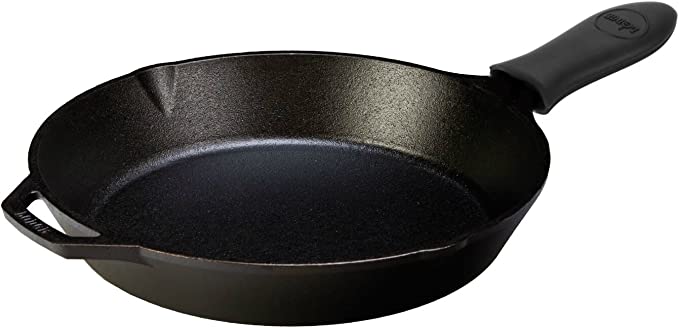 Cast iron skillets are my go-to for recipes like this, where a great sear is needed. The even heat distribution just can't be beat!
Recipe originally posted in April 2018, but has been updated in October 2022 with additional information and new photos.
Did you make this? Be sure to leave a review below and tag me @the_chunky_chef on Facebook and Instagram!
These cheesesteaks are made with juicy chopped strips of ribeye, caramelized onions, golden brown mushrooms, and are smothered in gooey provolone cheese.
Ingredients
Horseradish sauce
1/2 cup mayonnaise
1 Tbsp + 1 tsp prepared horseradish or to taste
2 cloves garlic grated or very finely minced
1/4 – 1/2 tsp granulated sugar optional
1/4 tsp kosher salt
1/4 tsp black pepper
Cheesesteaks
1 medium yellow onion peeled, cut in half, then thinly sliced
8 oz cremini mushrooms sliced
1/4 tsp dried thyme
3/4 – 1 lb boneless ribeye steak sliced thinly against the grain, then roughly chopped
4 slices provolone cheese
2 Tbsp unsalted butter divided
2 Tbsp vegetable oil divided
1 tsp kosher salt divided
1 tsp black pepper divided
4 hoagie rolls
Instructions
Prepare
Things move quickly in this recipe, so make sure you have everything chopped and measured.

Preheat oven to 250°F and lay out 4 square sheets of aluminum foil (or other oven-safe material of your choosing).
Make horseradish sauce
Add all horseradish mayo ingredients to a small bowl and whisk to combine. Cover and chill.
Cook onions and mushrooms
Heat a large skillet (12" is great if you have it, if not, use your largest), over MED HIGH heat. Add 1 Tbsp butter and 1 Tbsp oil, then add sliced onions and mushrooms.

Season with dried thyme, and cook, stirring just occasionally, for 5-8 minutes. After cooking, season with 1/2 tsp of salt and 1/2 tsp pepper.

Remove onions and mushrooms to a plate.
Cook steak
Add remaining 1 Tbsp butter and 1 Tbsp oil to the same skillet and keep heating over MED HIGH heat.

Add chopped steak, season with remaining 1/2 tsp salt and 1/2 tsp pepper, and cook, stirring just occasionally, for 2-3 minutes.
Combine and add cheese
Return onions and mushrooms to the skillet, stirring well to combine, cooking for about a minute.

Divide the meat mixture in half and move each half to opposite sides of the skillet. 

Divide each half into two sections, then add a slice of cheese on top of each of the four sections.

Let the mixture cook another minute, until cheese is melty. Stir around so the cheese gets incorporated into the meat mixture.
Assemble cheesesteaks
Spread a generous amount of horseradish mayo to each hoagie roll.

Add each section of meat mixture to a hoagie roll, then roll up somewhat tightly in the foil sheets (or other oven-safe material).
Bake
Add foil wrapped hoagies to preheated oven and bake for 10 minutes or so.
Want to save this recipe for later? Click the heart in the bottom right corner to save to your own recipe box!
Chef Tips
Green bell pepper, sweet/hot peppers, and banana peppers are all great additions to this cheesesteak recipe.
Replace provolone with Cheez-Whiz or another cheese if you'd like.
Calorie information shared is an estimate, and will vary greatly depending on the ingredients used.
If you were a fan of the original recipe, all that's changed here is the horseradish sauce has been doubled (so you can have more on the cheesesteaks), and instead of all butter, things are sautéed in a mixture of butter and oil (to prevent the butter from burning).
Nutrition Disclaimer
The Chunky Chef is not a dietician or nutritionist, and any nutritional information shared is an estimate. If calorie count and other nutritional values are important to you, we recommend running the ingredients through whichever online nutritional calculator you prefer. Calories can vary quite a bit depending on which brands were used.
Recipe inspired by The Little Kitchen