Ultra flavorful and tender, this Pork Shoulder is smoked low and slow, and creates the most amazing, melt in your mouth pulled pork! Perfect for any cookout or BBQ, complete with grill cooking instructions as well.
This Smoked Pork Shoulder recipe is one of those that I love to make for potlucks and bbq's. We also love easy smoker recipes like my Smoked Chicken Wings and 3-2-1 Smoked Ribs. This is one of my Summer recipes I know you'll want to keep on hand!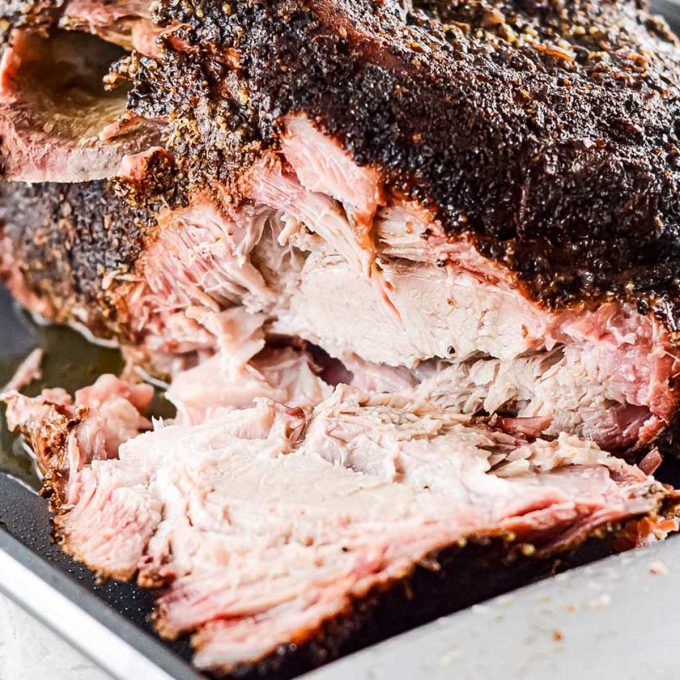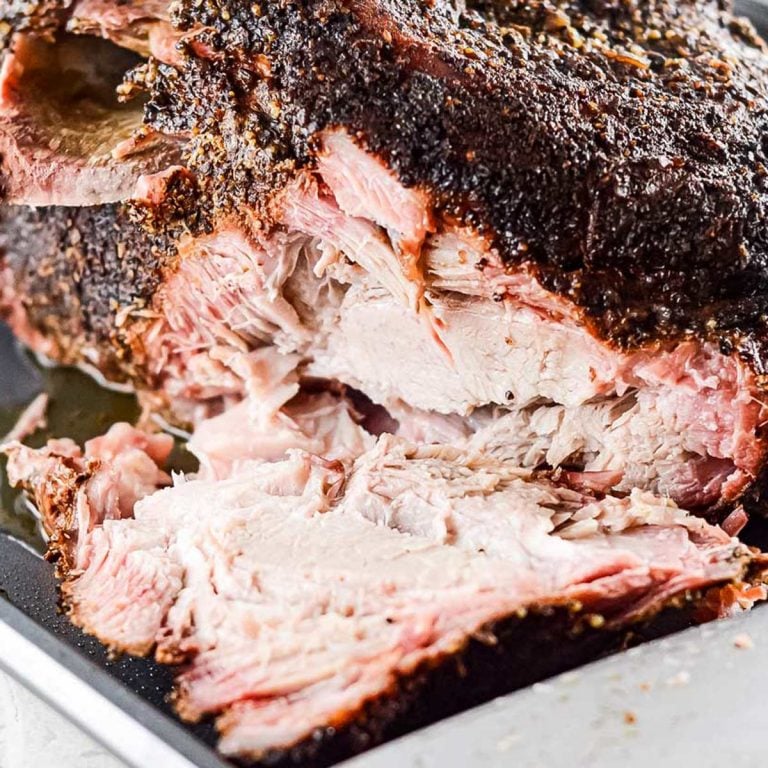 If there's one summertime food that I'm obsessed with, it's barbecue! Smoked meats of all kinds, in any flavor. Just gimme that smoke ring!!
My husband is the master smoker in our household, but I like to throw my hat into the ring once in a while… it's genuinely fun.
Smoked pork shoulder is a great crowd-pleaser, and it makes a TON. Once you shred all that mouthwatering pork, you have enough for sandwiches, potato toppers, mac and cheese toppers, and plenty left over to freeze.
There's something about that succulent meat combined with the peppery bark-like crust that just makes me SO hungry. And now you don't have to pay out the nose for a small portion from a bbq restaurant… you can make your own, pitmaster-worthy smoked pork shoulder, at home!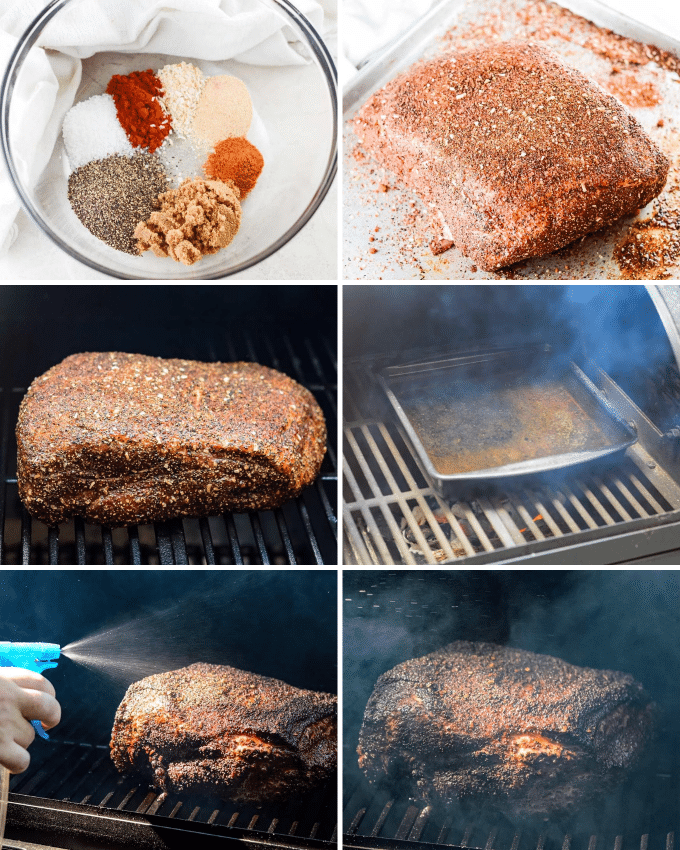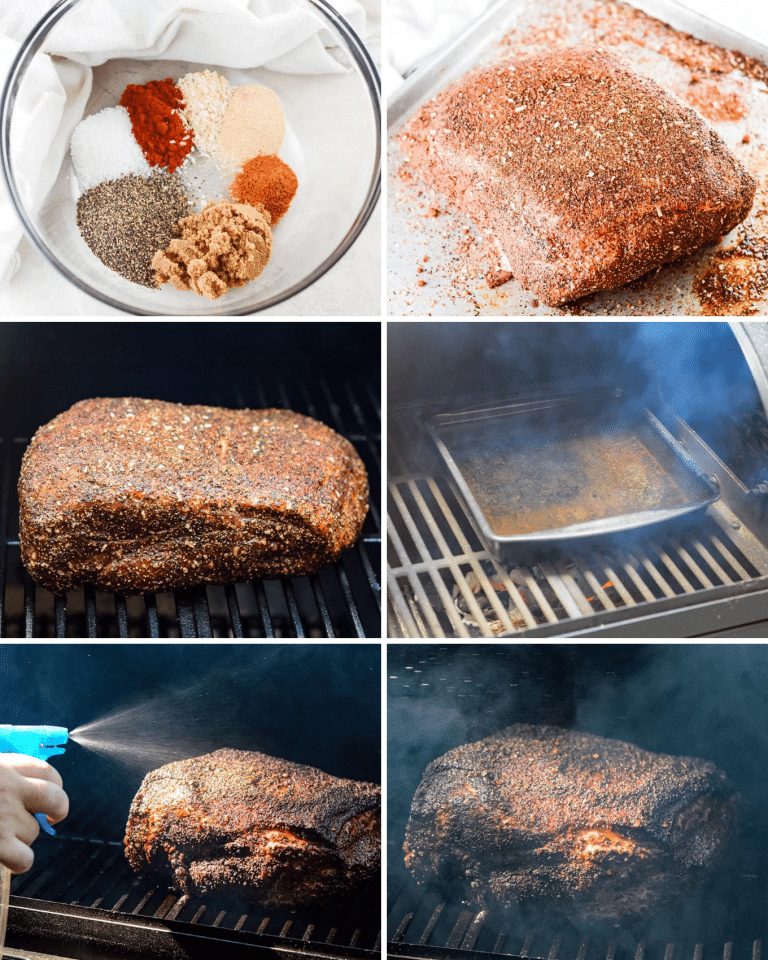 HOW TO MAKE A SMOKED PORK SHOULDER
Prepare the smoker. Consult your smoker's manual for how to best get your smoker ready. Fill baking dish or foil pan with water and set on one side of the smoker grate. This keeps the pork nice and moist.
Rub the pork. Rub pork with olive oil. Combine rub seasonings and rub into pork on all sides.
Fill spray bottle. Fill with a 1:1 ratio of apple juice and apple cider vinegar and set aside. You'll be spritzing the pork every hour for the first 4 hours.
Smoke pork. Add pork shoulder to smoker grate and smoke at 250°F for 4 hours. Each hour, open up the smoker and spritz pork.
Wrap the pork. Spritz pork one more time, then wrap with foil or peach paper. Return to smoker and smoke at 225°F for approximately 4 more hours.
Check temp. Pork should have an internal temperature of between 195-205°F.
Let pork rest. Remove pork from smoker and keep pork wrapped while it rests for 20 minutes or up to 2 hours.
ADDITIONAL COOKING TIPS
If you've never smoked a pork shoulder before, don't let it scare you. 90% of the time spent making it is hands off time, and I've detailed step by step instructions down below in the recipe card. Plus, here are a few extra tips.
COOK TO TEMPERATURE, NOT BY TIME
When smoking, you need to use the cook time, as a guideline, not an actual timer. SO many factors can go into a piece of meat taking longer to smoke, such as the meat itself, smoker variations, wind and outside temperature, and more.
The key to smoking is going low and slow and with plenty of patience. Instead of relying on time, you'll want an internal thermometer. The internal temperature of the meat is what you'll be using instead of time.
I've linked my favorites below, but don't be thrown off thinking you'll need to drop a bunch of cash. You can get a quality thermometer for not much more than a large pizza!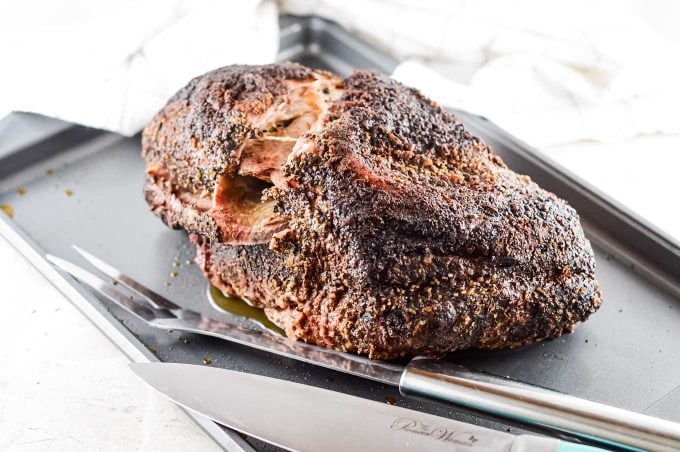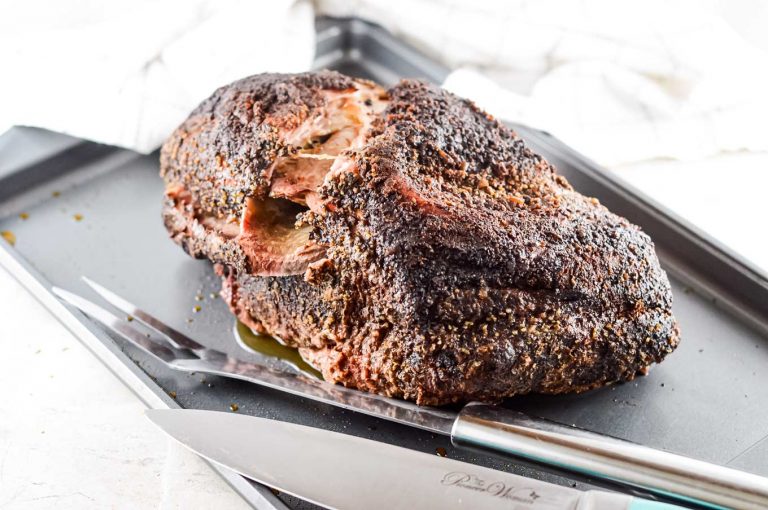 WATCH FOR THE STALL
If you have a thermometer that continually monitors the pork's temperature, you'll notice there will come a time where the internal temp is just. not. rising! That's perfectly normal, and nothing to worry about.
It's called the stall. This is where the temperature stops rising as the collagen in the meat breaks down. It can be frustrating, but all cuts of meat that take hours and hours to cook will have this. Brisket and pork shoulders are notorious for it.
Just keep smoking the pork, it will make it through this plateau, I promise!
TO WRAP, OR NOT TO WRAP
Some smoked pork recipes don't call for the pork shoulder to be wrapped. I've made it both ways, and I prefer the wrapped version. The main reason is to push through the stall quicker.
Without being wrapped, the pork can take longer to finish cooking, as well as potentially losing juices during the longer cooking time. Wrapping the pork locks all that moisture in. This is sometimes referred to in BBQ circles as the "Texas crutch", since it's a crutch to get you over the stall hump.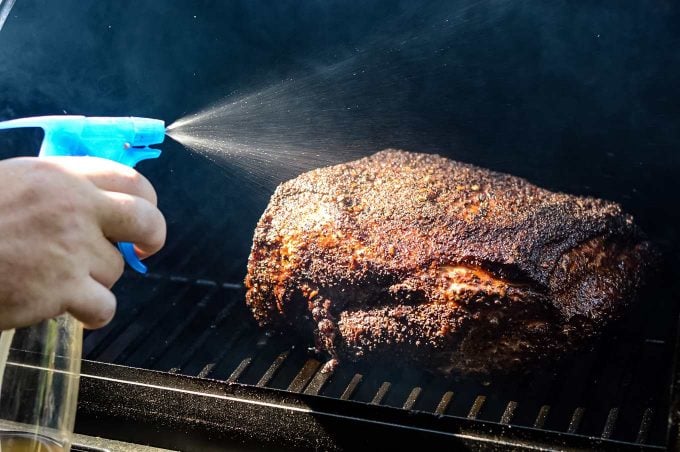 VARIATIONS OF THIS RECIPE
MUSTARD – I used olive oil to bind the rub to the pork shoulder in this recipe, but I've also made this using plain yellow mustard, like I do with my Crockpot Beef BBQ. It works just as well, and adds a little tang to the dish.
BOURBON – Bourbon and pork are just perfect together! Try adding a little bourbon to the spritzing bottle and/or the baking dish of water.
BBQ SAUCE – This pork is full of flavor… in fact, you may not need or want bbq sauce! But if you do, use either your favorite bottled variety, or try my Bourbon BBQ Sauce or Dr Pepper BBQ Sauce.
LOW CARB – if you're watching your carbs very carefully, you could swap the brown sugar with a sugar substitute, such as Swerve. Also, make sure you're using apple juice that is 100% juice with no sugar added.
MAKING SMOKED PORK SHOULDER AHEAD OF TIME
As this pork takes a while to smoke, you kind of ARE making it ahead of time! But if you're just going to be far too busy the day of, you can smoke your pork the day before.
Smoke as directed, let rest as directed, then shred. Let pork cool completely, then add to foil pans and cover tightly with foil. Refrigerate overnight.
To reheat, add foil pans to your smoker (at 225 F degrees), or an oven set to 225 F degrees, and let them gently reheat about 40-45 minutes, until hot.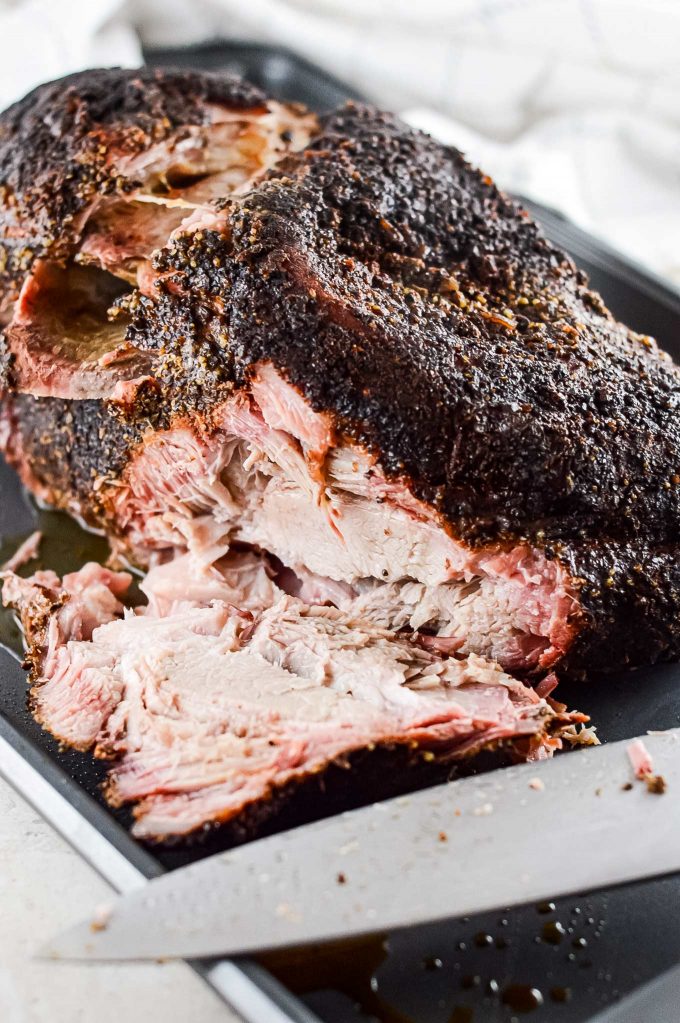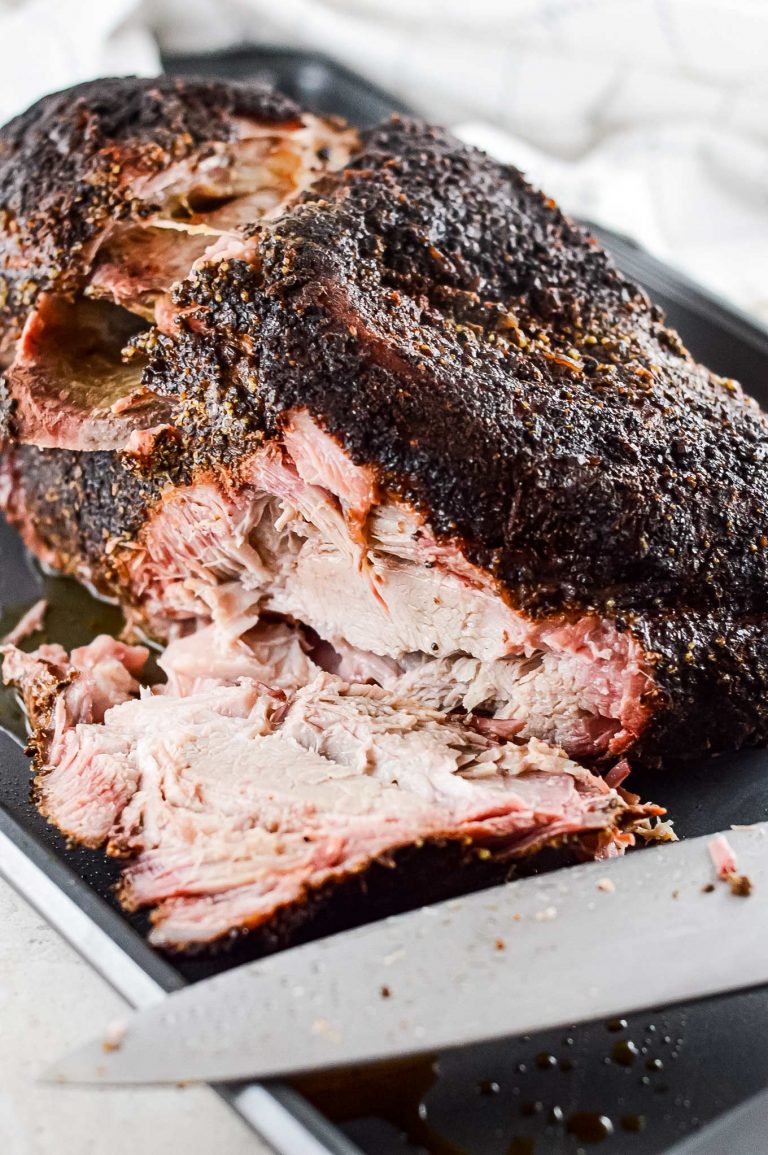 STORAGE
Leftovers should be refrigerated in an airtight container and consumed within 4 days.
SPECIAL EQUIPMENT FOR THIS RECIPE
Tongs – these tongs are durable and I love the longer one for grilling/smoking.
Traeger Pro Series 34 – this is my exact smoker, and it's amazing for so many things!
Peach Paper – perfect for wrapping the pork up.
Apple wood pellets – the same pellets I use.
Internal Meat Thermometer – the key to great grilling/smoking is to use a meat thermometer! This one is inexpensive, accurate, and so quick! If you prefer a thermometer that stays in the meat and can alert you when the meat has reached a set temperature, try this ThermoPro!
BE SURE TO SCROLL DOWN TO CHECK OUT OTHER READERS' COMMENTS FOR TIPS AND REVIEWS.
AND DON'T FORGET, IF YOU'VE MADE THIS RECIPE, LEAVE A COMMENT AND PLEASE GIVE IT A STAR RATING LETTING ME KNOW HOW YOU ENJOYED IT!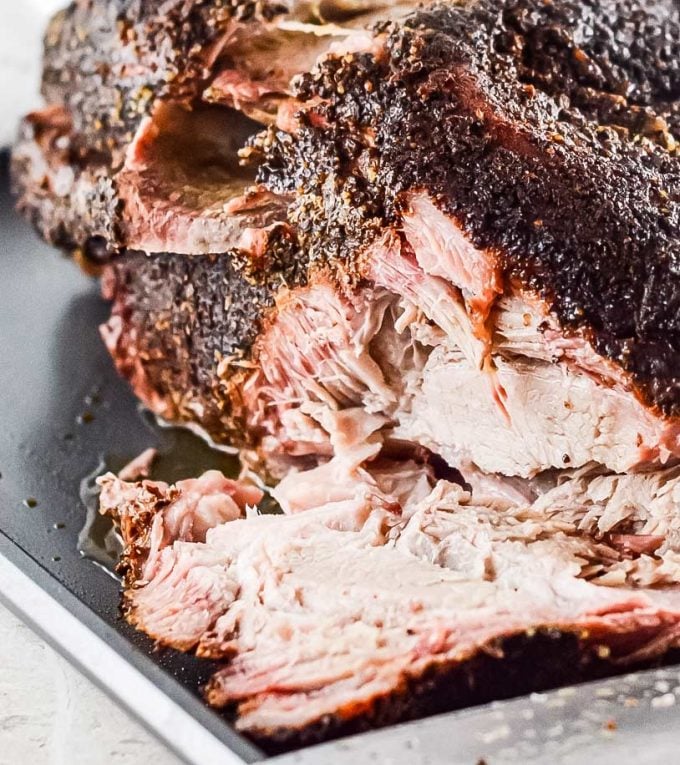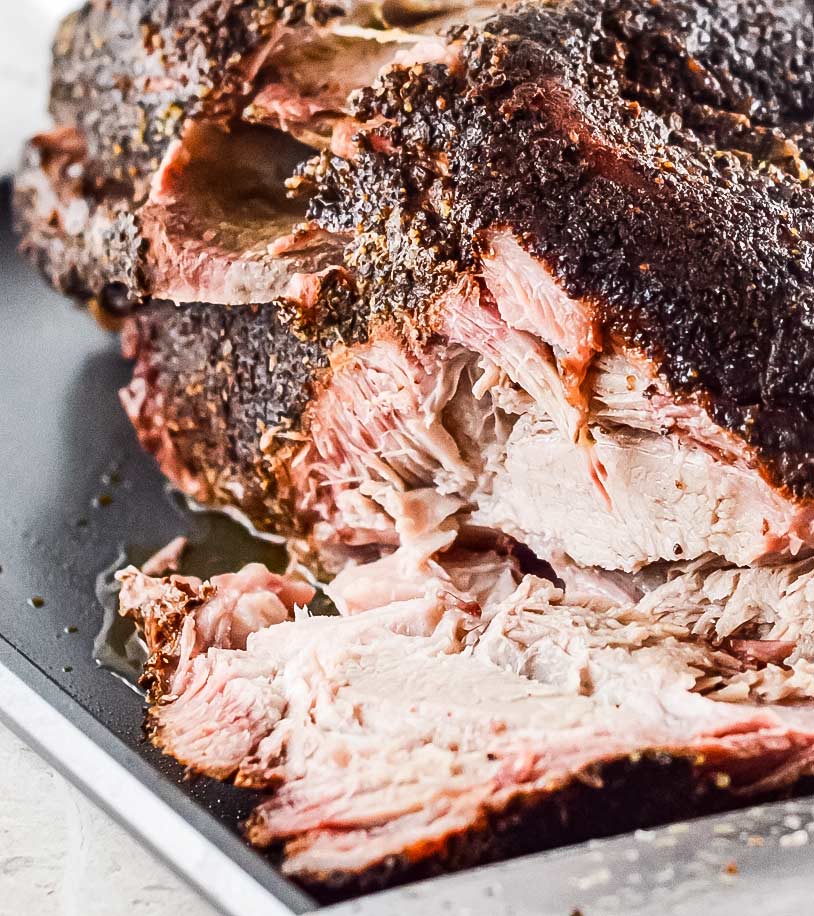 We like to serve this Smoked Pork Shoulder with:
Did you make this? Be sure to leave a review below and tag me @the_chunky_chef on Facebook and Instagram!
Servings:
12
– 16 servings
(hover over # to adjust)
Ultra flavorful and tender, this Pork Shoulder is smoked low and slow, and creates the most amazing, melt in your mouth pulled pork!
Ingredients
8 lb bone-in pork shoulder these may also be labeled as pork butt
olive oil
water
DRY RUB
1/4 cup light brown sugar packed
2 Tbsp black pepper coarsely ground
2 Tbsp kosher salt
1 Tbsp paprika
1 Tbsp garlic powder
1 Tbsp dried minced onions
1 tsp cayenne pepper
SPRITZ
1/4 cup apple juice
1/4 cup apple cider vinegar
Instructions
PREPARE THE SMOKER
Fill hopper of smoker with wood pellets, I usually use applewood, but pecan or cherry would work as well.

Start smoker on the smoke setting for 5-10 minutes. Increase heat to 250 F degrees.

Fill an 8×8" baking dish, or other baking dish with water and set aside to add later. I like to use a foil dish for this, since I won't care if it gets messed up.
PREPARE THE PORK SHOULDER
Place all your seasonings (brown sugar, pepper, salt, paprika garlic, minced onion and cayenne) in a small bowl and stir with a fork to combine.

Place your pork shoulder on a baking sheet and rub the entire shoulder down with olive oil. Sprinkle the seasonings over it and rub the seasonings into it (every inch of the shoulder should be covered). There's no better tool for this than your hands, so if you're squeamish about touching raw meat, use a pair of disposable gloves.
SMOKE THE PORK
Add baking dish filled with water to smoker, on the grate on one side of the smoker.

Fill a small spray bottle with the apple juice and apple cider vinegar and set aside. Every hour you're going to open up the smoker and completely spritz the pork shoulder.

Place pork shoulder on the grate and close the lid. Keep the smoker temperature around 250-275 F degrees while smoking during these first several hours. Smoke for approximately 4 hours, spritzing with the spray bottle every hour.

Check the internal temperature of the pork shoulder using a meat thermometer. By this time, the pork should be at LEAST 145 F degrees.

Completely spritz the pork shoulder one more time and carefully wrap it in aluminum foil or peach paper. 

Place pork back into smoker and lower temperature to 225 F degrees. Smoke pork about another 4 hours, but do not spritz during this stage of cooking.

Check the internal temperature of the pork shoulder using a meat thermometer. You're looking for your pork shoulder to be about 200 F degrees. 195-205 F degrees is a good range for making amazing pulled pork!

Remove pork from smoker and let rest for at least 20 minutes, but up to 2 hours. Keep the pork wrapped up tight, and I like to add mine to either clean, empty cooler, or my oven (turned off).
Want to save this recipe for later? Click the heart in the bottom right corner to save to your own recipe box!
Chef Tips
This recipe was made using a Traeger Wood Pellet Smoker.  Other smoker types will work, but will vary in terms of the set up process.  Consult your smoker's manual for how to prepare your brand of smoker.
I do not have a charcoal smoker or grill and cannot offer solid advice on using those.
GAS GRILL INSTRUCTIONS
Fill an aluminum foil pouch with soaked wood chips, seal and poke a few holes in it to allow the smoke to come out. Start grill on HIGH, lighting half of the burners of the grill. 
Place pouch of wood chips directly over the heat until you see smoke coming through the holes of the foil pouch.  Do not light the other burners.  The pork will go over the burners that aren't lit.
Proceed with rubbing the pork, then keep grill around 250 F degrees and cook for 4 hours.  Wrap and lower heat to about 225 F degrees and cook another 4 hours.
Nutrition Disclaimer
The Chunky Chef is not a dietician or nutritionist, and any nutritional information shared is an estimate. If calorie count and other nutritional values are important to you, we recommend running the ingredients through whichever online nutritional calculator you prefer. Calories can vary quite a bit depending on which brands were used.